A chat on Vivo's association with the FIFA World Cup
Geetaj Channana, DGM, marketing, Vivo India, opened about what this association meant for company, his dream phone and what to expect in future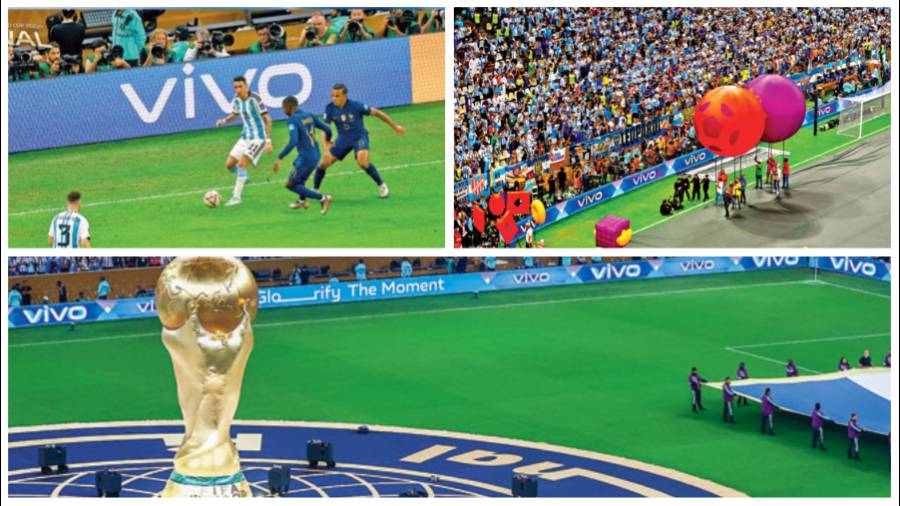 Moments from the Lusail final
Pictures courtesy of Vivo
---
Published 23.12.22, 12:19 AM
|
---
The Telegraph's dream trip to watch the finals of the FIFA World Cup was facilitated by Vivo, 'the official smartphone and the only official sponsor of the FIFA World Cup Qatar 2022 in the smartphone industry'. We caught up with Geetaj Channana, DGM, marketing, Vivo India, on what this association meant for Vivo, his dream phone and what to expect in future.
What does it mean for Vivo to tie up with something as big as the World Cup?
Everything starts with the brand purpose. It is actually about bringing joy to people's lives. It is a lot more than just making a product... not just about making mobile phones. The mobile phone is one constant thing in our lives, from the time we get up to the time we sleep, but it cannot be just a box, a glass shell that is there. I cannot remain at just giving a feature. If there is something in my phone, it has to mean something to you. The camera should be able to take a beautiful photo of my son.... It is about capturing life and adding meaning to my life. You keep that at the centre of thinking and then you extrapolate it to something like FIFA. We are a global organisation, present in about 60-odd countries right now. Since 2014, we have over 400 million who have been using our devices all over the globe. The way FIFA brings all those cultures together is one thing. The other thing is how sports bring joy to people's lives.... So, it's a match made in heaven.
The third point is the audience it reaches out to is actually my target audience. One of the core things we talk about is being more local, more global. And, it again stays true to that. So, the connection is inseparable.  
We have been associated with sports for a long time. We were with IPL, which helped us in getting the awareness we needed at that time. Then with this, it helps us connect with people in a more meaningful way, across cultures and countries. We are a conscientious brand and we want people to see us like that. A high percentage of customers come back to us. When I am a slightly mature brand, that is when I want to connect with people more emotionally than anything. It happens with personal relationships also. When you are starting a relationship, it's different. When you are maintaining a relationship, it's different. You are looking for different things from different phases of your relationship. Earlier, you wanted them to know. Now you want them to understand you.
We have been associated with FIFA since 2017... the FIFA Confederations Cup in 2017, the World Cup in 2018. We have been associated with UEFA too.
India as a market has huge potential. How is Vivo aligned with the 'Make-inIndia' programme? Are you exporting out of India?
I think we are more aligned than anybody else. We started manufacturing in India from 2014-15. All Vivo phones that are sold in India are made in India. Some parts are locally sourced and some parts imported, but it's all assembled and made in India. We have a factory in Greater Noida and about 10,000 Indians are working there. On average, we have the capacity of making four phones every second. We are also coming up with another facility in Greater Noida, which is much bigger. How has the company's vision evolved with the times?
I'll go back to the brand purpose here and how we can build upon that. The way we reach out to customers has changed. It has to be more personal now rather than being mass media. It's a bit more focused on digital. The communication is more personal. Also, we have moved towards more brand communication now rather than just product communication... it is about knowing that Vivo is a good company and it will stand by me. It is about communicating how wonderful our service network is. We have 650 service centres and all of them are operated by Vivo in India.
Phones have become an extension of our hands. Where do you see this going?
Two things will happen a lot more. They are already all-pervasive but they will allow us to do even more and drive more efficiency, but at the same time we also need to look at moderation. They should not be overpowering.
What can we expect in the coming years?
We worked closely with 3GPP (3rd Generation Partnership Project), a consortium that defines the standards for mobile phones. We are the highest contributing stand-alone smartphone maker in the 3GPP standards. If you are playing a game on one SIM and you get a call on another, your connection breaks. We are working with them to see if you can do both together. When we have 5G we have more components. How does it still remain slim? Our collaboration with ZEISS is important. We are actually setting new benchmarks in camera.... There is a lot in store.
What is your wish list of a dream phone?
My phone should be able to do in an instant what I desire at that time.