Uncensored!
Actor Shatrughan Sinha has a reputation for being outspoken and he doesn't disappoint in his no-holds-barred authorised biography, says Sarbani Sen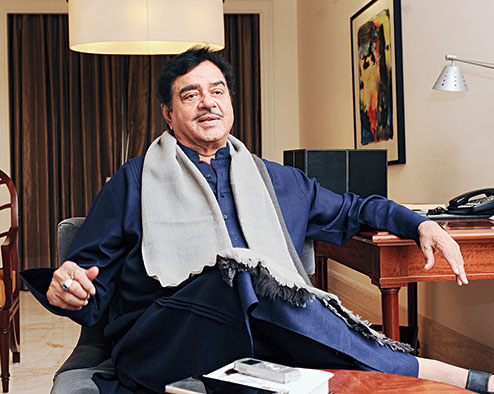 ---
Published 17.01.16, 12:00 AM
|
---
When Shatrughan Sinha in his resonant baritone voice speaks, people listen — and listen in silence. Sinha's effect on people was on full display in Delhi recently when he asked a buzzing roomful of admirers and journalists, without mouthing his trademark khamosh, to settle down, and there was a pin-drop silence.
Clad in a deep-blue kurta-pyjama and grey shawl, Sinha, who's an imposing six-foot-two, was Anything But
Khamosh — the name of his new biography — when he began speaking. He had the audience eating out of his hand, latching on to every word and laughing even before he completed a joke.
His tell-all biography, Anything But Khamosh (which means silence) by film journalist Bharathi S Pradhan and published by Om Books International, traces Sinha's acting career, personal life and his political career — and doesn't pull any punches.
Sinha, 70, has laid bare past relationships, feuds with actors and talked about his political career. Sinha likes doing things his way and doesn't hesitate to be frank. He relates how as a "wild young man" his friends kept what they called an A-Z account. Each time he "scored", they ticked off another letter of the alphabet.
He also hasn't hesitated to talk about his greatest love, Reena Roy. They sizzled on the screen and enjoyed several hits and were inseparable off-screen. He continued the relationship even after marrying Poonam Chandiramani, a former Miss India and an actress, and shuttled between wife and girlfriend — Poonam knew about his relationship with Roy when they wed.
Sinha reveals a showdown one evening when his elder brother, Dr Ram Sinha, insisted that he take Roy as his second wife that very evening. They are still at loggerheads.
Says Sinha: "Reena Roy has been a big factor in my life. I was clear the book wouldn't be anything sensational since my ex-partner and I have our families. But I will talk about her and in a very dignified manner," he says.
In the book, he also tells of how he met Poonam in a train when she was still a schoolgirl and was instantly smitten. "She was in a skirt, still in school, and I was later called a cradle-snatcher by my friends," he recounts in the book. "Life is full of adventure," Sinha laughs.
Sinha says his reason for agreeing to an authorised biography, which really takes off from the days he was a gangly student at Pune's Film and Television Institute of India (FTII), was simple.
"I was under 55 kg and lanky when I joined FTII. Not many gave me a chance. The best thing about success in reel and real life is I did it myself. No one from my family was an actor or politician. I thought this book can be an inspiration for youngsters. Without any 'godfather,' I reached the peak so why can't others?" he says.
The book also talks about his bitter relationship with his siblings and legendary falling-out with Ami-tabh Bachchan — in the best traditions of the movie industry because he felt Bachchan would force directors to give him more screen space. They were the force behind hits like Dostana (1980).
Sinha says both Bachchan and he were struggling in their early days. "Despite our fights, we've a great bonding. But I believe any understanding after a long misunderstanding will lead to long-lasting friendship. That's what happened with us," he smiles.
Biographer Pradhan says she felt the book would work because "knowing Sinha, I knew he would be the only person among the celebrities who would be honest about his life".
Sinha started out doing second leads. His first break in Hindi films came in Prem Pujari in 1970. He played supporting roles before appearing in Gul-zar's Mere Apne in 1971. "Meena Kumari loved my dialogue delivery style and often praised me. That was a big compliment," he recalls.
Later, he had major hits like Dost (1974), Kalicharan (1976) directed by Subhash Ghai, Vishwanath (1978) and Gautam Govinda (1979). He worked with Bollywood's stalwarts, spanning generations — Prithviraj Kapoor, Raj Kapoor, Dharmendra and Salman Khan.
His success mantra is simple. "In this competitive world, without losing your originality, try to be better than the best. If you can't be better, try to be different."
Filmmaker Goutam Ghose says the frank biography is totally in keeping with Sinha's "open and honest" style. Ghose worked with the actor in award-winning film Antarjali Jatra. His friends warned Ghose when he cast Sinha that the actor never came on time for shots.
"Shatrughan played the role of a chandal and we had lots of early morning shoots," Ghose says. They found a solution to Sinha's early-rising problems. "Shatrughan would complete shooting at 2a.m. and stay awake. He didn't want to miss the sunrise. He immediately transformed himself into the role," Ghose recounts.
Still, the movie and political worlds were surprised when Sinha suddenly joined the BJP — at a time when the party had just two Lok Sabha seats. But his inspiration was socialist leader Jayaprakash Narayan, whom he met frequently when he was an actor.
Sinha says though that he might have joined Congress had Indira Gandhi still been living as he admired her greatly. "If Madam Gandhi were alive, I'd have joined Congress. She was very fond of me," he says.
"Being such a popular actor, it was gutsy of Sinha to join the opposition," his political mentor L.K. Advani says. Sinha later contested a by-election for the New Delhi seat against friend-and-actor Rajesh Khanna. That remains a big regret. "Rajesh Khanna was very upset. He was a very emotional person. I said sorry many times. We didn't speak for many years," Sinha recalls.
The filmstar-turned-politician then decided he would never run for election against friends and declined contests against people like Raj Babbar and Akbar 'Dumpy' Ahmad. "People may call me an emotional fool but I'm happy that way," Sinha says.
Sinha was health minister in Prime Minister Atal Behari Vajpayee's cabinet from 2003 to 2004 and calls his stint a success. "I started the evening OPD in AIIMS and other hospitals. The initiative was much appreciated. Also, I formed the Mashelkar Committee to counter fake medicines and fraud doctors," he says.
Sinha, who's now Lok Sabha MP from Patna Sahib, has been sidelined and he regularly needles the BJP by talking about his closeness to leaders from other parties, but he's still a party crowd-puller.
When the Bihar assembly elections were held, he wasn't drafted to campaign for the BJP while actors like Ajay Devgn and Hema Malini were. "I felt sidelined. Bollywood actors might draw a huge crowd. But that doesn't
affect the real voters," Sinha says.
These days, Sinha's become careful about his lifestyle, starting his day around 8a.m. with an hour of Yoga,
followed by health drinks like sattu (roasted gram flour) or butter milk and sprouts and fresh fruits. Post by-pass surgery, Sinha's also prefers home-cooked food by his wife Poonam. He divides his time between Mumbai and Delhi and travels to the capital when Parliament sits.
Although Pradhan and Sinha are friends, that didn't affect the biography. "Friendship never interfered when I was writing," Pradhan says.
Pradhan chose the book-title Khamosh — khamosh refers to a popular dialogue from his film Badla (1974). "I take full credit. People can instantly relate to Shatrughan when you use that expression," she says. The book was in the making for seven years and Pradhan travelled with Sinha to places like Calcutta, Patna, Pune, Goa and Nagpur to watch him in action.
Sinha got the nod from his star daughter Sonakshi for the book. "She was not happy with a few things about my life in the book, but she understands it's my biography," he says.
While Sonakshi calls him "bestest father", she says she'd have to think "10 times" before she married a man like him. "To this day, he comes home and asks my mom to heat the food and wait for him. I am a modern woman. I won't tolerate it." she says as Sinha chuckles.
Sinha, for his part, says he's very careful about everything he does because of the "apple of my eye". "She's the anchor of my life. These days when air hostesses approach me for a photograph, I say, 'Yes, why not beta'. They get shocked when I call them beta or say god bless you. With a grown-up, famous daughter, you never know which fan or friend of my daughter would tell her what!" he jokes.
Luckily for Sinha, his wife Poonam has given the thumbs-up for the book and according to him has read it six times. "For me, that's the best compliment," smiles Sinha.
Will his wife be writing a book? Quickly, he replies: "She scares me by saying she'll also write a book on me," he laughs. And it might reveal even more secrets than Sinha has done.