Tunes that reflect our times
Tuning into three musical acts that speak about a plethora of issues that we are facing today – right from the pandemic to socio-political issues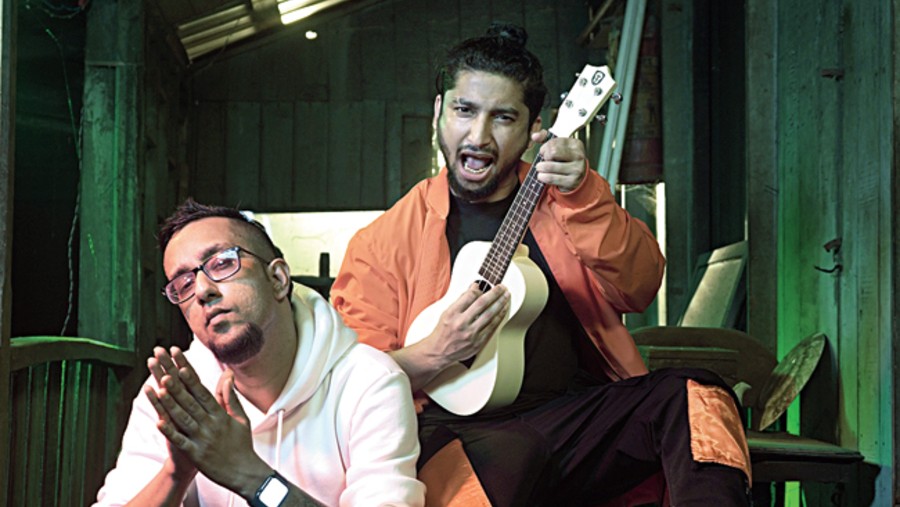 ---
---
Reggae Hindustan: EPR, Produced by GJ Storm
What does Reggae Hindustan speak about?
Reggae Hindustan speaks about a plethora of issues that we all have been facing in our country for a long time. Mostly, current affairs, unemployment rates, vaccination drives, political gatherings, the pandemic, fuel price... all these things have been highlighted through the song and it urges listeners to wake up.
How did you come across the warehouse where the video has been shot?
The video was shot in Ahiritola in north Calcutta at a wood factory, which is adjacent to my videographer Souvanik's (Jo) home and since lockdown was in place, we didn't have the liberty to find locations or executing grand plans. Fortunately, we have this grungy-looking wood factory nearby and we could access it.
What does the song stand for?
The mirror of truth, fearlessly showcasing everything that's happening around us. My fans were eagerly waiting for me to speak on these issues and to be their voice. Like me, they too believe that hip-hop's a medium, worthy of being put to use to spread social awareness and it can be the voice of dissent.
This song is a mix of reggae and rap, which you are familiar with but the intro has a Hindustani classical touch to it....
I have always been an ardent admirer of reggae ever since I got exposed to it as a teenager. I grew up on songs like Get Up, Stand Up by Bob Marley and the Wailers and legendary artistes like Peter Tosh.  Despite it's mainstream viability and entertainment value, reggae originated as a deeply political form of protest.
For this particular song, my producer GJ Storm and I wanted to incorporate Indian sounds as well, so we first came up the with a harmonium hook line and started structuring all the other elements around it. In the verses, the arrangements are more modern and lean towards trap and hip-hop, leading to a percussively anthemic sound in the chorus... where the harmonium adds another dimension to the soundscape.
More about EPR
Years active: 2005 onwards
Past projects: Albums — You Authority and Propaganda with Underground Authority. EPs — Bik Gayi hai Gormint with Adiacot and the album Protest Poetry.
Milestone: Hornbill International Rock Contest winner (2013), India's Got Talent Season 2 finalist (2010), MTV Hustle runners-up (2019)
Not Done Trying: Paloma and Adil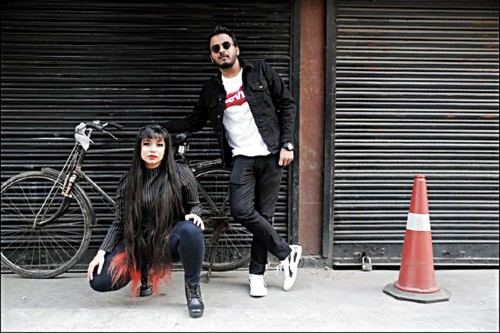 How long did it take you to compose Not Done Trying?
Paloma: We have been missing in action because of how the pandemic has taken a toll on our lives as individuals. We had just released Disco Panda in December 2019 and were set to release an EP mid-2020 but the magnitude of tragic news that we received made it clear that it was not the right time to release a disco EP.
Adil: Not Done Trying was actually composed in a few hours. We entered a song-composing challenge that required us to come up with a track in 50 hours. We brainstormed through many ideas and with only about eight hours to spare, we came up with the idea for Not Done Trying.
The video seems like it was shot at home. How did you put it together?
Paloma: The video was shot at home and using our phone cameras. I realised how we have all been singing into our phone cameras for almost two years now, so this approach to the video seemed appropriate. The video is a jungle of frames where you find both of us just let go and be crazy, and at different speeds, which is basically how we are in our rooms anyway, right?!
What is the song about?
Adil: The song is a commentary on how most of us are feeling these days and the impact that the global pandemic has made on our mind, and it does have a positive note of hope... about not giving up.
Paloma: So many plans didn't work out for any of us this past year and a half, and it is easy to feel the pressure of not achieving much but the key is to keep trying; to reinvent yourself in the face of adversity. On a personal note, it is about coming to terms with an inner conflict and not surrendering to it.
What else are you working on?
Adil: I'm working on new music with Underground Authority and some interesting electronic collaborations. Paloma and Adil may make some more songs and soon come out with a similar video... like Not Done Trying, this time featuring some of our friends.
Paloma: I am individually working on an album which will be full of songs that I wrote during the last lockdown when I was practically going crazy.
More about Paloma Majumder
Years active: Five years
Past projects: Lokkhiti from the movie Drishtikone, other P&A releases, Kaali theme song and more
Milestones: Performed with FNO All-Stars, including the likes of Anupam Roy and Upal Sengupta; won awards for best upcoming female vocalist in films (2018) and best playback singer (2019)
More about Adil Rashid
Years active: Five years (plus Underground Authority)
Past projects: EP Alonely (2018), several single releases, and releases with UA
Milestones: Opened for Megadeth, Steven Wilson, played with Rudolf Schenker
The Elephant In The Room: Vinay Kaushal featuring Aditi Ramesh and Sharik Hasan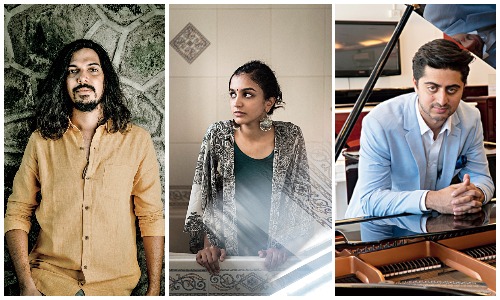 How did you work on the song with Aditi Ramesh and Sharik Hasan?
The Elephant In The Room was conceived last year during the lockdown. I like to write out all the instrumentation and arrangements myself and just let the song flow. When I composed the vocal melody, I was sure I needed someone with a very powerful voice and character to sing it out. Aditi was the first name that came to mind and she did her magic and the tune jumped to life. The piano parts in the song were intricately written and I needed someone to not just play it back but draw from the mood and take it a whole lot further. I've always loved Sharik's playing and his sheer musicality does so much for the song. I love the solo he's played right in the middle of the song.
What about the sound you wanted to achieve?
The song was inspired by an incident last year when a pregnant elephant was brutally killed in Southern India. There was a lot of outrage on social media and rightfully so. But what we realised was no one — whether it was media or social media activists — were asking why such incidents happen and what can be done to prevent it in the future. My wife Uma (who penned the lyrics for the song and is a wildlife conservationist) and I felt very strongly about the incident. This song was made to start a conversation, instead of simply showing your outrage on social media.
As the song developed, we realised that everything we were writing about was also applicable to how we treat each other as human beings too. The Elephant In The Room is a song that encourages people to start these difficult conversations that are normally just swept under the rug.
Musically, I drew inspiration from the beautiful Raag Charukeshi (the sound of which I've been obsessed with for a while now) and spun my spin on it.
Are there more projects or releases on the way?
I am working on my next album, which I hope to have ready by the end of the year. It's a largely acoustic and minimal album, featuring a couple of instrumentals and some vocal tunes.
More about Vinay Kaushal
Years active: He picked up the guitar 17 years ago and his first independent release was the album Naked On A Train (2018).
Past projects: Quite a few to list!