While I was in a whirlwind solo trip to London in 2019 little did I know I had to wait almost two-and-a-half years for my next trip abroad. Post two summers of fearing the Covid-19 due to the ongoing pandemic situation, I finally set off for Abu Dhabi to spend a few days in Yas Island, one of the world's fastest growing leisure and entertainment destinations that declared Bolly star Ranveer Singh as their ambassador in March this year.
With my RTPCR report in hand, two masks on my face, and a bottle of sanitiser in my bag, I flew down from CCU to Delhi to take a four-hour-long flight to Abu Dhabi International Airport. The journey seemed tedious to be honest but upon landing in the UAE past midnight, the fatigue had started fading away slowly. A short drive of 10-15 minutes took us to our hotel, Hilton Abu Dhabi, where I was mighty impressed with the hassle-free check-in.
My room had an L-shaped balcony overlooking the property and the waterfront, whose beauty I only realised when I woke up early the next morning. A quick shower and breakfast later, I was ready to explore the truth behind "Yas hai khaas" as Ranveer had said! And after spending some time at Yas Island's biggest attractions, I realised why everyone looking out for fun with their kids (for the summer vacations) or friends should at least pay one visit to this magical place.
Here's more from my itinerary that will help you plan your next vacay here.
FIRST DAY:
I couldn't wait for Day One to start and why not? I was heading towards Warner Bros. World Abu Dhabi is the world's first ever Warner Bros. branded indoor theme park, located on Yas Island, which meant getting to indulge in 29 exhilarating rides and attractions, enjoying the six shows and interacting with over 35 DC and animation live characters.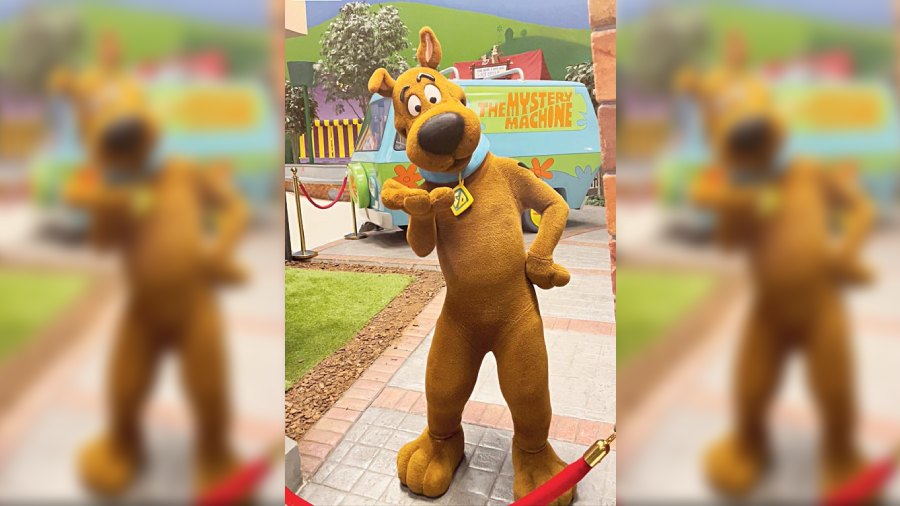 The park is divided into six sections — Warner Bros. Plaza, Metropolis, Gotham City, Cartoon Junction, Dynamite Gulch and Bedrock. My fave sections were the Gotham City and Bedrock because it had Batman-themed rides like Batman: Knight Flight (go for it if you really like adrenaline rush) and The Joker's Funhouse (a mirrored hallway creating hallucinations). It was all about reliving my childhood in the Bedrock section where I got to take a picture with Scooby Doo and also take the super fun Scooby-Doo: The Museum of Mysteries ride that made me feel I was a part of one of Scooby's mystery stories. How cool! The second most cool ride here was The Flintstones Bedrock River Adventure that sees a splashing end. This section also has replicas of Fred's and Barney's stone cars where one could sit inside and go click-click. Yabaa dabaa dooo!
We suggest you visit Warner Bros. in the first half of the day to make the most of the rides and be able to visit each section. After hours of back-to-back rides I took a break in Hollywood Trattoria, which is among many of the dinning spaces in the zone that will help you refuel for another round of exploring, but be cautious to not get on any ride with a full stomach. Post-lunch I strolled around the little souvenir shops where one can pick various merchandise like bubble makers, magnets, bottles, soft toys and apparels.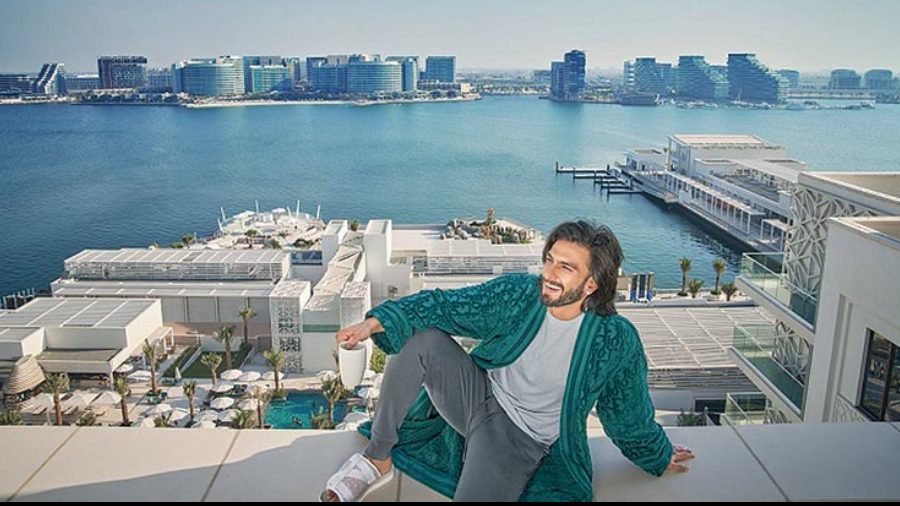 Brand ambassador of Yas Island, Ranveer Singh is seen chilling at Hilton, overlooking the stunning waterfront
Accommodation:
Yas Island is home to many hotels ranging from three-stars to five-stars that are located just a few minutes away from the major attractions. My home for the trip was Hilton Abu Dhabi that overlooks the waterfront and boasts of 545 rooms and suites, and four dining experiences. I was super kicked because Ranveer Singh had stayed in the same property during his trip to Yas Island. Yay!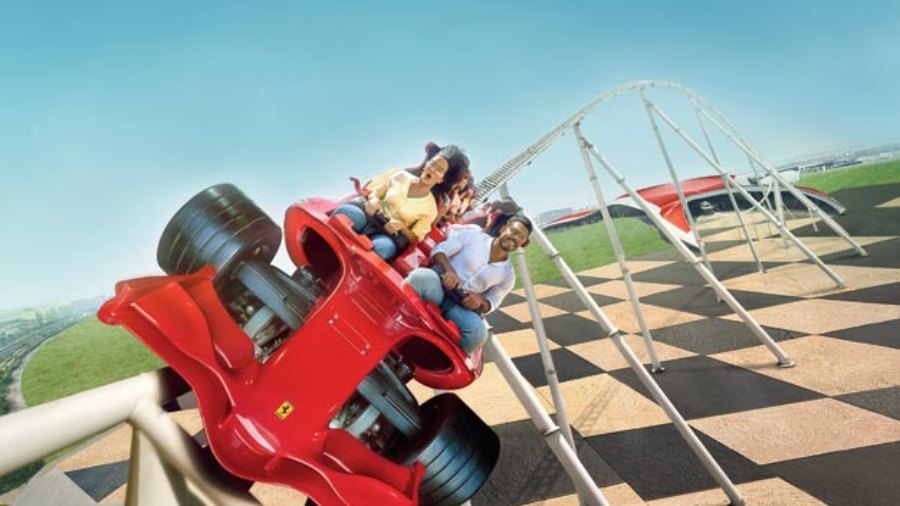 SECOND DAY:
"Aaaaaaaaaaaaaaa….aaaaaa"…that was me mostly on the second day at Ferrari World, located on Yas Island on the North East side of Abu Dhabi's mainland and just 10 minutes from Abu Dhabi International Airport. Built in 2010, the popularity of Ferrari World could be sensed right from the entrance that saw serpentine queues of children, adults and teenagers. This place is a hit among all age groups. The biggest attraction was Formula Rossa, the world's fastest rollercoaster with a top speed of 240km/h that needs guts to try. If you have a pre-existing neck problem, are pregnant or have vertigo, it's advisable to not go for this one, but for people who live for the thrill, look no beyond! If you are a sucker for more adrenaline-pumping rides we suggest Flying Aces. It is the first bi-plane-themed roller coaster to break three world records — world's steepest, world's fastest inclined cable lift and world's tallest inverted loop. Phew! Ferrari World is just not about racy, thrilling and scary rides, the amusement park has 42 other rides and attractions that are suitable for kids and people with a moderate appetite for thrill. Honestly, most of the rides made me go "O ma go and o baba go" at the top of my voice, but I bet you will come back with an experience of a lifetime!
Pro tip: Avoid wearing caps and jewellery as you might end up losing them here as most of the rides are all about high speed and go topsy-turvy.
That was not all for the day. The endless rides and walking can make anyone hungry, so we took a lunch break at Mamma Rosella, an Italian restaurant inside the Ferrari World premises, followed by some photo sessions and endless content for social media because this section was so beautiful, just like the bylanes of Italian countryside.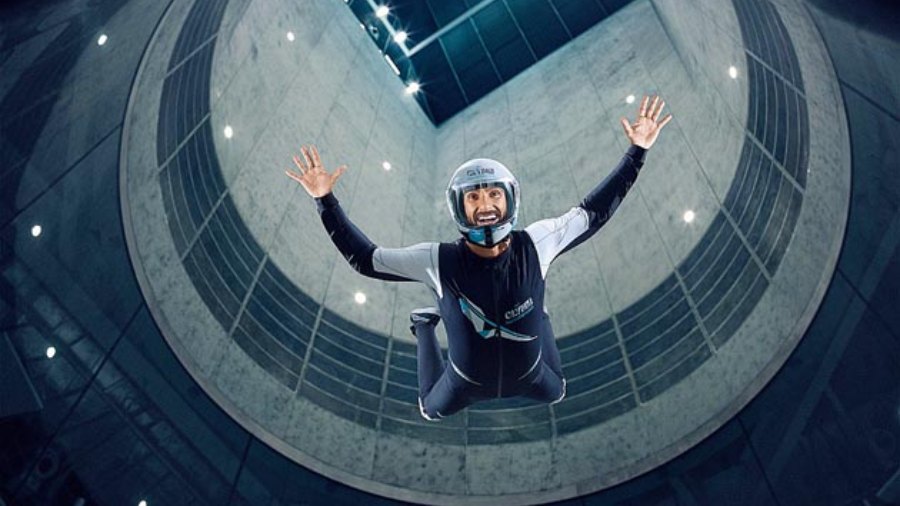 After a mini break it was time to get more adventurous at CLYMB — an adventure hub offering world-class skydiving and climbing experiences. Here one doesn't need to be a pro in either of the fields because there are professional instructors who help you go through the process. Upon reaching we were asked if we had any pre-existing physical ailment; that was followed up by changing into the skydiving costume and soon we were taken inside a room to be briefed about the whole skydiving process, the hand signs and the do and don't. One can choose from different levels of experience depending on their capabilities. Instructors (ours was the very jolly Johnny) supervising the entire process aim to help guests enjoy the experience while also improving their skill level. Courses for belaying and lead climbing are also available to help guests progress to the next level. Our skydiving session was brief but very intense, it almost felt like I was going on some mission just as they show in the movies.
Once you sit inside the Indoor Skydiving Flight Chamber, it is then that the panic hits you! Sweaty hands, faster heartbeat, helmet on for safety reasons, one had to take the leap of faith. But the best part was, our instructor Johnny never left us for a second and motivated and guided us throughout in the 32ft wide and 104ft tall chamber. So all one had to do is keep the flying posture correct, feel the pressure and fly away like a birdie! Fantastic! Post the session, certificate of participation was handed over to each of the participants.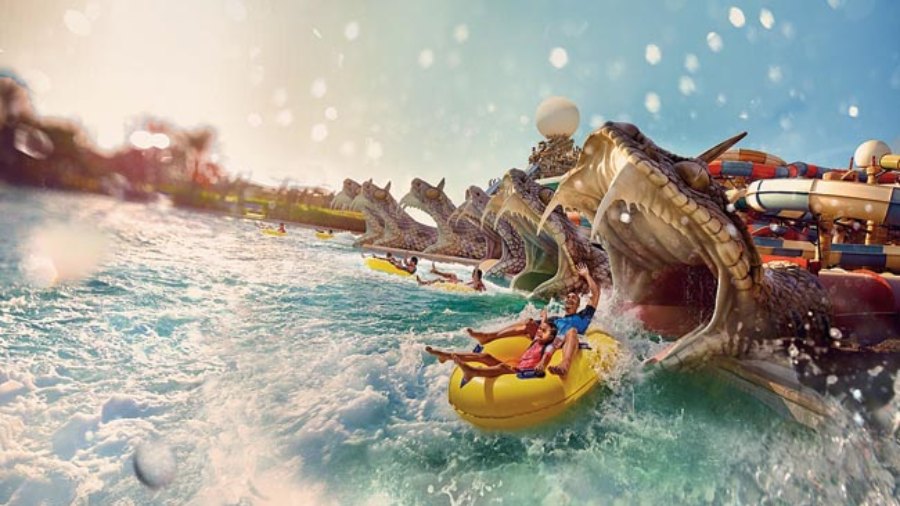 THIRD DAY:
Summer vacays are fun and if you are in Yas Island, you must make the most of Yas Waterworld, a one-of-a-kind water park that draws inspiration from the UAE's pearl diving heritage, offering families fun- packed adventures, the warmest welcome, and the most engaging experience. With 45 rides, slides, and attractions, this is the best place to cool off with your kids and friends. We suggest you head to this place post-breakfast because the heat might get to you post-noon.
One must visit Cinesplash, a 5D film theatre located just right when you enter. It offers a thrilling experience where in between the ride you will notice you have knee-deep water in the movie hall that makes the whole experience so real!
That aside, rides like Amwaj wave pool, Hamlool's Humps, Sebag, Slither's Slides, Bandit Bomber and Dawwama are bound to bring out the kid in you, splashing away in the water.
Pro tip: Carry your swimsuit and towel. However if you have missed packing those, there are stores that sell swimwear for men, women and kids in varied sizes.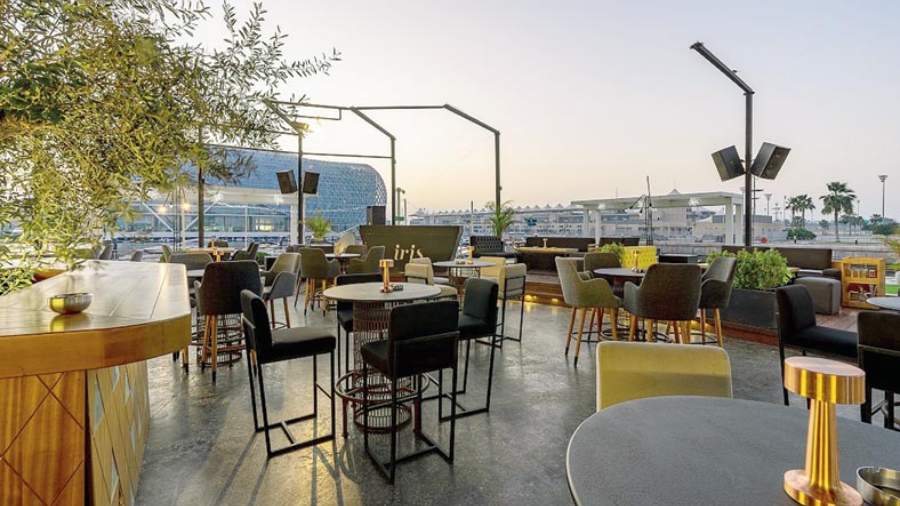 Food spots and shopping:
Let's be honest, no trip is complete without hearty meals that would satiate your soul. Yas Island is dotted with many eateries, lounges and cool hangout spots. A must-visit place is Iris that offers a great view, artisanal cocktails, groovy music and delicious food!
Our hotel Hilton was surrounded by plenty of swank pubs, lounges, beach club (Cafe Del Mar, oh yes!) and shisha places.
If you are a shopaholic, then head straight to Yas Mall, which is a massive retail, dining and entertainment destination. The mall also has a direct link to Ferrari World and CLYMB. Here you can splurge on over 400 international brands and other F&B outlets housed in the mall.
Pro tip: We suggest you charge your phone or carry a powerbank because the mall is HUGE and the Wi-Fi network tends to get wobbly in places.
Pictures: Yas Island and the author
Checklist:
Keep your vaccination certification and RTPCR test report handy, because all amusement parks and malls would ask for it.
Carry cloth masks, lace-up shoes like sneakers because these theme parks are huge and require a lot of walking!
Sunscreen is a must, because you are in the Middle East.
Look out for Yas Express, a complimentary bus service that will drop you back and forth to your destination.
Air Suvidha form fill-up is a must when you are coming back to India.