What are the activities included in a desert safari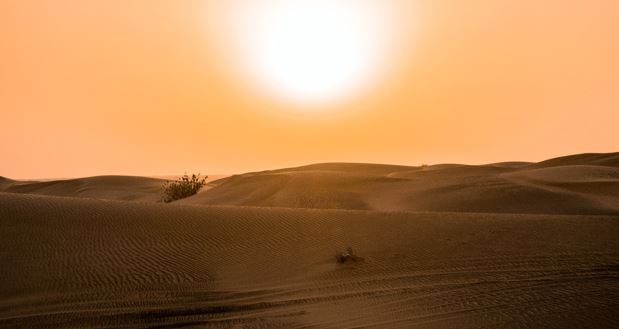 ---
Published 17.08.22, 12:49 AM
|
---
Desert safaris include an extensive range of activities; both adventurous as well fun. One might imagine what activities are exclusive to deserts other than sand dune bashing and camel rides. Well, there are moments of excitement only a desert can offer you at times. Here are a few activities that are included in a best desert safari dubai.
An invigorating sunrise
Sunrise expeditions are archetypal to oceans and mountains. Nothing can rejuvenate one's mind body and soul like beautiful daybreak; Deserts are the best places to experience this awesomeness. You get to see the sun with all its glory, rising from the dunes. The wide horizon and twilight hues engender a feast for your eyes. You witness the desert's beauty and majesty at the dawn with a golden sky.
With the Hot air Balloons
Hot air balloons give you an experience of adventure and fun at the same time. To view desert and sand dunes up above from the sky is a distinct feel. To drift along with the air and altitude is exciting. This also creates a chance to spot desert wildlife and animals like fennecs, bobcats, coyotes etc.
Sand ski
Sand skiing is a much-loved fun activity for all desert lovers. Unlike other skates, sand skiing is less risky but adventurous. Sand dunes with variable heights provide convenient ski experiences for individuals. This adventure spot is done in almost all deserts.
Camel Rides
What's a desert without its camels? A real Camel ride is exclusive to deserts. This activity is usually known as camelry or camel cavalry. Camel rides provide an opportunity to observe and note desert life attentively. Apart from camel rides, you can also learn about falconry and experience it from masters. Horse riding is also an event.
Quad Biking
This is an event and spot for motorheads. The thrill and elation to quad the sand dunes are terrific. This is a perfect activity for speed-freaks. It not only gives you a sense of fun but also elates.
Desert trekking
Trekking isn't exclusive to mountains. The Desert is also a perfect place for trekking. The sand dune expeditions not only provide adventure but pave a chance to explore the oasis life of deserts. Most deserts have oases that are isolated and uninhabited. these are unknown to the common public. Desert trekking helps explorers to witness these spaces.
Dune-Bashing
Dune-bashing is the best activity a motorhead can experience in a desert. Usually, a skilled driver dashes the sand dunes in an SUV. The thrill of sliding down a high sand dune with rapid turns and twists exhilarates every single nerve in your body. Dune-bashings last for nearly thirty minutes; the best thirty minutes of your life…
Eventide
Just as invigorating daybreak, deserts gift you a reflective eventide too. Often, sunsets are accompanied by a peaceful SUV ride or Camelry. This is also the best time for some candid as the views are best suited for stunning photographs. To watch the sun go down among dunes is unique and special.  The crimson sky and the setting sun is not the end of the day, but a shift to another set of exciting activities and fun.
Starry happening night
With cloudless skies and a pollution-free atmosphere, one gets to see stunning constellations from deserts. Basked with innumerable stars, late nights are full of events. Belly dance by Arabian beauties, delectable food and drinks with some fire dance make the night electrifying. Camp firing and sharings by people of different communities create a great time. Music and dance night with Arabian dishes and BBQ dazzle the day's events. Stargazing and silent camping with the starry sky is the perfect way to end the day.
This is a sponsored article.