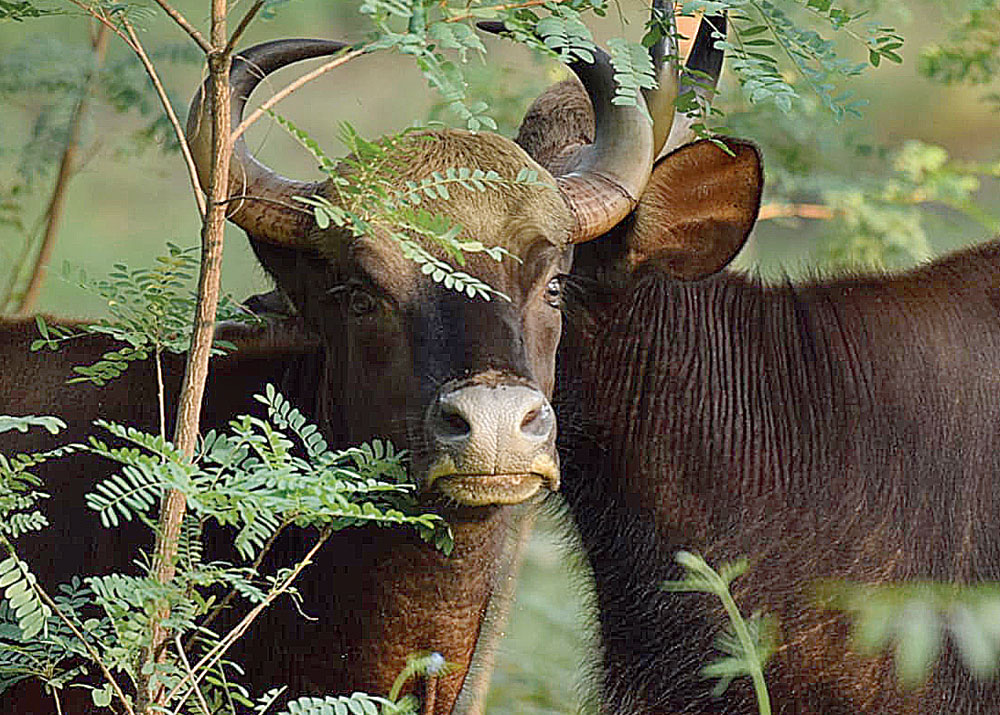 The fauna includes sloth bears, leopards, Indian bison or gaurs, other than the easily sighted spotted deer, sambhar and langurs Supriya Newar
Safari Takeaways
Never give up
Despite several safaris and boat rides, I would have returned without sighting a tiger had we given up 10 minutes sooner and turned back towards the gates on the last day. It was the final bend that turned out to be most rewarding.
Enjoy the forest
Starry nights, spectacular sunsets, the stillness of the forest, the non-stop chatter of birds — there's more to it than just sighting a tiger.
Don't rock the boat
It really takes a canoe ride in the middle of a vast river surrounded by dense forest to understand what "rocking the boat" means and the perils it could lead to!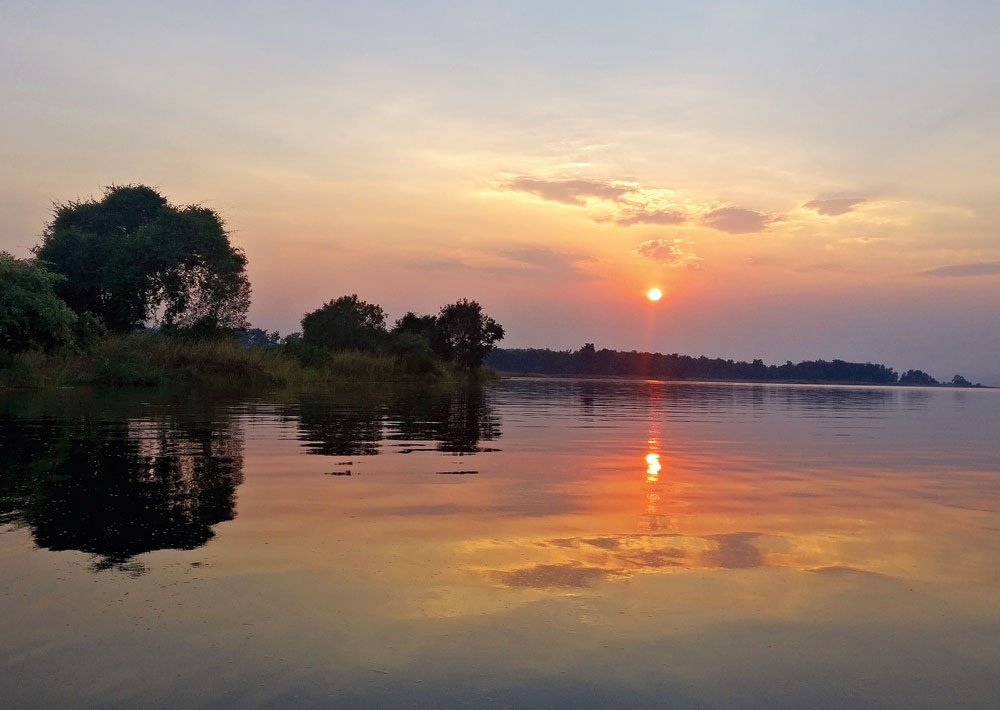 A spectacular sunset at the Satpura Tiger Reserve Supriya Newar
Where's that?" was the response I got from almost everybody who heard that I was headed to Satpura during the Pujas. Well, Satpura, or Satpura Tiger Reserve, lies in the heart of India, in the Hoshangabad district of Madhya Pradesh. It, however, tends to get overshadowed by its more celebrated cousins, Kanha National Park and Bandhavgarh National Park, both of which offer greater chances of sighting a tiger. What sets Satpura apart is its rugged terrain that consists of deep valleys, gorges, waterfalls and peaks.
The forest being largely deciduous, comprises sal and teak trees and the fauna includes sloth bears, leopards, Indian bison or gaurs, other than the easily sighted spotted deer, sambhar and langurs. Birds, including migratory ones, abound, and the elusive giant Malabar squirrel is the reserve's mascot.
Though reaching Satpura had been somewhat tedious — a flight from Calcutta to Nagpur followed by a six-hour-plus drive — and it was late evening by the time I got there, a homely dinner laid out in the open under a galaxy of stars had me fortified and forest-ready in no time.
All set for safari
We started our jungle jaunt with a Jeep safari in Parsapani, the buffer zone of the reserve. The area used to be a village earlier but was later added to the buffer. My forest guard, whose badge read 'Bafar Zone', pointed out watering holes that were being created and the burgeoning lantanas that were being uprooted as part of habitat management.
We spotted a shy blue bull or a nilgai, Asia's largest antelope that has the gaze of a deer but a body that reminds you of a horse. Fresh pugmarks of both a tiger and a leopard were found, raising our hopes.
One of the advantages of a safari in this zone is that, unlike most reserves, one is allowed to stay in the forest for an hour after sunset and experience it in absolute darkness, other than the flashing headlights of the vehicle. It was in this pitch darkness that we caught a fleeting glimpse of a civet cat, its eyes blazing as it gave us a look before its ringed tail merged into the thick woods. We exited as the buzz of cicadas got louder.
The next morning at the resort I was staying, I was joined by two naturalists who took me through my itinerary for the next three days. On the cards were safaris in Madhai, the core zone of the Tiger Reserve, a boat ride on the Denwa river, a sunset canoe ride as well as one of the most unique experiences that only Satpura offers — a walk in the wild, right in the core zone. I could hardly wait!
For each of the core zone safaris, we had to undertake a five-minute drive up to the jetty and cross the river by boat. It was on the other side that a forest guard joined us as we hopped on to the vehicle allocated to us by the forest authorities.
The Satpura Tiger Reserve safaris were perhaps some of the quietest safaris that I've taken in any forest. Unlike busier and more tourist-heavy reserves such as Corbett, Ranthambore and Tadoba, we hardly came across any other vehicle and it often felt as if we were the only humans doing the rounds. The entire forest was filled with wild lavender, a delicate plant with the eponymous flower sitting on top, filling the air with a heady fragrance.
At the end of one of the morning safaris, after some birding and an up-close sighting of a herd of bison, we parked for breakfast that the resort had packed for us — some sandwiches, muffins and a thermos of hot coffee, quite the brew needed to take in the cool early morning breeze that came from the overlooking Satpura range, sitting on the edge of the Sonbhadra valley.
Being on foot in the core zone was a different deal altogether. Though sightings are very rare in a walk as chasing a call or tracking pugmarks is out of the question, walking in the forest makes you feel intimately close to it.
As we ambled around for about two-and-a-half hours, truly amidst surround-sound bird call, crossing row upon row of teak and crocodile bark trees, we saw giant wood spiders weaving intricate webs that stretched from one tree to another. We were told it was the female that did the weaving and was often larger in size than its male counterpart.
Paddling on the Denwa
If safaris inside the jungle are about staying alert for every call and move, river rides are quite the reverse. As the motor boat revved up, we left the banks of the Denwa river behind amidst screeching calls of lapwings that seemed to sprint across the river on their tall, spindly legs.
Soon we had come quite a distance away and were surrounded entirely by water. Naturalists, who are trained to miss absolutely nothing, kept pointing out a variety of birds — from the more commonplace drongos and pond herons to a well-perched woolly-neck stork and a crested serpent eagle, a stationary Indian kingfisher and an Indian roller in flight.
If the boat experience was scenic, the canoe ride was taking it a paddle further. A canoe has room for only three people, one of whom has to be a forest guard. The two remaining spots were, therefore, taken up by one of my naturalists and me.
Much slower and calmer, the canoe ride was almost akin to gliding on the river, the rhythmic lapping of the water creating a hypnotic sound. The canoe ride also allowed me to witness one of the most panoramic and uninterrupted sunsets that I have ever viewed. As the sun went down, our oars seemed to leave crimson ripples as we cut through the river and made our way back to the shores in tandem with the chattering birds above us, who seemed to be flying back to their nests.
Though I had thoroughly enjoyed Satpura, my naturalists were a bit disappointed that I would go back without sighting either a big cat or the sloth. We embarked on our last morning safari in Madhai, the core zone, and though we'd had what is considered to be a very auspicious start with a wild boar crossing our path, our safari remained fairly uneventful.
At 9am or so, we stopped to have breakfast at a site where an elephant and her calf were camped. I was told that the playful calf, Vikramaditya, was just a year old and the mother was used by forest officials for their rounds of the forest. Breakfast done, I decided to bid adieu to the woods of Satpura and got into the Jeep one last time.
But the woods had a different plan in store. Barely had we driven for a minute when a particularly large tigress cat-walked right ahead! She had appeared absolutely out of nowhere — without any alarm call or warning, striding barely a few feet from us. We followed her very quietly, watching as she went about scratching and scent-marking her territory quite furiously. At one point, she stopped and turned to rub her body against the trees, giving us the opportunity to capture her in profile on camera.
It was at this juncture that the forest guard and the naturalist both concluded that for her size, she had quite a flat belly and was perhaps hungry. Not just that, she was also leaving every possible indication that she was ready to mate. We tailed her for a good 10 minutes, switching off the engine each time she stopped in her tracks, keeping a good distance and maintaining absolute silence.
After rewarding us with this majestic send-off, she retreated into the thick woods, quite as unobtrusively as she had appeared. As we came out of the Satpura Tiger Reserve, one of the naturalists had only one comment to make, "Ma'am you have excellent tiger karma!"
(Supriya Newar is a senior communications consultant who serves as a non-executive director of Linc Pens)