Tollywood celebrity's travel tales
t2 listens to Team Tolly's 'rejuvenating' travel and trek tales that saw them take in a breath of fresh air while maintaining all safety protocols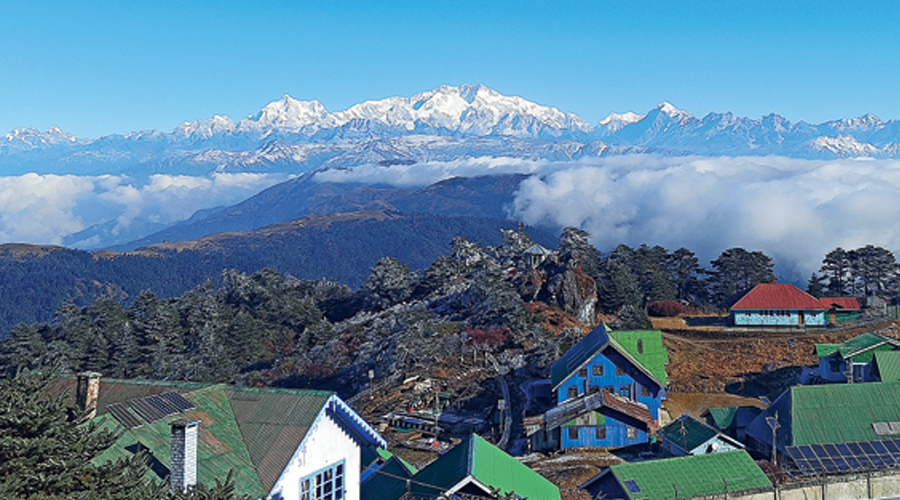 The view of Kanchenjunga from Sandakphu
Sourced by the correspondent
---
Calcutta
|
Published 13.12.20, 10:58 PM
|
---
ACTOR SHOUMO BANERJEE WENT FOR A SOLO TRIP TO SANDAKPHU
The route:
I started on this journey by car from Calcutta. I stayed the night in Siliguri and then in Darjeeling for a day. Then I stayed in Dhotrey for a night, got myself a guide, and started walking towards Tumling. It is a four-hour trek but we saved time by going via a place called Tonglu. I stayed at Tumling and trekked to a place called Kalipokhri. On our way to Kalipokhri we took the Singalila National Park forest route via Garibas. We stayed that night at Kalipokhri and went to Sandakphu, a 6km trek from Kalipokhri, and came back to Darjeeling after a four-day trek and an extra day of stay at Sandakphu when we strolled our way towards Phalut and back.
The vibe:
Mountains are always very welcoming and it makes us feel rejuvenated. That's there. But this time, there was a certain amount of peace too involved in my travel experience. Nature was at its best. I didn't feel like leaving the place at all. Let it snow:
We woke up to a beautiful snowfall in Sandakphu the day after we had reached. Everything was covered in snow when we woke up and it was all white. That day we went walking towards the Phalut route. Soon we found a barren land... there was no one there other than me, my guide, and some sheep and yak . We just sat there for a while in silence. The feeling was amazing. The next day we got a clear view once the fog lifted. It was such a liberating experience! 
The sun was rising and the rays were slowly falling on the peak. And slowly the white peaks were turning golden yellow. It was falling on three peaks, and the Sleeping Buddha was completely covered in golden-yellow sunrays. And the entire range was visible that day. Holiday mode:
The feeling was very different this time. On previous occasions I would take a break after intense work pressure. However, this time it was different. There was a magical feeling, almost like nirvana. I wish I could extend the trip. I felt like I could really breathe after being covered by the mask for so long. We were all stuck at home for such a long time. People were getting affected in different ways. At one point of time, people couldn't even hold conversations in person. Of course they started interacting gradually with others. So, this was indeed like a breath of fresh air.
Safety precautions:
All the basic ones like masks and sanitisers. But the shadow of the pandemic did not fall on my route. My trip took me mostly to the higher altitudes. The air is clearer there. And there were hardly any people there other than my guide and me. Hotel hues:
I mostly stayed in homestays, except for Sandakphu, where we had taken a proper hotel. In Tumling, I stayed in the very famous Shikhar Lodge.
I never felt apprehensive about staying in these homestays. They are safe. They are very clean and hospitable. And people who are going to the places in the hills should be careful and responsible and follow all the safety protocols so that the place remains safe for the locals as well as visitors. For many people there, tourism is their only source of income. So the maximum onus is on us.
ACTRESS SAURASENI MAITRA WENT FOR A TRIP TO DARJEELING WITH HER FRIENDS The route:
We made a stop at Kurseong for momos... that was very important! Then we went to Darjeeling, Chatakpur and came back to Darjeeling. We didn't trek this time since we just went to relax.
Holiday mode:
I love travelling, so not being able to do at least one trip in a year was making me feel very uneasy. I never really went on a trip like this before with friends. I have been to friends' places outside Calcutta and have gone for sightseeing. But to go on a trip like this was a first. There were eight of us and it was definitely risky. So I am quarantining from my parents right now. But we tried to take all safety precautions including PPE kits. There was a big difference in my travel this time.
Chatakpur was beautiful and very cold. Everyone was enjoying the chill in the air, and I had layers of clothes on me (laughs)! Seven layers of clothes in fact and I looked like Santa. Fashion was important even then. At Keventer's, I just stuffed myself with food as much as I could. In Chatakpur, we stayed at a very nice, cosy homestay. The view was beautiful from my homestay.
It was so rejuvenating of course. But at the airport it seemed different with people wearing PPE kits everywhere. It was drab and dull. It felt very morbid at times. We were seeing Kanchenjunga but our faces were covered with masks always. So, a mental block was always there. But nonetheless with friends, the trip was fun. We did a lot of crazy stuff together. The vibe:
The enthusiasm that you feel while travelling was missing a bit. We chose places that were a little secluded. We were mostly in the hotel and did only the things that are mandatory during a visit to Darjeeling. Many places were closed. But we also kept the plan very restricted to a few outings unlike other times.
Safety precautions:
It was in our mind always of course. Wearing masks was compulsory. We carried sanitisers and surface sprays. We wore PPE kits at the airport. Our rooms were sanitised. Temperature checking was done. But even if they were sanitising everything, we were carrying surface sprays and sanitisers and used them always.
Hotel hues:
I am always someone who is worried about the food and lodging. And most importantly, concerned about whether the heater will be there or not. After their sanitisation, we did our own sanitisation too. We washed everything with warm water. We were careful all throughout.
ACTRESS PRRIYAM CHAKROBORTY TRAVELLED TO DHARAMSHALA WITH HUSBAND-ACTOR SUVAJIT KAR The route:
We went to Manali, Kulu, Rohtang Pass and from there went to Dharamshala.
The vibe:
Our travel experience was very good. The roads have become much better than what we saw in pictures initially. Nature was beautiful everywhere, be it at Dharamshala or in Rohtang Pass. It snowed when we went that day! I was travelling to some of those places for the first time. The road to Shimla and Manali has become quite wide. It was very nice. Everyone gave extra attention to everything and was careful because they knew if any visitor contracts the disease then the place or hotel will be shut again.
The distancing experience:
We went to Shimla, and they were very strict about masks. Everyone was wearing a mask there and maintaining social distancing very strictly. No one was giving adda sitting close to each other.
Holiday mode:
It was really good. We couldn't even think of going around Calcutta during the pujas. So, going for a trip seemed like a better option. The only difference that we felt in travelling pre-pandemic and the present is that the checking became a little more stringent. Once we reached those places we came to know that it is usually a lot more crowded during this time of the year. Compared to that the crowd was less, that is what the locals said. But they were saying that Bengalis are a little more courageous than others! Mostly Bengalis were going for trips... and this we heard everywhere (laughs). And they were also saying that after no business for so many days, they were depending on Bengali tourists for their livelihood.
Coming back to the checking, it was more frequent on the roads... mostly regarding the number of people that were travelling, whether everyone was wearing masks or not. We saw that some places were closed, like the toy train. We couldn't go to a few temples in Shimla since they were closed. At the same time we also avoided enclosed places while travelling... we chose to visit more open-air spots. Safety precautions:
We had to get back to shooting immediately, so we made sure not to catch cold in any way. So, I carried honey and medicines of all kinds, sanitisers, gloves, extra masks. And we didn't meet any family member for 15 days.
Hotel hues:
It was quite nice as compared to other times that we have travelled. Since it was less crowded, the service was very good and the stay was relaxed. We got lucky with picking out hotels without being aware that they opened recently. Two of the hotels were inaugurated in front of us. So, that was an added advantage for us. So we were less worried about safety of the lodging. We could focus on the travel.
They were taking all kinds of precautions. Everyday they were sanitising the entire place, cleaning everything. They weren't allowing us to step outside our rooms much, while staying in the hotel. So, we had to stay and eat in our own rooms. Stepping out for sightseeing was okay. And the person who would come to serve the food, would wear gloves and give the food standing outside and we would receive it without stepping out.