There's lots to do in Cambodia's Siem Reap
Slow down the pace and enjoy the welcoming hospitality of a very sweet bunch of people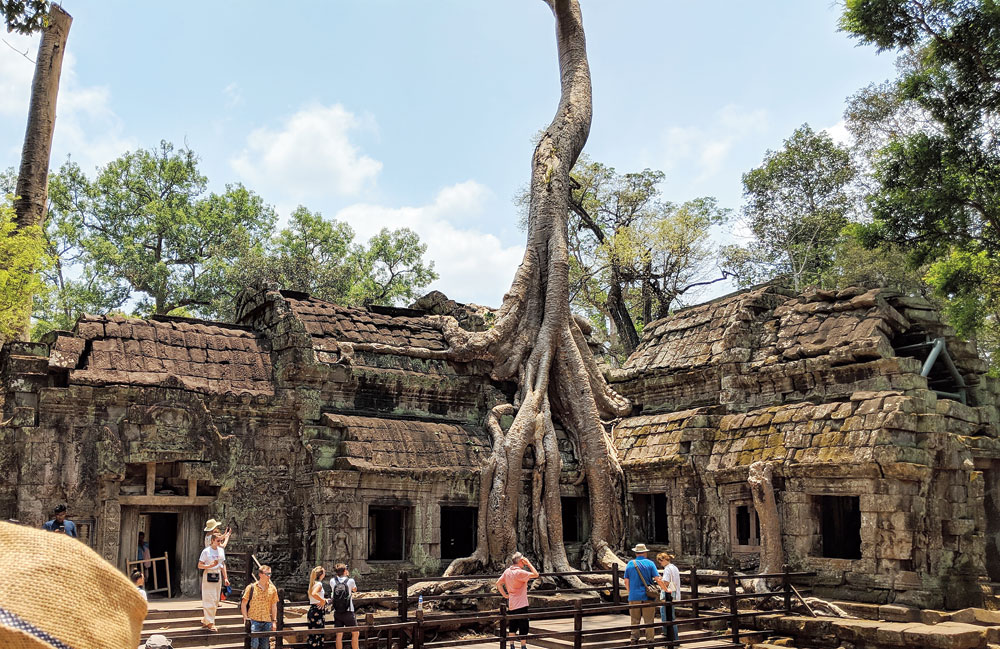 Ta Prohm temple
Picture: Falguni Gokhale
---
Published 11.05.19, 12:19 PM
|
---
Artisans d'Angkor
This sounds like it's going to be a tourist trap but is actually a fantastic way of showcasing and promoting handicrafts of the region. It's a Cambodian company that was created at the end of the 1990s to help young rural people find work near their village. They are trained by skilled craftsmen in nine different disciplines, from ceramics and lacquer ware to silk painting and jewellery. The company has almost 50 workshops all over Cambodia. The centre in Siem Reap consists of nine workshops which you can visit and a fabulous shop where you can buy really well-designed souvenirs. It's a great place to pick up silk outfits, scarves, cushion covers, silver-plated boxes and so on, and know that what you are buying is contributing in some small way to the empowerment of young people.
Theam's House is the home-cum-atelier of the Cambodian artist and designer Lim Muy Theam. A beautiful house, gallery, cafe and shop, the traditional wooden property has a lush tropical garden, houses a unique private family collection of art and handicrafts and is also home to products conceived and created on site like the famous lacquer elephants. A must-buy.
Visit Kandal village
This is the old French quarter, equivalent to Covent Garden in London, Brooklyn in New York and Kala Ghoda in Mumbai. Home to a vibrant and eclectic mix of cafes, galleries, shops, spas, arty homeware and the coolest fashion stores in town as well as being an art and culture precinct. A must-visit is Louise Loubatiere's charming store with beautiful frocks and kaftans and Maison Sirivan owned and run by a French couple for unisex minimalistic folding pants called 'clov' pants which must be the most comfortable trousers ever. Seafood feast
It is hard to distinguish Khmer cuisine from cuisine of Cambodia's bordering countries. It's not what I would call spectacular, but it can be very good with home-style dishes and flavours which are easy on the stomach and intellect. It comes closest to the aromatics of Vietnam with similar ingredients to Thailand except that it lacks the fire and brimstone of Thai chilli. So there's lemongrass, fresh turmeric, kaffir lime leaf, galangal and garlic in everything and proteins include beef, fermented fish, river prawn and pork.
Seafood comes from the Cambodian coast or local rivers and lakes and frogs seem to be on every menu! A great place to try a lot of specialties is Chanrey Tree, a delightful restaurant on the river in the middle of town. Whether you choose the seafood with kampot pepper, the grilled stuffed frog or any of the delicious salads, you're guaranteed great food at reasonable prices in a clean, safe and aesthetic environment. Everyone talks about the famous local dish Fish Amok, which frankly doesn't "wow". Siem Reap is a one-horse town that basically caters to tourists who come to see the famous Angkor temples, some of which have been painstakingly and miraculously restored. Many are mere ruins and rubble but still full of magic and mystery. And others have become famous through movies like the Tomb Raider and Indiana Jones, full of magnificent wild fig tree roots, which grew around the temples after they were abandoned.
What no one tells you about is the exhausting level of heat and humidity almost all year round (maybe slightly less from December through March). So my advice... spend a day — or two — more than planned. You'll need it. Don't rush the temples. Slow down the pace and enjoy the welcoming hospitality of a very sweet bunch of people. Please also remember that Cambodia has experienced hardship and political turmoil for many years. So be patient and you'll receive kindness beyond belief.
Temple trail
Of course, you must do the Angkor Wat temple complex. It is the world's largest religious monument. Full of unbelievable elaborate stone carvings (I have never seen so many apsaras in my life), balustrades, galleries, courtyards and corridors. Why does everyone suggest going at sunrise? Well, to get a glimpse of the spectacular 'Nat Geo sunrise' and a picture of the famous reflection in the lotus pond in front. Is it worth the early morning start? Absolutely!
There are many smaller temples off the beaten track where you find absolutely no tourists and a lot of history. Banteay Kdei, Pre Rup, Preah Khan and Ta Som were my favourites. Don't expect to do all the temples in one day. It's just not possible. Keep at least three days to explore, enjoy and soak in the history, magnificent archaeology and carvings.
Brave enough to take on street food?
There are plenty of meat skewers, soupy noodles and fried rice snacks to choose from (many have pork or prawn fillings). Take a local with you and ask them to order the crispy shrimp roti and fish-egg omelette. Along with this you'll get a very "salty chilli salt" and sweet chilli sauce. For strong stomachs, try the lake clams rubbed with fresh red chilli and garlic. For vegetarians, the tapioca fries are a great option. 
Spa massage and Martini
After all that temple walking you deserve a foot massage. Spas and massage parlours (the decent kind) are all over town. We chose one just opposite the old market — air-conditioned and comfortable and professional, young staff. At $3 for a 30-minute foot massage, it's an experience you can afford every day!
Relax in the Martini Bar at Residence d'Angkor. Do try their signature Kampot Pepper Martini. It's made with local green peppercorn, local Mekong Gin and passion fruit. Another one? Try the Temptation Martini with ginger liqueur or the Basil Smash with local basil and cucumber. The Khymer-style beef skewers, frog legs and sweetcorn tempura and delicious tapas served alongside.
A luxurious stay
Stay at Belmond La Residence d'Angkor. There are a few five-star hotels now but this is by far the best and most established. A lush tropical oasis on the tree-lined Siem Reap River within easy distance of the temples and the town. It is home to the best Cambodian handwoven silks, hardwood furniture and striking contemporary art in a quintessential Cambodian setting complete with monks at the entrance who bless you and tie the famous red-woven string on arrival.
A signature ice-cold towel infused with the fragrance of lemongrass greets you as you come in. This signature cold towel is a most welcome gesture when you hire a private car and driver from them to visit the temples. Almost all the rooms open out onto the pool. You have lotus ponds, a Martini bar and a fine-dining restaurant, not to mention the spa, extremely good service and a very reasonable tariff compared to other luxury Belmond properties in the world. So take advantage! Lotus experience
A welcome diversion from temples is a visit to the lotus farm near Siem Reap, part of the Samatoa Project. It is around a giant lake filled with thousands of lotus. This is one of their three projects which also include an eco textile mill and a high-end clothing studio. You get to see how lotus grows, how the fibre is extracted from the stem, made into thread and then spun into a yarn.
The result is then mixed with silk or cotton and woven into the most gorgeous textiles. However, be warned that most of this is highly sought after by European designers, hence prices are high. At the Samatoa Project itself, they teach you to make lotus decorations while drinking lotus tea. You can buy lotus seeds and lotus extract cosmetics, which are thankfully very reasonably priced compared to the fabrics. It is an eco responsible and fair trade textile company, which is also sustainable and produces valuable employment to the women of the area.
Karen Anand is a culinary consultant, food writer and entrepreneur. In recent times her name has been synonymous with farmers' markets. Follow her on www.facebook.com/ karenanand