As the skies start opening up and flights resume, London is an obvious destination to vacation. UK protocols seem to be in place and with the unusually warm weather they have been having and hotels, restaurants, parks and gardens welcoming tourists with open arms, let's head to Britain.
I was in London in March just before the lockdown and for a change I treated myself to a night's stay in very fashionable Knightsbridge on the edge of hip and trendy Chelsea. This is the area once and still frequented by a bunch of people known as the Sloane Rangers. In 1982, The Official Sloane Ranger Handbook, an era-defining little work of tongue-in-cheek social anthropology, became an unlikely global success. The guide was the brainchild of Ann Barr and Peter York, the features editor and a writer for London's Harpers & Queen magazine. (Incidentally Ann Barr was also co-author of The Official Foodie Handbook a couple of years later). For several years they had been documenting and writing articles on a new breed of upper-middle class Londoner they dubbed the Sloane Ranger. The most famous Sloane of all was Diana, Princess of Wales (when she was Lady Diana Spencer), who graced the book's front cover and was awarded the title of "super sloane" in the book.
A foray into Sloanedom
Sloane Rangers typically live in the Chelsea and Knightsbridge areas of London, near Sloane Square, (hence the name). Most are part of Britain's aristocracy or belong to certain families, had been educated at certain schools, had certain jobs, drove certain cars, had country houses, and wore a uniform that made them easy to spot. In the city, they study or dabble in fine art and in the country they ride horses and go for long walks on their country estates. The Sloane uniform consists of a number of trademark items, including Gucci flats in town and green wellies in the country, Hermes scarves tied below the chin, a navy-quilted waistcoat or cashmere cardigan, pearl necklace and long pleated skirt in winter and a floral Laura Ashley one in summer. When the book was published 35 years ago, the main demographic of readers were Sloanes themselves and their mothers, York says. But soon came the "wannabees" and, thanks to Princess Diana's exploding fame, those who were simply fascinated by how the other half lived.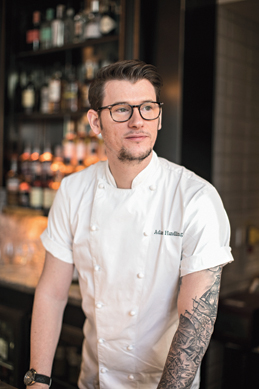 Adam Handling is the man behind the iconic Belmond Cadogan Hotel's stunning menus, which include parmesan madeleines with chicken and nori butter Pictures: From the author and agencies
Many years later, I was still fascinated and wondered if I could be a Sloanie for a day or two. With completely the wrong skin colour, wrong relatives and wrong uniform, I checked into the Belmond Cadogan Hotel, a luxury boutique hotel overlooking the stunning Cadogan Place Gardens in Knightsbridge. A small apartment in Cadogan Place would set you back around 2.5 million pounds or thereabouts. The hotel has been completely refurbished and redecorated with great style and great comfort (think big, standalone bath tubs and old Victorian-style taps from Lefroy Brooks). A dramatic entrance through the grand doors off Sloane Street, past the roaring fireplace and up the sweeping staircase, through the bronze cast of 600 books and 50-odd rooms, I felt I was more in an old English home than a hotel. A truly British residence, every detail of the hotel weaves the past together with the present; carefully placed antique artefacts sit alongside commissioned modern art and bespoke, handcrafted furnishings.
My sprawling large room welcomed me with a marble fireplace, an array of British tea cakes, my own library and a tea pot with a knitted tea cosy. The hotel has a storied past full of glamour, intrigue, eccentricty and delicious scandal, perfect for me to begin my foray into Sloanedom. One of the hotel's most notable guests was the socialite and actress Lillie Langtry who lived in the hotel in the late 19th century, where she famously met and "entertained" the Prince of Wales (one of Queen Victoria's children) and became friends with the legendary and flamboyant playwright and author Oscar Wilde.

An organic crusade
After a cup of decidedly British tea, I wandered down with my personal key to Cadogan Place Gardens. Like many garden squares in central London, the gardens are the private property of the residents on the square and can only be accessed with a personal key. So I felt like a Knightsbridge resident straight away. When I lived in London, I would always envy those who had access to these beautifully-kept little enclosures all over the city. This square borders on Chelsea and it feels like a village in the heart of London. I chat with the concierge for some advice on the area, the cultural hot spots and the inside tips on the best local pubs and restaurants which are truly Chelsea intuitions. She was very knowledgeable. For a quirky experience that is unique to the hotel, you can also have a coffee with a London cabbie at one of the few remaining original Cabbie shelters opposite the hotel.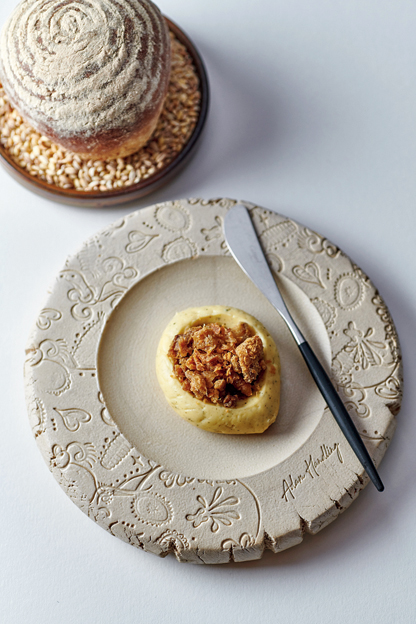 Enoteca Turi is an independent family-run Italian restaurant with an award-winning wine list, offering regionally-inspired cuisine, using traditional and seasonal ingredients Pictures: From the author and agencies
A long soak in the bathtub with lovely Bamford bubble bath made me think of Daylesford, the super chic organic restaurant and shop in Pimlico, a 15-minute walk from the hotel. Daylesford's founder is Lady Carole Bamford (married to the fabulously wealthy JCB magnate Sir Anthony Bamford) and she is Britain's pioneering champion of luxury eco-chic and all things organic, ethical and expensive… did I mention sustainable too? Incidentally, she does a lot of work in India now from her headquarters in Jaipur and has opened an extraordinarily beautiful boutique there called Nila House. I remember being so impressed with Daylesford in Pimlico a few years ago that I persuaded a friend to drive me all the way to the epicentre of Carole Bamford's organic and ethical world in the heart of the Cotswolds, Daylesford Organic Farm.
Dayesford is not just a farm. There is the farm shop, packed with perfect specimens of freshly picked vegetables, fruit and herbs, a butcher, fishmonger and restaurant. They have a dairy and creamery, farm kitchens, cookery school and animals who roam freely on the surrounding organic pastures. Too much excitement? You can even stay the night at one of their cottages or in their sister pub called the "poshest pub in Britain" by The Daily Mail, The Wild Rabbit in nearby Kingham (a favourite of former UK PM David Cameron who has a home nearby and William and Kate before they were married). Carole Bamford with her wealth could I suppose, have stayed at home and played cards or whatever but she puts all her resources to very good use, creating jobs and relentlessly ploughing on for over 40 years with an organic crusade which encompasses farms, cheese, a herd of rare-breed Gloucester cows, her famous farm shops, a bunch of cafes, a spa, bath products, a range of clothes made from natural fibres plus her recipe book — and a pub with rooms.
A food orgy
I tore myself away from the temptations at the Daylesford store in Pimlico to a restaurant I had read about in my old friend Charles Campion's Rough Guide to London Restaurants (a guide I highly recommend if you want a genuinely unbiased opinion and recommendations). Charles has placed Enoteca Turi in two of the "Best" sections of his book — 'Best Italian' and 'Best for good, affordable wines'. Enoteca Turi is an independent family-run Italian restaurant with an award-winning wine list, offering regionally-inspired cuisine, using traditional and seasonal ingredients. It is more a fine-dining restaurant and enoteca (wine cellar). So don't go there expecting a mom-and-pop trattoria with checked tablecloths.
Giuseppe, or "Pepino" as he is known to his friends, grew up on a farm in Puglia, a region famed for its abundance of fresh seasonal produce. He moved to London in 1982 and after training as a sommelier at the Connaught hotel, opened Enoteca Turi in Putney with his wife Pam in 1990. Since then the restaurant has grown organically, developing its own style of food and fan following and a notable Italian wine cellar. "In 2016 Putney's loss was Pimlico's gain when after 25 years, Giuseppe and Pamela Turi had to find a new home for their Italian restaurant. They brought their warm hospitality and superb wine list with them," reads the Michelin Guide.
Lunch was predictably superb, starting with a platter of Italian salami and cured meats from the famous providore Corte Pallavicina from the province of Parma where the best cured meats in Italy come from; culatello, capocollo, salami, lardo con magro, rye toast and pickles paired with a deliciously sparkling Alma Gran Cuvee Franciacorta from Bellavista (a far superior bubbly to Prosecco made in the champagne-style). Since we were thirsty (!) we also tried a bottle of champagne called Roses de Jeanne Val Vilaine, which Pepino sources from a small producer called Cedric Bouchard. The food orgy continued with big flavours and simple dishes like sardines filled with pesto, baby plum tomato coulis, buffalo mozzarella and cucumber salad, a perfect spaghetti cacio pepe which I ordered off the menu (my yardstick for pasta) and a gigantic portion of roast turbot (a fleshy, flat English fish) with tomato and olives, potato and samphire (a kind of local seaweed) washed down with a glass of chilled Soave. I stopped there but the poached yellow peaches looked tempting. Is it a strange choice to eat Italian in London? Not at all. In fact I often find better Italian food out of Italy than in Italy itself.
British cuisine with modern flair
After lunch I saunter onto Sloane Square and pop into one of my favourite department stores, Peter Jones. I love their kitchen department but on this trip I needed some essentials. The prices are correct, the shop is never teeming with people and the service second to none. And back to the hotel to join friends for drinks and dinner at the hotel restaurant where we are in the capable hands of Adam Handling. Adam opened his first independent restaurant in June 2016 in Shoreditch, London, which won 'Best Restaurant of the Year' in the 2017 Food & Travel Reader Awards, alongside 3 AA rosettes and a Michelin Bib Gourmand. "Modern, British, seasonal, sustainable; that's the ethos that underpins my cooking. I don't want to be the best restaurant in the world — I want to be the local's favourite in Chelsea," he said.
Adam is the visionary behind Belmond Cadogan Hotel's stunning menus. Tipped by The Caterer magazine as one of the '30 under 30 to watch', he combines his passion for traditional British cuisine with daringly modern flair and imagination. The menu encapsulates the very 'Best of British' with sustainability at the heart of the restaurant's philosophy. Each Sunday, Adam and his team put on a culinary show with a decadent Sunday lunch, including platters of seafood, charcuterie, Sunday classics and sweet treats.
Adam also opened the afternoon tea lounge, Cadogan's by Adam Handling. Adam's afternoon tea was awarded 'Best Contemporary Afternoon Tea' at the Afternoon Tea Awards 2019. The tea itself is inspired by childhood memories of plentiful feeding at his grandmother's house, combined with a perfect blend of history and nostalgia of a traditional high tea, and is freshly prepared in the in-house bakery every day.
The menu at the restaurant is pretty straightforward and simple with plenty of grills, which is prefect if you are staying for a few days but since I wasn't, we went for the a la carte. We tried the halibut (another British white-fleshed fish with a delicate flavour) which he paired unusually with a red wine sauce; native lobster from Cornwall and scallops from Orkney in Scotland. However, I am ashamed to say that the dish that really blew me away that evening was the parmesan madeleines (little scalloped savoury cakes) with chicken and nori butter. The chicken butter was made with crispy chicken skin which is ground to a powder with seaweed. All that umaminess, the creaminess of the butter and the hot cheesy madeleines took me back to Marcel Proust and his madeleines in In search of Lost Time.
"No sooner had the warm liquid mixed with the crumbs touched my palate than a shudder ran through me and I stopped, intent upon the extraordinary thing that was happening to me. An exquisite pleasure had invaded my senses, something isolated, detached, with no suggestion of its origin. And at once the vicissitudes of life had become indifferent to me, its disasters innocuous, its brevity illusory — this new sensation having had on me the effect which love has of filling me with a precious essence…. The taste was that of the little piece of madeleine...."

Karen Anand is a culinary consultant, food writer and entrepreneur. In recent times her name has been synonymous with farmers' markets. Follow her on www.facebook.com/ karenanand