The Hornbill Festival 2019 in Nagaland was a culture kaleidoscope
Known as the 'festival of festivals', this event marks the coming together of 16 Naga tribes (officially recognised by the state) to compete, showcase and celebrate their culture in more ways than one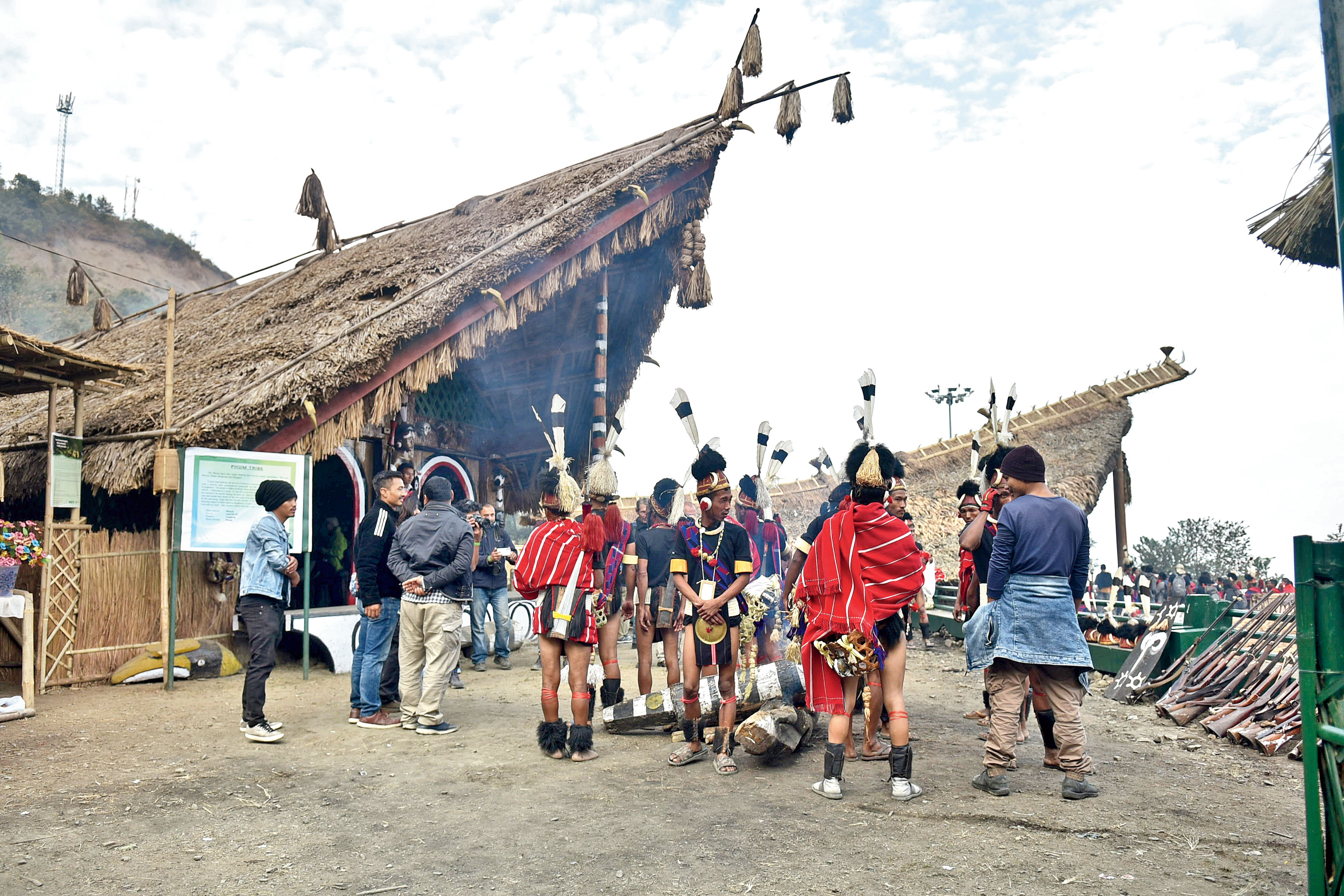 ---
|
Nagaland
|
Published 15.12.19, 01:56 PM
---
Having recently returned and still reeling from the famed Hornbill Festival of Nagaland, one is repeatedly reminded of The Chronicles of Narnia or Alice's Adventures in Wonderland or books of similar tenor that compel protagonists to take an arduous journey to finally reach a magical land of fantasy, joy and love. For that is exactly what Kohima is transformed into, during this 10-day festival in Nagaland, celebrated in December every year — a magical land of positivity and incomparable hospitality. And also, for that is how arduous the journey is from Dimapur to Kohima, with the only motorable roadway connecting you to the hills of the state having fallen apart many eons back, leaving behind a decrepit dirt road snaking its way up the hills.
The entire state comes alive with each person celebrating Hornbill Festival in his/her own way. Known as the 'festival of festivals', this event marks the coming together of 16 Naga tribes (officially recognised by the state) to compete, showcase and celebrate their culture in more ways than one. While Dimapur now plays part-host to the famed Hornbill Music Festival, the main centre of all attractions remain the heritage village of Kisama in Kohima. A four-and-a-half hour drive takes you from the nearest airport that is Dimapur to Kohima, which comes with an aching back and a 10-degree fall in temperature. But it was heartening to see road work going on at regular intervals, promising one of a better road to the festival next year.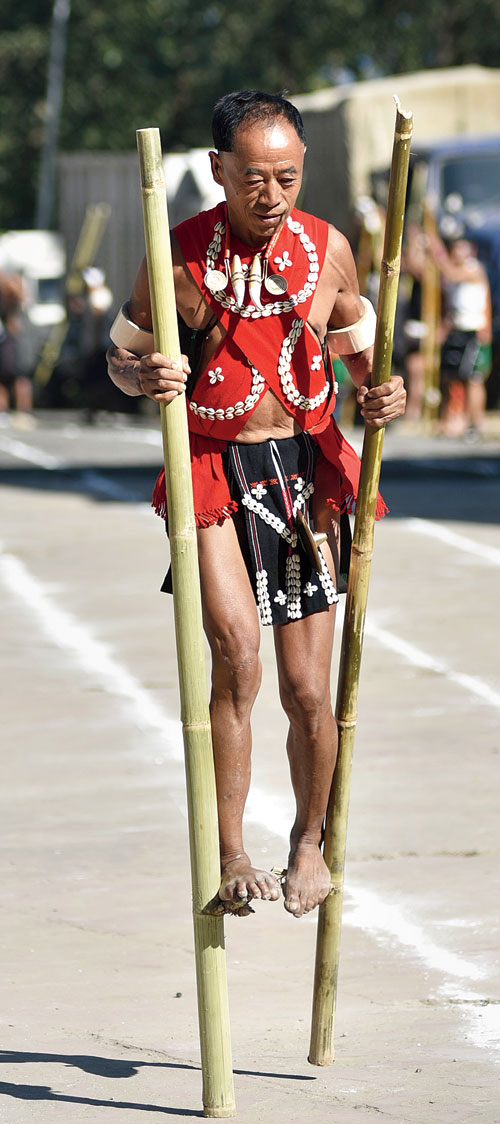 LOIN LOOM IN DIMAPUR
On our single night halt at Dimapur, we decided to go for an Airbnb experience in Diazephe village where loin loom weaving is being slowly and steadily revived. Loin loom, a primitive form of weaving producing cloth of great beauty, was found along the stretch of Laos, Cambodia, parts of Vietnam, north Thailand and some parts of South Asian islands. One can also find this art form prevalent in parts of Guatemala, Peru and Mexico.
Mobilising the tribes and bringing method to the madness is Neil Biswas, a retired professional who was posted in Nagaland during his active years and fell in love with this place, people and art and aims to build a living museum of the place. The Loin Loom Festival is now held in tandem with the Hornbill Festival where visitors can come and experience raw living, learn about the art and buy authentic goods. Investing lakhs of money, Biswas is building a self-sustaining ecosystem and now Airbnb and Nagaland Tourism have joined hands with him to make this into an experience worth spending a few days with. The warm bamboo huts are open for booking. "I want people above 40 to come and stay here, because they have the spending capacities. Haggling for prices is an insult to the art form and I am trying to provide every kind of facility to make this stay as comfortable as possible," Biswas chimed in.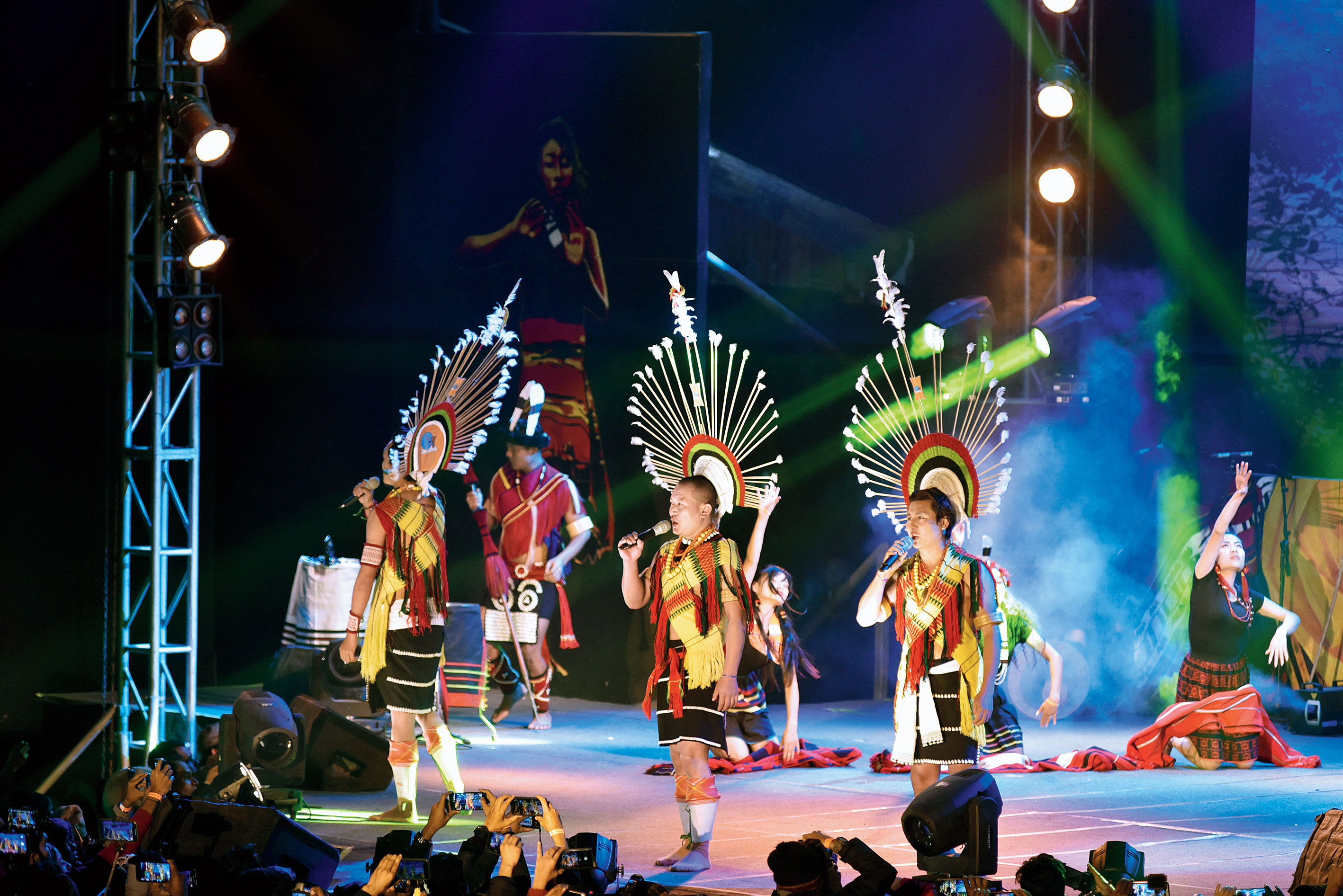 THE MUSIC
Hornbill Festival is a like a giant fair with a large stage around an amphitheatre which comes alive with music and dance performances at night. The festival, till the year before, witnessed one of the largest rock music competitions in South Asia — The International Hornbill Rock Contest — with the winning team taking home a whopping Rs 10 lakhs prize money.
However, for reasons not known to many, the contest was discontinued from this year and instead replaced with The Great Hornbill Rock, taking place in Dimapur. Conceptualised in 2006, past winners have also included Calcutta bands Underground Authority, Joint Family and Hobos.
The Kisama main arena saw performances like Divine Connection, Trans Effect, Insipit, Swarathma and more. Pandit Vishwa Mohan Bhatt was another important attraction of the line-up this year. Tetseo Sisters, the quartet from Nagaland that performed for NH7 Weekenders and won accolades for their work, had a dedicated stage where they put up two shows every day, to a fully packed house. Divine Connection, the Christian rock band that won MTV RockOn in 2010, had their audience head-banging to timeless classics in a manner that defied the "dry-state" concept in Nagaland!
Morungs in Kisama
You know you have witnessed something surreal when you are lost for a singular word to describe the overwhelmingly joyful ambience of the event — especially so if writing is your profession! 'Morungs', which can loosely be translated to mean a bachelor's dormitory, are recreated to line the festival arena, representing separate tribes.
The morung culture is one where bachelors are sent to acquire life skills by each tribe. The makeshift Morungs resembling bamboo huts would have a fire raging outside to combat the cold and people of all ages sitting around it sharing rice beer and some delicious smoked pork. Each tribe prides itself for its beer-making capabilities and each beer is distinctly different from the other. "If you want to get really high, you must try the millet beer from Chang Morung", we were repeatedly informed by helpful locals. The warmth of this scene, of smartly-clad youngsters sitting around sharing a laugh and beers, coupled with that of the pretty lights emanating from the stage and the bonfires, is enough to lose one's heart to Nagaland. Till the worms arrive…


NAGA CUISINE

Naga food has always been a point of great intrigue for non-Nagas and we managed to get a taste of it (quite literally!) on this trip. Keeping an open mind and jumping headlong into their cuisine is perhaps one of the best decisions one can take while travelling across this state. There is not much else one can do when Naga hospitality comes and grabs you by the hand and leads you into the kitchen. We tried every questionable dish that was kept in front of us and came back with no regrets — silkworms, fried worms, grasshoppers, snails and fermented pork. While snails were juicy and fleshy to taste, worms when fried taste like crisps, but with an extended aftertaste. Those who love pork would find heaven in Nagaland because they sure know how to cook their meat. The food is mostly fermented, steamed and boiled, making it high on health. Enjoying a piece of smoked pork, using porcupine thorns as toothpick is as natural as it can get!
THE ART OF BAMBOO CARVING
Bamboo forms one of the most important staples in the state and Nagas have learnt every possible usage of the plant — from houses to jewellery to utensils. So it is no wonder that a major portion of the festival arena is occupied by 'The Bamboo Pavilion' where local businesses set up stalls and sell their wares. From coasters to clothes and crockery, there is a little of everything at this pavilion. Grab some weapons or musical instruments that can find a place of pride in your home. The locals even fashioned a large piece of bamboo into a water dispenser to wash hands in the most ingenious manner.
The cultural vibrancy of the place will definitely stay with us for years to come. While the mornings played host to various competitions like running on stilts, shooting, cooking and dirt-road driving, the evenings were reserved for events with more international flavour.

NAGA CHEFS
Cooking forms a large part of the festival, all thanks to Naga Chef which is in its seventh year. In an effort to spread the Naga cuisine to various other parts of the country, Naga Chef was a competition conceptualised with Rs 3 lakhs cash money at its helm. The exposure acts as an entrepreneurial push for the participants, with the last six winners all having gone to establish their own restaurants in various parts of the country.
After six gruelling rounds that involved Culinary Skills, Mystery Basket, Pressure Task, My Signature Dish, Just Desserts and Group Round, three chefs finally fought it out at the Hornbill Festival at Kisama. Speaking to us about the festival, judge and restaurant owner Alemjung Jamir said, "We strive to make this competition a wholesome entry point into the culinary world. Naga cuisine doesn't have the concept of desserts or starters so we introduced those rounds with similar facilities that one would see on any international cooking competition on TV."
AIRBNB-ING YOUR WAY AROUND NAGALAND
The scenic beauty all around you adds to the marvel that is Hornbill Festival. Airbnb is slowly finding its foothold in the state with gorgeous properties springing up on their listings every other day. So it was no surprise when they tied up with Hornbill to be their official accommodation partner. While we stayed in Rhododendron Resorts comprising four cottages on top of a mountain, there are plenty of other options too, if one plans ahead. "Working with local governments and tourism organisations helps us empower more hospitality entrepreneurs who want to share their local culture with guests from around the world. Airbnb's partnership with the Government of Nagaland fortifies our goal to bring value to local communities and promote authentic events like the Hornbill Festival across the globe," said Amanpreet Bajaj, country manager, Airbnb. Kohima, that has remnants of World War II in every corner, lets history enthusiasts find solace walking alongside tombstones of war veterans who have lost their lives in the war. There is a rich history and culture in every nook and something to discover every day.
Our resort owner, a generous man of some repute in Kohima, was a kind host who went out of his way to ensure we had a great time. Our driver, who hailed from Assam, was not able to find his way back to the resort one night. The owner decided to show us the way in the dark and stopped somewhere a kilometre away from the resort, asking us to get off our cars. Two steps away, we met with the most glorious sight of Kohima, shining bright at night, because of the festival and Christmas of course. That surreal experience in those few seconds is exactly what summarises Hornbill Festival — a bright, shining, pulsating being reaching out to you in the dark.