Happiness in Hamburg
Ten reasons you will love my new home city, says the columnist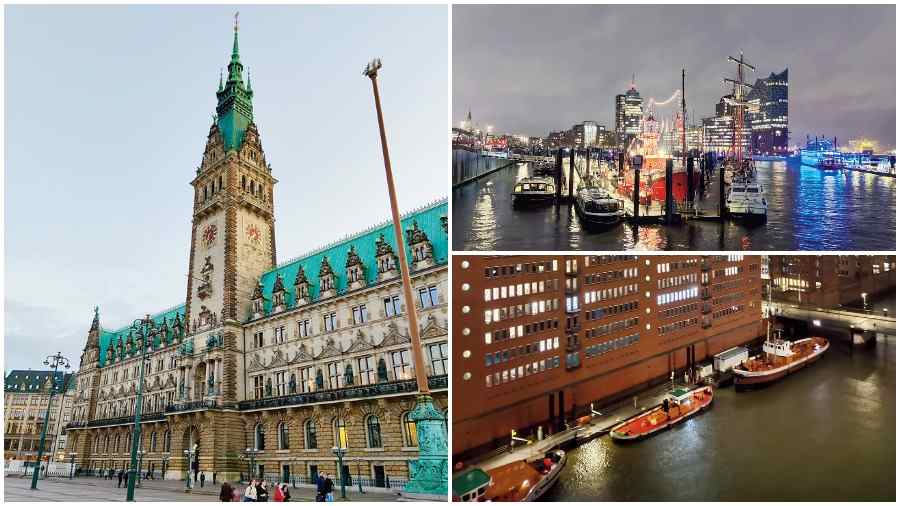 (Clockwise from left) The Rathaus (town hall) in the city centre; The buzzing riverside scene at night; Hamburg city centre at night
---
Published 05.06.22, 12:34 AM
|
---
Willkommen in Hamburg! This gorgeous maritime city in northern Germany is now my home and I am totally enthralled. When visiting northern Germany, people tend to visit Berlin owing to its rich history and skip Hamburg. However, if museums and historical sightseeing is not your thing, head to the second largest German city and slow down for a couple days, taking in all that it has to offer.
Here are my 10 reasons for finding happiness in Hamburg and I'm sure you will too.
1.A city built on water
Hamburg is seated on the River Elbe and two of its tributaries — River Alster and River Bille. The North Sea and Baltic Sea are very close to the city. The serene Alster Lake lies at the heart while a complex labyrinth of canals meander around. They say Hamburg has more canals than Venice and Amsterdam combined and the largest number of bridges in Europe.
As you would expect, there is an abundance of water sports with boats and canoes of every sort. Sunny summer days are spent having picnics and parties on the banks. My morning visit to the grocery store includes a stop to admire the duckling family swimming in the adjacent canal. This Indian city girl is surely happy!
2. A charming city centre
Hamburg is the perfect balance between a large city and a small town. The city centre is wrapped around the Alster Lake, with the stunning Rathaus or town hall standing tall. Traditional Hanseatic buildings, Romanesque and Baroque churches line the squares and streets. Hop on to a boat here for a tour of the lake and marvel at the magnificent mansions around the northern banks. Indulge in some retail therapy at the designer shops of Neuer Wall or the more pocket-friendly high-street brands at Spitalstrasse. 3. Fresh seafood
Having grown up in Calcutta, I have been spoilt with fresh fish and am rather particular when it comes to seafood. Being surrounded by water, seafood does form a large part of the local diet here so if you thought German food was only sausages and potatoes, there is plenty more. Salmon, cod and sea bass are some of the local varieties and it is a delight to visit the Altona Fisch Market early morning when the boats bring in the fresh catch.  Fischbrotchen, or a sandwich with various types of fish fillings, pickles and dressing is the local street food here.
4.Diverse gastronomy
First of all, if you are expecting me to talk about hamburgers, well that connection is quite murky. There is no direct connection with Hamburg being the origin of hamburgers except a story that sailors from the port of Hamburg, when visiting America, would eat slices of bread with a minced meat patty sandwiched in between and that went on to become popular there. In fact, 'hamburger' here refers to people from Hamburg (a term I initially found rather odd when a taxi driver was narrating a story about 'hamburgers' in the context of humans and not something edible). Anyway, the verdict still stands —hamburgers are American food!
Hamburg has always been a major port and is considered Germany's gateway to the world. Trade along with large migration over the years, has made it a melting pot of all cultures, which is further reflected in the buzzing gastronomy scene. The plethora of sushi and Vietnamese eateries range from budget to super chic, Turkish doner kebabs and shawarma places are at every street corner and gourmet Lebanese and Middle Eastern restaurants are plenty.
 Till a few years ago, a vegetarian in Germany would have to survive on potatoes, bread and a sorry salad but now with the global vegan wave hitting Europe, vibrant vegetarian and vegan food is the 'new normal' here. As for my desi homesick cravings, those are satisfied with the chana bhatura and rawa masala dosa from some very authentic Indian restaurants here!
We all know that no one does bread better than the Germans. While bakeries all over the country are at par and offer similar fare, one of the typical Hamburg delights is the Franzbrotchen — best described as a cross between a croissant and cinnamon roll. 5. Pulsating nightlife
Party people, head straight to the party district of St. Pauli, the beating heart of Hamburg's nightlife. The famous Reeperbahn is apparently Europe's longest party street where erotic bars and strip clubs peacefully co-exist alongside old sailor's pubs, karaoke bars and cool discos. There is also the elegant St. Pauli theatre right in the midst of all of this, a clean and controlled red light district where everyone can have fun!
6. A centre of music, art and culture
The city is a top destination for music festivals with open-air concerts in the large parks throughout summer. The iconic Elbphilharmonie is a striking work of modern architecture glistening on the banks of the Elbe. It houses concerts of all genres from jazz to classical to contemporary. Hamburg boasts of a thriving art culture with several art galleries around the city. The Hamburger Kunsthalle in the city centre is a must-visit for serious art lovers. Keep those cameras ready for some eye-catching urban street art you might stumble upon.
7. Trendy neighbourhoods to explore
Ditch the touristy centre and navigate your way through the quaint residential neighbourhoods. The over-efficient public transport network of trains and buses makes it super simple to manoeuvre your way around. Start your day with a big German breakfast at a cafe by the waterside, then walk around the hip Altona area, sipping a coffee at a cute cafe and browsing the vintage boutiques or enjoy a farmer's market by the canal in Eppendorf. Grab an ice cream and watch the canoes and stand-up paddlers from a bridge in Ulhenhorst and Winterhude. Finally, end the day with a cosy dinner in a neighbourhood Italian trattoria.
8. Happy Kids
My two kids are spoilt for choice when it comes to kid-friendly activities. Parents, treat your kids to a mesmerising experience at the Miniature Wonderland and then hop onto a boat around the canals of Speicherstadt. Older kids might enjoy a spooky visit to the Hamburg Dungeon. The Tierpark Hagenbeck Zoo is a delight for the whole family as is the glorious aquarium which stands alongside. If your kids dislike walking, just like mine, hop onto an open-top bus and see the whole city with comfort. My parenting tip is to look for a public park wherever you are and give the kids some time to jump about. Every playground has something different to offer the little ones. 9. Quick weekend getaways
Both the coasts of the Baltic and North Sea have holiday towns to escape to for the day or a weekend. An hour's drive from Hamburg on the Baltic coast, lies Timmendorfer Strand. A chic resort town with elegant cafes along the promenade. On a warm day, enjoy sipping a sundowner cocktail while doing some people-watching here. On the way, stop at the picturesque town of Lubeck for some instagrammable shots or simply to stroll around. The original Legoland at Bilund, Denmark, is a three-hour car drive up north or a short train ride away.
10. Nature at its best
I have been enjoying the burst of flowers here in spring. While we all gush over the Japanese cherry blossoms, did you know that these stunning transient flowers also bloom all over Germany? The season here lasts for about three weeks between April and May and it is a breathtaking sight. Thereafter comes the rhododendron in cycles of purple, magenta and blue. No matter how busy you are, you cannot help but stop to marvel at nature's wonders.
So go on, get planning and packing. Feel free to reach out to me via Instagram @natashacelmi for any travel queries. It is time to be happy in Hamburg!
Natasha Celmi is a chef and cookbook author from Calcutta, now based in Germany. Instagram: @natashacelmi |YouTube: Natasha Celmi