Swiss roll
Layered with fresh snow, t2oS savours the Alpine splendour of St. Moritz and Zurich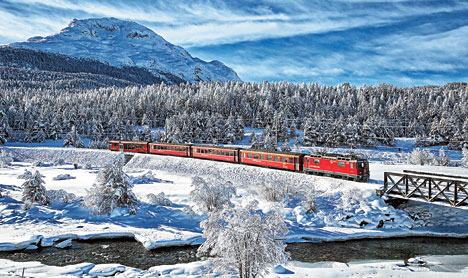 ---
Published 25.03.18, 12:00 AM
|
---
Ice cricket in Switzerland? Why don't you just admit you don't want to come!" scowled a friend, as I informed him of my reason for missing his birthday party. I didn't blame him. A week prior to that, I would've laughed off the idea of Virender Sehwag and Jacques Kallis playing cricket on ice.

The Ice Cricket tournament was one of the major attractions of the four-day Switzerland trip, which saw me travel to St. Moritz and Zurich.

While my inquisitiveness about the newly-learnt ice cricket knew no bounds, I had some more pressing matters to address. Why isn't there any Swiss Franc in Calcutta? Will I get my Schengen visa in seven days? Will I survive in minus 15 degrees?

A bit of help from a resourceful uncle, super-efficient workers at the visa office and acquiring a bright down jacket twice my size later, the sheetkature Bangali in me was ready for the Alps.
ON THE GLACIER EXPRESS

I reached Zurich early in the morning, after a nine-hour flight from New Delhi, which was preceded by a two-and-a-half-hour journey from Calcutta. And a further three-and-a-half-hour train ride to get to St. Moritz seemed daunting. Exhaustion turned to exuberance soon as I got on the straight-out-of-fairy-tale 'Little Red Train' and looked out of the window to find the comforting and arresting presence of Lake Zurich for the next half hour.

In a while, I was joined by the chilling — and at times not-so-comforting — presence of fresh snow, which stayed on with me for the next three days. The view dominated by the snow-clad mountains, complemented by intermittent water bodies and pretty little cottages, is breathtaking and, at times, you just don't want the journey to end.

One has to change trains twice en route St. Moritz, once at Zurich Central Station and then at Chur. A word of caution for all Indians: the Swiss are extremely punctual... after all, it's home to some of the most premium watch brands in the world.

From Chur we hopped on The Glacier Express, which holds the dubious record for being the slowest express train in the world. A blessing in disguise, it helps you keep your camera steady as the journey from Chur to St. Moritz is a UNESCO World Heritage Site, with spiralling tunnels and sprawling railway overpasses punctuating the valley.
SWANKY VILLAGE

St. Moritz, located in the southeastern part of the country, is a 'village' with a population of 5,000, but if you're thinking of the remote ones we have on the outskirts of Purulia, stop right now! "People in Switzerland are usually very low-key, but in St. Moritz it is very different. It's got this right-in-your-face feel about it," quipped a local. Five-star resorts, high-end designer stores and flashy cars (which however don't honk or overtake) adorn the swanky streets, and are guarded by the overwhelming and picturesque Alps.

Originally famous for its hot springs, which have now been converted into plush spas, St. Moritz is one of the most popular winter tourism destinations of the world. The village has hosted the 1928 and 1948 Winter Olympics and is renowned for its wide range of winter sporting activities. While the frozen St. Moritz Lake hosts cricket, horse-racing and polo, you can go skiing and skating on Mt. Corviglia and Mt. Corvatsch.
SKIING AND FALLING FLAT

Skiing wasn't part of the itinerary. But having devoured a whole box of chocolates on my arrival at hotel Reine Victoria, it had become more of a necessity and less of a recreational activity.

Not that I expected it to be a piece of cake, but when my ski instructor asked if I had my medical insurance even before introducing himself, I realised what I had gotten myself into. First, you need an incredible amount of coordination between your limbs and the multiple layers of clothing restricting your movement make it even tougher. There are shops where one can hire helmets, waterproof jackets and trousers, ski blades and unfortunately, the boots. Weighing a couple of kilograms each, the boots used for skiing could be easily used as murder weapons and just walking in them is a challenge, forget skiing.

Couple of embarrassing falls, few words of wisdom from the instructor and dozens of empathising looks from seasoned skiers later, I eventually found my feet. At least enough to drag myself for a few feet and restore some sense of pride. While it wasn't on a slope and definitely not at express pace, you could sense the rush of blood. But even if you kept that aside, the funicular ride to Mt. Corviglia, with a spectacular view of St. Moritz, makes the entire experience worthwhile.
FIFA MUSEUM

Inaugurated in 2016, the FIFA World Football Museum is one of the very few good things former FIFA president Sepp Blatter will be fondly remembered for. Built over three floors, it's every football lover's paradise.

It's a pleasant surprise when you visit the locker room, where every locker bears the name of a football legend. Which one did I get? That of Ronaldo, the original one, with Italian great Paolo Rossi right next to him. The highlight of the ground floor is the international jerseys of all 211 member states of FIFA, while the basement concerns mostly with information regarding the foundation years of FIFA. The first floor is built for the fans, with both fun fan stories and interactive activities. You can commentate on matches, get clicked at iconic football stadiums and, of course, have a bit of kick about yourself.

Did you know? Brazil used to sport white shorts with their iconic yellow jerseys, till the massacre of Maracana in 1950, when they lost to Uruguay in the World Cup decider on home soil, deciding to never wear white again. A newspaper held a competition to design their new jersey, which Aldyr Garcia Schlee, an 18-year-old illustrator, won with this design.
First-time traveller to Switzerland? Take notes!
Carry Swiss Franc: Swiss Franc is their official currency and while the big cities may accept both Swiss Franc and Euro, shops in smaller towns may not.
Get a Swiss Travel Pass: Pay upfront for the number of days you're staying and avail the public transport for free. The Pass also includes free entry into most of the museums including the FIFA World Museum in Zurich.