Sun-kissed Sicily
The island in the centre of the Mediterranean just off the tip of Italy's 'boot' is a foodie's paradise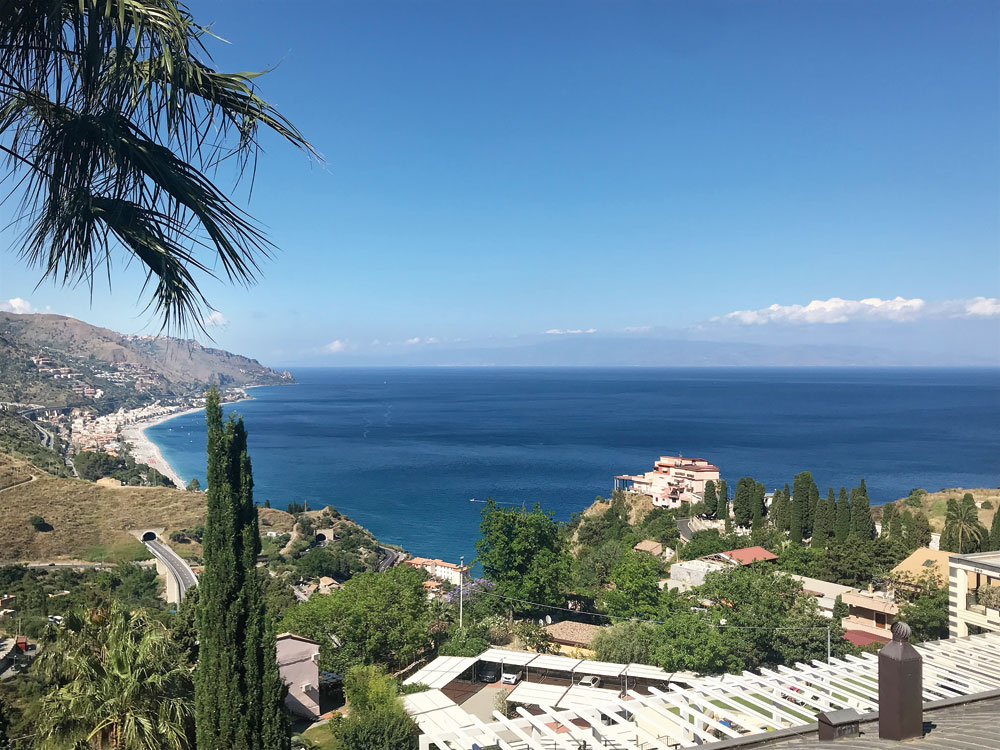 Toarmina and the Strait of Messina
(Sourced by the author)
---
Published 20.07.19, 01:43 PM
|
---
On the map, Sicilia or Sicily is that island just off the toe of Italy's 'boot'. This part of Italy was made famous by the Sicilian Mafia which received further attention with the book and movie, The Godfather. But even apart from this, there is so much more that the island has to enjoy and explore.
In history, Sicily has been ruled by the Greeks, the Romans, the Phoenicians, the Arabs, the Normans and others. Its strategic location at the centre of the Mediterranean has made it a crossroads of history and a melting pot of several ethnic groups whose merchants were attracted to its shores.
Just back from a family vacation on the east coast of this island and a part of me has stayed behind. I was fascinated by all that it had to offer and am waiting to go back for more next summer. There are plenty of flights from all European destinations into Catania, the main city in eastern Sicily. Rent a car from the airport and lose yourself in any direction you want!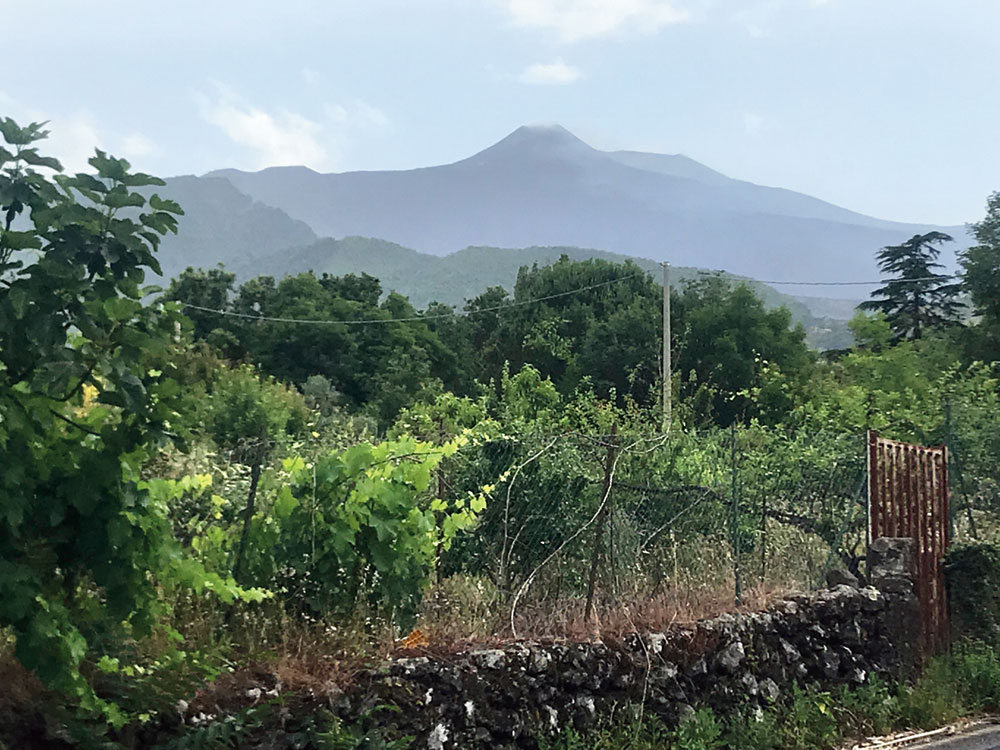 Starting with the north, we headed to the hilltop town of Taormina, which overlooks the sea and sits in the shadow of the majestic Mount Etna, the highest volcano in Europe. This is very active and gives off regular clouds of smoke and periodic bursts of lava. You can go up to a point by car and then further up by cable car or trek with a guide. I had only read about craters, lava rocks and volcanic soil in my geography books in school, but to actually experience it was surreal.
Talking of volcanic soil, this is an ash-rich soil which favours grape cultivation, resulting in some of the best wines in the world. Throughout the trip, we indulged in Sicilian wines and each one was better than the other. There are several wineries in the Etna region that open their doors to visitors to taste and buy their wines.
The views from Taormina are breathtaking. You can see mainland Italy, the region of Calabria on the other side of the Strait of Messina. We stayed in a lovely Airbnb apartment for four days with a beautiful view from the pool and balcony. For those of you not familiar with Airbnb, I highly recommend trying them if you are travelling with kids or in a large group and want to stay put in one place for more than three days.
Enjoy the town, with little streets, boutiques and stepped alleyways. It's very similar to the towns on the Amalfi coast and the Greek islands. If you want to relax on the beach, Giardino Naxos down below is a
10-minute drive and more relaxed. You can blend into the local life here and it's less of a tourist trap.
After the northern part, we spent five days in the south basing ourselves in the beautiful town of Noto. Being a family with young kids, once again, we opted for an Airbnb house right on the beach and it worked out very well.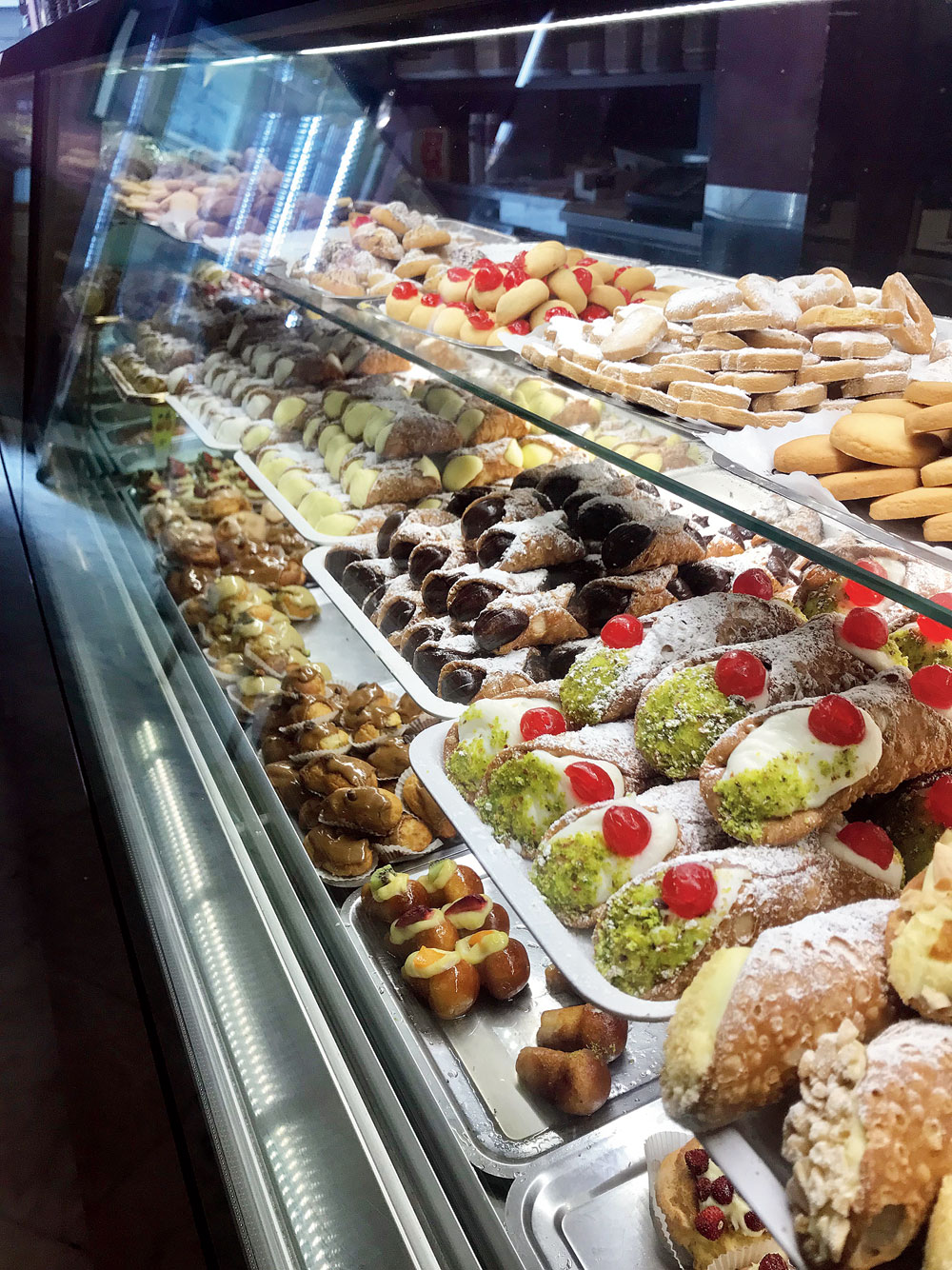 The charming baroque town of Noto is famous for its almonds, which have even been recommended by Massimo Bottura in his book Never Trust A Skinny Italian Chef.
The region is also known for its pistachios, which have a flavour and colour completely different from what we in India are familiar with. Along with the popular Sicilian dessert cannoli, pastry shops are filled with sweets made with these glorious nuts.
Traditionally, cannoli is filled with a creamy ricotta and pistachio, but, today, you have shops which specialise in cannoli in all sorts of flavours. For me, every coffee stop was accompanied with a mini cannolo, while the kids indulged in fresh fruit granitas.
There are plenty of agriturismo and masseria in the countryside, which have been converted into boutique hotels with modern facilities while maintaining their rustic charm. La Corte del Sole around Noto is one such gorgeous farmhouse hotel in the middle of olive groves and orange orchards. 
It's an ideal place for couples to stay and enjoy the romantic ambience. We had a fabulous dinner at their restaurant with a gorgeous view and a beautiful sunset.
Drive up and down the coast and enjoy the white sandy beaches at Avola, San Lorenzo and Fontana Bianca, or just stop at a deserted spot you fancy and enjoy the unblemished gift of mother nature. The crystal clear water with calm waves and little friendly fish for company is a pleasure to swim in and I often felt like I was in those travel shows on TV where everything looks too good to be true!
If you like jumping off cliffs into the ocean, you can join the local kids who do this all summer. The Vendicari Nature Reserve is famous for its rocky shores, virgin beaches, hiking, snorkelling and birdwatching. This is a protected zone and a must-visit for the adventurous and sporty lot.
Due to its unique location, Sicily is a bridge between Europe and Northern Africa and the Middle East. This is evident in the vegetation, where date palms and cactii line the roads. Red sandstone is widely used in the construction and coupled with the scorching summer sun, you would forget you were in Italy. I see a significant Arabic influence in the designs of ceramics and furniture as well as the cuisine, integral to which are dates, dry fruits, saffron and spices.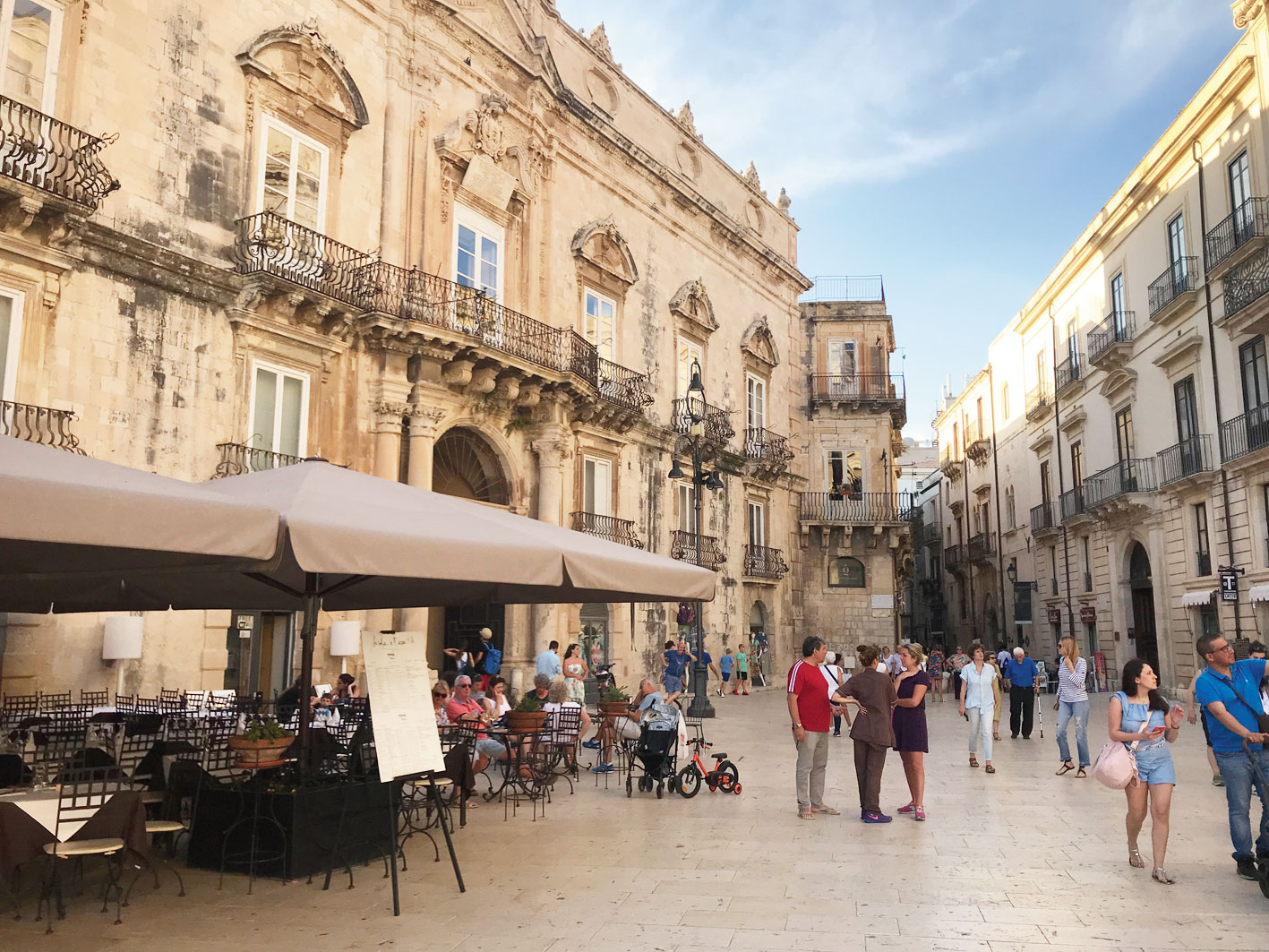 We spent one day in the port town of Siracusa but you could also make that your base if you prefer a more vibrant scene. The charming piazzas are bustling with people. The streets are lined with posh restaurants and bars, while street food vendors sell hot arancini and fried seafood.
If you are keen on a sailing trip or a half-day boat ride, Siracusa is the place to go for it. Do some people-watching while dining at one of the seafood restaurants by the promenade. Did I mention that the seafood in Sicily is so fresh it literally tastes of the sea?! I really enjoyed visiting the morning farmers' market, which was overflowing with the freshest seafood just brought in by the boats, over a hundred types of tomatoes, sun-kissed oranges and lemons, spices, varieties of olives and eggplants I had never seen before and so much more. The colourful ambience was filled with positive energy and the enthusiasm of both the vendors and the customers was intoxicating.
Sicilian olive oil has a particular sweetness which is different from that produced in other parts of the country. I was told that the generous amount of sunshine which the region is blessed with contributes to this unique flavour of the olives. So it wasn't surprising that I came back with several little bottles as gifts.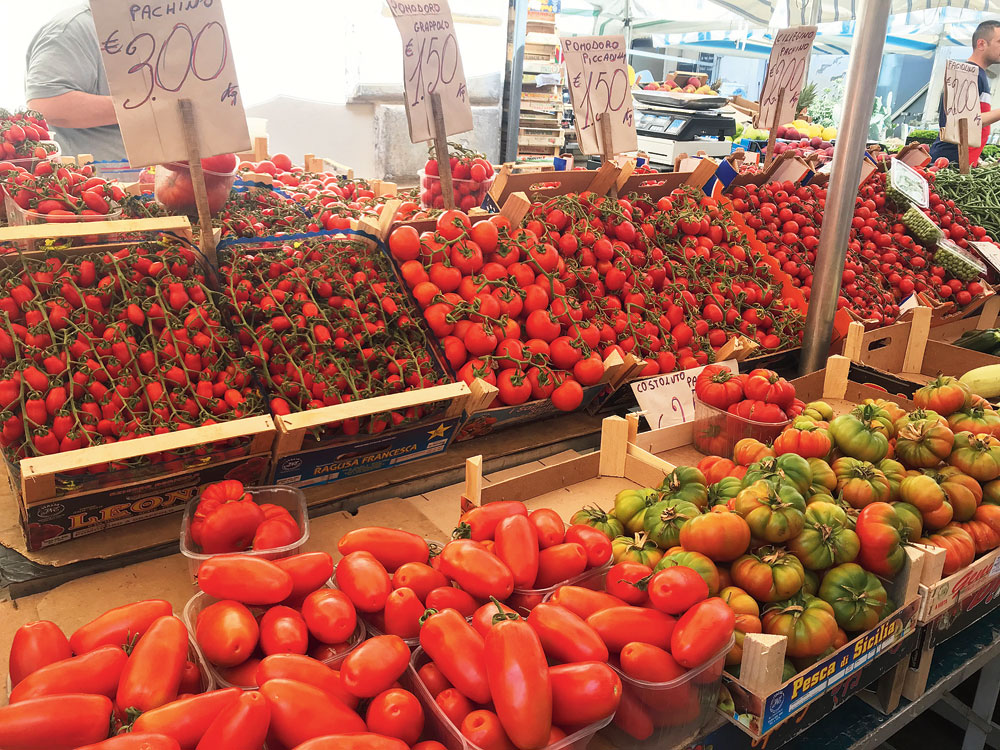 Marzamemmi is a quaint fishing village famous for its tuna and swordfish. The picturesque alleys are an Instagrammer's delight with a strong influence of the Greek islands. We had a memorable meal by the seaside indulging in the local cuisine comprising involtini di pesce spade, or Swordfish rolls filled with pistachio and breadcrumbs, ravioli stuffed with swordfish in an orange sauce and pistachio crumble, calamari (squid) stuffed with raisins, almonds and herbs in a delicious tomato and onion sauce. These are typical Sicilian seafood dishes which have inspired me so stay tuned for the recipes!
Italy is a vegetarian's paradise compared to a lot of other European countries and Sicily has a lot to offer. Melanzane, or the humble eggplant, is the star vegetable in Sicilian kitchens. Pasta alla norma and caponata have won me over and are sure to convert those who dislike baingan!
The pasta with pistachio pesto had me licking my spoon every time. Make your own pistachio pesto by blending pistachio, parmesan, 2-3 basil leaves and good quality olive oil. Add some lemon zest to brighten it up. In Sicily, pistachio is the hero and you just toss pasta into it or add some seafood, ham or cherry tomatoes.
Talking of cooking simple vibrant Mediterranean flavours, come cook with me at two of my workshops in Calcutta this week. Through the dishes, I'll be discussing cooking techniques, meal planning, using leftovers and tips on kitchen efficiency for our busy lifestyles. Learn to cook quick flavourful meals using local ingredients with minimal fuss. The details are below. 
Calcutta girl Natasha Celmi is a culinary specialist and food stylist based in Bangalore. Reach her on Instagram at cucinamiabynatasha or www.cucinamiabynatasha.com.
Natasha will be hosting two cooking workshops — Soups, Salads & Sides, and Gourmet Small Plates on July 24 and 27 respectively at Karma Kettle on Swinhoe Street