Succumb to the charms of a temptress named Bali
A fascinating place that is worth submitting to in body and spirit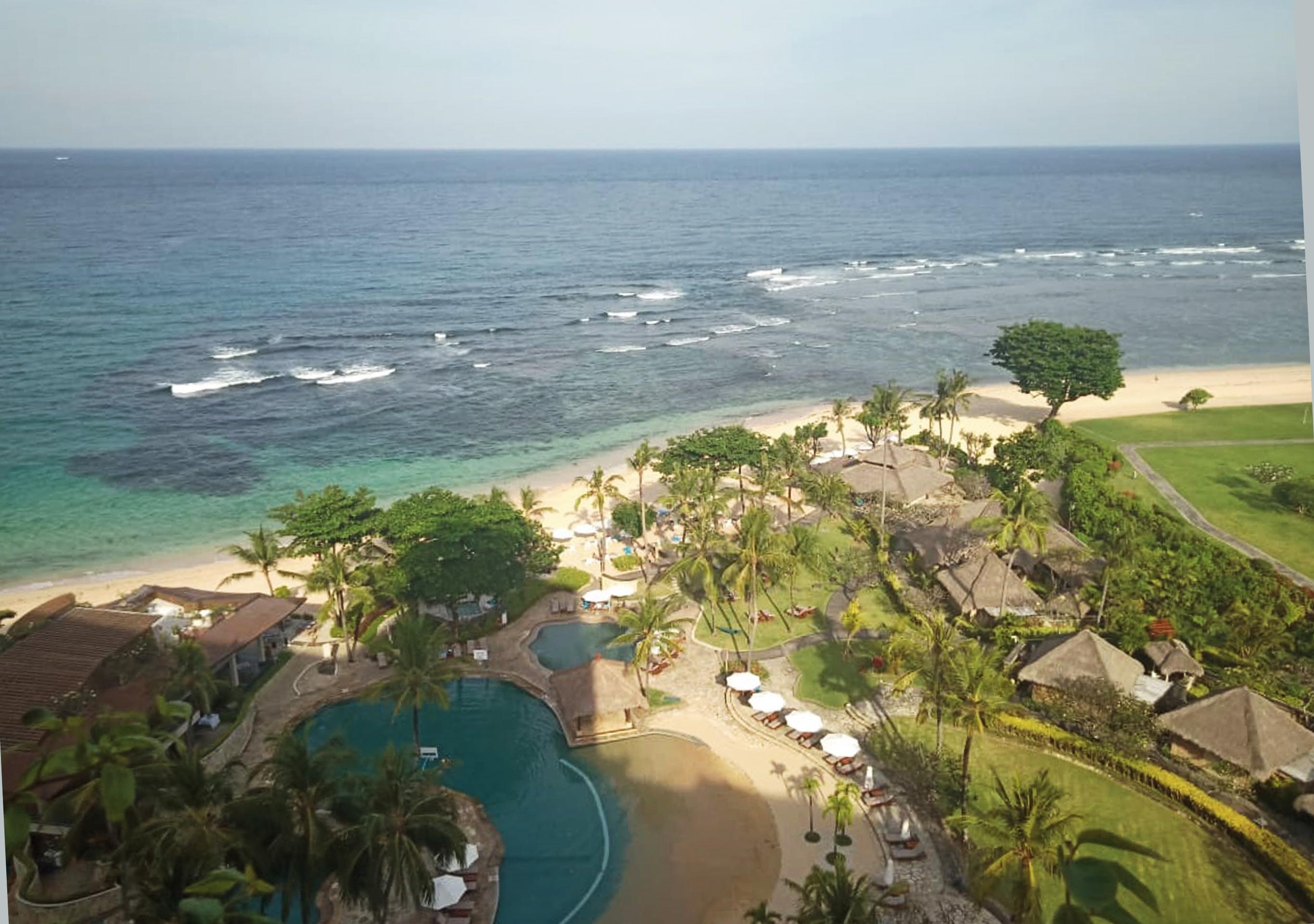 A view of the beach at Nusa Dua
Pic: Jeena Mitra Banik
---
Published 31.07.19, 03:27 PM
|
---
The most fascinating thing about travelling is that it lets you bring home some beautiful memories. And from the esoteric, ethereal and bewitching Bali, you come back with a stash of stories to sustain you for days. It is a fascinating place that is worth submitting to in body and spirit.
There are no direct flights from Calcutta to Bali. So we flew via Bangkok, spending the two-hour layover getting a massage, reading, and at Starbucks. We were sleepy by the time we boarded the four-hour, early-morning Bangkok-Bali flight, but our hopes of getting a shut-eye were dashed by a large, loud family that didn't seem to care about other travellers.
BALI SEMINYAK
At Denpasar International Airport at Kuta the visa-on-arrival process was quick. Soon, we were in a big van, hired for four lakh Indonesian rupiah, or about Rs 2,000, from one of the many taxi kiosks near the exit.
(Tip: Don't exchange currency at the airport, you get better rates outside.) Carry a few lakh rupiah for initial expenses. Avoid cards as the exchange rate might kill you. US dollars fetch the best exchange rates.)
Indians have an edge in Bali. It's predominantly Hindu and the locals like Bollywood and favour Indians as they feel they share the culture and religion. The island also has a huge expat population, who rent villas, run pubs and eateries, water sports outfits, conduct deep-sea diving classes, teach surfing and so on.
Our Airbnb address was a 45-minute drive from the airport, in a narrow lane near the Oberoi resort at Seminyak. The place had many vacation villas, a Kmart convenience store, a gift shop and even a laundry. Our hosts were Manuel and Valentina, but on Airbnb you see Wayn listed as the owner. In Bali, expats run various businesses in collaboration with locals. If quaintness, elegance and luxury had an address, this would be the place.
Our Italian hosts were a couple who came to surf and never went back. Helpful, informative and friendly, their villa was next door, but they never once came in without prior information. And they served huge breakfasts. At night, the sound of waves wafted in and a beach was a small walk away from the villa.
Tired from the journey, we unpacked, showered and slept off till we were woken up by a call from the host, who warned us that restaurants in Seminyak close by 10pm. So we ran in our shorts and some nice tops (Bali is hot and humid, pleasant only after sundown). Download the cab hailing app Grab. It works through the night and is cheaper and more efficient than local taxis.
Our first dinner was at Cafe Bali. It was a pulsating speck of white and blue with a fancy central chandelier. We also spotted a wall with framed pictures of yesteryear Bollywood stars and Mahatma Gandhi. By the time we were done with some mouth-watering European food and cocktails, we were high. Afterwards, us drunken souls headed to see the famous Seminyak beach in the moonlight and watched as the water gradually changed colour from a blue gem to darkness. I dipped my feet in the water and felt the white sand — we were in Bali after all.
For the next three days, around 5pm, our motley pack would head to Ku De Ta or Potato Head, which draw both tourists and locals. Both have restaurants, bars, open areas looking out to the sea and infinity pools on the beach front. Ideally people pack their change, come in bathing suits, enjoy the DJ music, take an occasional dip in the cool pool and wander off to the beach around sunset. Nothing is inexpensive in Bali and these places are a little heavy on the pocket.
(Tip: Make reservations and ask if there's a dress code.)
The bars have killer views of the hour-or-so-long sunset over the Indian Ocean. The sky dances in a thousand hues in sync with the sea and swaying palm trees on the fringes. It all gets even better with some Bintang beer and cocktails.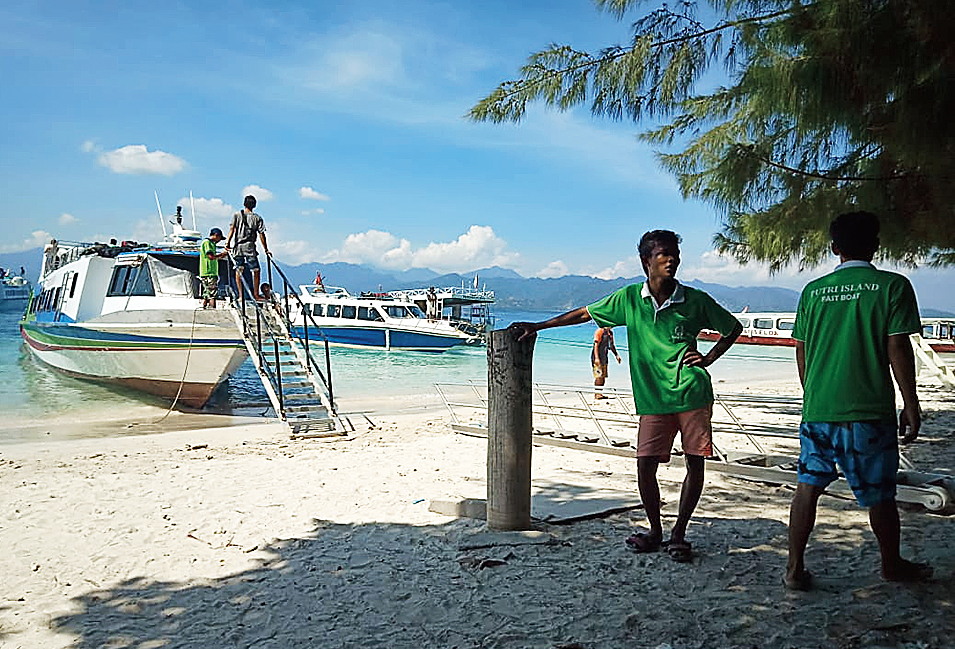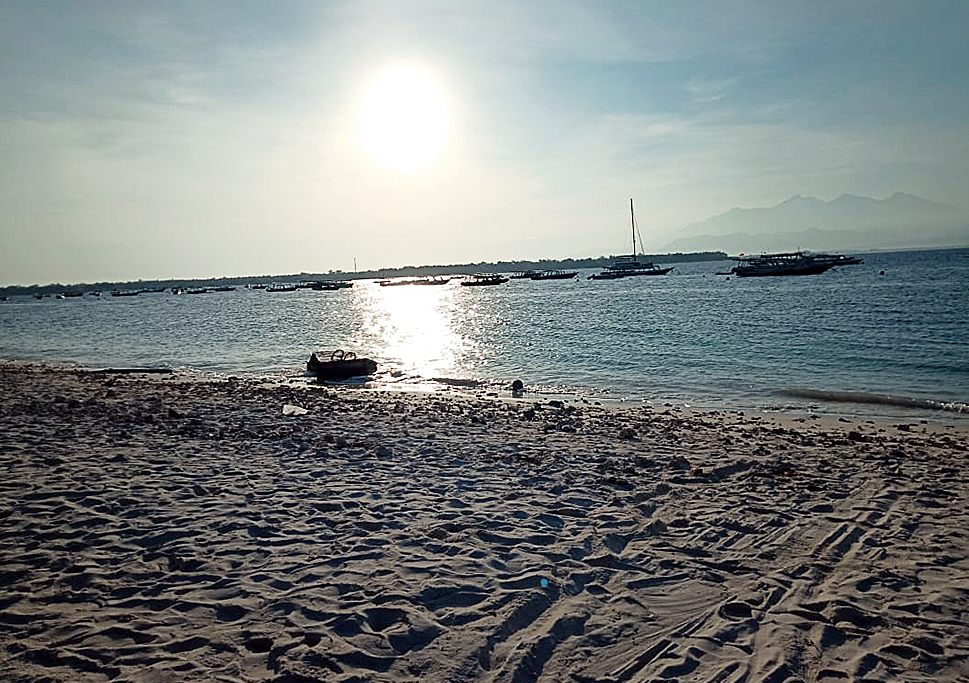 UBUD
You remember people for their demeanour. Endra, who drove us to Ubud, spoke English fairly well, talked about religion, politics, and the history of places and people. On either side of the road were settlements where each big house had a temple next to it, replete with ornate Balinese stone carvings. These places were like art settlements. They also served as shops — exhibiting artefacts, paintings, wood and stone carvings, and other small souvenirs. Some had classes for tourists for things like pottery, yoga, meditation, and carving.
Eventually we reached the famous monkey forest, a walk-through on the conservation of wild monkeys with very specific dos and don'ts on boards placed around the forest. The idea is to never look them in the eye. We came upon the ruins of a picture-postcard beautiful temple arena with the sunlight streaming in through the foliage and lighting up different sides of the temple courtyard. It was a perfect photo-op place.
The next stop, the extreme swing, was the reason we had gone to Ubud. We went through several steep stairs to reach the sweet spot. We heard people screaming, then saw what we had come to try, a swing in the air from the edge of a cliff overlooking rice plantations up to 1,000ft below. The gush of air on the face, an unobstructed flight into the sky, was all a thrill to be had and felt. We felt blessed to return to normal height.
It was here that we had the famous kopi luwak — made from beans that had been eaten and pooped by civet cats.
Next, Endra took us to a popular eatery whose expanse was as far as the horizon. It had water bodies, sit-outs, a curio shop, a bar and a squeaky clean toilet (a must always on a day trip). A few things remain ubiquitous across Bali. Chilled coconut water and roasted, salt-smeared corn cobs are two of them.
GILI ISLANDS
Padang Bai harbour is from where the fast boat leaves for Gili Trawangan, or Gili T, the biggest of the three Gili islands to the northwest of Lombok, Indonesia. Gili Meno is the smallest, where you can catch sea turtles swim past you at the Turtle Swim point. Gili Air, closest to mainland Lombok, is the preferred destination for honeymooning couples.
Most, however, head to Gili T, which also has the bigger resorts. Vehicular traffic is forbidden, bicycles or the local cidomo horse-drawn carriages are the only transport between the arrival point and the resort. Walking is an option too.
Scuba diving and free diving are popular in Gili, chiefly due to the attractive coral formations and abundance of marine life. The most famous dive points being Shark Point, Manta Point and Simon's Reef. There is a shipwreck to be visited also at Gili T and a view point. You can hire boats to go around all islands, simply put your feet up and enjoy the alluring beachfront, or the pulsating party scene in the evening in pubs playing live music on the beach. There are also buffets and sit-outs below the swinging palms fringing the shore.
We slept through the bounce of the boat and woke up to see the most virgin, pristine speck of white-sand wonder standing ground amidst a spectacular range of blue. As we precariously climbed down makeshift stairs to touch the ground beneath the water with waves crashing on our feet, it all simply added up — the entire effort, time and journey.
Gili T had us from the moment we touched down there. A public gym greeted us on the way to our beautiful and most highly recommended resort, Villa Ombak.
True to what we had been told, we were greeted by beautiful villas beyond the pool with a cascading waterfall and a cave. We had booked a side-by-side family room. A sprawling room with a sit-out at the entrance, two huge king-sized beds, television, wardrobes, safe, a long writing desk and bottles of water.
The room opened to the bath, where the ceiling was half-open to the sky and a frangipani tree and plant beds stood in a pebbled space within the bathroom, a dry-stand and other essentials. Monitor lizards sometimes pay a visit. So stomp to scare them away.
Gili T is a paradise for happy-go-lucky travellers, for people who do not judge, stare or bicker. I never saw a policeman during our stay and it is a party destination for the world. No one bothers or troubles you, and everyone seems to respect each others' spaces.
There are a number of eateries with dive pools. Lots of people visit these islands for some deep-sea diving. The training for it begins at these dive restaurants and can take up to days. Once they have seen you getting a hang of it, the real adventure begins in the open ocean.
My early mornings were spent on the beach in front, watching the sunrise across the sea, with the sun glistening on the water as it came up, changing colour by the minute. The pier near Ombak was my refuge for quiet reads. Left quiet, unspoilt, undisturbed and right across from the property, with water playfully caressing my feet, it seemed like a spot out of a film.
Daytime was mostly spent in the Ombak poolside, near the bar sipping their signature cocktails. Most guests slept, read or used lotions to tan by the poolside, occasionally some even took a dip. On the contrary, we made use of the pool, waterfall and cave like a day out in the woods.
Evenings were meant to be time to party, to mingle, to eat, and to indulge. We would hang out in bustling, blaring, music-playing pubs and at live-music areas on the beach, or dig into the buffet laid out in dreamlike settings on the beach. Hedonism lives and thrives at Gili T. The entire atmosphere spelled freedom to be you — in love, on a high and in-the-mood. Can anyone actually avoid Gili T?
The sea was less kind on our way back to Bali from the Gili Islands and we were thrown around a lot on a very choppy sea. In fact, it took us longer to get back than it did to get out.
(Tip: People with motion sickness must take the necessary medication as the sea listens to no one.)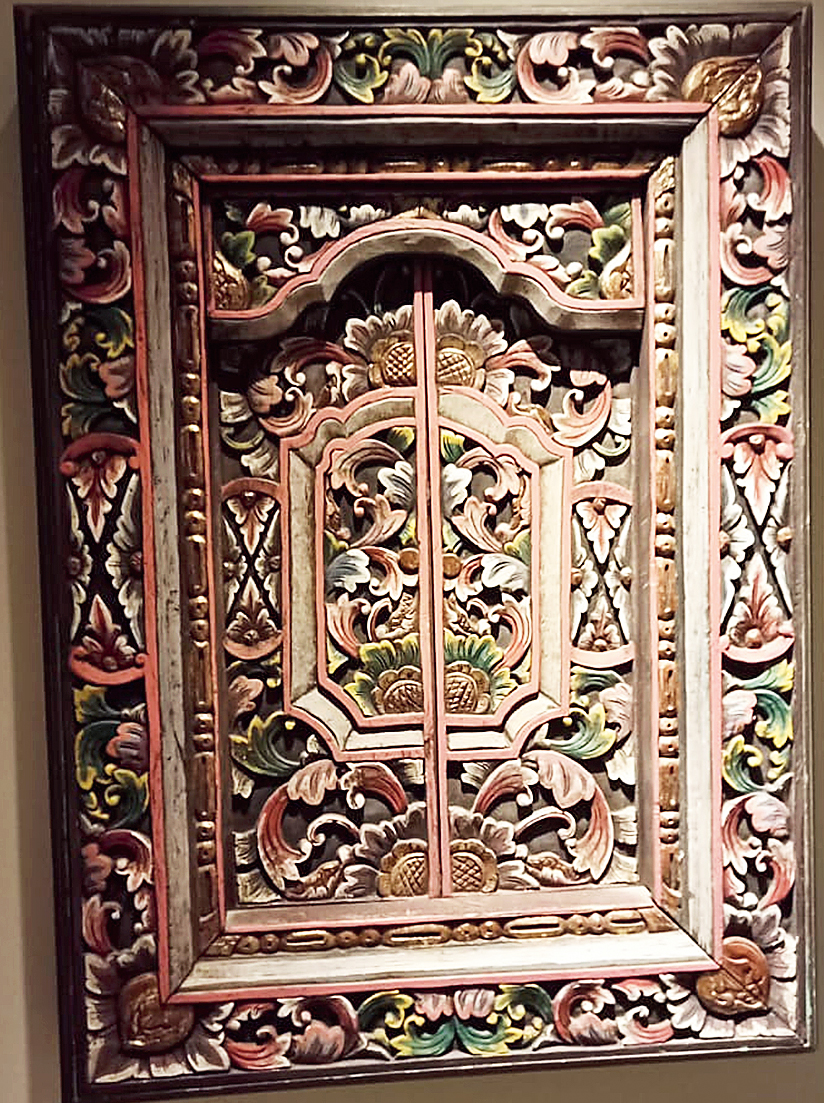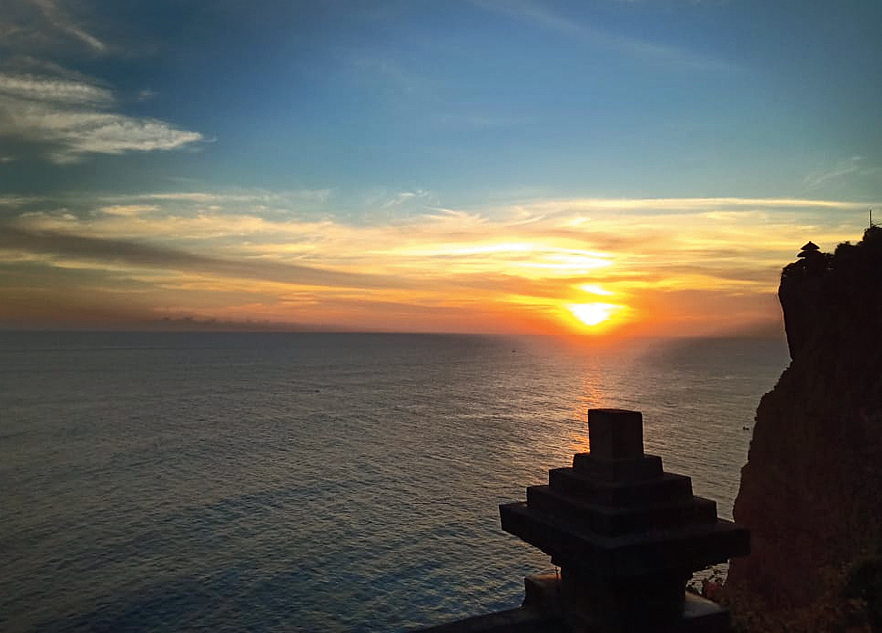 NUSA DUA
With a much-tortured back after the bumpy boat ride, it took us two more hours to eventually check into our final destination on another side of Bali, the luxury Hilton Bali Resort at Nusa Dua.
The drive takes you through a hill and you realise that luxury lives in these parts. Several signature resort chains have properties here and we had booked ours, which stood atop a cliff with a beach below.
Nature itself can be alluring enough, but we realised that a property can highlight that natural beauty 10-fold by marrying it to luxury and art and keeping the architecture and space complimentary to the locale. It took a while to figure out how enormous the property was. We loved our sea- and pool-facing rooms. The balcony overlooked the entertainment stretch, expansive pools, the sea, games in the open, bars and restaurants around the pools.
Our next day at Hilton was immensely gratifying at the breakfast table. The offering was fit for a king, but it was left to us to sniff, taste, adapt, like, love and gorge on the mouth-watering spread. It was simply too much to eat. It was our day to experience the resort, so we splashed around from the sandy poolside to a rocky one, played some basketball and pool volleys in another.
We also climbed to the top of a 'dangerous to the bones' slide and swooshed down and crashed into the water in another pool. Some of us made ample use of the water slide, which was unimaginably fast and looped at the turns to give it an edge of danger. The cave and waterfall provided us many photo ops. Exhausted from all this activity, we hit the warm Jacuzzi near the beach.
The beach itself was a temptress presenting us blues of all shades, the white sand was hot under our feet, but the waves cooled it a bit. However, the corals made it difficult to get on without hurting the feet or getting bruised inside the water. None of that stopped me, though. But being forbidden by a screaming husband, swimming was not an option left to me.
ULUWATU TEMPLE
The temple stood on a cliff, legend has it that four temples stand guard at four corners of Bali to protect it from natural disasters like tsunamis. The temple is an hour away from Nusa Dua and, on the way, one crosses Jimbaren beach and hotspots like cafes, art stores, boutiques and salons. We called a Grab. The driver spoke almost no English, but it did not matter. He turned out to be a gem and our gestures spoke more. We were rushed for time, so after a quick bite and shower, we headed to the Uluwatu temple for another sunset.
ROCK BAR AT AYANA
Starved, we decided to go visit the most popular and fetching stop at Bali, the Rock Bar at Ayana, known for its cocktails and tapas.
Luxury and the impressive size of it overwhelms you. From the entrance, it is a walk down pretty much to the bottom of a cliff via the stairs, elevator and even a cable car. Now imagine the drop from the main entrance to the bar! We loved the setting and cocktails. Food across Bali isn't exceptionally brilliant at the best of times.
SHOPPING
Shopping is fun in Bali. However, with so much to see and do, that even for shopping addicts like ourselves, it takes a back seat. For souvenirs go to shops like Agun or Krishna in the Seminyak area, near the Oberoi street. That area also boasts of many home-grown boutiques. They are expensive, but you may just discover your piece. Nice jewellery at flea markets also are a draw. Try Legian for shopping at well-appointed stores and the art villages for handicrafts and art works. Kuta's lanes and bylanes are good for local shopping of Balinese products.
Bali as a destination is a must-do. If romance and love for natural beauty sits in your heart and you still retain the youth to experience and challenge fear of the sea or heights or anything, try Bali. It is a long way away from disappointment.