Staycations, Workcations, And Vacations: Why Mahindra Holidays Is The Best Destination For Any Kind Of Holiday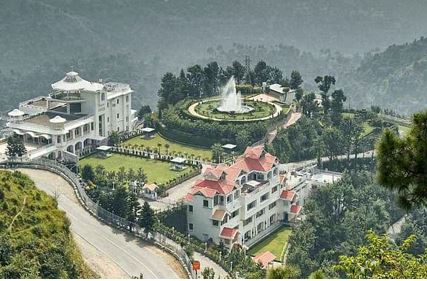 ---
Published 09.05.22, 02:22 PM
|
---
With summer well on its way and travel restrictions lifted, executing our holiday plans has become a possibility! But while we love taking a vacation, the planning process can get a little tedious. This is why we look for curated holidays, so the stress of research and booking can be replaced by the fun parts - sightseeing, enjoying on-site amenities, trying new cuisines, etc.
 All this and more can be accomplished when you opt for a Club Mahindra membership plan. With this by your side, you have access to over 100 resorts at domestic and international destinations, each with its own charms and amenities. This makes Mahindra Holidays the perfect vacation partner!
So whether you are looking forward to a family vacation, staycation, workcation or just a short break away from the everyday hustle, here's why you should definitely visit Club Mahindra resorts:
Access To 100+ Resorts
Whether you want to explore a new country or just take a break at a nearby hill station, you can get access to all this and more with your Club Mahindra membership. Club Mahindra has over 100 resorts in India and worldwide, so you can go wherever you want with ease.
You Can Use Your Days As You Wish
The Club Mahindra membership plan gives you seven days of holidays annually for 25 years after your membership purchase. The best part about this is that you needn't use all seven days together. You can break the days to take smaller holidays. For example, if short-term holidays (long weekend celebrations) are on your mind, you can break your holidays into 2 or 3-day vacations. On the other hand, if you want an extended holiday, you can also advance your holidays from the next year to add to your current vacation plan.
All Types Of Rooms Available
At Club Mahindra resorts, you get access to multiple types of rooms. These rooms are spacious and offer state-of-the-art amenities. Each of the rooms is outfitted with everyday essentials like a TV, Air Conditioning, Microwave, Coffee Maker, etc.
Amazing On-Site And Off-Site Activities
The biggest advantage of choosing Club Mahindra Holidays is the variety of activities you get to explore - both indoor and outdoor. The resorts themselves are equipped with a number of activities for members and guests, so they can enjoy their stay, even if they don't leave the resort for the entirety of it. Some of the activities you can enjoy include aqua aerobics, theme nights, local cuisine classes, towel origami, and magic workshops, among others. You can also explore off-site activities like sightseeing tours and other activities like strawberry picking sessions, adventure sports like ziplining, visits to tea and coffee plantations, and more. So whether you want to stay in or go out, you have a wide range of choices nonetheless.
Quick And Easy Booking Process
The resort booking process at Club Mahindra Holidays is hassle free for members. To learn more about the kinds of holidays, membership benefits and experiences, visit Club Mahindra's website.