Roarsome outing in the desert state
Into the great wide open of a Rajasthan where there is a rule of animals, flora and fauna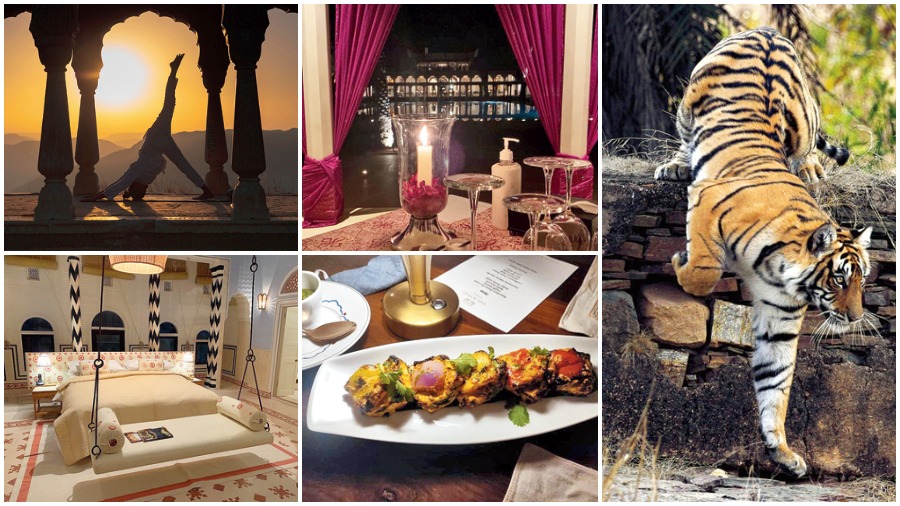 ---
Published 27.02.21, 11:50 PM
|
---
Rajasthan is a magical place that seems to attract everyone, from the international tourist to Indians from around the country. If it's a destination wedding, Rajasthan it has to be. A honeymoon, yes of course, there's nothing more romantic.
Ever thought of going to Rajasthan to experience the "great outdoors"? On a recent trip to Jaipur, Amanbagh (near Alwar) and Ranthambore, we shared a jeep on a morning safari with a couple from Chennai who had flown in just for the weekend. So, Rajasthan despite having scenery or nature with no particular "wow" factor, is now on the "great outdoors" to-do list too. If it's not, it should be. Let me tell you why.
It's not all about desert and dry tundra-like vegetation. The drive from Jaipur to Alwar is scenic and quite green, nestled in the verdant Aravalli hills. You drive through fields of yellow eye-catching mustard before you reach Amanbagh, which is really an oasis in a 40-acre property. More about that later.
Ranthambore in pictures looked rocky and unwelcoming, so I had no expectations whatsoever, except, of course, to see a tiger, which was a good thing because the lakes and animals, the flora and fauna, though a bit dry in winter, were quite stunning. I was floored on many levels with this Rajasthani escape.
A real taste of 'old Jaipur'
We started in Jaipur. All roads and most flights land in Jaipur with many options to choose from. This time I stayed overnight at the newly-opened The Johri. It is tucked away in Jaipur's Johri Bazaar (Jewellers' Market), and surrounded by jewellery shops, textile houses, and a marketplace bursting with colour. It is a beautiful little haveli converted into a five-suite boutique hotel overlooking a traditional courtyard. The design and attention to detail is impeccable… from the upholstered swing in my room to the restored Araish plaster walls and my own en suite separate lounge bar and dressing room! A sanctuary in which to enjoy the season-focused vegetarian restaurant with Indian accents (their mini cheesy truffle kulchas are to die for), an intimate cocktail bar, a peaceful massage, quiet comfort and personalised service.
Meticulously restored using local crafts and traditional materials, The Johri features a careful curation of antique furniture, textiles, and art from Rajasthan. It's like staying in a hotel or apartment in the centre of a city — plenty to do and shop and everything walking distance. If you want a real taste of 'old Jaipur' in style and splendour, The Johri would be my bet.
The 'peaceful garden'
The next day we set off comfortably on our two-hour drive to Amanbagh near Alwar. Nothing can quite prepare you for this oasis — the rose Makrana marble as you enter, palatial pink walls and vaulted entrances, Mughal-inspired architecture appearing through the greenery, providing consummate privacy. Pavilions of 3,600sqft with private pools and suites surrounding the large centrally-heated pool add to the feeling of solitude where space and stillness is the ultimate aim.
Meaning 'peaceful garden' in Sanskrit, the resort's surroundings are among the most remote yet luscious in the region, once enjoyed by the Maharaja of Alwar. While wilderness provides the setting, the grounds of Amanbagh echo their royal history. What a welcome relaxing escape from the frenzy of everyday life and from the city of Jaipur.
The two days in Amanbagh were pretty packed. A visit to Sariska National Park was eye-opening. No, we didn't see a tiger but we did see lots of other animals and it's a much quieter safari than Ranthambore, without the chance of bumping into other jeeps. And a quick drive to the nearby village to see marble stone carvers in action was all the outdoor activity we needed. Fabulous hot stone massages and morning yoga with Reeta, gentle trekking on the estate, a walk around both the organic vegetable and Ayurvedic gardens, long breakfasts overlooking the pool and starlit dinners in magical locations filled our days… I was sad to leave, I can tell you!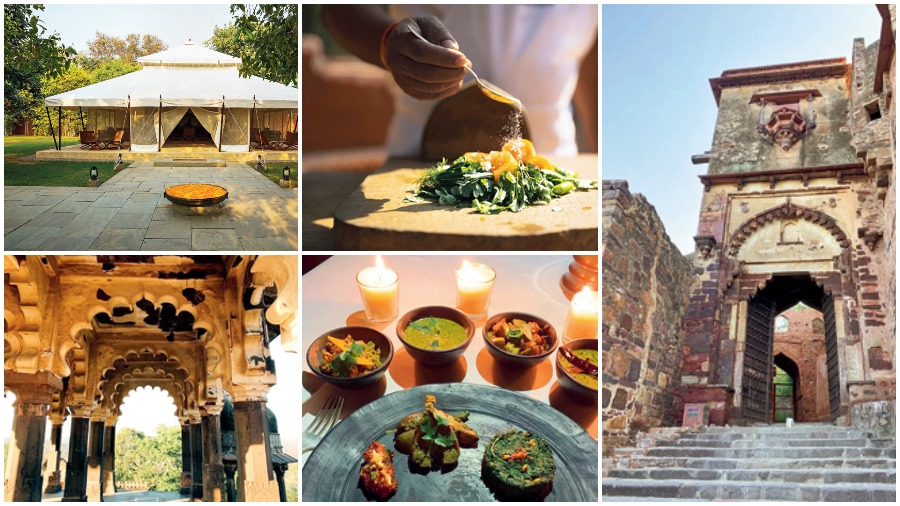 Meeting Siddhi and Arrowhead
Another longish morning drive to our much-anticipated destination, Aman-i-Khas in Ranthambore. I had heard about luxury tent accommodation but nothing quite prepares you for the totally understated luxury that is Aman-i-Khas. The tent in question is 1,600sqft, complete with two sit-outs with chairs and loungers, an inside seating area which, when you lift the off-white thick canvas curtains, reveal a big ottoman/ lounger kind of thing, two wash basins and luggage racks on one side, a Toto, top-of-the-line WC (complete with warm seat, automatic silent flushing, seat cover that automatically goes up and down when you arrive and when you leave, various water jet facilities), cement bathtub, separate shower, beautiful linen.
It has a 13-ton AC which cools in summer and heats in winter. You get the picture? There are only 10 of these tents designed by renowned architect Jean-Michel Gathy. Nothing Boy Scout-like about this experience, I would truthfully consider living the rest of my life in one. The life of a tent like this is three years, after which they buy new ones. Brilliant. True sustainability.
That evening we had dinner in the forest with the most delicious home-style food cooked right in front of us, made with vegetables from the organic garden and slow-braised local kadaknath chicken. The camp's mushroom hut successfully produces fresh oyster and button mushrooms and following the monsoon season the chefs collect a wilder species of mushroom from the nearby mountains to introduce to the hut and camp menus.
Aman-i-Khas is set on the threshold of Ranthambore National Park, home to the majestic Bengal Tiger. The next morning we set off almost at the crack of dawn with our guide Pankaj on a Jeep safari in search of tigers, leopards, sloth bears, hyenas, crocodiles… anything on four feet really. The park is enormous and divided into zones and you have to pre-book your zone. This is where a clever guide comes in. He studies the tigers' wandering patterns over the last few days to get an accurate idea of where one or two might be roaming.
Tigers apparently love to walk on roads for jeeps because they can then hear where their prey is in the grasses. And yes, about half way through the morning, we did see Siddhi, a two-and-a-half-year-old female cub about 9ft long, a couple of jeeps ahead of us, walking quite peacefully. No photo prepares you for the sheer size of the tiger. And this was a cub!
Arrowhead, her mother, is around 12ft long! I'd like to think we were quiet but others in jeeps got very excited which prompted Siddhi to wander off into the vast grasslands. The park closes at 10.30am and reopens at 4.30 in the evening for three hours again. All very organised.
This is when you come back to nature and luxury and have a relaxing breakfast by the lake or relax around the tree-lined swimming pool where only the subtle sound of birdsong interrupts the silence.
At night, everyone sits around the sunken fire pit, exchanging stories from the day gone by beneath a starlit sky. It was cold so we chose to sit in the library and exchange stories over a perfect Old Fashioned!
The next day, I walked up to Ranthambore Fort, which is now a Unesco World Heritage Site. It is one of the oldest forts of Rajasthan and dates back to the 10th century. Unfortunately, it is pretty rundown but you can see work is on to restore it. Worth seeing the Chhatri of 32 pillars which is intact and a walk to the edge of the battlement nearby which has a splendid view over the Ranthambore National Park. You can see the old hunting lodge, which the Maharaja of Jaipur used. In fact, the whole park used to be their hunting ground. The less said about those days the better.
Lo and behold, as I reached the parapet, there was our batman Satish, who had meticulously laid out an Indian high tea, chai and a brass tiffin full of goodies and what looked like a really fancy telescope from which we could see what was going on in the park. This is what I mean. Aman-i-Khas is more than a secluded wilderness camp offering exclusivity; it offers these precious add-ons in a very understated, elegant way.
Before we left Aman-i-Khas, we had breakfast in a local guava orchard. I had remarked on the several guava orchards we saw on our various jeep trips and batman Satish made a fun experience happen. With the unmistakable fragrance of the fruit in the cool morning air, we had the most delicious breakfast, including parathas and an unforgettable amrud ki sabzi. Aman-i-Khas manages to, ever so gently, spread its message of self-sufficiency and sustainability, excite your taste buds with truly delicious food — both European and Indian — and pamper you with intelligent luxury.
Anand Shekhawat, the general manager and regional director of Aman Hotels, is a big foodie himself and it shows. He lives on the premises. It is difficult to upstage tigers but Aman-i-Khas manages.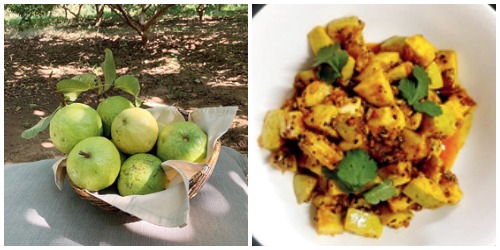 Aman-i-Khas Amrood Ki Subzi
Ingredients
500g guava
Salt to taste
½tsp red chilli powder
½tsp coriander powder
½tsp turmeric powder
2tbsp ginger-garlic paste
½ cup tomatoes (chopped)
15g coriander leaves
3-4 green chillies chopped
¼ cup onion (chopped)
Panch phoran (all five ground in equal quantities to make 1tbsp — onion seed, fennel seed, mustard seed, cumin seed and coriander seed)
100ml oil
Method
Cut the guava into small pieces and keep aside. Heat oil in pan and put five seed (panch phoran) till the spices crackle. Then add chopped onion and saute till golden brown.
Add ginger-garlic paste, green chilli, all the powdered spices and tomatoes; saute till oil rises to the surface. Add the guava, cook until tender. Garnish with fresh coriander leaves.
Karen Anand is a culinary consultant, food writer and entrepreneur. In recent times her name has been synonymous with farmers' markets. Follow her on www.facebook.com/karenanand and on Instagram @karen_anand
Pictures: Karen Anand and Aman Resorts