On a magic carpet
Uzbekistan sits pretty between Russia and India — a dream stopover in World Cup season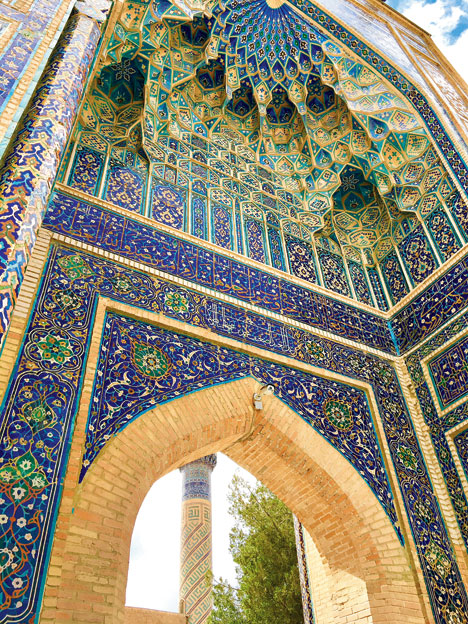 ---
---
The first question when I announced I was going to Uzbekistan was "Where?" Because of the "stan" at the end, meaning homeland or country in Farsi, most people thought it was some desolate arid spot with either abundant poppy fields or political turmoil, somewhere near Afghanistan. Others had visions of some exotic medieval caravan on the Silk Road. Both images couldn't be further from the truth. Uzbekistan is today as peaceful and law-abiding a country as you'll find. Its capital Tashkent is filled with lush green gardens. In fact, as you land at the Tashkent International Airport, it looks more like a European city than anything you'd imagine Central Asia to be.
City of monuments

If you're a history buff, it's fascinating. If archaeology interests you, the fifth, sixth and seventh century tombs and sites, and the 16th and 17th century madrasas (now houses artists and artisans who produce outstanding ikat weaving, suzani embroidery, ceramics, wood carving and carpets) will beckon.

The food is fresh and wholesome with a decent variety for vegetarians, plenty of salads and appetisers, samosa-type savouries known as somsa, sugar-sweet melons, cherries and pomegranates in summer and plenty of dry fruit and nuts in winter... and excellent breads. And away from the cities and ancient monuments, you will find some stunning scenery. We spent a short four-day stay there but that wasn't enough to quench my thirst for more.
On arrival, we check into the Hyatt Regency in Tashkent — a standard of international hospitality you learn to appreciate and be grateful for, especially in Central Asia after a long day packed full of new experiences and long journeys. The rooms have every comfort and Khiva restaurant, which is looked after by executive chef Taner Erdemir, specialises in regional Uzbekistan food and includes kazi, a horse meat roulade, which accompanies norin, a pasta made with shredded horse meat. He does a mean doumgaza oxtail stew, and varieties of their national dish — plov, the Uzbek version of the pilaf or pullau with lamb, carrots and raisins and very little seasoning compared to our biryani.
Don't worry, if you're not that adventurous, Khiva serves a host of more familiar items like tandir or tandoor dishes, shashlik (meats and vegetables on skewers), shorva (clear soup) and delicious momo-like dumplings called manti. If you feel like having a pizza — which you may after a few meals of salad and plov, Hyatt has the only authentic Italian restaurant in the city called Sette.

We change our dollars in the hotel. This is advisable. It's quick, efficient and avoids time wasted in banks. The only surprising thing is that despite the conscious move into the 21st century (that is, bullet trains and Western dress), very few shops accept international credit cards. My advice is to carry enough cash — preferably dollars… it sounds a bit "Soviet", but it works… and keep changing a little bit at a time into their local currency.
Bullet train to Bukhara

The next morning, we take the bullet train to Bukhara (sounds like a movie right?). Only travel by bullet train. Other older trains take forever and trust me, don't listen to locals who tell you about their "old world charm". In three-and-a-half hours you cover the 600km from Tashkent to Bukhara comfortably. It is almost double that in an old train! I was in Bukhara 35 years ago, as a student. It was like the land that time forgot — dimly-lit lanes with uneven paths, ancient dwellings and domes, men drinking chai seated on charpoys, much as they do in north India.

In the old town and the area around the trading domes which now house many, many shops selling crafts for tourists, the feeling of being somehow part of a space that has gone through turmoil and richness and great culture and trading is still there. You'll find tradition and a sense of reality in Bukhara despite the carpet vendors beckoning.
Thirty-five years ago, you would see men in long quilted black coats (chapans) and black square skullcaps (duppi) only. Today, this is rare in Tashkent but still visible in smaller towns like Bukhara.

We visit miniature painter Toshev Davlat, who has opened his home to travellers. It's worth a trip to see his exquisite paintings and experience his traditional home. And at dusk when the light on the rooftops and domes turns a translucent shade of pink, it's time to turn in and wait for the excitement of the next day in Samarkand.

Samarkand I remember was full of mosques and archways and stunning-blue mosaic tile work. Nothing has changed. In fact, everything is better and more immaculately restored than I remember…. from Amir Temur's 15th century mausoleum to the stunning Registan, a cluster of three buildings around a public square where people used to gather to hear royal proclamations. Registan is framed by three madrasas of distinctive Islamic architecture... all quite overwhelming. It would be useful to do some research and homework on these structures and the fine detailing on the arches and the domes to fully appreciate what you see.
If you are on a tight schedule, this is where you should do some serious shopping for carpets, ceramics, exquisite embroidery and what looked like genuine antiques. Even with a little playful bargaining, I didn't feel I was being "had". Bukhara, too, was full of interesting carpet shops with many wonderful examples of silk, sheep and camel hair carpets.
(Did you know hair from the neck of the camel is softer?!)

Again, if you are a serious buyer, do read up before you attempt to look through the many examples of fine work. They also trade in carpets from other regions in the country, which means you don't get bored of seeing repetitive patterns and motifs. If you are a textile lover, you will go insane with the quality and variety. Although they may seem fragile, silk carpets are very sturdy. With age, they acquire some nobility, gloss and a certain charm.

For lunch, we choose Bibikhanum Cafe. Here you sit cross legged on a charpoy and feast on an array of salads and appetisers — with tomatoes, aubergines, peppers, carrots — some raw and some cooked, washed down with hot black tea. More plov appears. It definitely lacks the complexity of our rice dishes but that doesn't matter. We soak up the atmosphere and regale in people watching.

Uzbekistan is full of lively food markets and bazaars and the perfect place to buy dry fruit — a variety of apricots and figs — and nuts very inexpensively. You'll find marvellous markets everywhere but especially in Samarkand near the station and in Bukhara and Tashkent too... and your som (the local currency) goes a long, long way.


Designs on Tashkent
Back in Tashkent we spend the day looking at the textiles and embroidery from two very different designers. Muhayo Aliyeva makes a definite fashion statement using traditional ikat fabrics and embroideries to create beautiful contemporary wear under the brand Bibi Hanum. She definitely has an edge and I was completely floored by her sense of design and the wearability of her garments.

When you sometimes buy things while travelling, you take them home only to find that they are too vernacular and a bit "costume"-like. Because of the use of quite subtle colours and patterns compared to some quite stark, bright Uzbek traditional designs we saw, her clothes, bags and shoes are fabulous anywhere.

The second wonder woman we meet is Madina Kasimbaeva. Madina has been working for over 20 years in the field of embroidery and in particular in the renaissance of traditional Uzbek suzani embroidery from the 19th and early 20th centuries. She recreates these designs using original silk threads and makes everything from cushion covers to the most exquisite jackets, throws and chapans or long coats. She has a delightful store but on request can also take you to her studio to see more.

Bags stuffed to the brim with clothes, carpets and memories, we sadly have to leave Uzbekistan, which is incidentally only a two-and-a-half-hour flight to Delhi.
Karen Anand is a culinary consultant, food writer and entrepreneur. In recent times her name has been synonymous with farmers' markets. Follow her on www.facebook.com/karenanand