Luxury meets a life-affirming experience
Here's a look at a two-day cruise on Antara on the Ganges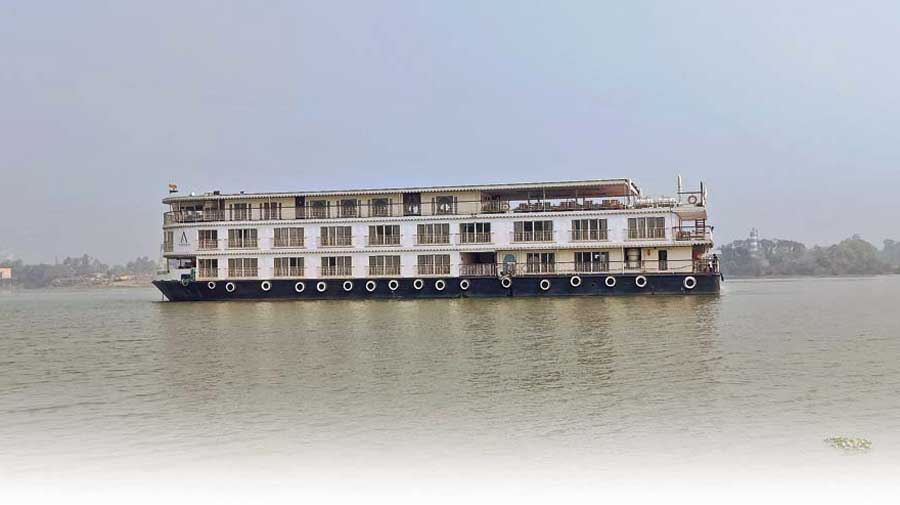 The majestic Antara on the Ganges
The author and B. Halder
---
Published 17.02.21, 03:36 AM
|
---
I am a huge believer in the afterlife. For many years now, I have devoured anything that helps me understand life after death better — books, shows, films and accounts of near-death experiences. There is something common to all NDEs, the claim that as soon as one passes into the afterlife, they are enveloped by a certain warmth and a feeling of blissful calmness. I found mine recently, without, well, passing into the afterlife. It was on a cool end-January evening as I looked over at the Ganges, with the heavenly chants of 'Om' playing soothingly in the background, and watched about a thousand diyas being set sail from a country boat and make their way along the length of the pitch-dark river. They flickered as they moved along for miles, but the breeze didn't have the strength to put out any of them. In the deeply unsettling year that we all have had, in various degrees of measure, this told me something — there will always come a moment of calm, both literally and figuratively, after the storm. For someone who studies death as an experience, I wondered, 'Is that what the calmness of death, too, feels like?' But right now, why ruminate over death when we can talk about life, and all that life has to offer? And it was two days of a different kind of life that I experienced on water. More specifically, aboard the Antara on the Ganges. Everything spells plush on this luxury liner. And yet, beyond the spotlessly polished floorboards, the gleaming cutlery, the immaculate white bed sheets and the inexhaustible buffet spread, there is the promise of much more: a soothing, calming, relaxing, life-affirming experience. A promise of a staycation that allows you to do things at your own pace, even when there is an itinerary unobtrusively packed in somewhere. In the 12 months that the virus has made most step off the treadmill of life, even if it's temporary, the Antara on the Ganges experience promises just that — 'slow travel'. And then some more. Taking it slow
Docked at Indenture Memorial jetty at the Kolkata Port Trust in Kidderpore, the Antara on the Ganges is a thing of beauty. My first reaction, as I laid my eyes on the pristine white vessel, was one of awe. That quickly converted into a jaw drop when I was ushered into my suite — plush and spacious, it was everything worth spending two nights in. And then came the moment when I drew back the drapes and looked out. The view, with dense fog melting seamlessly into miles and miles of water, was breathtaking. The welcome by the Antara crew — led by founder Raj Singh and co-founder and COO Hemant Mediratta — was warm. I was set. Staring out of my suite window at the Ganges, after months of cringing my eyes at the laptop screen, was adventure enough for me. But Antara, that has now primed itself to open up its premises to domestic travellers who want to explore Bengal by the waterway, had better plans. Off I scampered, a motley group of about 20 for company, none of them journalists but all of who were travellers at heart, on a country boat to have a look at the group's other vessel — The Bengal Voyager, a classic ship if there ever was one — tucking into some local street fare on its sprawling deck and then watching the sun go down. Back at the Antara on the Ganges, it was time for a night of song and dance where conversation flowed freely, as did the countless numbers of gin and tonics inside my system. Cruising in comfort
The next morning, we set sail at dawn. Those hoping to catch a glimpse of the sunrise amid the dense fog were disappointed, but I made sure I got enough sleep to keep myself fresh for Day Two. A sinful breakfast of fried bacon and the most fresh and flaky croissants I have had in a long time (everything is rustled up fresh in the ship's kitchen, and it even has an in-house bakery) later, I sunned myself on the deck for a while, making the most of the winter while we still had it, before it was time to anchor and head out.
Christened 'Europe on the Ganges', this two-and-a-half day tour is named so because it gives the Antara traveller a peek — and sometimes, a chance to set foot — at parts of Bengal that have been erstwhile colonies of European countries. On the itinerary that morning was a walking trip through Bansberia, located in the Hooghly district and a few kilometres from Bandel station. Bandel was the domain of the Portuguese a few centuries ago, and we spent an hour or so strolling through the town's famous Hanseswari Temple as well as the remnants of a terracotta temple in its premises. Once back at the liner and a lavish meal later, I was all set to do my most favourite thing: stare at the river while sprawled on my king-sized bed. But a culinary demonstration was on the cards. Preparing to keep myself awake with copious amounts of black coffee, I found myself actually paying attention — the chef was, after all, whipping up one among my only two favourite vegetarian dishes: gnocchi. I didn't help make any of it, but I did end up eating a sizeable portion of it.
Cruising along, as the sun played hide-and-seek behind the clouds, we spotted Serampore, formerly a Danish colony, and a few other villages along the way. Being a Sunday, groups of young men, women and families, also wanting to take advantage of the last dregs of the chill, had camped on the banks, for what is a favourite Bengali winter ritual — the annual picnic. It was a fun sight, especially from the ship's upper deck, but then, the viral hit Tumpa sona started playing, at almost all the picnic gatherings at the same time. I had no choice but to scamper inside. The same evening, though, I could barely keep my twinkle-toes still when a duo of Baul singers belted out Shaader lau. This, at a riverbank bonfire party, set up splendidly by the Antara crew, and before we knew it, we had all linked our arms together and started dancing around the bonfire. Very few points for our footwork, but when it came to letting our hair down, no one could fault us. That night, I slept the best I had in a very long time. The rigours of dance and the calmness of the 'deep daan' experience, mentioned at the start, had much to do with it.
Day Three dawned, and after a hearty breakfast, we anchored at Chandernagore, where we trooped out for a walk along the city's promenade, whose architecture still speaks of its French antecedents. A quick stroll later, it was time to head back to the majestic ship for a sip and bite, and by the afternoon, the familiar sight of the Vidyasagar Setu loomed into view. It was time to say goodbye. I walked out of Antara on the Ganges, a packet of complimentary nolen gur in hand. The memories, however, were far sweeter.