Life is a lemon on Italy's Amalfi coast
The Tyrrhenian Sea and medieval villages of Amalfi, Positano and Ravello see many rich and famous faces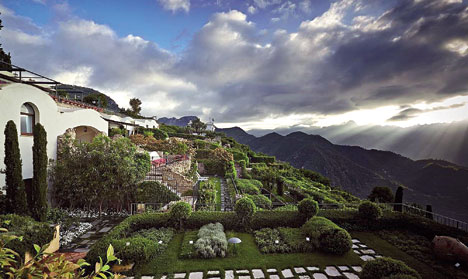 ---
Published 11.08.18, 06:30 PM
|
---
Costiera Amalfi or Amalfi coastline has been on my travel bucket list for a while. Images of winding hill roads encircling a rugged coastline, villages lost high up in the mountains and pristine blue water. What is there not to love about this image? The Amalfi coastline has been a favourite summer spot for well-heeled Italians and the international jet set for many years. Wealthy Americans discovered it early on after a New York Times article appeared in 1903.

It retains its exclusivity simply because the areas of accessible coastline are so limited, and swimming and sunbathing are restricted to enchanting pebbled beaches and coves. The rich and famous arrive on boats and yachts and moor these offshore. When the weather isn't warm enough to swim in the Tyrrhenian Sea, you can explore the medieval villages of Amalfi, Positano and Ravello. What sets Amalfi apart is its rich history and culture. It isn't just a picture-perfect pretty tourist village, but a working town.

The other marvellous thing about the region is their famous lemon — in a good season, a simple lemon can weigh as much as 400g says Salvatore Aceto, whose family has been cultivating lemons here for six generations. Lemons are known here as Sfusato Amalfitano and are a cross between the fragrant Amalfitano lemon, which is totally edible (even the thick white pith and skin), and the Zagara Bianca variety, which has more juice. Salvatore's farm of chiazze, or terraced lemon orchards, rises way up into the hills and stretches over 13 hectares. About a third of the 90 tonnes he produces in season (May to September) goes into the production of the drink limoncello, the rest, except a small amount for local consumption, is exported within Europe. Such is the demand of the Amalfi lemon, that 200 of them were used in Meghan Markle and Prince Harry's wedding cake. Making Limoncello is no rocket science — alcohol, sugar, lemon zest and water. That's it. But to be the true product, it has to say 'Amalfi lemon' on the label. No other lemon can produce genuine limoncello. Chilled with ice or made into a spritz with prosecco and a dash of soda as we had in cafes all over the coastline, it really is the perfect summer cocktail.

Salvatore also runs a lemon tour which we went on — flights of innumerable steps way up into the orchards, the lemons are still picked by hand and the harvesting is a long and arduous process involving heavy baskets laden with fruit, pulleys and walking up rugged steep terrain (he is one of the few farmers to install an automotive cable car system for the baskets). This work used to be done on the backs of pickers or by mules. Salvatore then sat down with us for a three-course lemon-inspired lunch cooked by his wife.
MAGIC OF RAVELLO
The next day we drove up into the hills to the town of Ravello about 20 minutes by car from Amalfi. Perched 1,000ft above sea level, set on a cliff edge overlooking the breathtaking coast was our private balcony over the Amalfi coast for three days — the Belmond Caruso. The 'lemon' experience continues with a sip of fresh lemon juice offered upon arrival to all guests passing by or checking in. There are lemons in almost all the hotel's cocktails, from Negroni to Cosmopolitan and in the citrus signature treatment at the hotel's wellness centre. Not to mention the Belvedere Restaurant, where chef Mimmo does a heavenly spaghetti with Amalfi lemon zest, parsley, garlic, colatura (anchovy sauce) and extra virgin olive oil.

The Caruso counts as one of our most treasured holiday experiences. The scent of jasmine and orange blossom as you walk in the gardens, the infinity pool overlooking the Gulf of Salerno, lavish elegant spaces with rustic furniture reflecting Neapolitan style and tradition, all the creature comforts, superlative service and… the best pizza I have had in a long, long time! Forget Naples — the home of the pizza and now the home to many frauds in this field. Chef Mimmo, who has worked in some of the top restaurants in Europe including Marino alla Scala in Milan and Fredy Girardet in Switzerland, and his team at Caruso do a fantastic job of everything, from a simple salad of tomatoes and mozzarella to fine dining.
One evening, they laid the table out facing the sea with an all-white flower arrangement and candles. We asked for some lemon-inspired dishes and he obliged — 'Spring time in the garden' was baby vegetables picked from their garden with steamed lobster and lemon dressing. This was followed by home-made ravioli with potato and lemon zest and the tastiest paccheri, hand-cut pasta with lamb and mint ragout seasoned with sfusato lemon pesto. The seven-course meal ended with petits fours served on little Amalfi boats. Did I mention the pianist?!


HOTEL WITH HISTORY

Caruso was originally built in the 11th century as a palace and turned into a hotel by the Caruso family at the turn of the century. It acquired a reputation as a quiet luxurious spot of great beauty. Attracted by the cocoon of privacy, guests over the years include Greta Garbo, Gina Lollobrigida, Humphrey Bogart, Jackie Kennedy and Dustin Hoffman; they enjoyed the peace of walking among the vines in the colonnaded gardens, the sound of the stream trickling down from Monte Brusara, the taste of authentic Neapolitan cooking and a charming atmosphere away from prying lenses. Nina Caruso once acted as a decoy, leading the press pack on a wild goose chase around Naples while Greta Garbo stayed at the hotel, "to be alone".

The hotel has an hourly shuttle bus, which takes you to Amalfi and Positano if you feel like doing some shopping and soaking in history or would like to experience a local family-run trattoria (restaurant). Trattoria dei Cantari in Amalfi is quite the ticket — great local seafood, home-made pasta and music. Even the chef joins in at the chorus in between courses! Personally Caruso took care of all our culinary needs, whether it was a bowl of steamy mussels or a pizza, fresh from the wood-fired oven for lunch by the pool or a sumptuous dinner. Combined with evening walks to Ravello for an aperitif on the piazza and a little shopping and browsing through the many ceramic and tasteful clothes shops (mainly selling very well-designed linen and cashmere), Ravello is an escape and a must-do on anyone's tour of Amalfi.

Smaller and somehow more refined than its coastal neighbours Positano, Amalfi and Sorrento, it was founded in the sixth century, and has a 12th century cathedral, houses built in Arabic-Sicilian style and a preponderance of mismatched marble columns and pedestals, brought back from ancient Greek and Roman sites by Amalfitan wood traders anxious to profit from the return journey. Villa Cimbrone is a magnificent lookout point in the town, and there's a summer music festival on the terrace at Villa Rufolo, whose garden inspired Wagner's Parsifal. La Dolce Vita was surely born here, around a piazza where children play and people get married, surrounded by lemon trees in the lazy, hot climes of southern Italy.

Really, if you are looking for quiet luxury in the most romantic surrounding, this must be the spot. And believe me, if I had my way, the staff at Caruso would have had to pull me away physically with me hanging onto the bedpost. Everything we did post-Ravello paled in comparison.

Karen Anand is a culinary consultant, food writer and entrepreneur. In recent times her name has been synonymous with farmers' markets. Follow her on www.facebook.com/karenanand