Kausani: Nature's lap for repose
The town in Uttarakhand is the perfect place for the jaded city dweller to relax and recharge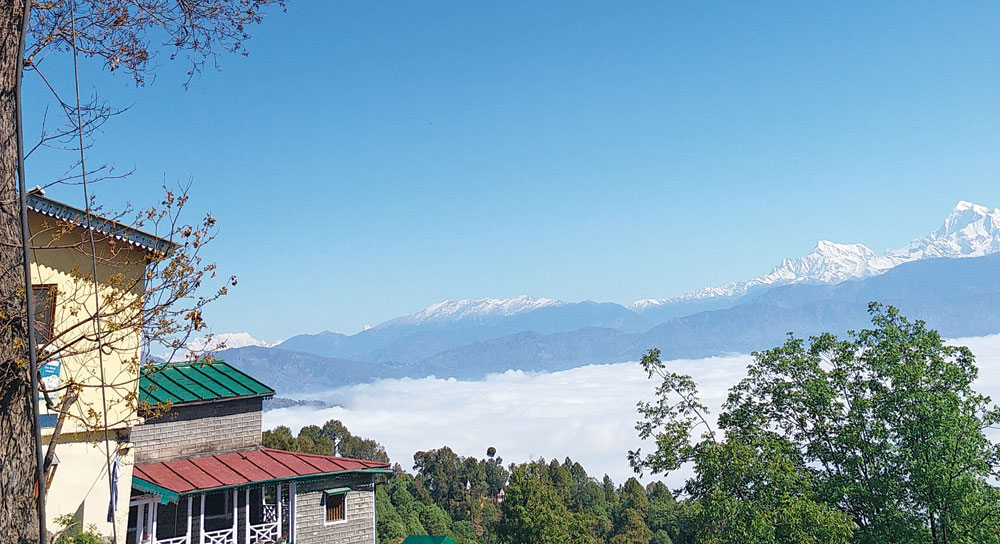 Kausani boasts of a magnificent view of the western Himalayas
Picture by Jeena Mitra Banik
---
Published 27.05.19, 01:03 PM
|
---
A lot can happen when you step out. We all seek something liberating within us, a place beyond set avenues and views. Travel is my escape from my usual surroundings and stress, especially if it takes me to a place where my heart, mind and body all sync without effort, a place that dwarfs 'me'.
I consider the mighty Himalayas my mentor. I had developed a certain closeness with it as a child, and I still fall back on it for support. It's where I can watch — from under the soft rolls of the down quilt that warms a cold bed as dying wax-pooled candles flicker in the room — the glistening moonlit peaks fade away only to come back to view more resplendent in the red, orange and yellow hues of the sun.
Kausani is a little hill town in Uttarakhand that's a long way from Calcutta. Its nearest railhead is Kathgodam, which can be reached from Calcutta directly, or via Delhi or Lucknow. I like reaching Kathgodam early in the morning. The stone building of the squeaky clean station looks almost quaint in the morning light. From there it is a drive up to Kausani.
We rarely miss pit stops on the way. This time, we chose a riverside tea stall to gorge on aloo paratha, pakora and garam chai. Even in April, the chill ripped through to my bones.
I was drinking my chai sitting in the middle of the road wrapped in pashmina and gazing at nothingness. Coming from a city where there is hardly any space to walk even on the pavements, sitting on the road seemed the thing to do, almost like a free spirit doing a dirty dance on the street!
I was just about ordering my blatherskite mind to order, when my co-traveller and friend suggested that I simply stare at nature. It looked forlorn, waiting for a hug, virgin, sharp at the edges and rare. The River Kosi (this is a different one, not the one flowing through Bihar) below mirrored the view, reflecting the dark, gloomy facade of the shadowy mountains, with few shafts of sunlight cheering up the hills, like dimples on a young man's cheek.
Wild bees hummed their song and the fish in the river occasionally caught the sun and shone like silver against the shadow-dark greens. And there were the birds, in flight or resting on trees. In this wonderful setting, a rare, blue bird pecked at the remnants of our parathas, but finding them not to its taste flew away like a mystic blue-robed baba.
The entire setting seemed calm, everything was in sync as if this is where the elixir of life, amrut, was. Such an idyllic place seemed worth battling and living for. It's no wonder that the famous Chipko Movement started here.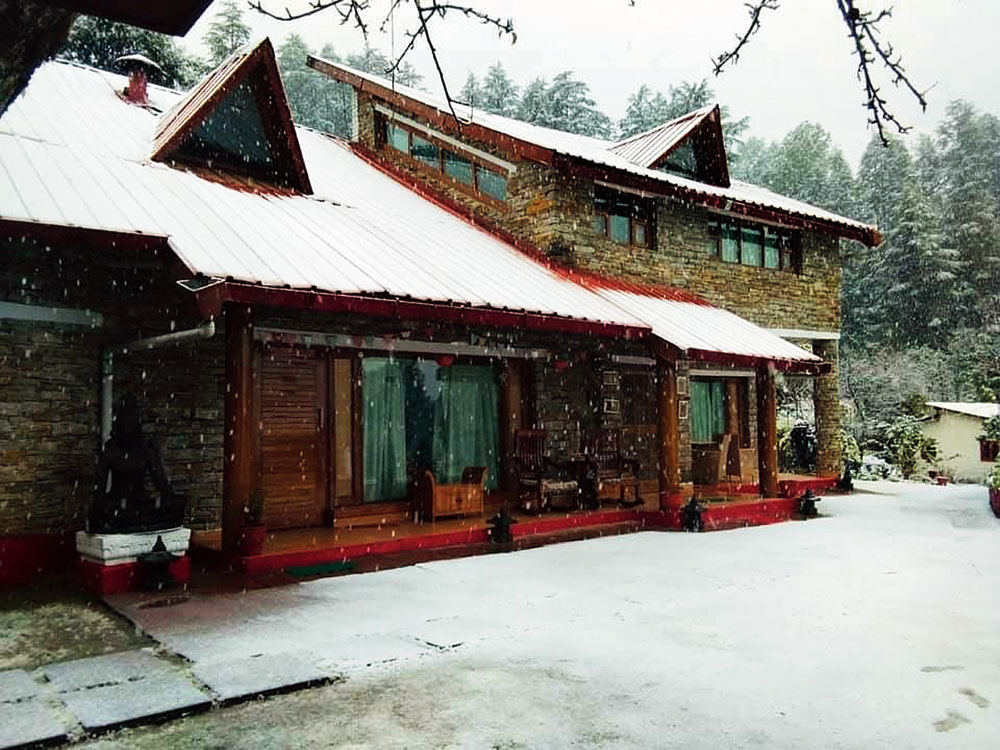 Radha Behn is the iron lady of Kausani, much decorated and feted both in India and abroad. She is known in the area for her untiring walks across the region even at her 70 years of age. She has been tirelessly reaching out to far-flung villages, educating those who live there about conserving resources, the rivers in particular.
Whenever we have met, she has never failed to mention how drilling holes into the mountain in quest of power or minerals or to make roads was actually making it weak and heralding doom not only for the immediate region, but also for people who have hitherto been guarded from many elements by the Himalayan range. Her movement continues.
It is my morning routine to walk to the viewpoint of the peaks to shamelessly stare and partake of the changing hues as the sun rises. That's what I was doing that day too, when I heard women chattering and the familiar sound of anklets. I turned around to see beautiful women in absolutely traditional finery carrying pitchers on their heads, making their way barefoot to the nearest temple for Chaitra Navratri.
Resplendant, gorgeous and beautiful as their unspoilt surroundings, these women with their warm smiles and laughter simply made my day. I almost immediately fell in love with the Kumaoni nath, the traditional and elaborate nose ring, that they were wearing.
In these parts, women have to be wooed and would consider marrying a man only if he earned enough to adorn them with the nath. My filmmaker friend ran after the group and captured some beautiful frames. In Kumaon, the women control their own lives. And as they posed for the shutterbug, their confidence seemed enough to shatter every app or filter in existence. Interestingly, men have a hard time keeping their women from running away with other men or paramours. I smiled at the thought. This was empowerment — and how!
Kausani is a quaint town with a local population of 800-plus. Located above the clouds, it's home to many a eco-resort. My friend Ramashish Ray's place, which is also available on Airbnb (Rays Himalayan View Luxurious Cottage, near State Guest House, Kausani Estate, contact: 9818103420), stands out for its beautiful architecture and Balinese interiors with a lot of Finnish artefacts. Known to locals as the Nokia house, it offers an unobstructed view of the Himalayan peaks in front. Nanda Devi takes time to spot with the naked eye. When you do spot her, next to the Trishul peak, you realise her amorous physical form lying facing the sky, hair hanging loose, her breasts static, pelvis turned a little and her left leg swinging by the side.
My time is usually spent with a book. A languor takes over the body and I slump into the garden chair every day to simply stare at the scenery as some Guatemalan coffee is served to me under a fruit tree swaying in the wind and lovely mountain blooms dancing in the flower beds lining the boundary. The forest beyond goes down all the way to the valley below. And then there is the sheer beauty of snow-capped Himalayas.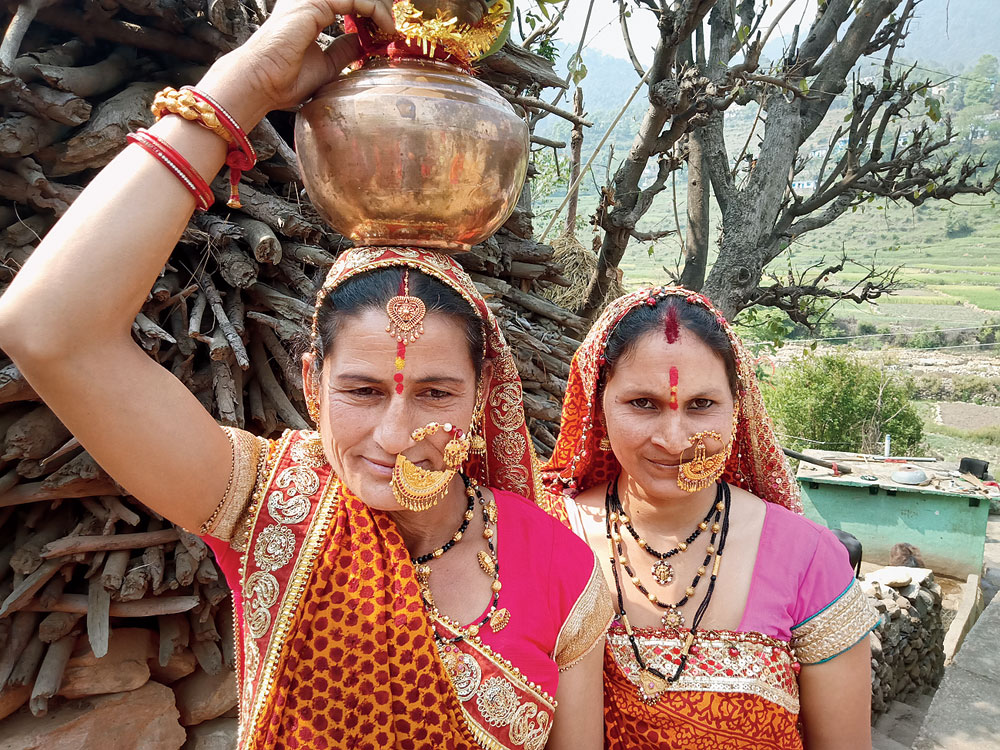 As I dressed and prepared myself for some Kumaoni lunch with local millets — jowar, ragi, fresh kills, a local chilli was thrust forth by staff waiting on us. I looked at it and knew it was not for me. However, my adventurous filmmaker friend actually took a bite and from then on kept running across the open space in front, often cursing the red-bottomed monkeys in the trees, who seemed to mock him. The host gave him several concoctions to soothe his tongue and then eventually promised him the moon and stars.
That's exactly what was served up in the evening. Our host has the most expensive and powerful privately-owned telescope in India and a well-known observatory, Stargate, at Kausani. The clear pollution-free sky offers the best view, at times, even to the naked eye. The observatory is open to visitors.
The guy pointing out the Milky Way, stars, planets and heavenly bodies aplenty used to be a schoolteacher. He is now a much sought-after man by astronomy enthusiasts. My host had got him interested in the beyond and stirred his curiosity enough for him to become an active participant at astronomical events.
Recently, the whole unit went chasing the blood moon along with stargazers and journalists from all over the world across the length of the Himalayas. There are such people — surprises abound Kausani.
The town is not the usual place with cafes, bars or malls. It is quiet, racy in intent and a complete hair-raising thriller, as you trek through various trails to reach untried, off-the-book hamlets or places, tucked away everywhere. Hire a taxi till where the road ends or ride a mule. Then, to discover, walk.
Endurance is the skill of humans to adapt to their natural surroundings. Hills like these teach you to live just like them. Leave no remnants of plastic or waste behind. Conserve energy at every point and spend only as much as is necessary without going in for an overkill. Eat local and, yes, bring out the bottles. A tipple is a must as is a fireplace.
The author is a former journalist and an avid traveller