Into the wild in Kenya
If you're lucky, you might just get woken up in the middle of the night by a roaring lion!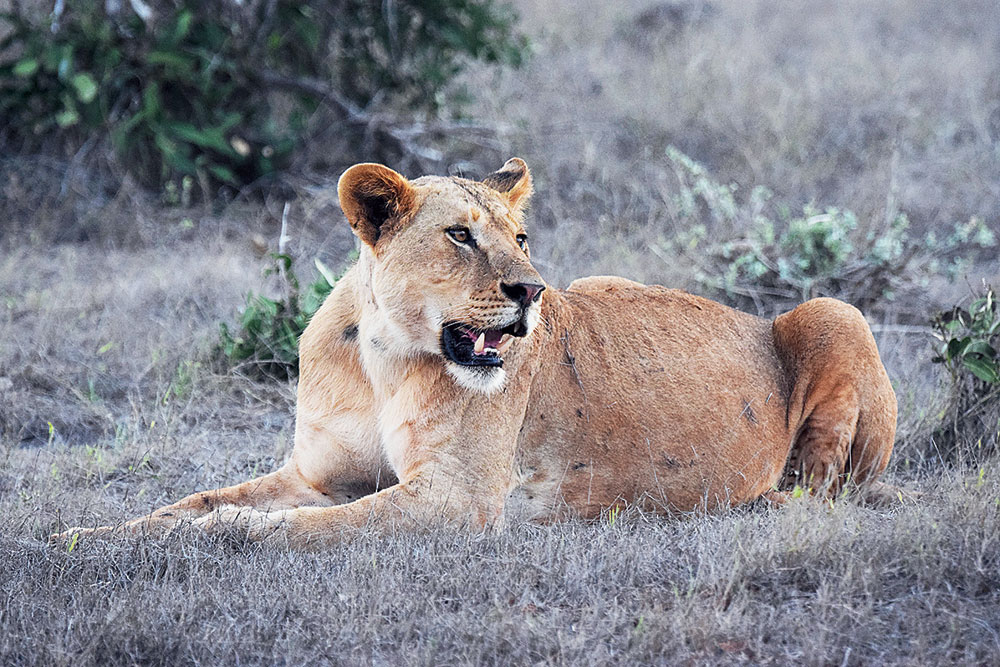 Early morning sighting at Tsavo West. Reminded me of Nala from The Lion King!
Picture by Gaurav Chakrabarty
---
Published 16.12.18, 12:29 PM
|
---
The fall, in front of a croc
From Tsavo East to Tsavo West. A picturesque drive down Highway A23 took us from Voi in Tsavo East to Ziwani in Tsavo West. Voyager Ziwani Camp became our home for the next two days. Located just outside the Ziwani Gate, the Voyager Ziwani Camp is a hotel spread over a large area of forest-land half-circling a water body. The rooms are large-sized tents numbering 1 to 25. Ridhima and I put up in tent 23. Just outside was the water body teeming with hippos, all wild. Baba and Ma were in tent 20.
It was a short walk, but right next to the pathway was a narrow creek leading in from the water body and on the other side were sunbathing crocodiles!
The staff instructed us to keep to the pathways at night, to definitely carry a torchlight and to keep the tents tightly zipped up at all times for fear of mischief-making monkeys. The beautiful locale, the dangerous wild animals surrounding us, the spacious tents, the sounds of the jungle... all made this the most memorable stay of the trip.
At around 4pm that afternoon we were taken on a walking safari into the jungle. Baba handed me his camera and chose to stay back along with Ma. Ridhima and I set off on the safari accompanied by the rest of our tour group, a Masai guide and an armed guard. We started walking along the edge of the river which led to the waterbody next to the Camp. We could see the hippos cooling off in the water.
Soon enough we were met by a sunbathing croc with its mouth wide open. It literally looked like the crocodile was made of stone. Not a muscle was moving. Only his eyes kept following us as we took a wide circle around him. Camera shutters were going off like AK-47s.
The Masai guide warned us of slippery mud in the area and asked us to tread carefully. Within 30 seconds of him saying this, I fell. There was nothing to break the fall and I found myself sitting on the muddy banks of the river with mud all over my pants, some mud on Baba's camera and a sunbathing crocodile about six feet away from me. The crocodile was the least of my concerns at that moment. I thought I had ruined Baba's camera!
Everyone in the group arrived with a helping hand. Some helped clean me up while a few others took care of the camera. In about five minutes we were on our way again with the crocodile behind us in exactly the same posture. Nothing seemed to come in the way of his sunbath. Not even a clumsy Bengali tourist.
Narrow escape
That night we were having an adda session in Baba-Ma's tent. As our tents did not have phones, it fell upon me to walk to the restaurant and place our order for dinner. Ridhima chose to accompany me. Flashlight in hand, we made our way through the pitch-black darkness. We had only walked a few steps when we saw a wild boar before us. We stopped in our tracks and so did he. With no sign of any movement I let out a loud call. The poor wild boar ran like the wind and disappeared into the night within seconds. We set off again.
After travelling a few feet we came across a small black snake in our path. We stopped. Snakes respond to vibrations in the ground. I started stomping my feet hard. The snake slowly moved and made its escape.
When we finally reached the restaurant we asked a forest official about the snake. I had clicked a blurry photo on my phone which he saw and exclaimed, "This is very poisonous cobra. Be careful."
Ridhima and I looked at each other and thanked our stars for having carried a torch.
Glimpse of Masai life
After spending two days at Tsavo West we made our way to our final destination, Amboseli National Park. Amboseli is one of the most famous African national parks. The Kilimanjaro lies just across the border in neighbouring Tanzania. Breathtaking photos of elephant herds in Amboseli, with the massive Mount Kilimanjaro looming in the background, can be found in abundance. We had caught a glimpse of Kilimanjaro from Tsavo West but were looking forward to the grand sight from Amboseli. After a five-hour drive, we arrived at the Kilima Safari Camp just outside the gates of Amboseli National Park.
As we set off on our first game drive we were crestfallen. The Kilimanjaro was completely hidden behind a dense cloud cover. But Amboseli had much more to offer. The first visual of unending plains with a wild animal at every glance, is something that must be experienced. The lack of vegetation translates to great sighting. Over the next two days, even as Mt Kilimanjaro continued to elude us, we got some of the grandest photos of elephant herds, flamingos, zebras, wildebeests crossing rivers, and even a group of cheetahs with a kill within a few feet of our car.
Our lodgings at Kilima Safari Camp were luxury tents once again. Instead of zips we now had sliding doors with locks on them! Amboseli, clearly, is a more touristy destination. Our tour included a visit to a nearby Masai village.
The Masai are an indigenous ethnic group who inhabit Kenya and Northern Tanzania. They are semi-nomadic people known for their distinct traditions, customs and dress. We were greeted by an English-speaking member of the village who introduced himself as the chief 's son. He appeared to be the only person conversant in English and thus proceeded to be our guide.
The Masai greeted us with their traditional dance, which is quite fascinating to watch. They line up and hum an almost impossible harmonic tune, punctuated by screams and shouts even as some of the men jump a few feet in the air. It is said that the man with the highest jump gets the most beautiful wife.
Speaking of wives, the village headman supposedly had seven! They showed us around their homes, which were tiny mud huts with two tinier rooms each, and then proceeded to sell their wares as souvenirs which many in our group ended up buying.
Kilimanjaro reveals itself
I went to bed that night quite content with both my memory cards overflowing with photos and videos. As much as we didn't want to, we were leaving the next day. Next morning I woke up to a knock on the tent door. Ma had come to wake us up.
On sliding open the door I was greeted by one of the grandest sights ever. The Kilimanjaro in all its glory! I picked up my camera and rushed out. The restaurant area of our hotel had a watch tower. Ridhima and I ran the entire way and up the unending spiral stairs till we were at the top. We couldn't believe our luck! On the very last day the Gods of Nature had chosen to be generous. As the sun shone down on the snow-capped peak of Kilimanjaro, I thought to myself, Africa couldn't have chosen a better way to say goodbye. 
On the afternoon of October 26, Baba (Sabyasachi Chakrabarty), Ma (Mithu), (wife) Ridhima and I, along with our tour group, landed in Nairobi in Kenya. The weather was surprising. Considering it is so close to the Equator, I was expecting it to be hot. It turned out to be quite cold. I whipped out my altimeter and found the cause. It turns out Nairobi is more than 1,700m above sea level. Kurseong is 1,500m above sea level. Now do the math.
We checked into our hotel for the night even as Baba and Ma went out to honour an invitation for a meet- and-greet session with the Bengali community of Nairobi. Early next morning three modified Toyota Land Cruisers arrived at the hotel, ours being driven by driver and guide George Wajuje Wachira. We set off for the long drive to Tsavo.
Anyone who has read The Man-eaters of Tsavo by Lt Col John Henry Patterson and Chander Pahar by Bibhutibhushan Bandopadhyay should be familiar with this place. This is where the construction of the Mombasa-Uganda Railway was halted by man-eating lions in the late 1890s. One hundred and thirty railway workers, mostly Indians, were killed before the lions were shot dead by Patterson in 1898. The old railway line exists to this day and every glimpse of it gives goosebumps.
The Tsavo National Park is divided into two sections — Tsavo East and Tsavo West. This division was done for ease of administration since Tsavo is the largest national park of Kenya. To start things off, we checked into the Ashnil Aruba Lodge deep inside the Tsavo East National Park. Each room in the property has a back porch looking out towards the jungle which is fenced off with electrified wiring to keep away wild animals at night.
Sitting there after dinner, listening to the silence of the jungle, punctuated by crickets and the occasional animal call each night, is sheer bliss. If you're lucky, you might just get woken up in the middle of the night by a roaring lion!
A great start
Tsavo is unlike any other African national park in terms of landscape. It has a large population of trees unlike the savannah grasslands we associate with Africa. It is more like the jungles of Madhya Pradesh in India. Within a few minutes of our first game drive, we were lucky to witness a pride of lionesses walk right past our vehicle after a skirmish with some hyenas. They seemed to be oblivious to our presence and even laid down for a breather right in the middle of the dirt road. We were off to a great start!
What followed were zebras, giraffes, wildebeests, warthogs, cape buffalos, gazelles and the occasional elephant lurking behind foliage. The abundant vegetation in Tsavo is a result of ample availability of water in the region, which in turn leads to a rich and diverse population of birds. The bird sightings were frequent and exciting. The first sight of an ostrich or a bustard in the wild is quite exhilarating. You will have to experience it to believe it.
After the evening safari we would come back to the lodge for some coffee and snacks followed by a quick shower and early dinner before we settled in for the night. The walk down the dimly lit pathway from our room to the restaurant at night was always eventful.
Lizards of various sizes and colours would line the pathway. The occasional frog would jump on our feet, leading to sudden bursts of potent screams from Ridhima. And there were large-sized scorpions at regular intervals that would remind me of an incident at the Circuit House in Jodhpur, involving a certain Mr Mitter many decades ago!
First rain of the season
After walking for a few minutes through the grasslands, we came to a swampy area filled with hippos. The Masai guide asked us to maintain absolute silence as we came close to the hippo family.
We were about three feet away from them, happily clicking photos, when the unthinkable happened. We heard a massive thunderclap and it started pouring. The savannah is famous for its unending grassy plains with not a tree in sight. That proved to be our bane.
We were in the middle of grassland with nothing to shield us from the rain. With all the electronic equipment in our hands it was reason enough to panic. There was no other option but to go back.
What had been grassy, dusty land with patches of slippery mud while coming, had turned into slush within seconds. It was impossible to tread without slipping. Soaking wet, trying to shield our cameras, almost blinded by the cold, pouring rain, with people slipping and falling around us every 10 seconds, Ridhima and I walked, ran and slipped our way back to our hotel. It seemed to be an unending journey. When we finally arrived at our tent, we were some 15 kilos heavier with mud and in a very foul mood. I looked at our Masai guide and he was smiling with utter happiness!
I was half about to punch him for being sadistic when he looked at me innocently and said, "This is the first rain of the season. I am so happy!" All my frustration went away in a flash. There can be no greater happiness than to observe Mother Nature take care of our home that is Earth.