Ibis Mumbai Vikhroli has a chic new look
With a facelift it looks all set to woo the well-heeled Indian traveller for a cosy and functional stay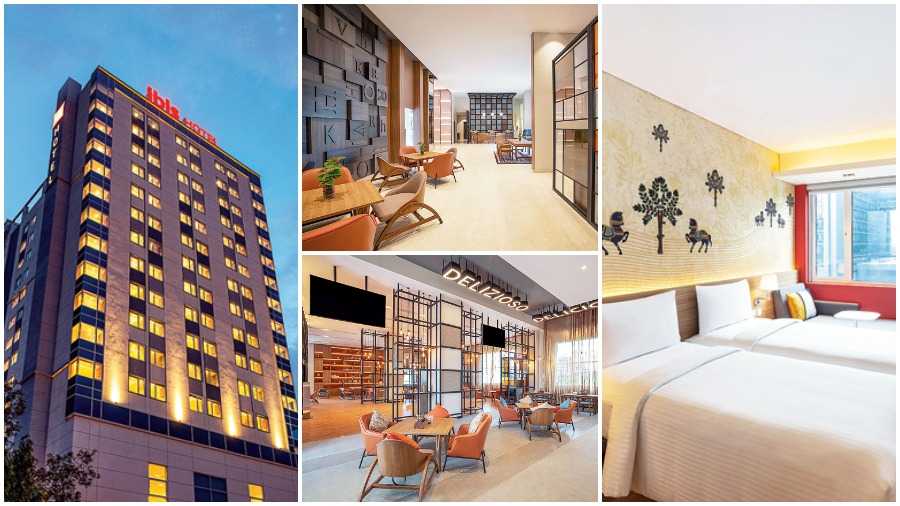 The facade of Ibis Mumbai Vikhroli, The lobby One of the public spaces , A room at the hotel
---
Published 19.11.21, 12:24 AM
|
---
As the world increasingly ranks experience over brick and mortar when it comes to travelling, international hotel group Accor, in partnership with InterGlobe Hotels, opened Ibis Vikhroli Mumbai recently at an opportune time with a chic new appearance. The group also looks at rebranding the chain of hotels with 20 properties in the country. Located 10km from the airport, the 15-floor Ibis Vikhroli has 249 keys and looks to attract new-age travellers with emphasis on technology, music, entertainment, food, fitness and a more spacious design for their rooms.
"Ibis Mumbai Vikhroli is a perfect amalgamation of urban-influenced design and user-friendly technology, located in the suburban vicinity, to cater to the evolving needs of travellers with our renewed lifestyle approach of loyalty. Our programme 'Accor Live Limitless' goes beyond hotels and offers by making guests feel privileged and rewarded for the way they live, work and play," said Puneet Dhawan, Senior Vice President — Operations, Accor India & South Asia.
The Ibis Vikhroli rooms were done up in six different themes — the local train, the Dabbawalahs, the Mumbai skyline, Maratha empire, the flamingos that flock to Mumbai, and Kolam. While Ibis is known for its standard designs across all its properties, the Vikhroli property marks a new change with a more spacious design for its furniture and decor inside the rooms that have a wider window and a newer bathroom structure. Meanwhile, to rope in more corporate clients, they have a floor dedicated to meeting and conference rooms, with ceilings high enough to also host social gatherings like weddings. Wooing in locals with their interesting F&B offerings and their promotionals such as "Pay What You Want" are also on their list.
The decor in the common areas of the hotel is centred around industrial chic with French interior designer Isabelle Miaja helming it. If you are an Ibis loyalist, you will instantly catch on to the younger and more artsy pulse of this property in Vikhroli. Contactless check-ins, a digital menu and access to OTT platforms in the rooms are just a few of the new things one can avail at this Ibis property. An entire floor dedicated to F&B ensures a great, interactive experience with open kitchens at Spice It and a bar alongside too. Spice It continues to serve breakfast from 4am to noon and the fitness centre at the property is one that is operational throughout the day. The lighting and the art at the property are all aimed at making Ibis Vikhroli appeal to the younger, well-heeled guest looking for a great experience.
"Our designers have done an exceptional job of curating this unique lifestyle product. With every new hotel of ours, we aim to create new experiences for our guests through trending design themes, state-of-the-art offerings and our continuous endeavour of maintaining the highest level of services. And we are proud to say that we have raised the benchmarks of quality hotel options across Mumbai with this new opening. Ibis Vikhroli has been uniquely designed sporting a 'new generation' theme, which has public areas that are highly energetic, colourful and vibrant and offers a specially curated authentic culinary experience. Our rooms have relaxing tones with the flavour of Mumbai blended in the artwork coupled with very accessible technology," said J.B. Singh, president and CEO, InterGlobe Hotels, who is said to have also personally stocked the library with all his favourites.
Environmental concerns are on everyone's minds, like it should be, and on that front, Ibis Mumbai Vikhroli has been certified with an IGBC gold rating. The use of "green products, water conservation, enriching daylight ingress, eco-friendly bathroom amenities" and patches of Miyakawi afforestation are some of the ways in which the property aims to ensure maximum sustainability.
Most importantly, one will notice the significantly younger demography of the staff at the property who are friendly and eager to help. Speaking on the launch, Anant Leekha, general manager, Ibis Mumbai Vikhroli & Ibis Navi Mumbai, said, "It gives me immense pleasure to introduce the third Ibis property in the 'Maximum City'. We look forward to extending the Ibis hospitality to our local guests and those travelling to Mumbai."
More about it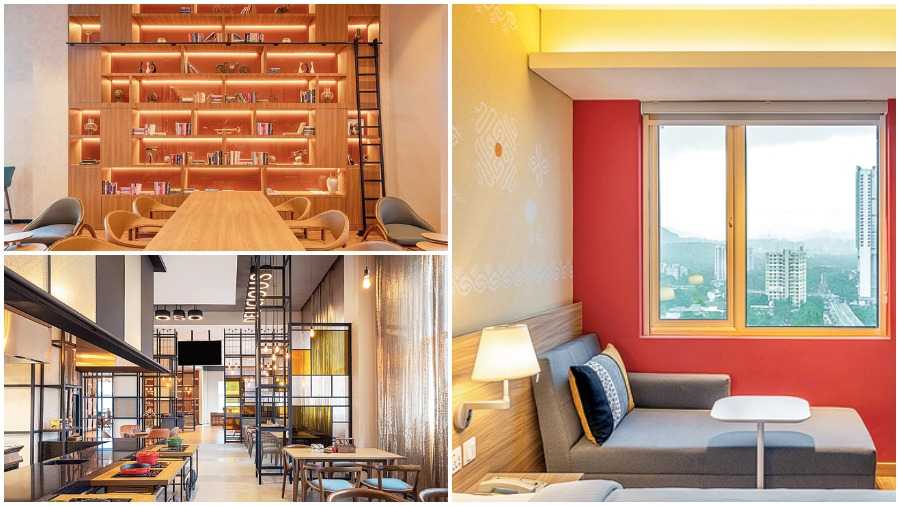 What: Ibis Mumbai Vikhroli
Where: Lal Bahadur Shastri Road, Vikhroli West, Mumbai (10km from the international airport)
Keys: 249
Amenities: SweetBed by Ibis, WiFi, access to OTT channels and eco-friendly bathroom amenities, breakfast from 4am to noon, library, bar, alfresco seating, 24-hour fitness centre, restaurant, smart meeting and conference rooms, parking access, web corner
For more: www.ibis.com
Pictures: Courtesy of hotel