How to spot magic in New York if you're a child
The city that never sleeps is not only for adult party-seekers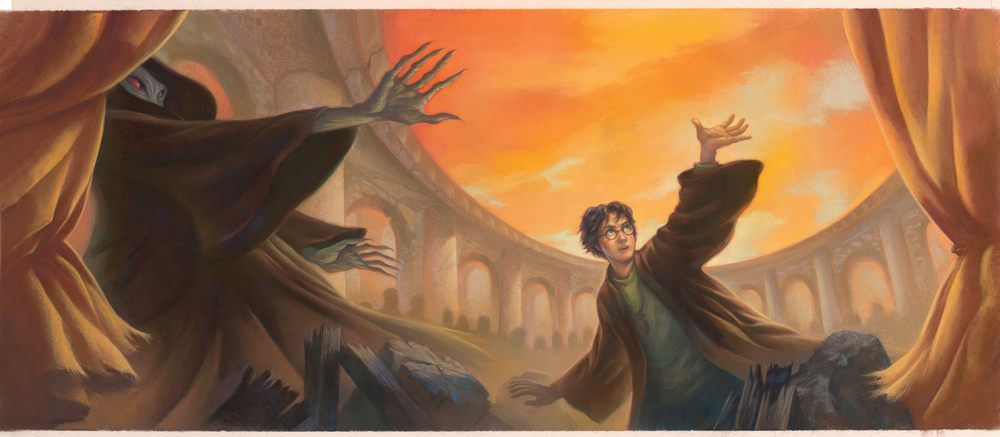 The Harry Potter museum houses this jacket art for Harry Potter and the Deathly Hallows by Mary GrandPré
Image: Courtesy of Warner Bros. Corporate Archive. Illustration by Mary GrandPré © 2007 Warner Bros.
---
Published 18.01.19, 09:07 PM
|
---
Confession: I love travelling solo or with the husband. I never miss my kids when I am travelling across the globe. Travelling and experiencing new cultures gives me a high and I hope my kids will inherit my love for travelling but all in good time. Right now, I don't want their company when I am admiring Michaelangelo's David or getting drunk at a rooftop bar in Bangkok. However, on my recent trip to New York I missed my 11-year-old son more than I expected.
The child is growing up on a (un)healthy dose of Hollywood movies and American TV shows and every time I crossed an NYPD patrol car I could picturise him banging open the door and walking into the room with his Nerf gun, flashing a badge and saying 'NYPD' a la Castle.
The holiday cheer and Christmas lights gave the whole city such a festive feel that I wished he was around to enjoy the atmosphere and grab a hotdog, a favourite of his.
But it wasn't until I visited the following attractions that I felt this was one trip I should have done with my son.
Spyscape Museum
Imagine walking into a museum and being greeted with the following words: 'Your mission, should you choose to accept it...'. Okay, so that's not how they greet you but it would be really cool if they did because the Spyscape Museum at Times Square takes you deep into the world of espionage and secret agents. But it is not about fictional characters such as Ethan Hunt and James Bond. Instead, it explores real life spy stories and characters-- from code breakers to spy catchers, all brought to life with world-class artefacts and multimedia storytelling. There is a whole section devoted to the spycatcher who brought down the FBI's most damaging traitor Robert Hanssen, who spied for Soviet and Russian intelligence from 1979 to 2001. Another section focuses on the teenager who hacked the CIA's website. There is yet another on Encryption and introduces us to Bletchley Park and the importance of breaking the Enigma codes for the Allies in the Second World War. Here we are introduced to Alan Turing, the brilliant mathematician who helped break the Enigma code.
The museum features interactive spy challenges and you can test your own spy skills. Right at the beginning you are made to wear a band and once you have completed all the challenges you are assessed and told which of the 10 archetypal spy roles you are best suited to. This authentic profiling system was developed with a former Head of Training at British Intelligence and top industrial psychologists. The roles are: Agent Handler, Cryptologist, Hacker, Intelligence Analyst, Intelligence Operative, Special Ops Officer, Spycatcher, Spymaster, Surveillance Officer and Technical Ops Officer.
Activities include lie detection in interrogation booths where you are told to look for tell tale signs such as pursed lips and hands touching the face. There is also a 360-degree surveillance mission with a room with more than 20 cameras. You have to observe and answer a set of questions about the people the camera is focussed on. But my favourite was the special ops laser tunnel where you have to switch off as many blinking lights as you can without tripping over a laser. There are also IQ, EQ and personality tests. At the end of it all I was told that given my empathy and love for adventure I would make a great handler. So now all I need is to play M to James Bond's 007.
(Tickets are priced at $39 for adults and $32 for kids 12 and under.)
Harry Potter: A History of Magic at the New York Historical Society
This exhibit is a must-visit for Potter fans across the globe. I am unashamedly one and my son is almost a Potter encyclopaedia. So imagine my excitement, when I came across J K Rowling's handwritten first drafts of The Philosopher's Stone and Deathly Hallows, her hand-drawn sketch of the Hogwarts grounds, and portraits and sketches of some of Hogwarts's professors including Dumbledore and Hagrid.
What was even more exciting was the section on Potions and Alchemy showcasing a bezoar stone that in the books provided a powerful antidote to poison. Next to it, the tombstone of Nicolas Flamel—the medieval Parisian rumoured to be an alchemist who inspired a character of the same name in Rowling's Harry Potter and the Philosopher's Stone. I could almost hear my son saying excitedly 'Mom, he was for real'. And Yale University's Ripley Scroll depicting symbolic references to the philosopher's stone -- follow the steps and create your own philosopher's stone. I am sure several have tried, and failed.
In the section on Herbology, my eyes fell on a mandrake plant. In the Harry Potter books these plants look like humans and you have to wear earmuffs while pulling one out of the soil because their scream can be fatal or at least knock you out for several hours. The mandrake exhibit at the New York exhibition does look like a human form and gave me quite a scare.
What makes the exhibition fascinating is that it shows that though over 90 per cent of the magic in the books is invented by Rowling, it has its roots in reality. For instance, there is the first written record of the incantation 'abracadabra,' dating from the 13th century, also a 13th-century bestiary manuscript depicting a phoenix rising from the ashes.
(The exhibition is on at the New York Historical Society till January 27. Tickets are priced at $21 for adults and $6 for kids ages 5–13.)

National Geographic Encounter: Ocean Odyssey
'Here's some fun trivia. Did you know that a Humboldt squid could have as many as 35,000 teeth? Or that the Giant Kelp, a kind of grass that grows on the sea bed can grow at a rate of two feet per day?' I imagined my son (who loves trivia) asking me such questions as I entered the National Geographic Encounter: Ocean Odyssey at Times Square. The whole museum is extremely interactive and the aim is to provide you with an underwater experience without getting wet.
I walked into a room and lit up a coral reef. The whole room is built from a process called photogrammetry. More than 1,300 photos were clicked on location in Solomon Islands and then the 2D photos were used to create 3D images of the corals. In the next room, I suddenly found myself in the middle of a deep-sea battle between two ferocious Humboldt squids. As I watched them transfixed, I imagined my son ducking and diving to stay out of harm's way. The genuine footage is from the National Geographic archives.
In another room I came across huge vertical screens behind which were sea lions. Every time I raised my hand the sea lion would flip. What looked like an aquarium is actually multimedia. However, it felt like I was interacting with live sea lions.
But my favourite experience was finding my way through a twisting kelp forest. With the help of mirrors the whole forest is designed like a maze and I was thrilled to find my way back.
(Tickets are priced at $39.50 for adults and $32.50 for kids 12 and under.)