Cotswolds is straight out of Grimm's fairy tales
The roses and lace curtains of the picturesque homes make it not grim at all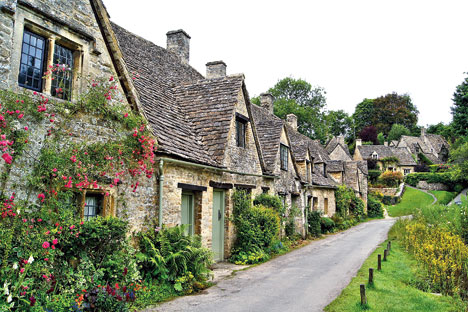 ---
Published 26.08.18, 12:00 AM
|
---
One cafe latte with double sugar for our friend who volunteered to take us on the day tour and we were good to go.

"Where to now?" asked Pinky, refreshed by the coffee. Pinky is our well-built friend Randhir Suri!
"Postcode GL75BB." I supplied readily. I had mapped out the route with two of my trusted friends — Lonely Planet and, of course, Google Maps.
As we headed out of Uxbridge via M40, the sky was cornflower blue dappled with clouds. The sun was cool but bright. To quote Bertie Wooster, the weather was "extremely clement!" It was an ideal day to do what we had in mind, wander about the English countryside, stop at a few villages and soak in the good life of Cotswolds.
Described as a rural area in south central England, Cotswolds bridges six counties, mainly Gloucestershire and Oxfordshire. A 25-mile broad and 90-mile long expanse, it stretches from the famous Bath in the south to Chipping Campden in the north. We hoped to experience vignettes of this haven of rolling green hills (wolds) and dales, stone cottages and idyllic environs.
In no time we were in the open countryside, cruising on the A40, past Oxfordshire. The road took us past tall trees etched against the yellow of the harvested fields. In between were grassy banks and clusters of sloping roofed cottages, which looked straight out of Tess of the d'Urbervilles or Miss Marple's St. Mary Mead — placid and serene.
Where time stands still
Our first stop was Bibury, a village in Gloucestershire, described by the English artist William Morris "as the most beautiful village in England".

I realised we had reached our destination when I spotted the Arlington Row. Having seen innumerable images of this much-photographed street in England, the line of honey-coloured stone cottages with sloping roofs, this was unmistakable. The Row, the most enduring image of Bibury, undoubtedly precedes the quaint village in fame, having made it to the inside cover of British passports in 2013-14.

We parked next to Rack Isle. The name came from the racks on which weavers hung out fulling wool to dry centuries ago. This was not an isle, but a lovely watery marshy meadow, with tremendous possibilities for aquatic life. Moorhens, coots, mallards and other aquatic creatures thrived here, making it a veritable haven for birdwatchers. A small wooden footbridge spanned this, taking us across to Arlington Row.

Up close, the cottages looked completely hewn out of Grimms' fairy tales. A not so grim one, as pink roses rambled over the sloping roof and dainty lace curtains fluttered on the windows. They were inhabited! But by visitors, not weavers, as now these were private guest houses.
The picturesque River Coln separated the Row from the main motorway A40. Lingering by the river, one would think that bustling London, a mere hour and 20 minutes away, was something invented by Ian Fleming to plot his thrillers. A few majestic swans, and the more humble quails sailed by. Time, surely, had stopped here.
On the motorway stood a picturesque house. Its gracefully-aged walls were completely covered with ivy, the windows bordered by vines climbing all the way to the tiled roof. This was the Swan Hotel.
Bibury has a population of 600 who live in quaint cottages and Swan Hotel is a perfect representative of them all. Artistic inclinations at rest, we turned our attention to the fare the hotel offered.
We selected River Coln trout, grilled whole and served with new potatoes, broccoli, flavoured with fennel and herbs. This was accompanied by oven-fresh bread and rounded off with cold beer. In such an environment we totally deserved our desserts. So toffee apple pudding followed.
Post the delicious lunch, I strolled down the streets of Bibury, trying to drink in the beauty of the fruit-laden apple trees and the beautiful shrubbery which framed the graceful cottages. The only gift shop was closed, so I admired the porcelain figurines, lace doilies and other bric-a-brac through closed glass doors.
Though we felt like lingering at this idyllic spot by the quiet river, our next destination beckoned. So we started along A429 for Chipping Campden.
Home of Stamboul Train
The road turned narrow, hemmed in by green meadows where sheep grazed. After all, Cotswolds is also the place from where we get our Cotswool. The motorway dipped and rose to reveal picture-perfect villages like Stow-on-the-Wold and Bourton-on the-Water, till we reached the ridge above Chipping Campden.

Rows of thatched cottages dozed in the autumn afternoon, interspersed with poplars and plane trees. The word 'chipping' is probably derived from the Old English 'ceapen', meaning market or a marketplace and the town was, as a wealthy wool trading centre in the 14th and 15th centuries, much favoured by the rich merchants. The population is around 2,300, so it was positively bustling compared to the 600-odd inhabitants of Bibury!

Our quest here, however, was different. I am a great admirer of Graham Greene. While doing my homework on Cotswold, I learnt that the Nobel laureate was one of the famous residents of this little village. He lived in a small cottage called Little Orchard, which I wanted to see.
As our car meandered through Chipping Campden, we depended solely on GPS. We had turned off High Street and were in a quiet lane bordered by villas and clipped hedges. No one was about as it was late afternoon.

I got out of the car and started walking around. A child tripped home from school with his mother. "Do you know where Hoo Lane is?" I asked. "Oh yes," she replied pointing me in the direction of a turn we had missed. Following her advice, I was suddenly in front of Little Orchard, the cottage I had seen so many times on the Internet!

A small blue plaque declared Graham Greene lived here between 1931 and 1933. I knew that while he lived here, he was writing Stamboul Train. Silently, I paid homage to the writer, posed for a picture beneath an apricot tree before driving on.
Hot scones and Darjeeling tea
It was late afternoon and we craved a cup of tea. We drove into Burford, a medieval 15th-century village-town on the River Windrush, which sadly was our last stop on this day-long tryst with the idyllic English countryside.

Burford boasted a broad High Street, lined with quaint shops and uniform rows of houses. As we parked in a side lane (Sheep Street), a hush fell, indicating that sunset was approaching. The afternoon tea beckoned. We passed Tolsey Museum, a shop and museum where sheepskin was on display.

On High Street shops were plentiful and quaint. Bay windows with white latticework displayed petite napkins, tea cosies and so many other things. I looked around for Huffkins, a cafe founded in 1890, which Lonely Planet promised was worth a visit. I feasted my eyes on tiny teacakes and finger pastries on display. Pinky wanted a latte while my husband and I settled for a cup of good old Darjeeling. Then came the food. Egg-and-mayonnaise and tuna-and-cucumber options were set aside in favour of raisin-studded hot scones with clotted cream and preserves. Our dessert was a freshly-baked iced-carrot cake, generously spiced with cinnamon and nutmeg and finished with cream cheese frosting. I was convinced that Cotswold did not do anything in half measures. It was soon time to bid Burford goodbye. Collecting some caramel toffees, we made our way to the parked car.
The daylight had faded, leaving soft blue shadows under the hedges. The approaching dusk and ambient chill turned our thoughts to a hot meal and a warm bed as we headed back to London.