Fashion designer Rahul Mishra shares moments from his latest Paris trip
The family ventured on an enriching trip to Araku Valley last month, followed by another quick trip to the city of love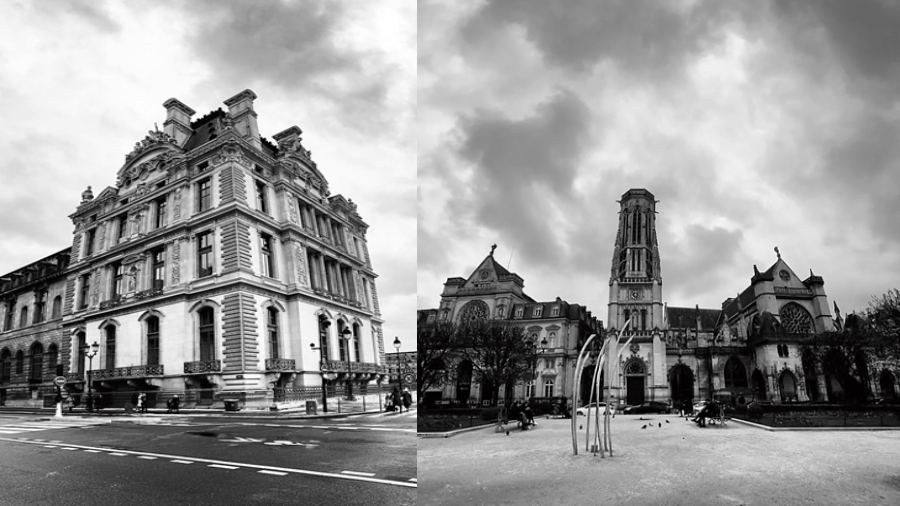 "There is something so beautiful about Parisan architecture! It's gorgeous and leaves me spellbound every time I see it," said Rahul after sharing these stunning monochrome shots with The Telegraph
---
Published 27.03.22, 01:49 AM
|
---
Travel has always remained the key influence behind some of his latest collections that have fetched rave reviews from across the globe. Ace fashion designer Rahul Mishra broke his dry travelling spell (thanks to the pandemic) with an enriching trip to Araku Valley last month with his wife Divya and daughter Aarna, followed by another quick trip to Paris. The Telegraph was a part of the Araku Coffee trip with him where we witnessed Rahul, the traveller, the trekker who loves to "walk, walk and walk" and the brilliant photographer who captured nature breathtakingly on his phone. From his first travel memory to travelling with his daughter, Rahul let us in to his wanderer side.
Starting with Araku Valley last month, you are back to travelling, since the pandemic hit....
In 2019, I travelled to the Maldives, Bhutan, Paris, Santorini, Vienna.… So much so that aapni just nazar lag gayi! (Laughs) September 2019 till March 2020, I was only travelling, sometimes it got overwhelming. But, hopefully,
I feel now we are back to better days.
Is there any concept or idea with which you travel?
When Van Gogh used to say that 'the sunflower is mine'… he must have been among thousands of painters who had painted sunflowers but what he painted is just the altered perspective. That is something even I want to do, even if I am travelling somewhere or shooting on my phone I ask: 'What is that perspective?' Say, when Aarna (daughter) travels with me, her height gives me a beautiful perspective.
Travel always has a great influence on your work....
I will take you back. When I was a science student I was told by my father that travelling should start after studying well, probably after going to IIT or something like that. When I went to NID (National Institute of Design, Ahmedabad), I remember it was my first travel and before that I had never taken a flight! It was 2005, I tried convincing people instead of three-tier AC in train, they should let me fly. At that time students were given second-class sleeper… and I don't think I had travelled third AC before also. I had to do a 48-hour train journey on Konkan Railway and Goa onwards the vegetation was beautiful! I was sitting with the digital camera that belonged to NID wrapped around my shoulder. With that I was taking pictures sitting on the foot rest, holding the door. Well, nobody should do that, it's risky I know. But it was my first travel in a way and it was second year of education and that travel amazed me in so many ways that it shaped my first collection! It was called A Ray of Light and done with Kerala handloom fabrics, where I made reversible clothes, a GenX collection that I showcased in Lakme India Fashion Week in 2006. Tell us about your holiday in Araku Valley in February with Divya and Aarna.
I didn't expect the trip to be this beautiful! I had thought a coffee plantation is going to be like a tea plantation but discovering coffee coming from forest with the best of people was amazing! How coffee is plant dependant! It's beautiful. Planet, plant and produce are interlinked and how they balance each other! This was a very different thought-provoking journey. I was very inspired.
As for Aarna, I felt she came out after the pandemic; so she was excited. We try to keep her away from malls, etc. This is the time she is going to build memories, childhood memories are beautiful and I feel like all the children in the world should come to trips like the one in Araku, it's investment for the future. They are going to take the concept forward. But I must say about Aarna that she asks very profound questions at this age. She was also very excited to see the sea in Vizag.
Inspiration can come from anywhere, even from a walk in the park! One of my bestselling garments is inspired by a bougainvillea tree surrounded by genda phool plant planted by the maali. Then a trip to Araku Valley can be a life-changing experience because of the whole co-existence of the farmer, the crop, the forest and the entire idea behind sustainability and biodiversity.
What's your fave travel destination?
The Himalayan region! The beauty is raw.
Is there anything that stresses you about travelling?
Yes, yes… packing (laughs)! I am the last one to pack and Divya is very stressed about it. I am also the last one to board the flight, so sometimes they need to run with me! I am the less organised person that way. What kind of a traveller are you? Light traveller or a heavy one who packs the world?
Divya makes me pack a lot of things because weather can fluctuate, but I am a light traveller.
What do you still have to cross off your travel bucket list?
There's lot on my travel bucket list! I want to go to so many places. Within the country I haven't been to Leh-Ladakh, Kashmir in the north. Then beautiful places in Himachal Pradesh, then visit North-eastern part of India, Meghalaya, it's too beautiful. I just don't want to be there but live and experience the place. Odisha too is on the list along with mountains of Kerala, the Andamans. Like I said, so many places, I think I will have to become a traveller to do that (laughs). Sri Lanka is another place I want to go to.
A trip to a place that made you immensely happy is?
Right before the pandemic I had visited Bhutan. That place made me and Divya so happy! We were elated! We were just happy for no reason and the place was so positive. They have got something called Gross Domestic Happiness.
Is there any travel app that you use?
That would be only Google Maps to navigate sometimes. You have just come back from Paris. And this was your first international trip since the pandemic…
Yes! I just got back and Paris is a place I have visited so many times but it was amazing to see how beautiful the place seems every time.
Is there anything that you must do when you visit Paris?
Most important thing about any place is walk, walk and walk. You cannot enjoy a city if you don't walk. One thing about Paris is people love to greet you when they see you, that's something we don't do. So that adds a very positive vibe.
But one thing I do every time I go to Paris is visit a place called Librairie Galignani. The likes of Picasso used to go there. This is next to The Angelina Cafe, and a must-visit place, it's a very old place, has amazing books from all over the world and some in English version too. I have friends over there now, they recognise me and show me the relevant books. This time the manager showed me a book on butterflies! (Laughs) He must have seen my mask work on Instagram and National Geographic.
I usually spend half a day there and end up picking so many books. This time I bought around 20-35 books and my luggage was 30kg extra (laughs). And 20 books are all on gardens and not on fashion. The first day I landed in Paris, I went to the bookstore.
Then there is a beautiful restaurant called Le Fumoir, then there is also a beautiful tea place called Cafe Verlet where I had some nice tea. Is there anything you least look forward to while travelling?
I get very very sad if I spend too much time sleeping or in my hotel. Because I feel I have not made the most of it. When I was in Suneva Fushi in the Maldives, I would stay up till 2am and listen to the waves and get up at 5am so that I can catch the sunrise and walk around the entire island, barefoot, on the sand and soak in the vibe and every moment. So, usually, when I come back from holiday I am like: 'I need to sleep more' (laughs). For me holidays are more like an educational experience and it's not about relaxing. That's the problem with me.
How do you pick on your travel destination?
There are so many places in my bucket list but sometimes I end up going to whichever is closer to my travel plan. Like my recent trip to Araku. These kinds of requests keep coming, but I went there because it was not explored by me.
Pictures: Courtesy Rahul Mishra THIS OR THAT
Local food vs meal in a five-star: Local food
Hotel vs Airbnb: Airbnb
Beach vs mountains: Both! Beach for a shorter vacation, mountains… I can spend my entire life in
Tea vs coffee: Both! The Araku coffee is fabulous! I also told my friends in Paris about it
Airport look vs casual: I don't believe in airport look, it has to be comfortable look