Explore the visual, sensual and gustatory power of Kochi
A stroll through the sunlit, leafy lanes of Fort Kochi reminds one that this was a land of many cultures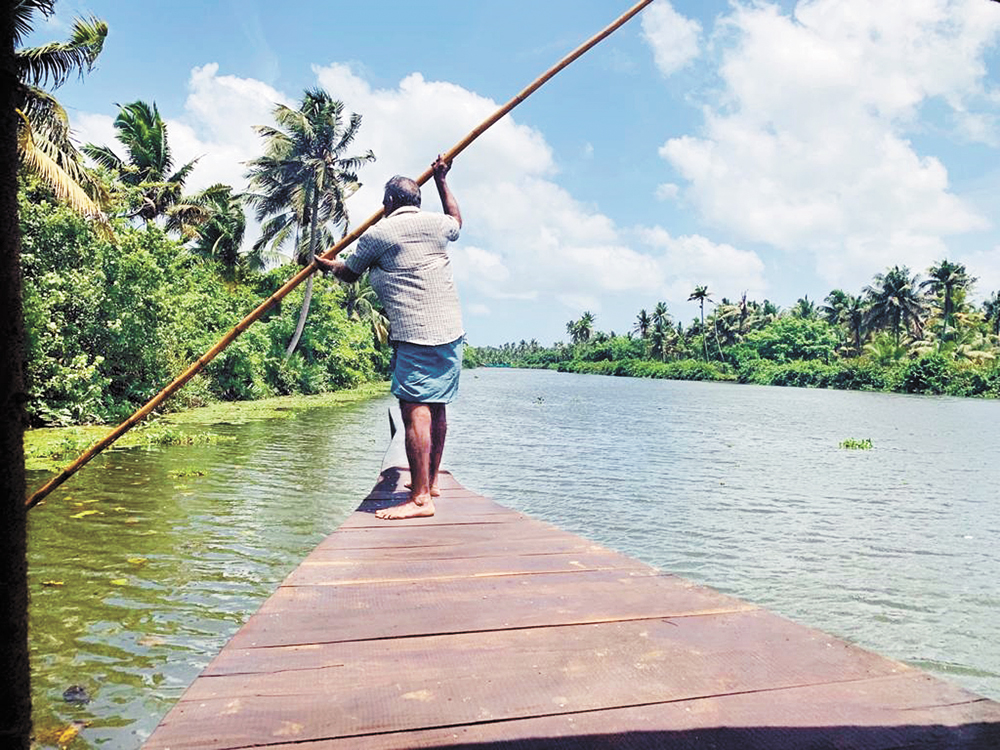 ---
---
Fort Kochi has transformed from a tree-lined, touristy enclave with Chinese fishing nets and Dutch colonial bungalows to an artsy, edgy neighbourhood with good restaurants and boutique hotels, galleries and cafes. It is also home to the Art Biennale, which attracts hundreds of thousands of visitors from all over India over three months every two years. A stroll through the sunlit, leafy lanes of Fort Kochi reminds me that this was a land of many cultures. It still remains an area full of relaxed charm with a great deal to see. Have tea at the utterly gorgeous Brunton Boatyard `hotel` overlooking the Arabian Sea or a coffee at David Hall, a space built by the Dutch East India Company in the 17th century, which is now an art gallery and cultural space with a beautiful garden and cafe. Very bohemian chic.
Play it to the bone
This is the land of fish. They fry little ones whole (podi meen), make a variety of coconut curries and shallow-fry the rest. Snapper, kingfish, prawns of all sizes, mussels (the meat is a great delicacy here and often more expensive than fish), squid... and then there's pearl spot or karimeen. When in Kerala you must try this fish. It is the tastiest fish ever with succulent white flesh but a few bones to deal with. It comes from the backwaters, so it's neither salty nor sweet. They either dust it with salt, chilli powder and rice flour and deep or shallow-fry it. Alternatively, a more glamorous recipe is pollichattu where the fish is cooked whole, bathed in a thick red masala, wrapped in a banana leaf and cooked in an open terracotta dish.
Hic-happy
Most hotels have a license but not all restaurants do. The nicest thing we found to accompany our often overwhelmingly unputdownable coconut curries, creamy vegetable stew and crisp fish fry was a bottle (or two) of the wine Big Banyan — Sauvignon blanc or Rose. A product of Goa but available all over Kerala, this is an Indian wine which suits the food, the laid-back pace of Kerala and our pocket. Their Cabernet Sauvignon is excellent with Kerala's hearty duck and meat roasts.
The backwaters
When in Kerala, a trip downtown to the backwaters for any length of time is an absolute 'must'. I first visited Kerala in 1986. One of my most memorable experiences with food was when a friend from Kottayam took me on a boat ride (it was actually a local bus boat) through the backwaters. Somewhere along the way we leapt out, sat in the shade of a palm tree and were brought piping hot, little fish fried a few yards away. Today, you can hire a kettuvallam or houseboat, a shikara or an old-fashioned country boat that meanders down the tiniest of canals with ease. I would highly recommend the last. It's the most relaxing thing I have done in a long time. We went through a company called Indo World Tours, which can also arrange for little village visits showing coir-making and toddy-tapping, finishing with a banana leaf lunch.
Heritage den
We stayed at Forte Kochi, a new boutique hotel on Princess Street right in the heart of all the buzz. It reflects the ancestry and history of the neighbourhood. Believed to be built by the Dutch in the 1860s, it was then bought by Samuel Koder, who converted it and the red-brick Koder house next door, into his home and warehouses in the late 19th century. The architecture and the heritage aesthetics are a blend of Portuguese, Dutch and British influences and the hotel has been recently restored with impeccable taste by the owner of Paul Resorts and Hotels, Paul John himself. All the 27 heritage rooms are beautiful with a gorgeous mix of old-world charm and modern amenities. Solid rosewood beds (some are four poster), Portuguese-style colourful tiles and comfy cane and wooden sofas.
Stay in the Sovereign suite with its own stand-alone copper bathtub and tasteful big comfy armchairs upholstered in chintz fabric. The hotel is small enough to feel like the home it was, cosy and friendly with little noise and no crowds or tourist groups but with an excellent level of hospitality and service. In the spirit of its former owner, they've even retained the mikveh (bathing pool in Jewish houses for ritual baths). There is a decent-size swimming pool and an excellent restaurant with an international menu. The must-trys are the beef ularthiyathu, Kerala fish curry with raw mango, and the amazing grilled seafood platter. The hotel is within strolling distance of the sea, the beach and many historical buildings — including the Santa Cruz Cathedral Basilica, St Francis Church and Vasco da Gama Square as well as antique shops and new designer stores.
Jew Town
A visit to Jew Town with its old lace shops is a must. Thomas of Little Queen Embroidery store is a gem. I buy something every time I'm there. He will show you photos of himself and Prince Charles, but what he doesn't brag about is that Camilla orders embroidered linen from him for her homes in the UK. Delicate pin point, cross-stitch and lace, which would compete with Bruges any day. All the work is painstakingly done by women, often looked after by nuns. So your purchase means so much more than buying serviettes or a tablecloth.
Ayurvedic treatment
You must go for one. Don't expect relaxing massages. These are essentially medical treatments where there is much pummelling, pushing, shoving and oil application involved. At Fort Kochi, Sukhayus is a good wellness centre where you begin to get an idea of what it's all about. Arya Vaidya Sala in Kottakkal is not for the faint-hearted and Kalari Kovilakom is mind-blowingly wonderful. My favourite so far is the Ayurvedic spa in the hands of the soft-spoken Dr Liji at Kumarakom Lake Resort, a one-and-a-half-hour drive from Fort Kochi but well worth it. It's a fine balance between tradition and relaxation. I have had a variety of treatments here over three visits and five years — all have left me in a state of calm euphoria and cured whatever ailment I had. The herb potli massage works wonders on aching ligaments and the facial using aloe vera, cucumber and papaya will leave you feeling 10 years younger. Divine!
Bolgatty Island
I came here many moons ago and the mesmerising view over the Arabian Sea from the Bolgatty Palace hotel has not changed. The original palace built in the 18th century is one of the oldest existing Dutch palaces outside Holland. On the same island and light years away of swanky luxury is the Grand Hyatt. I had a marvellous Thai lunch at their restaurant Thai Soul, which is a good break from coconut curries and masala.
Cotton on
Kasavukada has been my one stop shop for fabulous Kerala cotton for years, whether you buy dhotis, chatta mundu or a wedding sari, the quality of that inimitable off-white cotton that feels like silk and lasts forever… it never changes. I make mine into sheer drapes and tablecloths.
Take cover
Kerala is the place for umbrellas of all shapes, sizes and colours, which can be used for both sun and rain. The best place to buy them is at Kochi airport, after security check where there is a dedicated "John's" shop. That way you can take your gigantic yellow golf umbrella on the plane. If you buy them in town, unless they fit into your luggage, you can't carry them on the plane.
Karen Anand is a culinary consultant, food writer and entrepreneur. In recent times her name has been synonymous with farmers' markets. Follow her on www.facebook.com/karenanand