Experience Colombo through the eyes of the local!
Sri Lanka has not only moved past that dark history but has also created a sense of joy in their society by celebrating life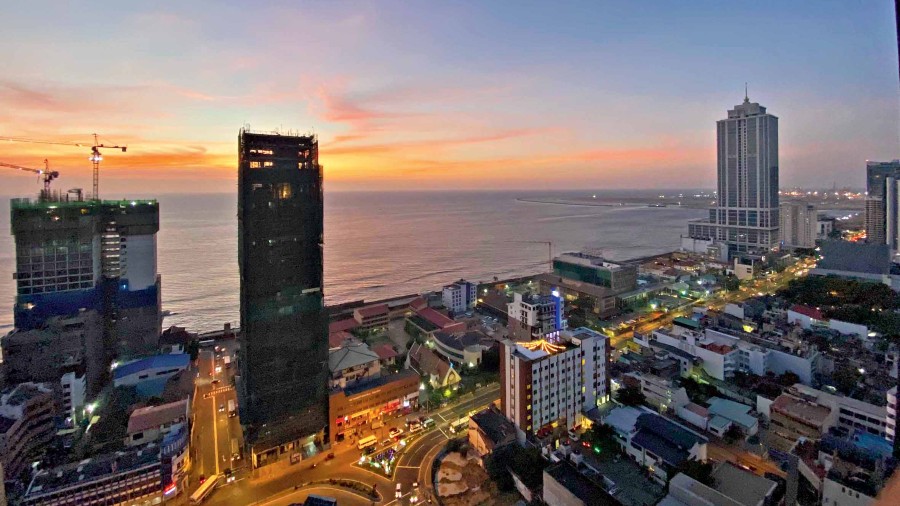 Sourced by the correspondent
---
Published 18.01.21, 01:50 AM
|
---
It is believed that a war or any natural calamity changes the mindsets and way of living of people. After a long history of civil war that the country had to deal with, and not to forget the April 2019 blasts and the ongoing pandemic paired with series of lockdowns, it is fair to say that the locals here have seen enough. But while most examples of post-war countries pack a sense of uneasiness to themselves, Sri Lanka on the other hand made me feel as if nothing tragic had ever happened here! They have not only moved past that dark history but have also created a sense of joy in their society by celebrating life in every way possible.
The island was always on my radar and I was so glad that I could make my maiden trip to Sri Lanka with India's favourite lifestyle trendsetter Riaan George. You can see him gush over the country on social media and he also calls it his second home. Being an (almost) local he planned out an action-packed itinerary to show us Colombo's entrepreneurial and artistic side. 
A two-and-half-hour Air Vistara flight took us to Colombo from Mumbai. A quick 40-minute drive from the airport gave us a glance of the ocean road, the old city followed by grand homes which lead us to the hotel. Upon our arrival, we were welcomed by the local Kandyan dancers who performed the national dance for us. The men dressed in traditional Ves costume and armed with powerful expressions, set a tone for the trip!
Chasing sunsets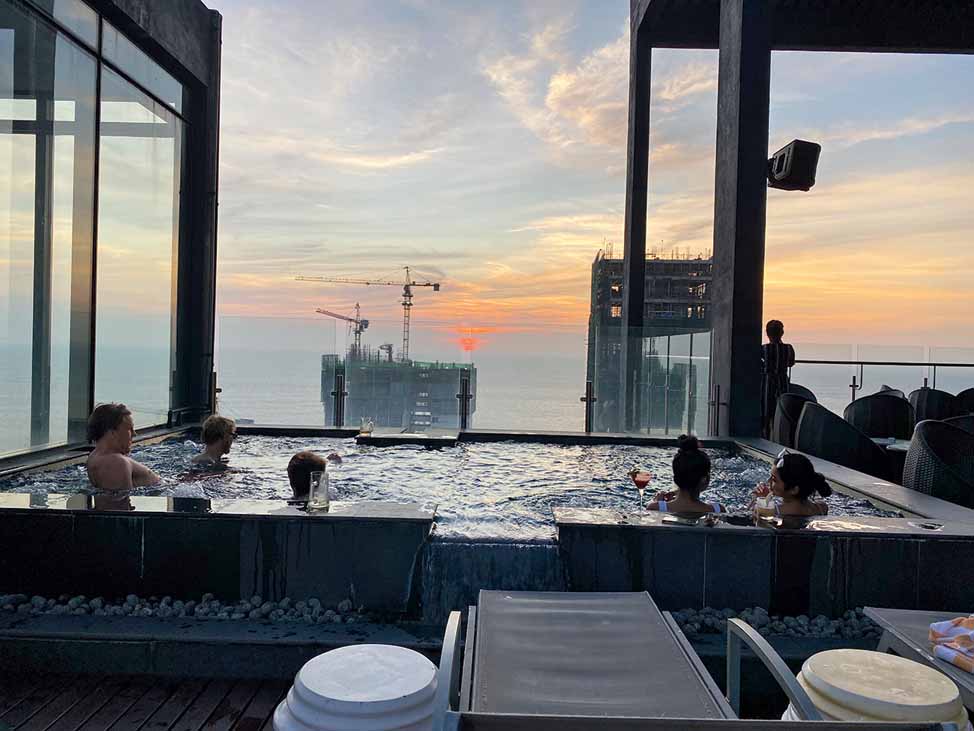 When you are in a beach town, an ocean-facing view is a must and Mövenpick Hotel Colombo gave me just that! I could not just catch the sunset from there but also witness a beautiful moon rising! On our first night in the city, we got a surprise welcome gift from LOVI that creates sarongs — Sri Lanka's traditional wrap-around skirts with pockets. I paired mine with a smart
T-shirt and kicks for the sundowner at the rooftop bar for our welcome party!
Standing tall on the 24th floor of the hotel, The Vistas Bar gave a 360-degree view of Colombo's coastline. With an outdoor deck and an infinity pool, this was a perfect spot to catch the magical sunset. The bar kept the spirits high with cocktails made using local fruits and bar snacks. My favourites were the Gal pol Cocktail made from arrack (a coconut flower alcohol) and Achcharu made with Tequila, salt-infused raw mango, Ambarella, pineapple, black pepper, chilli flakes. If you are visiting the city with your partner, then a sundowner at The Vistas Bar comes highly recommended.
The Breakfast Club
You can't skip breakfast when in Sri Lanka, because that is when they serve their beloved dish — hoppers. At the Mövenpick Hotel Colombo, the breakfast spread serves the most authentic Sri Lankan breakfast of them all. At AYU — their all-day dining restaurant — the chefs put out a trolly with all types of hoppers — egg, string and plain along with Pol Roti. We were recommended to pair it with pol sambol, seeni sambol, katta sambol, Parippu curry or a good 'ol stew!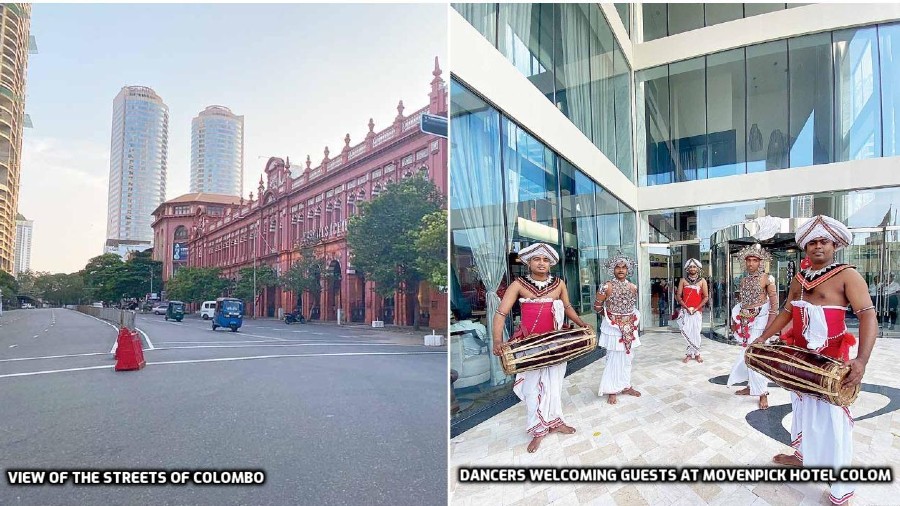 Meeting the locals
When you are travelling with a local, the places to visit aren't what you might find in guidebooks or the heavily touristy ones. We started off exploring the city with lunch at The Black Cat Cafe. If you are a coffee lover then you should check this one out. Housed inside a beautiful Portuguese-style villa, the place is owned by a coffee-loving couple who moved to the island a decade ago and opened this cafe purely because they missed drinking good coffee.
If you are a home decor enthusiast like me, you can shop at Pendi, run by Natalie Pendigrast. Having worked in the home decor space for years, Natalie has a unique eye for sourcing local talent. From cane furniture, rugs, cement artefacts, lamp and art, she has it all. You can even buy organically made beauty products such as soaps, face masks, cleaners et al at Pendi. Most of the brands that Natalie features at her store are organic, cruelty-free, and most importantly, they are all sourced locally from budding artists or craftsmen from villages on the island.
Speaking of locals, there was one we met who had the high honour of meeting Queen Elizabeth II to showcase her work. Darshi Keerthisena runs a label called Buddhi Batiks that designs everything from bridal wear to casuals to swimwear using the batik print. Darshi's father started the brand in the '80s and now she is taking it to international fashion shows.
Take on a Tuk Tuk
The best way to travel around the city is in a tuk-tuk and on our final day in the city we did just that. The tuk-tuk safari team sends you a blue-and-yellow autorickshaw with a chauffeur dressed in a crisp white shirt and a safari cap. They take you on a tour of the city showing the highlight spots. They also double up as guides and tell all about the history of each of these sights. But the best thing about it all is that they keep an icebox for you inside which there's cold coconut water, cola and the very local Lion Beer! And that for me, is the best way one should see this gorgeous city of Colombo.
Travel Trivia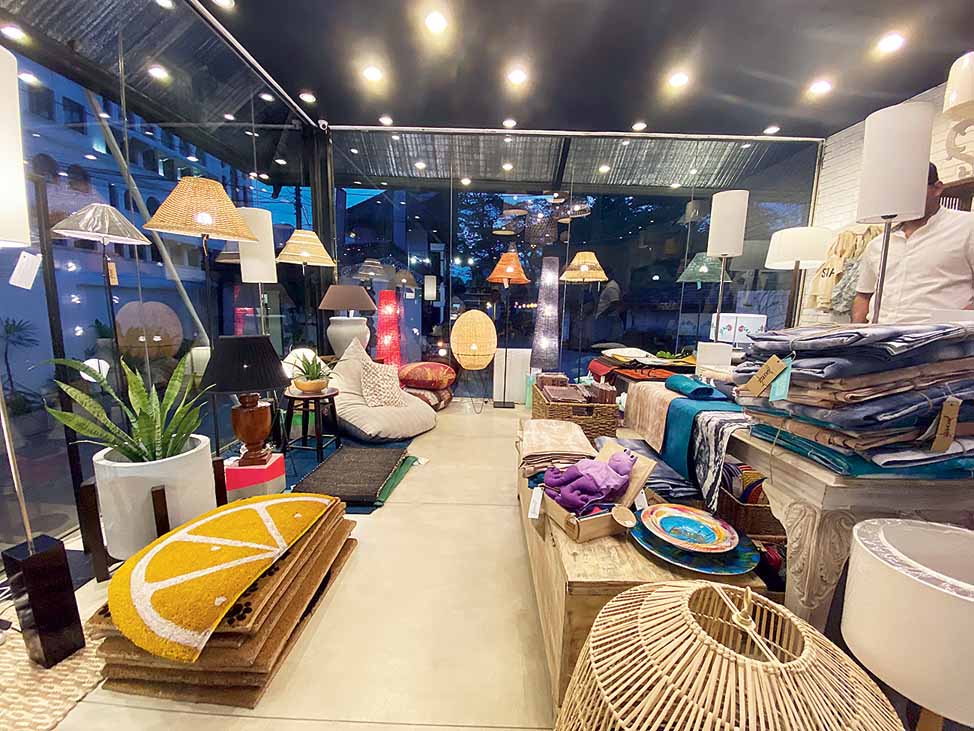 Travel to Sri Lanka is expected to start from January 21, 2021 and only the two main airports — Bandaranaike International Airport (Colombo) and Mattala International Airport (Hambantota) — will be operational. Travellers will have to take Covid-19 test 48 hours before entering the country and will have to re-take the test before arrival.