Dzongs of bliss: A kingdom of surprises awaits anyone who chooses to venture into Bhutan
Monks, temples and monasteries is one reason to visit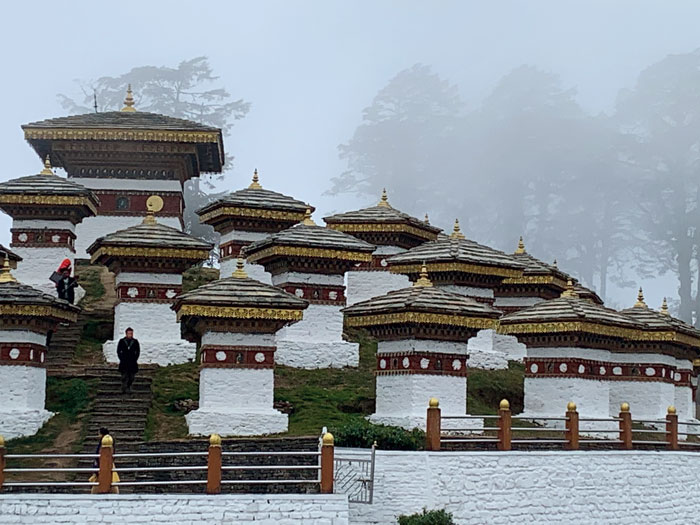 108 chortens or Buddhist shrines at Dochula Pass
Karen Anand
---
Published 15.02.20, 02:34 PM
|
---
Bhutan has been on my bucket list for quite a while, probably because I know so little about the country. It has an air of the exotic, unexplored and unchartered. What do you do there, except admire the Eastern Himalayas (which are seriously stunning) and some hardcore hiking and trekking? If you do love the great outdoors, Bhutan has a lot to offer.
In terms of nature, 72 per cent of the country is covered by forests and with a total population of 700,000, pollution is virtually non-existent. And the literacy rate is very high, with almost everyone speaking English. Monks, temples and monasteries is another reason to visit. Bhutan has over 20 Dzongs (impressive old fortresses which also house monks, temples and government), over 7,000 monks and almost that many nuns and hundreds of temples including one from the seventh century.
I did the relatively moderate three-hour trek uphill (!) to Khamsum Chorten (Royal Stupa) in Punakha. Apart from the breathtaking views and the nice hot cup of tea provided by the monks when you reach the top, the 17th century temple itself is worth the hike for the art alone. If you want to visit one Dzong or fortress, it has to be the Punakha Dzong, considered one of the most important and also one of the most beautiful Dzongs in the kingdom. It was built in 1637-38 and was the seat of the government every winter until Thimphu was established as the permanent capital in 1955.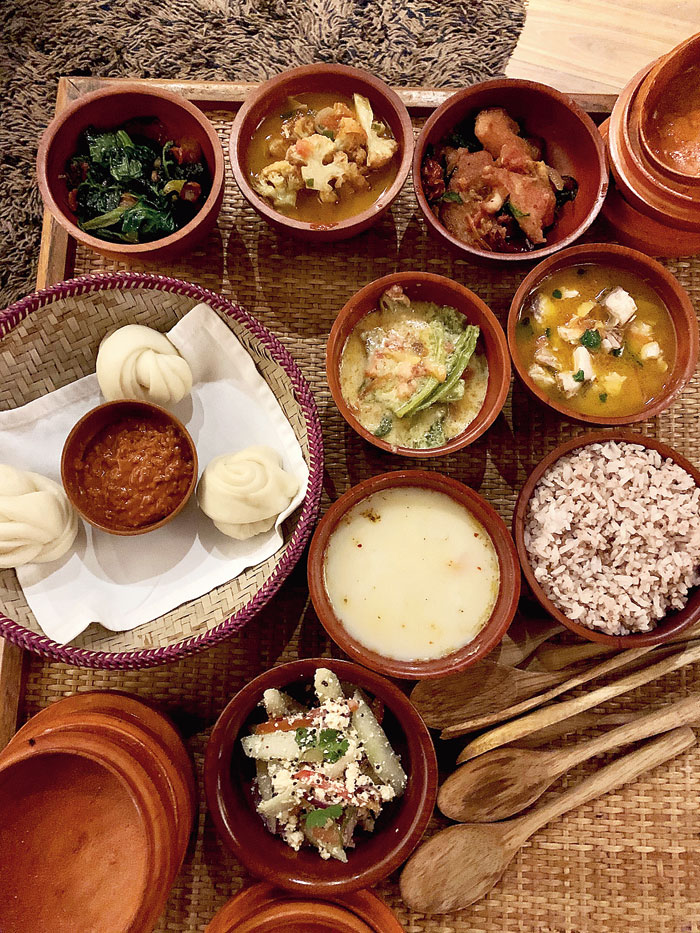 Simplicity and freshness
Nobody talks about Bhutanese food. Don't be fooled by the monastic austerity of their presentation. Whether it was the deliciously chilli cheesy ema datse, the powerfully seductive chilli and local Sichuan pepper chutney, butter tea, pumpkin soup or a simple salad with local cheese (a cross between paneer and feta)... I couldn't get enough. The food is neither glamorous nor overwhelmingly spicy. You can taste the flavour of their delicious red chillies — whether fresh or dried — and I looked forward to the simplicity and freshness of every meal with great anticipation.
I chose the Aman hotels, or Amankora as it is known, for my one-week stay in the country. Amankora draws its name from 'aman', the Sanskrit derived word for 'peace' and 'kora', meaning 'circular pilgrimage', in Dzongkha, the Bhutanese language. These are a series of lodges in Bhutan's central and western valleys, with eight to 24 rooms each, where the staff to guest ratio is an unbelievable 3:1. I was intrigued as to why such a high-end international luxury chain chose to have five lodges in Bhutan.
The Amankora guide Tenzin organised a marvellous farmhouse lunch in Paro where we sat on mats on the floor and ate steaming red rice accompanied by pork belly with radish and beef with vermicelli noodles and the most mouth-watering vegetarian momos, all washed down with home-made rice wine. On the mountainous drive between the capital Thimphu and Punakha, I stopped at vegetable sellers on the way who were selling the freshest broccoli, broccolini, fresh red chillies and a bunch of different varieties of fresh beans in their pods. Bhutan is famous for mushrooms (wild, oyster and shiitake) and their delectable potatoes.
Tenzin mentioned that the guests he had before me were Virat Kohli and Anushka Sharma who fell so in love with Bhutan's aloo, mirchi and mushrooms that they now have a consignment sent back to them in Mumbai regularly. If you'd like to learn a bit of Bhutanese cooking, the lodge at Punakha organises Bhutanese cooking classes. The location of the class is the former farmhouse kitchen and the repertoire in my case was ema datse and tree tomato chutney. You can also choose from a list of the most popular Bhutanese dishes. When it comes to drinking, Bhutan has certainly leaped into the 21st century with some renowned beers (Druk lager and Red Panda), K5 whisky, a low-alcohol Bumthang cider (apples are everywhere) and an international standard of single malt called Ter. The pure, clean water is supposed to be a contributing factor to the quality of all these brews. All these and much more are available at all lodges and included in your per night package.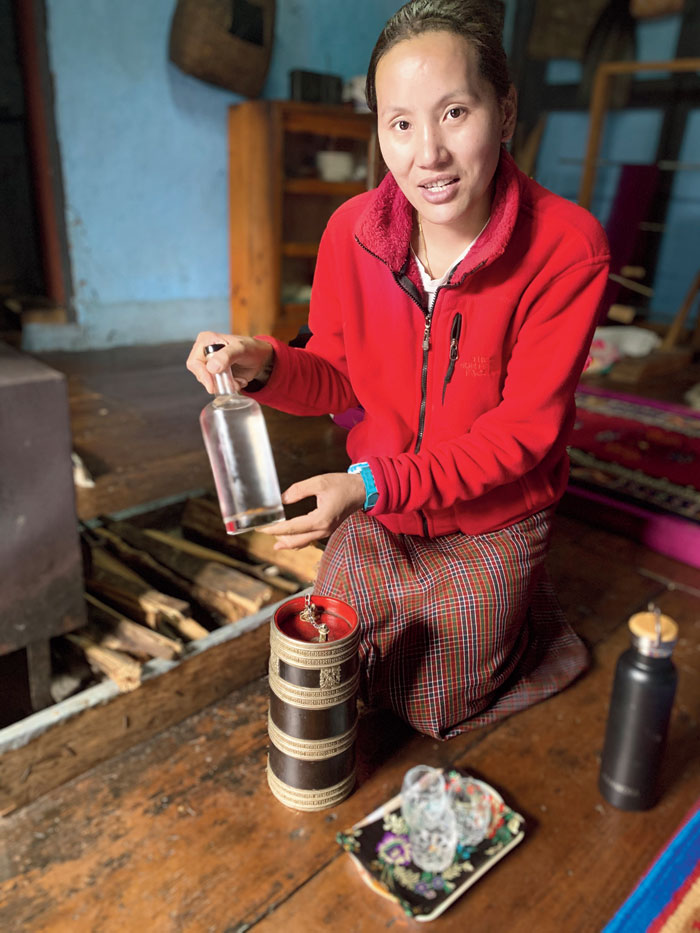 Not-to-miss experiences
Getting around Bhutan on your own is neither easy nor convenient and most travel has to be done by road. When you have Amankora to ease out the creases, provide a first-class vehicle (Pajero), excellent driver and local bilingual guide, you begin to understand why people choose a 'luxury' option in Bhutan. I chose to visit three of the five Aman properties — in Paro, Thimphu and Punakha.
You land in Paro, which has the only international airport in the country and the drive to Thimphu is about an hour and a half away.
A lot of Thimphu's urban design, including the National Ceremonial Plaza, the supreme court, UN House and so on, has been done by American-Indian Pune-based architect Christopher Benninger. The Driglam Namzha codifies the traditional rules for the construction of both Dzongs as well as ordinary buildings. All buildings have to be constructed with multi-coloured wood frontages, small arched windows and sloping roofs. It makes an elegant impression. The Aman Thimphu exterior has the austerity of a monastery with a Buddhist prayer wheel as you enter. Inside, of course, the rooms are the size of a Mumbai apartment with wooden floors, a wood-fired heater, gigantic comfy beds, bathtubs, almond oil salt scrub and toiletries from their new range… I could go on but you get the picture?