Discover the many faces Jaipur wears
I love the old, the new and the trendy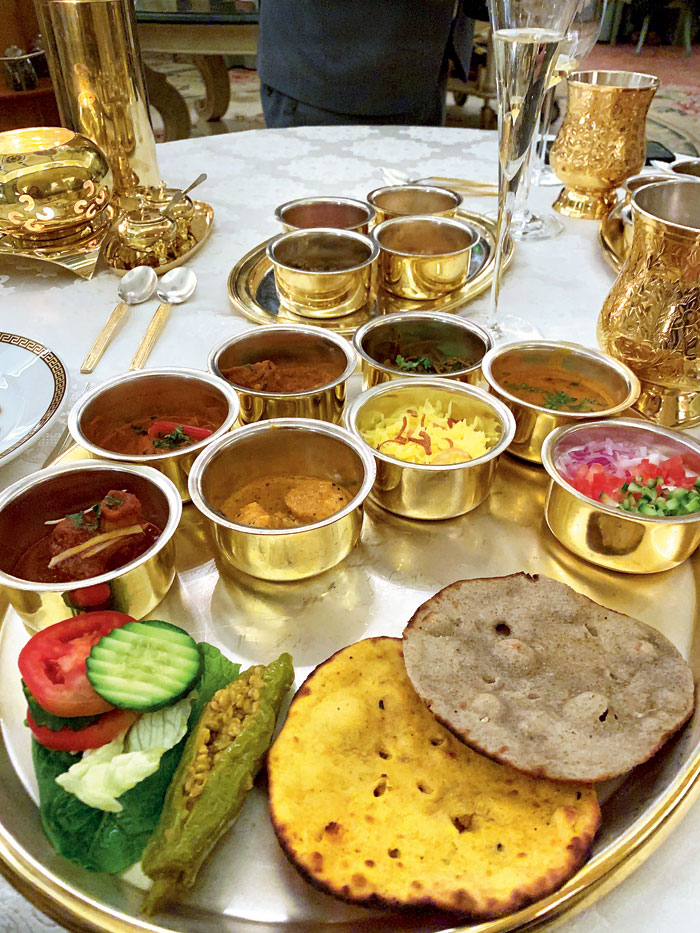 Rajasthani thali at Suvarna Mahal. The most unctuous, silky laal maans is served here
Courtesy: Rambagh Palace
---
Published 14.03.20, 03:06 PM
|
---
I love Jaipur. I love the old, the new and the trendy. I love the fact that the city is attracting the thinking world traveller with deep pockets and a sense of curiosity. It is not uncommon to hear three European languages and several English accents at any given moment at lunch time at the gorgeous little Anokhi Cafe.
Jewellery designers now spend the winter here putting together their summer creations. My old friend and textile expert Gitto sits in her block-printing unit in Bagru producing exquisite designs for Hermes and Lady Bamford (founder of the Daylesford Organic Farmshops chain). And the recently opened Nila Jaipur, a repository of stunning taste in garments and lifestyle occupies an old refurbished bungalow right opposite Anokhi in C Scheme.
Down the road you have the utterly charming Mubashir Andrabi with his utterly luxurious pashmina shawls under the label Andraab. It somehow preserves the image and illusion of Jaipur as a seat of royalty, beauty, craftsmanship and skill. It is a bubble of exclusivity cloaked in a web of secrecy, a sort of private club that you want to become a member of.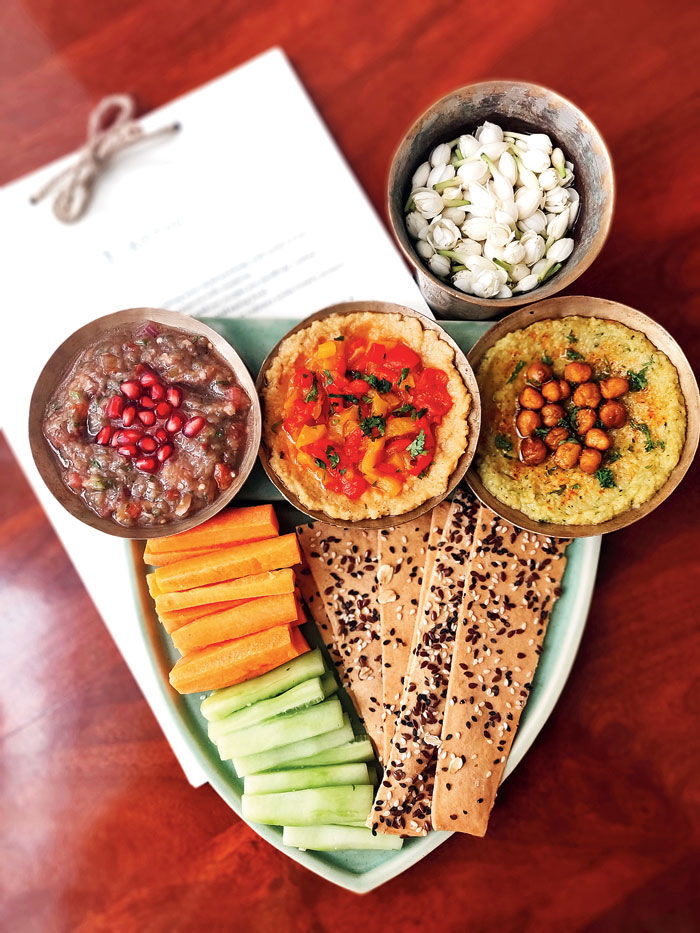 Lal maans to quinoa biryani
Food-wise, Jaipur caters to the quinoa-chomping international traveller, those in search of meaty Rajput delicacies like lal maans (my chef friends tell me that the best mutton in the country comes from Jaipur) and delicious and sometimes hygiene-wise dodgy street food. 28 Kothi in Civil Lines is a small exquisite little guesthouse which, unlike other guest houses, has a cafe serving a simple international-style vegetarian menu, from a mezze platter to quinoa biryani.
Whether it's a traditional moong dal chilla or English scrambled eggs for breakfast, everything is perfect for the international traveller who is mindful about sourcing of ingredients and attention to detail. Bread at Kothi is wholewheat, fox nuts are freshly roasted every evening and the chutneys are made in-house.
A good option for relatively safe street food and nice clean surroundings is Masala Chowk, curated by food writer Mita Kapur. The rose-flavoured Rajasthani lassi at Wah Banna is to die for. At Rs 200 I thought it was a bit steep till the man churning it told me it was mostly rose-flavoured rabdi and a bit of yoghurt! Worth every penny.
An authentic Junglee Maans, a dry mutton made with Rajasthani Mathania red chillies, salt and ghee is hard to find. I found three superb ones all slightly different. Manoj Edwin, who has been working at The Rambagh Palace for 39 years and has served the Jaipur royal family, Prince Charles and Princess Diana, and Omar Sharif, has a home-delivery business producing Rajasthani specialities. His Junglee Maans, swimming in pools of home-made ghee, is amazing.
So is the one served at Handi, a famous landmark on M.I. Road, where salted mutton is deep-fried in ghee and then sprinkled with whole red chillies. Their lal maans and handi meat gravies are available in pouches (dehydrated) at the restaurant. I brought some back and recreated the authentic flavour effortlessly by just adding a cup of water and boiled mutton to the masala. This dehydration business is unbelievable!
At the super luxurious Suvarna Mahal, the dining room at the Rambagh Palace with a one-piece 82-feet-long Kashmiri carpet and chandeliers from Murano in Venice, Chef Roy produces the most unctuous, silky laal maans you can imagine. It is normally served boneless to cater to their jet set, sensitised guests, but, for us, they cooked shanks to perfection as part of a Rajasthani thali.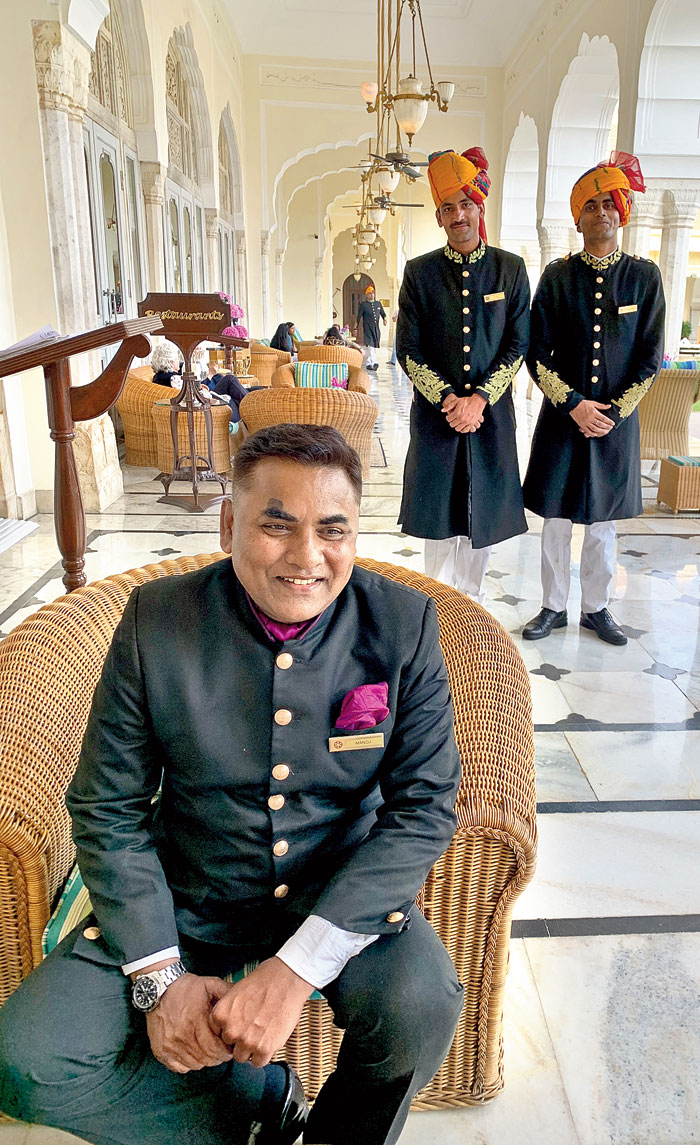 Royal retreat
As a tourist destination Jaipur has much to offer — palaces, forts, lakes and pink facades, busy bazaars and bright colours, great shopping, a tolerable amount of heat and dust (you must avoid summer though) and some spectacular hotels. If the fort up on the hill, which still belongs to the royal family, is called the pearl of the hill (Moti Dungri), then Rambagh Palace must be Jaipur's diamond.
This is where I spent two dreamy nights and days. Built in 1835 on a modest scale for the queen's favourite handmaiden Kesar Badaran, and later refurbished as a royal guesthouse and hunting lodge, the mansion was renamed Rambagh after the then reining Maharaja Sawai Ram Singh II. His grandson, prince Sawai Man Singh II, was brought here on his accession in 1922.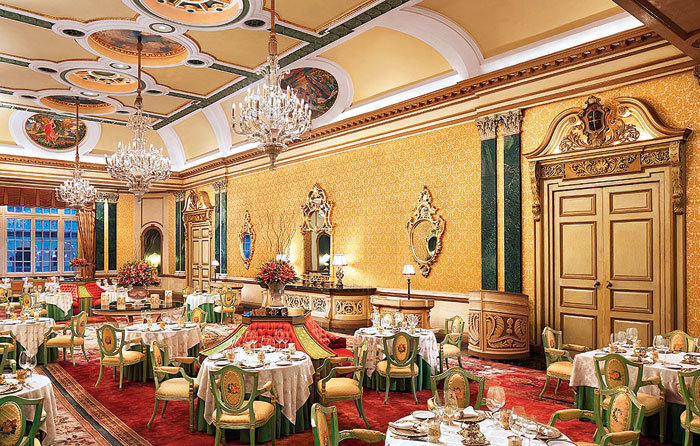 In those years, princely living entailed having a school for the prince within the premises. So a private school was set up for a few chosen sons of aristocracy to escape the confines of the city palace. Sawai Man Singh II later went to England to finish his studies. On his return he began actualising his dream by converting Rambagh into the magnificent palace it is today, with neat manicured gardens drawing inspiration from Mughal and Rajasthani styles of architecture.
In 1925, Rambagh Palace became the permanent residence of the Maharaja of Jaipur. It remained the home of Rajasthan's royalty until 1957, when it was converted into a luxury hotel run by the royal family. In 1972, its management was handed over to Taj Hotels Resorts and Palaces, who have painstakingly restored all the rooms and restaurants to their former glory, complete with damasks and Ming dynasty vases.
I first came to Rambagh as a 16-year-old when my mother brought me to India from London on a holiday to discover the India she missed. Of all the places we visited, the Rambagh with peacocks on the lawn and the fountain in the Polo Bar, impressed me most. It was a very special kind of grandeur, a nobility of space, architecture and service. I was fortunate to visit a few more times when I returned to India in the '80s and even enjoyed a morning chat with Gayatri Devi in her house, Lily Pool, over a pre lunch G&T. She was delighted to learn that we shared our birthday and offered to show me around her former home like a long-lost aunt... the indoor swimming pool which once had swings for the girls to dive from, the entrance of the hotel, which was formerly an airstrip for private planes (Lord Mountbatten used this when he came to stay). She was warm and open and frank.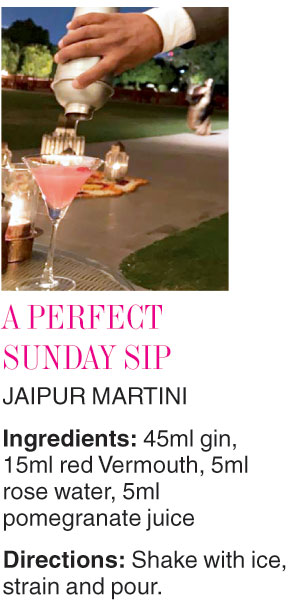 At Rambagh Palace they say each wall, each room, each corridor and garden has a story to tell. On this trip I indulged in all the iconic experiences from a pink Jaipur Martini heady with the gentle aroma of rose to having my palm read in the marble corridors to one of the most memorable dinners I have ever had in the utterly glamorous Suvarna Mahal. Jaipur wears many faces. I urge you to discover them but don't leave without a visit, or, better still, a stay at Rambagh Palace if you want to feel like a princess for a day... or two.
Karen Anand is a culinary consultant, food writer and entrepreneur. In recent times her name has been synonymous with farmers' markets. Follow her on www.facebook.com/karenanand