Catch the falling sun
With her hair tangled in the salty breeze, actress Yami Gautam pens a piece on her new vacation love — Krabi island — only for t2oS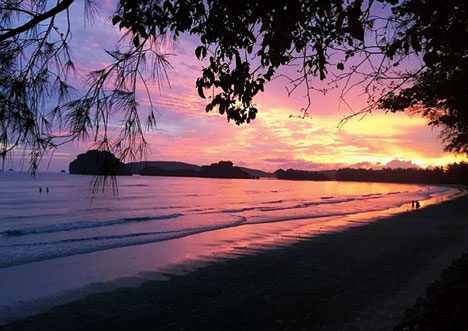 ---
---
Acting is my first love and travelling comes a close second by a mere difference of an inch. The chance to see the unseen and delve into the unexplored make both acting and travelling exciting.

Thailand, to me, had previously meant shooting in Bangkok. But this visit further opened up and changed my opinion of the country as I explored it.

As far as life-defining experiences go, the mesmerising sunsets of Krabi make the top of my list. How is one to resist the beautiful hues of blue, pink, purple, yellow and orange that the sky makes possible each day?

Being a spectator of dawn and dusk is truly magical. Add to it a dip in the blue waters that are clear and reflective of the sky above. It only gets better with the silence and intermittent gusts of wind.

The experience of it all fused as one is incredible, such that it transported me to a state of mind that could only be described as a vacation while at work, and the occurrence of that is truly rare.

In Krabi, the day rushes by really quickly with a session at the most luxurious spas leaving you feeling boneless and relaxed, akin to jelly. This was followed by scrumptious food. Every meal in Krabi was unique not only because of the way in which the cuisine was interpreted, but also because there were many to choose from. Apart from Thai, Indian and Italian cuisines, biased by my love for the same, seemed to be the next best cuisines I tried. I was also in love with the sweet fresh coconut water, which became a staple while I was there, almost to a point of addiction.
Mixture of nature and nightlife

The cities come alive in an intriguing way once the orange hues of the sunset give way to the darker blue of the night. The nightlife in the market of Ao Nang is a must experience. There is a variety of local goods, souvenirs, tattoo artists and massages. Restaurants and bars up their ante with some having live performers who, through their performances, give you an understanding of their culture, of their roots and also their being. And you can never go wrong roaming the relaxed-yet-busy streets which give you a true sense of the vibe Krabi stands for.

Thankfully, due to a shoot we were able to explore the non-touristy yet beautiful parts of the island, those hideaways that are scenic but not visible unless you're looking for them. There's almost a sense of achievement when you chance upon these untouched pieces of nature. The spooky caves are eerie but strangely beautiful with their natural formations and patterns. The waters far and wide aided my lookout for a rising or setting sun, my eyes trained on the horizon. The speedboat ride to the location was nothing less than thrilling. What can define a vacation more than salt in the breeze and tangled hair? We also shot in the forest trail of luscious green which was what one would think of when they think of a retreat away from civilisation, and the high mountains had the best views undoubtedly.
In the best sense, Krabi seemed like the perfect choice for a mini vacation in the middle of work, I was blown away by this new side that I got to see. It only goes to show that all we need to do is travel farther to unravel more. Thailand, more so Krabi, will now in my mind be recorded as a stunning mixture of nature, peace, nightlife, culture and endless waters.

#LoveKrabi!