Brew-tiful Coorg
The Karnataka district is a rich blend of history and hospitality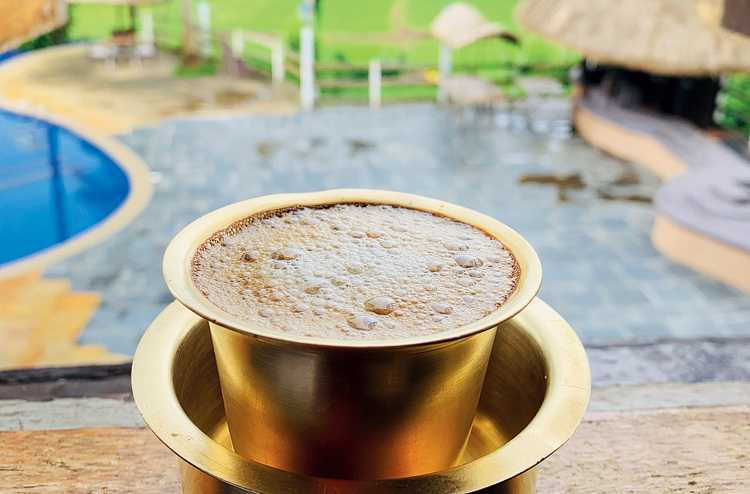 ---
---
I recently visited Coorg in southern India. And as my dear husband keeps saying, I immerse myself so wholeheartedly wherever I am that I invariably want to move there… or at the very least make plans to revisit very soon! Coorg is no exception.
About 250km from Bangalore, it's an area with a sense of nobility and belonging, of dense forests, coffee plantations and some spectacular estates. The terrain is very, very different from the rest of south India. As you take the gentle climb from the plains to Coorg, or Kodagu as it is now known, you have beautiful mountainous rocks, areca palms that produce betel nut, palm trees and then paddy — it's a really stunning scape that looks like a painting at every glance.
The capital of Madikeri or Mercara as it was called before, looks like a town like any other town in India, but as you dig a little deeper, visit the vast estates and eat with locals, you find a generosity of spirit, an unbelievably high education level (almost 100 per cent literacy) and a joy of preserving traditions… and that includes food.
Coffee and spices
Kodavas look physically very different to people from Karnataka and the neighbouring Tamil Nadu. They are traditionally warriors, hunters and now landowners. Their livelihood is mainly coffee and this area of just 5,000sq km is the largest coffee-producing area in India. History has it that there was a gentleman called Baba Budan who brought coffee beans to the Chandragiri Hills in Chikmagalur from Yemen in the 17th century. Then the British came in the 19th century and found that this was a crop that could be exploited since conditions for growing coffee were pretty perfect. That was the birth of widespread coffee plantations and coffee farming in this area.
Coorg coffee is grown at a high altitude and under a well-defined two-tier mixed shade canopy. Among the bigger evergreen trees are tall jackfruit, rosewood and wild fig trees which protect the coffee from seasonal variations in temperature and also enhance the soil by providing nutrients from deeper layers. The second layer is pepper, cardamom, cloves, orange and banana. It also protects the coffee from the harsh rays of the sun in summer. Conditions are similar in Colombia and Kenya, considered the best coffee-producing regions in the world.
Coorg is known for "spicy" food. There are lots of spices in their spice mixes — pepper, cardamom, cloves and the tiny bird's eye chilli known as parangi. Spices are roasted and ground, which gives complexity and density of flavour to their dishes, both vegetarian and meat. Although Coorg is known for the famous pork dish, pandi curry, which is a specialty, there are a host of vegetable dishes that use local vegetables like bamboo shoot, wild mushrooms and a kind of red-leafed spinach, all quite delicious and different.
The method of most of their cooking is roasting and dry-grinding spice combinations, which are thrown into a pot of meat or vegetables with a little black vinegar from the kachampuli, a very sour mangosteen-like fruit which is dried till it's black and from which an intensely sour vinegar is made. Rice is the staple grain and is eaten as is or made into dumplings with coconut and steamed (kadambuttu), rice rotis and rice cakes (paputtu).
Contrary to what I have up to now believed about food in five-star hotels, the cuisine at the rather magnificent and spanking new Coorg Wilderness Resort exceeded all my expectations. It was beautifully served and tasted like real home cooking. From painstakingly researched local recipes to produce wondrous Coorg lunches to the perfect Chicken 65 and velvety fish molee, chef Ranjan and his team nailed it every time. It poured while we were there but the resort itself is something quite fantastic in terms of space and facilities. So if you do want to experience the wilderness, want to have a memorable lunch set in the middle of a forest and come back from a plantation visit to the comfort of a heated bathroom floor and a glass of Paul John single malt, this is the destination for you.
Plantation life
A one-stop shop in Madikeri for all things Coorg is the utterly delightful AINMANE (www. ainmane.com). Thamoo Poovaiah and his partner Narendra Hebbar started the shop four years ago. They source local products like coffee and chocolate made from south Indian cacao beans. You'll get a brilliant espresso here and have the opportunity to try many blends before you buy.

They produce and package pickles and squashes (passion fruit is a local delicacy), spices and the most extraordinary honey. The problem with Coorg coffee is that half the world's great brands use Coorg beans in their roasts and blends. The Coorg plantation owners themselves seem content to sell their raw green Arabica and Robusta beans and leave it to others to create the magic, do the marketing and reap the benefits.
We went to Petu Kariappa's enchanting 100-acre estate called Harangal in Madapur — by Coorg standards this is small. He is one of the few farmers who successfully grows the much-sought-after "diva" of coffee beans, Arabica. The beans are much more difficult to grow than the better yielding and bigger bushes of Robusta. Like many growers, he washes, removes the pulp and dries his beans and sells green coffee to bigger companies who then cure, roast and blend.
We also visited Sadat Sathak, the young man behind Old Kent Estates. One of India's oldest coffee plantations, it was developed in the 1800s by lieutenant colonel W.R. Wright, an army officer in British India. After his death in 1898, the property remained with his family until 1964 when it was bought by its present owners. Sadat has studied abroad, speaks fluent Italian and has an MBA. It shows. He already successfully exports his beans to Italian coffee companies. The stunning little British-style bungalow has been restored and converted to a boutique hotel with spacious cottage accommodation (the bathrooms are large and built with skylights designed to allow you to have a private spa-like experience) and an English country garden.
We had lunch at the much-talked-about Evolve Back (aka Orange County Resort). It does all it promises in keeping with tradition and nature. And I must say for a 25-year-old property, it has sustained and still gives an excellent level of hospitality.
The rain unfortunately hampered our plans to see more but I will go back and so should you.
Karen Anand is a culinary consultant, food writer and entrepreneur. In recent times her name has been synonymous with farmers' markets. Follow her on www.facebook.com/karenanand