All about Dubai
It means a lot of things but its most important flavour is its sense of joy and accommodation for everyone!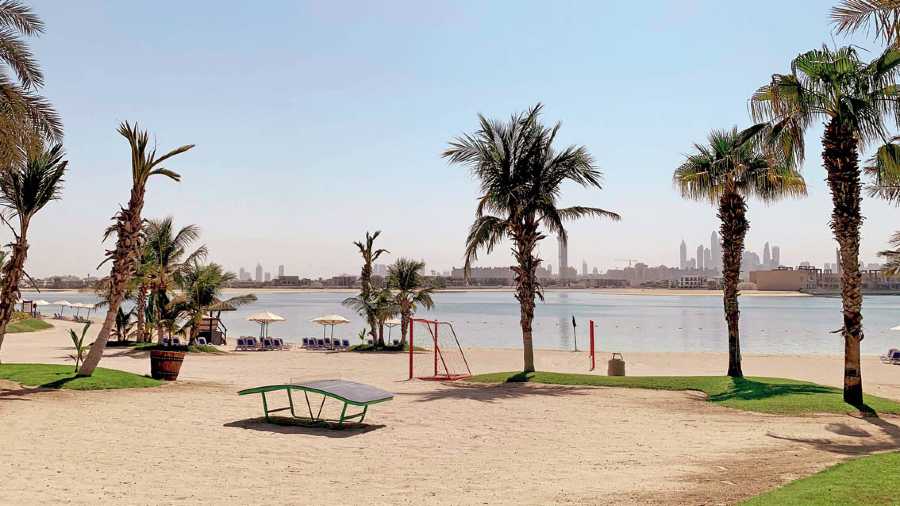 ---
Published 02.11.21, 07:31 AM
|
---
Dubai is an accommodating city that exists for your happiness. If there is something that one feels is missing in Dubai, it is perhaps under construction somewhere that you don't know about –– terrain, climate and effort, no bar! A rainforest in the middle of a desert? Why not! A death-defying act on a motorbike 100ft above the ground? Bring it on! A private beach experience with a marina on another side? Hold my coffee! Dubai accommodates luxury under the same breath that it does Kadak chai for all of AED 1. It embraces you and offers a life that you choose to live within your well-defined means. All the city offers is the opportunity to do so. t2 spent a few glorious days of the Pujas in the great city, again experiencing another wildly different side of it from our last experience in January.
The city was holding its breath waiting for winters to arrive when we arrived in Dubai. The days were still hot but one could feel the city cooling down slowly as we walked by the Deira Creek on Al Seef, walking distance from our cosy room at The Hilton Canopy. Feeling slightly adventurous on one of those nights, we walked a little further down and found ourselves wildly blinking at the shining face of Kareena Kapoor from a larger-than-life billboard sporting golden jewellery from an Indian brand of great repute. We had landed up in Meena Bazaar! While restaurants were slowly turning down the volume on their fancy speakers on Al Seef, streets and stores of Meena Bazaar came alive with sights, colours, sounds and the uncanny smell of a particular ittar or incense that is so very symbolic of the city. A smell that follows you everywhere, clinging to the air like a warm blanket. Our whirlwind trip in Dubai this time was planned to shield us from the heat of the day, exploring indoor spaces that had been adapted to create a separate universe for one to get lost in. In the case of IMG Worlds of Adventure, an indoor theme park, there were multiple universes!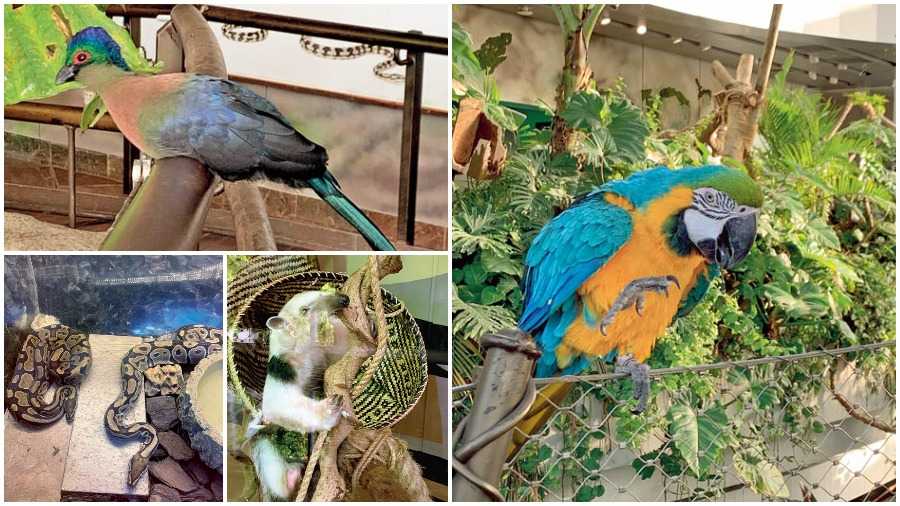 IMG WORLD
Think Marvel, Cartoon Network, Lost Valley — Dinosaur Adventure or Haunted hotel, this indoor theme park had it all. Strapped onto our seats, which jerked and lurched around in one spot as we fought with the Avengers in a 7D show, we couldn't help but giggle at the momentary thought of calling ourselves an #adventurejunky on our next Instagram post! Also, who knew that plunging down the roller coaster in little light and little darkness, indoors, could induce this much of screaming and adrenaline?! Definitely not us before we went on a thrill-seeking day of fun here. Grabbing a quick burger at Boulevard Gourmet and some prawns at Chang's Golden Dragon, we rushed through as many rides as we could with a guest appearance at the Haunted House. We say 'guest' because we lasted exactly five minutes instead of the scheduled 15 and were seen escaping through the entrance with our arms flailing above our heads!
LOST CHAMBERS
A perfect contrast to this super active day turned out to be a day at Atlantis Dubai. The water-themed hotel, which is home to over 65,000 sea creatures, offered us a session of underwater yoga at their Lost Chambers Aquarium. Marko Govorcin from Peru led the class with his soothing voice as fish of all kinds floated around, bathed in blue. "Place your yoga mats against the glass pane of the aquarium and just observe," he said as we slowly wound up the class. One doesn't have any other option than to connect with their souls in this class, even if your body refused to twist and turn the way it is supposed to. With Tibetan singing bowl music in the background, one can momentarily leave all their troubles behind and get lost in the Lost Chambers.
AQUAVENTURE
Dubai's love for the superlative ensures it has the deepest pool, the tallest building, the largest roads. So it is in no surprise that the biggest waterpark in the world is found here, as a part of Atlantis The Palm Dubai –– Aquaventure. Home to over 79 exciting rides, wave pools, dolphin interaction and a private beach, time flies at this water park where we spent an entire day after getting energised by our yoga session. Make friends with people from all over the world who find their way to Atlantis The Palm to have the best time of their lives. Every meal at the Atlantis is a treat for all senses. Hungry as sharks after our time in the water, we walked into Wavehouse, where gaming, live music and view of the waves from a wave machine kept us busy. The lights, bowling alleys and the vibe of the place was very similar to another gaming pub we dropped into — Brass Monkey nestled in Bluewaters Island, which is also home to Ain Dubai, the world's highest observation wheel, which is now operational!
MADAME TUSSAUDS
Bluewaters Island requires a full day of exploration as it now houses a Madame Tussauds wax museum as well. The brand-new Madame Tussauds will make you feel right at home with Hrithik Roshan welcoming you at the gate and a plethora of Indian personalities strewn across the floors. Think Narendra Modi, Virat Kohli (who has donated his original jersey for his statue), Katrina Kaif, Salman Khan and Shah Rukh Khan. Immortalised at the peak of their careers, meeting these young guns (or their wax selves) whom we only watch on screen is a thrilling experience that is perfectly complemented with an evening at Brass Monkey, playing foosball or bowling to win some goodies with a mug of beer in hand. Walking down the paved roads of Bluewater Island with the sound and sight of the sea beside is an experience in itself that is greatly enhanced with the presence of fun places like Brass Monkey and Madame Tussauds and The Green Planet a little further away.
GREEN PLANET
The Green Planet is an exceptional bio-dome housing a tropical indoor rainforest with over 3,000 plants and animals. Taking the lift to the top, one has to slowly snake their way down through the rainforest while encountering some of the scariest and beautiful creatures alive on this planet. We bumped into two men in wet scuba suits who had just emerged from a swim session in the waters. We didn't bat an eyelid till we were told that the casual dip in the water that the men took was in the company of a school of piranhas!
As macaws loudly cawed from the top of the dome, the attendant told us how the piranhas don't attack human flesh till they tasted blood. We could only think of accidentally nicking a finger while on this super adventurous swim and spilling some blood only to have a bunch of violent flesh-eating piranhas coming at you! It was also no surprise that the one animal we most resonated with was the sloth who seems to wake up briefly to nibble at his food and then promptly go back to sleep. Ah, the life! The Green Planet is an educational haven and an unmissable experience for people of all ages. That it could be built and housed in the middle of a desert is a marvel in itself. See tarantulas, wallabies and lemurs up close and go crazy with your camera. That's what we did!
INFINITY DES LUMIERES
Any trip to Dubai stays incomplete without a visit to The Dubai Mall of course. Across the road, we could see construction going on to increase the space of one of the largest malls in the world! That it requires an app to navigate to your favourite stores with ease, is a story for another day! For it to be adding more space to it definitely proved to be a jaw-drop moment. The Dubai Mall is a destination in itself with its plethora of activity zones and entertainment centres providing relief to shoppers in the middle of a binge session.
This time, we visited the mall with the intention of not shopping at all and instead enjoy the other activities that the mall had to offer. In this case, it was the newly-opened Infinity des Lumieres and the VR Park and it is no surprise that two weeks after our trip to Dubai has successfully ended, we are still reeling from our memories here. Infinity des Lumières is a digital art installation that has three shows running one after the other –– Van Gogh, Dreamed Japan and Verse. A sensory treat in its truest form, art is projected in every direction with music creating a space that one can simply find themselves lost in for hours. We definitely lost track of time sitting on a couch watching Van Gogh's sunflowers merge into the sky in his inimitable style. Swirling and moving to the beat of the music, this art installation also has Hokusai's portraits making Japan come alive in the show Dreamed Japan. So immersive is the experience that it renders one incapable of movement.
VR PARK
The VR Park, claiming to be the largest VR park in the world, is a rush of adrenaline if you are losing your energy in the middle of your shopping spree. I donned my VR set and wielded lightsabers to protect myself from Darth Vader in one of the games. Slot machine games can be addictive and we found out from this park where we minted enough tickets to get ourselves a solar robot from the gift shop! In the Burj Drop experience, you are a window washer on top of the tallest building in the world and the cables holding you up suddenly break! We suggest you go and experience this thrilling ride instead of imagining it. And while you are at the Mall, don't forget to grab a burger at Five Guys or Thick Shakes. Thank us later.
LA PERLE BY DRAGONE
The best thing about travelling in Dubai is the multiple jaw-drop moments it offers you with its opulence and fun. The highlight this time turned out to be the La Perle by Dragone show at the Al Habtoor Theatre by the Dubai Canal. That this kind of a show could be produced on land, live, is a concept that was definitely beyond us till we experienced it in its full glory. Underwater dancers, bike stunts, trapeze artistes, live music came together to form a visual delight that was incomparable.
Narrating the tale of a naive king and two lovers who are attacked for a pearl that is repeatedly stolen, one needs to be in the presence of the grandeur of this show and have water splashed on you from the glorious dancers dancing up a storm on the engrossing stage in front of you. If there are two things that deserve to be on your Dubai itinerary, let it be La Perle by Dragone and a meal at The Maine run by chef Saradhi Dakara.
Now that we have created a five-day itinerary for you in Dubai, book your tickets to this country while we reminisce Dakara's delectable lobsters at The Maine in Jumeira Beach Residency –– lobsters so good that we forgot to miss Durga Pujas in Calcutta. Sigh!