All aboard!
A mother-daughter duo escape on the Golden Eagle Danube Express that's worthy of attracting Hercule Poirot's mysterious smile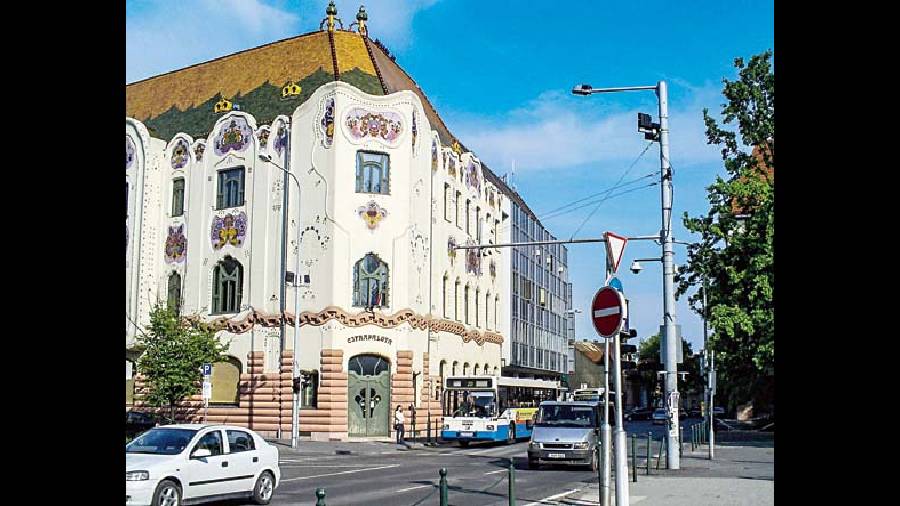 Kecskemet in Hungary
Chandana Ghosh
---
Published 31.10.21, 02:50 AM
|
---
Caught in the midst of a snow avalanche, I tried to peer out of the frosted coach window to catch a glimpse of the mountainous landscape, partially hidden under white sheets of snow. All the travellers had gathered in the dining vestibule, where silver cutlery was accompanied by sparkling crystalware. The regal decor impeccably draped the cabin in rich red silks and velvets with trimmed gold brocades. Everyone's attention, however, was caught by the one person who was holding centre stage. Hercule Poirot. Yes, my mother and I were watching Agatha Christie's Murder on the Orient Express for the nth time. But this time, our interest was different. Not Poirot, but the Orient Express and the journey made up of dreams and fantasies.
It seemed like an obvious choice for my mother's 80th birthday — a train journey through Europe and in style, reminiscent of what we had till now only read in books or seen in movies. An experience of a lifetime. But there were many questions. Was it doable? Does the Orient Express indeed exist in real life? Will an
80-year-old be able to undertake a journey across several countries? And that is how it all began.
The journey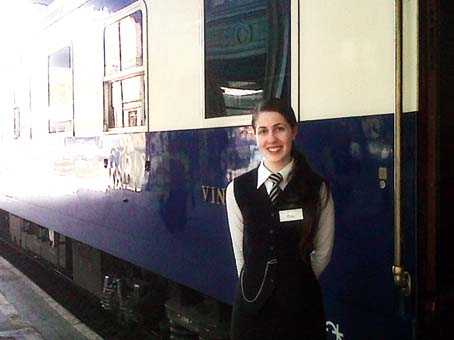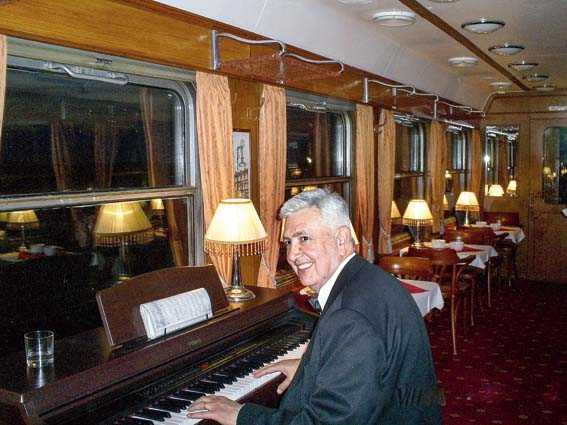 The Orient Express, a long-distance passenger train service, was initiated in 1883, connecting Paris to Istanbul. Its magic and luxury catapulted to fame once Agatha Christie's Hercule Poirot set foot in it — taking us on a virtual tour of its corridors and cabin spaces. However, with rising costs and increase in travel options, the original Orient Express did not last much beyond the century. Instead, short-haul luxury train experiences in different parts of Europe started replacing it. The Venice-Simplon Orient Express, also the original set location of the murder mystery, was one such heritage train that has continued to operate. However, the journey is largely restricted to Southern Europe, more specifically between London and Venice. Danube Express on the other hand, connected Budapest to Istanbul, traversing the enigma of East European countryside — Hungary, Romania, Bulgaria and finally culminating in Turkey.
After researching several options and itineraries, the Danube Express was our preferred choice. From Vienna we connected to Budapest on the Eurail to join the small group that had gathered to embark on this epic journey.
A luxury gourmet experience
It was nothing short of a grand feast. I was seated in the dining car of our Orient Express, carefully perusing the luncheon menu card — our first meal on board. It's a three-course meal comprising local delicacies. The seating arrangement had been carefully planned. We took our seats with an Irish couple. Our conversation got sprinkled with aperitifs and sorbets, and spiced with exquisite-tasting goulashes and other meaty splendours. During our conversation we discovered that one of them was a surgeon and the other a homemaker. John eagerly shared his culinary expertise and challenges of managing three kids, while Lisa was pressed for time between her busy schedules and took comfort in the fact that John was a master when it came to managing the house. This made me smile quietly.
While we were still getting to know one another, Susannah, the train manager, clinked the crystal with a silver spoon, calling for attention. In a matter-of-fact voice she went through the Rules Handbook and the itinerary for each day. And then there was a long pause as she consulted one of the other attendants on board. The next announcement took us all aback — one of the guests was missing from the dinner table and was not answering calls.
At that moment, the image of Hercule Poirot did flash through my mind. But only for a brief moment. Maryanne soon entered the sun-bathed luxury dining car, flustered and red-faced. Apparently, she had overslept, exhausted after a long journey from the southern coasts of England. Happily, we resumed our conversations over some more schnitzels, strudels and souffles.
Horses of Hungary
Each day was meticulously planned and activities were organised to provide a flavour of the local experience. Siesta time was also factored in. Our personal valet, Herman, kept time for us, apart from scurrying from one errand to another. The first "planned experience" was in the Great Plains of Hungary — the "Puszta" Horse show with Hungarian cowboys.
In the midst of rolling green meadows, the blue, white and gold carriages of the Danube Express came to a halt. Our valet quietly signaled for us to get off board, but I could not find any station. Reading my thoughts, he whisked in place a custom-made foot board for my mother. As we jumped off onto the tracks, a group of strapping young horsemen pulled up to greet us. Dressed in deep blue traditional outfits and large floppy hats, the wranglers, cracked their whips as they accompanied us to horse-drawn carriages.
The strapping young men dressed in fancy Hungarian riding gear, rode with ease alongside us — guiding us away from the tracks into the rolling plains, and then settled us in a shady grove to witness the traditional performance of the "Csikos". A combination of equestrian skills, acrobatics on horseback, authentic gypsy music, and a selection of cowboy games followed to entertain the seated audience. It seemed like a lot of fun, till one of the wranglers singled me out and invited me to compete with him in cracking the whip. As I understood that was part of their tradition, and winners were gifted a bottle of Hungarian wine to complement that day's country-style lunch.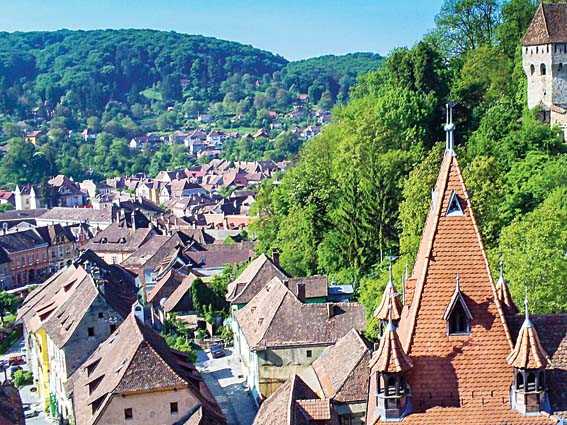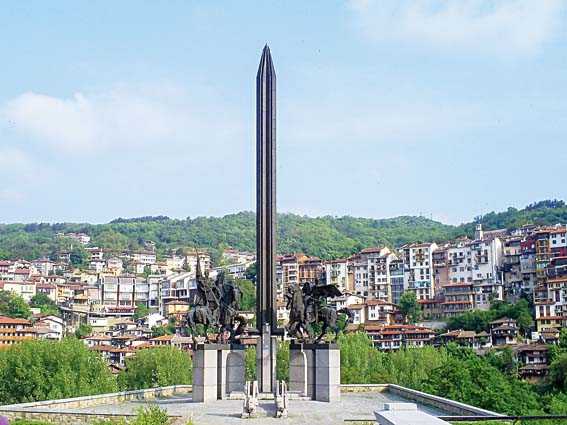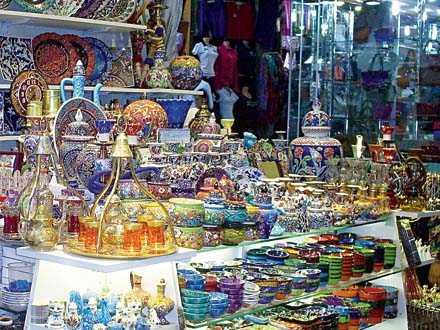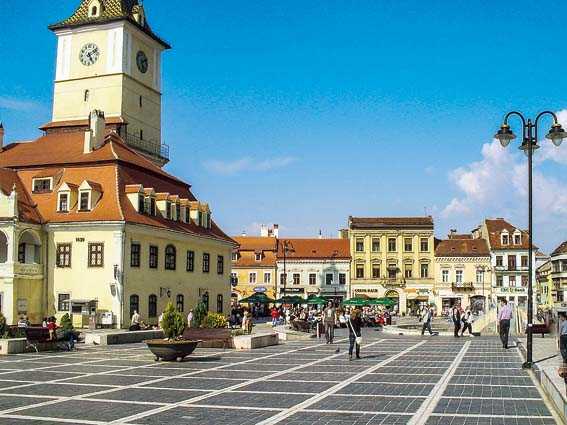 Bedtime and border Crossing
Post-dinner, as was customary, we assembled in the lounge car, to exchange travel tales and listen to Alan on the piano. While I sipped and nibbled on post-dinner delectables and listened to Bob and Martha's travel stories in Antarctica, Herman had ample time to prepare our day cabin for bedtime.
On returning to our cabin later that evening, I was amazed how deftly he had converted the day seats by the window into two full-sized beds. Snuggled under the fluffy blankets, it took some time to get used to the rhythm of the train, before I dozed off.
There was a scream, and then a scuffle, followed by hurried footsteps. Someone was knocking on our cabin door. It was midnight, I was in the Orient Express and I could hear Poirot's persistent voice outside the door. The knocking grew louder and now I was wide awake. This was not a dream, it was real.
I opened our door with trepidation, there were two burly guards requesting for our documents. We were entering Romania and they were the Romanian officials requesting for our passport and visa papers. They escorted me to the border crossing checkpoint so that my papers, along with my mother's, could be stamped. What was unnerving the first time soon became a routine. Every night, close to midnight, the train would come to a halt at a border crossing, and officials would diligently question me and go through our papers. Later I learnt that the stringency of checks was dictated by the nationality of the passengers. It was evident we were entering Eastern Europe.
Tryst with Transylvania
Transylvania is the land of Bram Stoker's Dracula, and, not surprisingly, our day's plan was to visit Dracula's den — the Bran Castle. The castle was perched on a rock with its spires reaching up to the blue sky and its vibrant red-tiled rooftop breaking the monotony of the verdant green landscape. My interest in Vlad the Impaler was renewed going through the many rooms, corridors and secret staircases of the castle, trying to separate facts from the fiction.
Though the fortress is a far cry from the Dracula stories, Transylvanian region of Romania exudes a different charm. Brasov, a picturesque town surrounded by the Carpathian Mountains, with its medieval structures and Gothic stylisation, is seemingly caught in a time warp. In sharp contrast, Sighisoara is a small quaint town, with cobbled streets and brightly coloured houses, and an omnipresent clock tower that kept watch. It was a bright sunny afternoon, after a walking tour, we enjoyed slurping on our melting ice creams, sitting in the Old Town Square of this quaint town.
City walks and window gazing
The landscape varied from the rolling green plains, rural fields and wooded hills to snowcapped mountain peaks and river valleys. Peering out of the large-sized windows, I could see the Balkan Mountain series laced with snow and standing to attention in their dark-chocolate uniform. It was a slow climb as we approached the scenic Shipka pass at 3,820 feet in Bulgaria. We all had our cameras ready, poised to capture the best shot. But as the coach swerved round the corner following the winding tracks, I was more intent on keeping my balance.
Later in the day, during our city walks we learnt about the historic significance of the Shipka pass, and the long and bitter battles that were fought here, between the Russians and the Ottomans from Turkey. Russian influence was marked in the monuments, memorials and churches in the cities we stopped by — VelikoTarnovo and Kazanlak — the latter housed the intricately designed Shipka church.
The four-day train journey ended in Istanbul, where we had the option to extend our stay. The magic of Grand Bazaar, the mystery of Hagia Sophia and the grandeur of Topkapi palace were like the perfect ending to the journey.
We have held the memories of the Orient Express journey close to our hearts for long now. My mother doesn't tire talking about the places visited, the people met, the stories told and the delicacies tasted as she turns 90. And the Golden Eagle Danube Express continues to offer a luxury-on-wheels experience, having added many more new itineraries to its repertoire.