Breathe easy
After six months of confinement, a trip to the Kumaon hills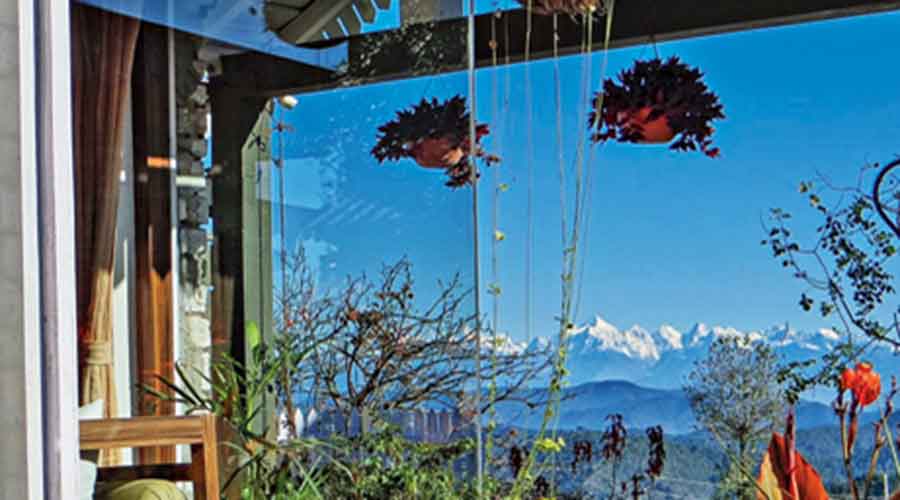 Another day, another breathtaking view of the Panchachuli range from the Birdcage.
Pictures: Karen Anand
---
Published 22.11.20, 09:14 AM
|
---
In the old days (don't yawn) people used to go to the hills for their summer holidays… usually by train. This was for many, a yearly ritual which began with the exhaustive planning and preparation mainly revolving around food. Many people had friends and family there, so hotels weren't an issue. Train tickets were bought well in advance, bogies reserved, tiffins packed with all manner of goodies for the journey and warm clothes for the impending cold evenings. There was service on the train and decent garam chai and snacks. Was it really really fun and frolic or is this a case of nostalgia?
Last month, we chose the Kumaon hills in the state of Uttarakhand as our first trip anywhere in over six months. We visited Garhwal a few times in recent years but hadn't been to Kumaon in 10 years. There's no train right now but I imagine it would be the best way to get there. In normal times, the Shatabdi leaves Delhi early morning and arrives in Kathgodam by midday. You then have a scenic mountain drive on decent roads winding through pine and cedar forests to your destination. This time we drove from Delhi and took the flight back from Pantnagar. The latter was much better only because the drive is both long and not particularly picturesque. It takes around seven hours to Haldwani... longer to Bhimtal, Nainital and Mukteshwar, and even longer to Almora and Binsar!
Apart from taking long walks and breathing in fresh air, what do you "do" in the hills? Well, I bring back fragrant apricot oil available at the NGO store Kilmora. I always end up buying a beautiful shawl at Himadri Hans. They have branches all over the Kumaon now. You can also visit any of the resorts in Jim Corbett National Park — an area spread over 500sq km of dense forests and grasslands and, of course, tigers but sightings are rare. More than anything, I love picking my own fruit... whether it's chestnuts in autumn, gigantic lemons and kiwis at the onset of winter, or apricots, peaches and plums in summer. What I didn't know is that you find some of the best lychees, sweetest mangoes and plump cherries here in summer. Feel free to contact Sanjeevani Organics (www.himalayanroot.in or 7738566986) farms; it has the logistics sorted to send Himalayan fruit anywhere in the country. Nooks of Nainital
Most people think Nainital is a bit touristy, but I was surprised to find lovely heritage hotels and plenty to do. Manu Maharani is the big luxury hotel everyone talks about, but I personally loved Naini Retreat overlooking the Naini Lake and Shervani with its stunning gardens... but the two hidden gems of the trip were the immaculately-maintained seven-roomed Balrampur House and Clifton right opposite Naini. If you do want to stay on the Mall... if only to visit the spectacular woollens store Ram Lal & Bros (there's also a branch near Anupam's in the old town). It really is like walking into a desi Burberry's... beautifully-tailored tweed jackets, pashmina, mock jamawar and kani shawls made into handbags and jackets and great knitwear. If you're going abroad in winter, it's almost worth making a trip here to stock up on your woollens. It will certainly be more reasonable than buying lesser quality for double the price abroad.
The old Tibetan market in Nainital has unfortunately disappeared… but a must-try for any foodie is the lake fish pankas. It felt in texture like lake carp... maybe even perch... and what the Bengalis call chitol maachh, a soft, fleshy white fish which is slightly sweet, as opposed to salty, and melts in the mouth. At one of the oldest restaurants in town, Anupam's in the old town, young Ruchir does a tandoori pankas which is sublime. We ended up coming back to Anupam's twice, not only for the fish but also for the really good butter chicken and the Kumaoni thali comprising hemp seed chutney, kheera raita, bal mithai (the original comes from Almora), chudkani dal, madua (ragi) roti, a sort of vadi called badeel and bedu rotis (stuffed with seeds). The Kumaonis love their grains, seeds, pulses, simple vegetables, aachars and gigantic cucumber raitas, so it's a pretty perfect destination for any vegetarian.
Say 'cheese'!
We then climbed to Mukteshwar, about two hours by road, along more winding, scenic roads. This is another popular destination which is attracting people from all over India. Here, the two places to stay are Sitla Estate and Birdcage. Sitla is a really stunning boutique hotel with 11 large suites overlooking a 40-acre estate of apple orchards and cedar forest. Vikram Maira is both host and owner. He personally takes care of everything from the apple jam on the table to the decor of the suites. The only glitch is getting to Sitla, which is a bit off the main Mukteshwar beat, but, then, once you arrive, you probably won't want to leave.
Birdcage is a much more central place to stay and eat near Mukteshwar market, with only seven rooms and a more intimate space than the sprawling Sitla. You can dine here even if you're not a resident. Not the case at Sitla. Owner Nishant Singh does a great job delivering quality European-style cafe food and service with a smile. For local food, try the Kumaoni thali at Cafe Chandi Matti on the same road to the market.
Wherever there are hills, you'll usually find cheese. Mukteshwar has two exceedingly good artisanal cheesemakers —  Pritam Bhatty is the Italian trained cheesemaker behind Darima Farms and, thanks to sharp marketing, Darima is now available in gourmet stores across most Indian cities. They also have tours of their cheese factory. The other cheese made here is Old Hill and the young cheesemaker Nitin Dayalu who trained in Auroville and then in the Netherlands, is producing some excellent Tomme and Gouda. Old Hill is available on Big Basket and in Delhi, Mumbai and Bangalore. It is also available at Royal Mart, which seems to be everyone's go-to shop in Mukteshwar.
Lastly, a bit of culture. The Himalayan Writing Retreat run by Chetan Mahajan and his wife Vandita Dubey have residential workshops throughout the year from their house in Satkhol, a
30-minute drive from Mukteshwar. It's a quiet place for anyone who needs a bit of a breathing space to be either on their own or to be with like-minded folks.
Karen Anand is a culinary consultant, food writer and entrepreneur. In recent times her name has been synonymous with farmers' markets. Follow her on www.facebook.com/karenanand and on Instagram @karen_anand