A pair of picturesque tea planter's bungalows in Darjeeling make for perfect getaways from city life
Planter's punch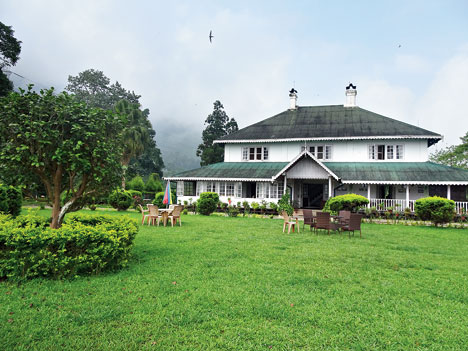 ---
Published 29.06.18, 12:00 AM
|
---
Last week, a friend returned from Darjeeling heartbroken. And I returned from Darjeeling refreshed and rejuvenated. He was in Darjeeling town, I was in Darjeeling district.
My friend's heartbreak was not unique, I have since learned. Long anointed the Queen of the Hills, the hill station of Darj was where you went to romance the mountains. Only now, the crush of tourists seems to have robbed the sheen of the crown. Too many cars, too much construction, too many people milling about the Mall... and dosa shops doing brisk business! Whatever happened to the legendary Continental fare of Darjeeling?
TUMSONG CHIABARI
All this I wondered as I cut myself a succulent leg of roasted chicken with a perfectly browned side of potatoes. I was at Tumsong Chiabari, a century-old property about an-hour-and-a-half from Darjeeling town and about 40 minutes from Ghoom. It is a tea estate manager's bungalow turned into a hotel, with just four rooms, each the size of a studio apartment. It belongs to the Chamong Group, which has 13 gardens in Darjeeling and some more in Assam.
Tumsong Chiabari started operations in 2015 and it's the most unlike-a-hotel hospitality address I have been to. It felt like putting up at the sprawling, wood-panelled home of a tea estate manager friend. The bungalow is skirted by a large, green lawn where one can sit under an umbrella and enjoy a pot of first flush from the Tumsong Tea Factory down the road. Since I visited in June, I walked into mist and wisps of cloud as I photographed the resort's pretty flowers and exotic orchids. One part of Mt. Kanchenjungha had suddenly become visible for five fleeting minutes, just before my arrival, I was excitedly informed by the staff.
There is no menu card at Tumsong Chiabari, the chef will rustle up meals in consultation with each guest. "We never repeat a dish for any guest during their stay, unless there's a request," manager Rajat Nandi smiled proudly, as I sat down for a dinner of roast chicken, mutton curry, fish paturi, corn-saag, paneer butter masala, kali dal made the local way, homemade gulab jamun and a lovely light pudding with spun sugar on top, all prepared by the chef under the tutelage of Nandi. An inky black night, devoid of any light pollution, had descended on the bungalow while cicadas kept up a constant chatter in the garden outside.
With a small five-member staff, service can be a bit slow here, but one really doesn't mind the unhurried air of the place. Shamim Ahmed, the hospitality GM for the Chamong Group, has plans of setting up luxury cottages beside the heritage building at Tumsong to cater to more guests.
"When a guest calls to enquire, we try to know them a little bit and suggest a customised package depending on their interests and preferences," Ahmed said. One of the things you can do at Tumsong is walk down to Little Rangit, a stream that runs through the Tumsong Tea Estate. If you are feeling active, trek up an hour to the Tumsa Mata mandir, from where the place gets its name, Tumsong (for more options, see box).
CHAMONG CHIABARI
About two hours away from Tumsong, the Chamong Group has another property called Chamong Chiabari. What really soothed my city-tired eyes was the lush green rolling hills that one can see from its lawns.
Perched at 5,000ft (Tumsong is a couple of hundred feet lower), Chamong, too, was an estate manager's bungalow that was turned into a resort last year. It has nine rooms, including bungalow rooms, 'infinity' family suites and honeymoon suites. The infinity rooms are so called because on a clear day you can lie in bed and see up to Mirik, which is about 12km away. Manager Rajesh Ravindra, known to all as Jagdish, will arrange for day trips to Darjeeling, Mirik, Ghoom Monastery and Sandakphu, as well as a tour of the Chamong Tea Factory about 2km away. Chamong gets its name from 'Chamu pakhi', the Nepali name for the Blue Whistling Thrush, a common bird in these parts. Chia is chai or tea in Nepalese, while bari means home.
Meals are a simple buffet spread of mostly north Indian fare, with at least one north Indian and one south Indian dish for breakfast. Guests can request items like desi chicken made the local way or momos and thukpa. A spa is on the cards.
Neither property has a liquour licence, so guests are allowed to BYOB (bring your own booze), the staff will provide the accompaniments. Both properties are pet-friendly.
POCKET PINCH
Tariffs per night for double occupancy (meals included) are Rs 15,000 for Chamong Chiabari and Rs 10,000 for Tumsong Chiabari. For details, log on to darjeelingchiabari.com for Tumsong and chamongchiabari.com for Chamong.
Text and pictures: Samhita Chakraborty