A nest in Kalimpong
The iconic Himalayan hotel of Kalimpong gets a new lease of life as the Mayfair Himalayan Spa Resort. t2 checks in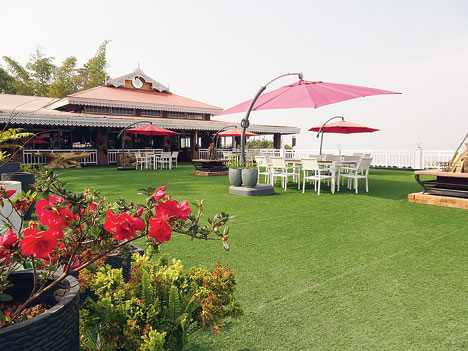 ---
Published 09.02.18, 12:00 AM
|
---
Between 1905 and 1910, David Macdonald set up the Himalayan in Kalimpong, the first hotel in the Darjeeling region. All climbers attempting to scale Mt. Everest would put up at this hotel before embarking on their onward icy journey. In 1924, the legendary mountaineers George Mallory and Andrew Irvine planned an Everest expedition. In the climbing party was David's elder son John Macdonald. Now, young John loved his whisky. On the night before the final summit, he had one too many pegs, as a result of which his mates had to leave him behind the next morning, fast asleep. The journey proved fatal for both Mallory and Irvine after they were hit by a freak monsoon squall. And John cheated certain death.
The bar at the Himalayan is now called "Johnny's Bar" as a tribute to John Macdonald and his legendary love for a tipple.
Such stories abound at the recently refurbished Himalayan, renamed the Mayfair Himalayan Spa Resort after Mayfair Hotels and Resorts took over this heritage property last year and opened doors a few weeks back. Every nook and corner has a story to tell, and an Instagram opportunity waiting to be clicked and hashtagged. And, of course, stunning views of the Kanchenjungha range on a clear day.
I visited Mayfair Himalayan Spa Resort in the last week of January and while the mighty Kanchenjungha remained elusive behind a thick blanket of fog, I spent many a happy hour sipping hot cups of tea and coffee on the pretty terrace lawn, enjoying the quiet beauty of Kalimpong. And filling up on the tales of this iconic hotel, narrated by Ravi Mohapatra, the vice-president of the hospitality chain.
"We have created many new rooms, but we've retained the Heritage block, which is where guests like Jawaharlal Nehru and Edmund Hillary have stayed," he said.
I too was putting up in the Heritage block, and guess whose room I got? Richard Gere!
Quickly shooting off an Insta story, I explored my richly appointed suite — from the high four-poster bed to the Victorian drapes to the little fireplace to the antique writing desk to a bathroom the size of my bedroom back home. When I came back after dinner, I saw two hot-water bags had been placed in my bed to keep it snuggle-ready.
"The look of the hotel has been designed by our chairman. A lot of the furniture was hand-picked by him too," said Mohapatra, referring to Dilip Ray, the chairman and managing director of Mayfair Hotels and Resorts, which has properties in Darjeeling, Gangtok, Puri, Bhubaneswar and other places.
The Mayfair chain is well-known for its spa and I couldn't wait to try it out. Over two afternoons, I surrendered to the deft hands of Gita and Pratima, who proceeded to knead the rigours of January out of my system with warm sandalwood, rose and lavender oils, using Balinese, deep tissue, Swedish and aroma therapies.
Later in the evening, the staff lit up two roaring bonfires. "We will have group activities, like pop quizzes and fun games in the lawn because in the mountains, there isn't much to do after sundown," Mohapatra pointed out.
The hotel staff is most excited about a new bakery, called Mama Mia, where they are making pastries, muffins, cakes, breads and sourdough.
There's also a small gym, a temperature-controlled swimming pool and a game room with snooker and table tennis. A kids' area has games and activities to keep the young ones occupied. Then there's David's Museum Library, named after the founder of the Himalayan. This beautiful library with plush couches and shelf after shelf of leather-bound volumes is a bookworm's paradise.
The hotel is equipped to host corporate events and weddings as well. A car park to accommodate 60-70 vehicles is coming up.
Text and pictures: Samhita Chakraborty
Additional information sourced from The Lure of a Legacy, a book on the Himalayan written by Ravi Mohapatra