A Calcuttan shares her Berlinale Experience with t2
An invitation by the Federal Foreign Office of Germany to participate in the 67th Berlin International Film Festival came as a surprise. And a very pleasant one at that.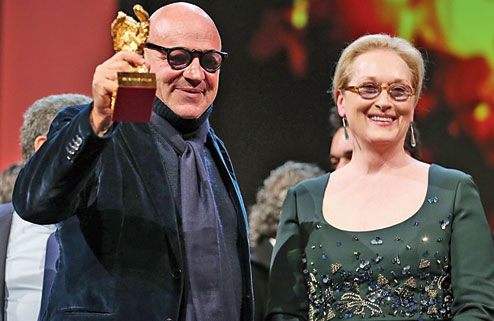 ---
Published 23.10.17, 12:00 AM
|
---
An invitation by the Federal Foreign Office of Germany to participate in the 67th Berlin International Film Festival came as a surprise. And a very pleasant one at that.
The Visitor's Programme, however, is not limited to cinema and culture; it encourages practitioners of a wide range of fields to visit Germany and interact with local and international artistes or researchers, as well as participate in distinctive programmes, helping you to hone your own practices and interests.
But just how electrifying the programme could be wasn't clear to me until I landed in Berlin on February 8. Yes, it was freezing cold, but that was hardly an issue! Beginning with the warm welcome extended by the representatives of the office, and the wonderful stay, along with an equally sumptuous dinner, the spectrum of events was only starting to unfold.
My biggest surprise and pleasure was actually the fellow participants, some of whom have now become friends. For instance, there was the fiercely feminist Florencia (Flor) from Argentina, the very young Jessica, a Lebanese girl, from Australia, Jorge and Jorge from Columbia and Cuba respectively, the stunning red-haired Mariam from Georgia, Paolo from Italy, Baubek from Kazakhstan, Tui from New Zealand, Femi from Nigeria, Nick from the Philippines, Stanislav (Stas) from Russia, Mohammed from Saudi Arabia, the wonderful Snezana from Serbia, Lucy — another Mukherjee — from the US, gorgeous Lamia from Tunisia, my dearest Haya Fatima from Pakistan, and many others. All of them exceedingly accomplished filmmakers, festival organisers and teachers of cinema.
Here in India, my identity is primarily that of a researcher and professor of cinema. My films have travelled to international festivals and I have presented my art installations at international programmes; nevertheless, my current preoccupations — an attempt to connect research and learning with practice through my projects like the TENT (Theatre for Experiments in New Technologies) art platform and the TENT Little Cinema International Festival (for experimental films and new-media art) — seem, sometimes, somewhat extraneous and even ambitious.
It is, however, this exposure to the outstanding work done by my fellow-participants, which has instilled courage in me and has informed me that there are, in fact, many others in this world who are filmmakers and teachers, with Phds and so on, who are attempting to bring practice into academics and vice versa.
Through manifold conversations, meetings, film shows, trips, discussions, and lunches and dinners I realised that the idea of "alternatives" is not merely pep talk. Moreover, such aspirations are meaningful across the globe.
Every time I return to Calcutta from elsewhere, I wonder what does one bring back? Of course, one is always carrying some extra hand baggage full of mementos, and has clicked some photos, which may be shared, but for me such experiences are not limited to events.
Sometimes one recalls the smell of places, or the sensation of the chilling wind hitting the face, or an image of a frozen lake, and the melody of a song in another language, and many such ephemeral experiences.
Amongst the various engaging and motivating programmes there was the unique opportunity to participate in the opening show of Berlinale and then, one of my favourites — the video bus tour — that not only took us around the historic city of Berlin but made critical links between the well-known and popular films, and the locations.
The Berlin Wall, for instance. Its presence and absence are much entrenched in the place, and the remnants of the Berlin Wall are engrained in public memory and culture.
The bus tour took us through such memory lanes and triggered many ideas and thoughts. Truly, the Berlinale Experience was not only inspiring but its memory seems to return like a reverie, often.
HOW TO APPLY
Application details for the Visitor's Programme of the Federal Foreign Office for Berlinale 2018 will be uploaded on the Consulate's Facebook page later this year. Interested candidates can keep an eye on @GermanConsulateGeneralKolkata on Facebook and send in applications once the dates are announced.
Madhuja Mukherjee
The writer is an associate professor of Film Studies at Jadavpur University