Top seven moments from the Brit Awards 2022
The Telegraph tunes into the event held in London on February 8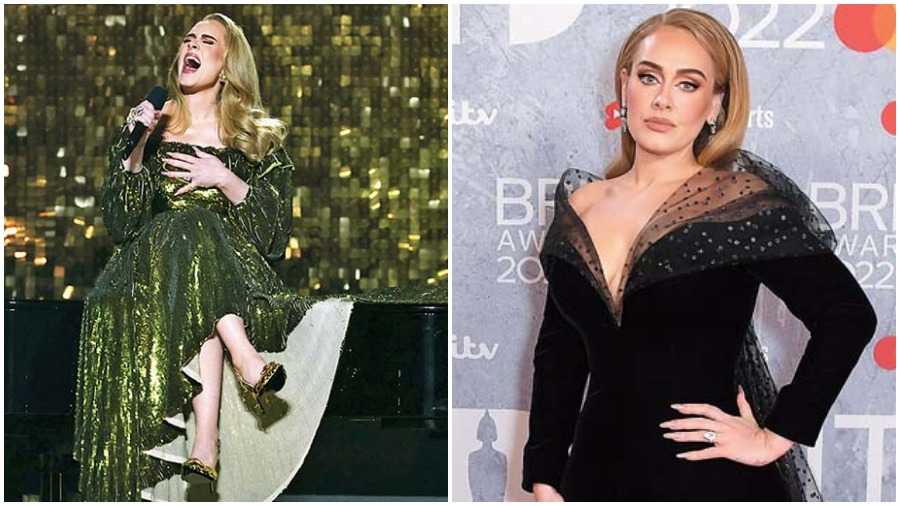 Adele's voice and dress glittered like gold as she performed I Drink Wine sitting atop a piano.
---
Published 10.02.22, 08:50 AM
|
---
Engaging, of course... but engaged?
Adele's voice and dress glittered like gold as she performed I Drink Wine sitting atop a piano while a small back-up choir kept her company. It was a ballad that won hearts and the night, proving she can own the stage anywhere with lyrically-rich songs minus all the razzmatazz that comes with most other performances. This was her first appearance since postponing her Las Vegas residency because of the pandemic.
What got tongues wagging was when she floated across the red carpet showing off a diamond ring. The 33-year-old singer is dating record producer Rich Paul and didn't make any attempts to downplay the eye-catching rock on her ring finger. She has reportedly introduced Rich to her nine-year-old son, Angelo, whom she co-parents with her ex-husband Simon Konecki.
"I'm very proud of myself for sticking to my guns and putting out an album that was so personal to me, because not many people do stuff like that anymore," she said after winning the Album of the Year trophy for 30, handed over by Hannah Waddingham and Brett Goldstein from Ted Lasso. Back to his roots
A few days ago, Liam Gallagher released his new single Everything's Electric, featuring Dave Grohl on drums. It wasn't enough. He gave the single — from his upcoming album C'mon You Know — its live debut. The singer has revealed that the song was inspired by "thunderous dynamics of Beastie Boys' Sabotage with the spiraling tension and danger of the Rolling Stones' Gimme Shelter." In the audience were Lennon Gallagher and his sister Molly Moorish. Firecracker of an opener
The O2 in London was packed on Tuesday night. Aerial dancing and Ed Sheeran on stage, creating all the action. The pandemic is, uh…. It was a different world altogether as Sheeran teamed up with rockers Bring Me The Horizon to present a rocking version of Bad Habits. One of the first to arrive at the venue sporting a blue velvet suit, the 30-year-old traded it in for something more comfortable on stage. Later on in the evening, he sported a bomber jacket and offered a stirring rendition of The Joker and the Queen, playing his acoustic guitar while accompanied by an orchestra and a piano. The show must go on
Anne-Marie won the night after quickly recovering from a tumble during her performance of Kiss My (Uh Oh) before a 20,000-strong audience. Her voice wavered as she slipped a few steps but it didn't dampen her spirits as she recovered well, winning praises online. The singer was soon joined on-stage by YouTuber-turned-rapper KSI to turn in a great performance. After the gig, she announced on Twitter: "Didn't need my left ankle anyway." Courteney to Olivia
Young sensation Olivia Rodrigo took home her first Brit Award as she received the trophy for Best International Song (Good 4 U). "Last year at the Brits was my first performance ever, so to get this award tonight is surreal. I love the UK and I appreciate the love you have shown," the 20-year-old said. And handing over the award over were none other than Courteney Cox and Johnny McDaid. Keep dreaming, keep pushing
Little Simz is 27 years old and she took home the Best New Artiste trophy despite her first album (A Curious Tale of Trials + Persons) releasing seven years ago. Taking her mother to the stage while receiving the award, the singer said: "Mum, look at what you've done. Look at what you've done."
She added: "I am living proof that if you work hard on something no matter where you come from, no matter your background, no matter your race, you can do something extraordinary. So this is for all the kids dreaming — keep dreaming, keep pushing, I am you, you are me." And she put up a wonderful performance, playing Introvert and Woman, with an added interlude from The Crown star Emma Corrin. Rapping his heart out
During his 2020 Brits performance, rapper Dave attacked British Prime Minister Boris Johnson as a "real racist". This time, he allowed music to do all the talking while performing In the Fire with help from Fredo, Ghetts, Meekz, Giggs and a gospel choir. Dave detailed the experience of being at risk of deportation, and how "everythin' but my mum's pay's on the rise".