Three house-proud Calcuttans offer a glimpse into their space...
...and tell us how their relationship with their homes changed during the lockdown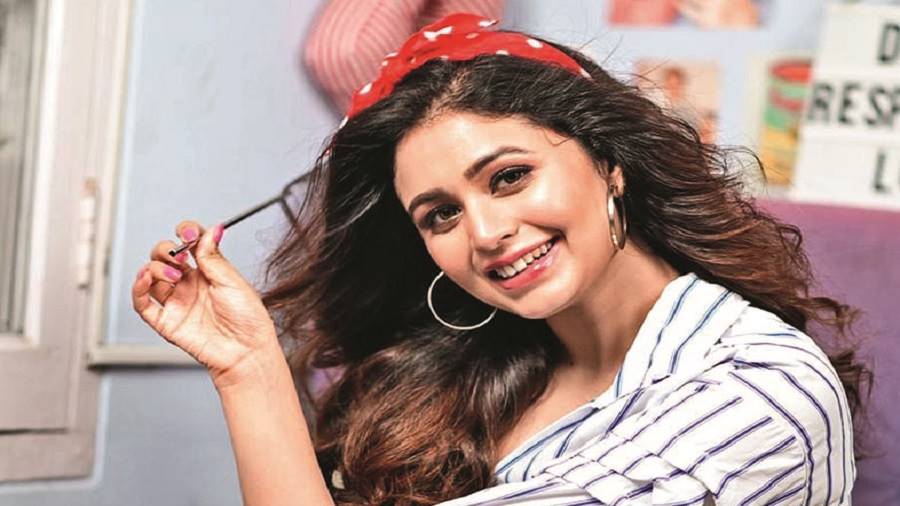 Ritabhari Chakraborty
Sourced by the Telegraph
---
Published 20.07.20, 07:54 PM
|
---
Ritabhari Chakraborty is in a relationship with her house. 'I am obsessed," she laughs. Blessed with a keen eye and tasteful aesthetics, she just knows what would look good together. "It comes to me naturally," she says. And, this quarantine, she has redone her kitchen among other things and cooked for her "husband". Read on to find who Ritabhari is cooking for!

You have lived in the Salt Lake house for how long now?
It's going to be four years. I have done it up the way I wanted to. It obviously reflects my love for things that I absolutely love, like plants, colours, a lot of vintage and the fact that I travel. It has a lot of paintings and pictures because I am big on art. It inspires me more than anything. Every corner is very organised because I have OCD.
I keep busy so, structurally, I am not trying to change anything unless it's needed. I keep innovating as per my need. I rented both my houses in Bombay — Andheri and then Bandra. You can't do much to a rented apartment, but you can innovate. My best jobs so far have been what I did with my Andheri house's living room and then my Bandra house where I did a whole room dedicated to Ibiza and Santorini in white and blue (inset). I love doing up my space wherever I live. I believe where you live should be your home.

So, do you shop for yourself more or your house when you are travelling?
I actually shop more for my house. I am a maximalist. I like corners done up with a lot of things, like a Bangali bhora bari. If you look at an English TV series or an US TV series, for example Monica's apartment in F.R.I.E.N.D.S or in 2 Broke Girls, their houses are full of things like flowers, art, carpet. That kind of a decor inspires me where the house screams of who you are.

What's your favourite corner?
I have this Godfather chair in purple in my garden room. I click most of my pictures or do my video calls there because it has the best light with glass windows. I have a garden balcony and a garden room.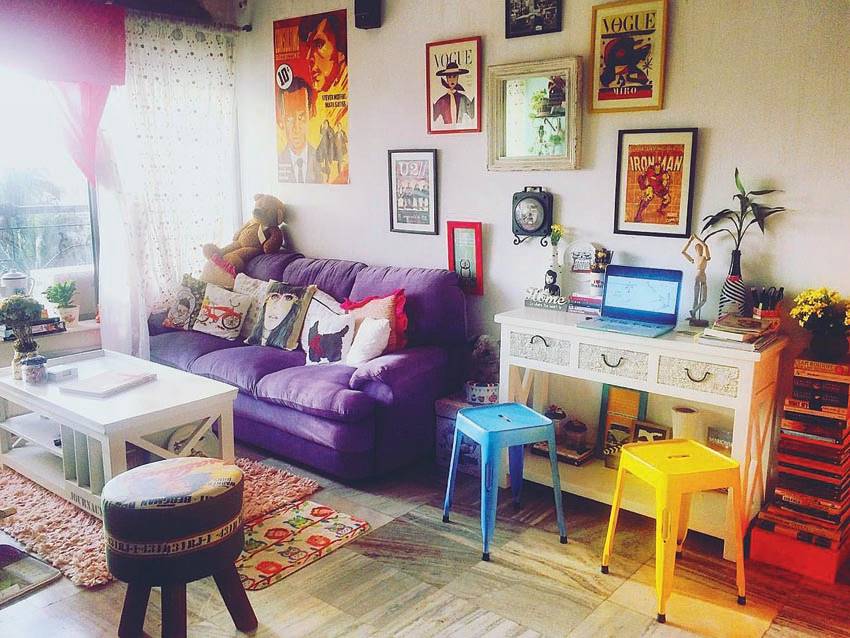 Pre-pandemic, how much time would you spend at home?
I like being home. No one believes it, but when I am not working, I am home. Even when I am partying, I am partying at home.
I have house help, but there are certain things which I don't let anybody else touch. I do it myself, like cleaning my miniatures, organising clothes. There is a separate medicine cabinet. One room is the utility room where all the not-so-pretty-but-important things are kept.
I am weird. Chitrangada (Satarupa; sister), hates me for that. Once she had come to stay with me and said 'Dude, you have OCD' and she left and never came back (laughs) because whenever she would put something somewhere else, aami oke bolbo na eta keno korli, but aami aamar moto jekhane chhilo, shekhane rekhe debo!

Have you discovered your house in a new light now that you are home all the time?
I keep redecorating my house and I have done it whichever way possible... furniture shoriye, colouring it, putting up new posters, incorporating plants.... The living room has new furniture and a carpet. I keep doing home improvements. I gave my furniture a distressed look. I have transformed one balcony into a very different kind of a space.
Since there is nothing more to do in the house, I am changing the decor of the doll's house where I do my miniatures.

Is your house telling you anything different?
My house always talks to me. Whenever I have a day off, it is not about relaxing. It would be about reinventing my space, so that it feels like a brand new room every single time. I didn't do much innovations to the bedroom in the last two-three years. Then I thought this room can look like a Pinterest room with distressed-finish furniture, little vintage and European. My living room is very Indian. We painted the mirror white and the wardrobe sea green and put rice lights and made it look like a dorm. We transformed an adult's room into a teenager's room! It varies according to my mood!
I also transformed my kitchen. What can you do with a basic, old kitchen? It can look like a colourful Mexican corner! So, we started putting wallpapers, hanging plants and ceramics. That was my least-used space, but when my staff stopped coming in for safety reasons,
I was a lot in the kitchen, with Madhuja (manager) and my cousin. I bought a new stove and a new OTG, which match each other. I am obsessed with organising, spices at one place, chips at one place.... I don't ask anyone else to do these things because I do it, even if I have had an 18-hour long day. That would be my de-stressing.
I have put a picture of Johnny Depp, Brad Pitt, Leonardo DiCaprio standing together above the cooking station. Mine is Brad Pitt, Maddy's Johnny Depp and Leonardo DiCaprio for my cousin... it's like we are cooking for our husbands... so cute!

Any new fave corners?
I had installed a projector in my family room, just before quarantine. We have painted one wall completely white so that I can use the entire wall like a screen. So, movie-watching sofa is also a favourite corner now. I have put a cushion over there which says, 'just chill'. Sometimes I roll over and play Scrabble. There is a coffee machine.

You also created an Instagram handle @loveandminiatures, which is amazing. We love the details...
Some I have bought over the years, some I have bought recently and some I make, like pillows and bed sheets. I try to give it a feel of a lived-in room. It takes long hours. Cleaning is also a challenge, but I enjoy it so much.
I always wanted to live in a house. In fact, I am looking for a bigger house in the same neighbourhood. I want a terrace lawn and want to grow my own vegetables. I love the country home life. I would like the whole family to stay together, of course, not overlapping into each others' spaces. Neha Gandhi Binjrajka
Stylist Neha Gandhi Binjrajka had just got married when Covid came calling. The lockdown has given Neha quality time to settle down at her in-laws' place in Ballygunge, getting to know the family better and feel like it's "her house".

You have settled in well...
I am trying to see the positive side of this lockdown. It came as a boon for me. I had just got married and I was two months into the wedding. I hadn't got the time to spend with my family because once I came back from my honeymoon, I tried to jump back into work. My family was very supportive.
There were fittings that I wanted to do in my bathroom and some new frames that I wanted to put up in my room, I was slowly going to start doing all of that. My sister-in-law also stays outside Calcutta. They came back. It was such a good support to have all of them here.
This also meant that I could spend time in my room and see my house properly. I would go to my mom-in-law for everything! I had no idea. Now, I know! It has made me very comfortable in the house. I have settled in much better because I have been at home for so long.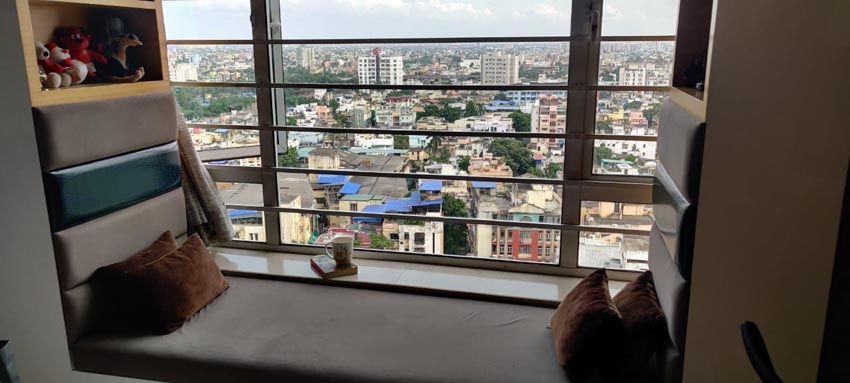 How have you discovered the new house?
When Akash and I were dating long back, I loved how the house had clean spaces. My mother-in-law ensured that. It makes the house look bigger and more light streams in. Very soothing. The jhula is my favourite place in the house. I love windows and looking out... at the sky. It is such a comfortable swing and I hadn't sat on it properly till the lockdown! Our lives were so different. I am on the 15th floor, which makes the view very nice. I don't get to see too many buildings. My verandah has a lovely view.

What is your comfort corner?
There are two-three which are extremely comfortable. In my room there is this seating area, a small sofa which faces out to another window. You'll find me working here. Now everyone is working in pyjamas. So, it is very comfortable to sit there and work. My entire family is fond of board games. You'll see us all at the dining table playing boardgames, morning till night. Everyone has got their chair!

Did you carry a slice of your mother's house and memories with you?
My mom put many plants in our verandah. It's beautiful. My mom-in-law and I are thinking of adding plants, may be make a nice herb corner. I am really excited about that. I have added pink bed sheets in the bedroom, which I don't think Akash would have approved otherwise! (Laughs) I keep adding quirky things. We wanted to do a wall of frames from the wedding and have sorted out our pictures. The minute this gets over, we'll get it done!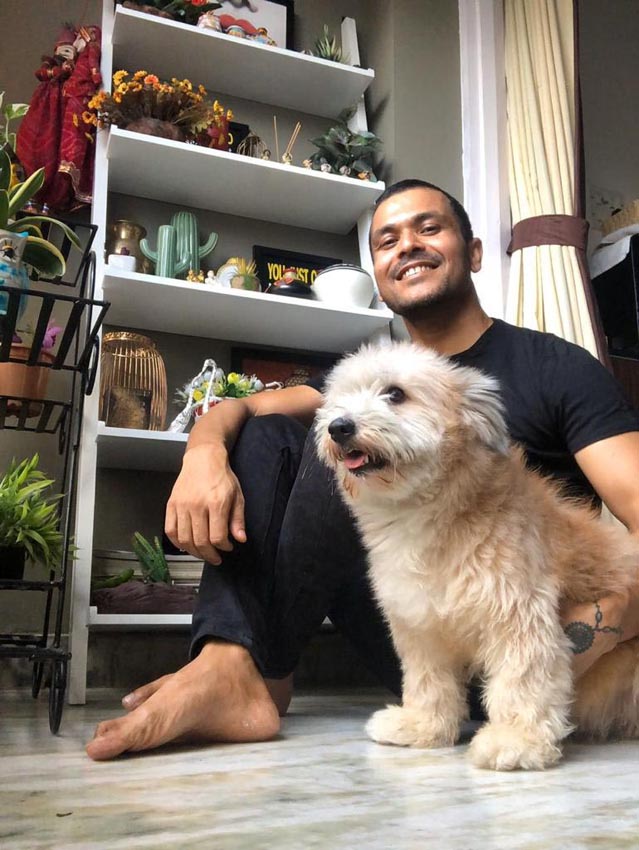 Mainak Das
Beauty pro Mainak Das is enjoying his house therapy by reliving his memories.

How long back did you move into this NSC Bose Road house?
It's been a year I moved into this apartment.

Do you have fave corners in the house?
Yes, I have. There is a corner in the balcony which is one of my favourite places. There is a lot of green and when I sit there, I drown in intense thoughts. I meditate there too.

How much time would you spend in the house pre-lockdown?
Actually, before lockdown I used to spend most of the time at shoots and then working out. Rest of the time would be at home, some me time at my favourite place with a cup of coffee and watching the sky. The beauty of the sky, stars, moon mesmerises me. Best de-stress ever. My pet Lolo always makes me feel that I'm special when I return to the house. She jumps on my lap and rests her head. I can feel that when she is in my lap she is very happy as if she has got everything she ever wanted. Most importantly, coming back home takes away 50 per cent of the stress because that's your home. Feels awesome. Have you discovered your house in a different light now that you are home all the time?
Before lockdown, this was the place where I lived and during lockdown I realised this is the place where I connect with my soul. It has so many memories, my passion, hard work, my ups and downs... everything is integral to this house.
When you buy a flat or house, it's made of only brick and cement. After that, every day, every step, incident, your breath turns this house or flat into a home. It makes you nostalgic and brings a smile.

What are your new fave corners?
During lockdown I have made one. I put a mirror and an owl showpiece and some indoor plants. This is at the corner of the entrance that was empty. I also put a tiny waterfall. The sound takes my stress away.

What else are you planning to do with the house this lockdown?
I have a few indoor plants and I want to get a few more. As of now, I am just changing the position of my showpieces according to their colour.
I have an empty white wall where I have mounted lots of painted plates and they are very bright. This gives me an energetic vibe and it also enhances the look of my house.