Aayega, aayega, ayega aanewala
There are few things as inevitable, or enigmatic, as Middle Age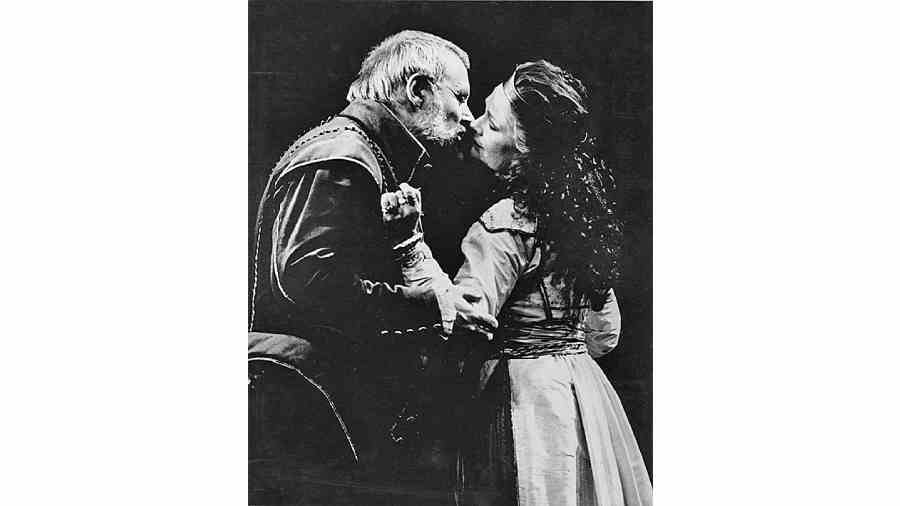 AGE CANNOT: Middle-aged Anthony Hopkins and Judi Dench in Peter Hall's 1987 production Antony and Cleopatra
---
Published 29.01.23, 03:43 AM
|
---
Have you noticed how young people seem to think of middle age as a minefield? Something they would like to skip, if possible. They never elaborate on its pitfalls — because how would they know what they are — just break out in rash over it.
Once I witnessed this scene; a young woman shopping for men's shirts. When the salesperson brought out some checks she started swatting an invisible swarm of flies and said: "Not checks, pleaseeeee. They are so middle-aged!" Don't tell the tiger, but the same is apparently said of stripes.
The middle age-fearing mostly don't even bring up the M word, just wield regular addresses such as "Aunty" and "Uncle" pointedly, leaving behind much collateral damage.
Monideepa, who is a sensitive 47-year-old, says, "When a 20-year-old woman tells me: 'Shah Rukh looks hot, for an uncle', I flinch. It is worse than having men with beards call me 'Aunty'." And I have seen for myself a few good men come to blows over an "Uncleji" from random strangers, all the while pretending the real issue is something else — a shove, a push, a dent in the car. One guitar-playing, baby-faced, much-tattooed free-spirited middle-ager told me he felt gutted after being serially addressed as "Tau".
I was telling some of this to a friend when possibly just to test the waters he asked his daughter: "Are you waiting to get to middle age?" "Noooo," said the 25-year-old, all emphatic and mock shudder. It reminded me of a story.
Five children at play in a gravel pit somewhere in England. Each of them, except the baby, had a spade with which they kept digging, hoping they would dig their way into Australia. E. Nesbit writes how the children believed that the world was round, and "that on the other side, the little Australian boys and girls were really walking wrong way up, like flies on the ceiling, with their heads hanging down into the air".
One memory leads to another. Here is a mental image from my childhood. A much younger cousin liked to entertain us by bunching up her jelly belly with both hands to make it look like a wide-mouthed man. She called the belly-face Mr Kumaran.
Most likely, the reactive young lady had a mental image of middle age playing out in her head and it was a cross between Nesbit's Australians and Mr Kumaran. The Middle-Aged walking around like zombies, no eyes, no nose, no face or even head, just a mass of middles of every possible shape, size and colour, on two feet. Scary, except that the actual thing does not feel like that.
I asked some people what middle age made of them. Tandrima of an eversunny disposition said, "I am free of the anxieties of youth, many of them performative. I really care much less now. I do what I want much more."
Gargidi, who wears a different perfume every day of the week, said, "Honestly, never gave it much thought. Somehow I still do and believe in the things I did when I was young. Health permitting, of course." Chandrika, with her shock of bobbed grey hair, said, "I did my downtime when I was in my 30s. I've seen it all, handled every curve ball." I hadn't even completed my question when Ayan said, "Ekhono na… Not yet. Though I have heard some people need aloe vera." Suchetana, who is always on the run, said, "Except for a phobia of stairs because of the creaking ankle, I am very satisfied." Sudip said, "I have a better grip on my temper."
Many said they didn't think of themselves as middle-aged, but nearly everyone agreed that some invisible pressure had lifted. No one spoke of waning looks or a list of what remained unachieved, no one I spoke to wanted to go back in time. Some did say it was tougher to lose weight now, someone added "tough to see that the parents are less of trouble-shooters now than ever", someone else remarked that the bank balance was not impressive.
Each and every person had battlescars to share and show and they seemed to be proud of them, defined by them, warriors all. As I listened, it struck me that Homer's Ulysses had also been middle-aged.
As for myself, I remember sobbing into the night on the eve of my 17th birthday in boarding school. Eighteen was around the corner and for some reason, I just didn't want to get there. On my 30th, there was a lovely party, but I was determined to be petulant. I knew exactly who had forgotten to wish me at midnight and then there was the coffee stain on my brand new sari. Now, I take care not to stir up the party mongers from a week ahead, look forward to the truffle cake I know to expect, every greeting is a sparkler, and if someone who should not forget does, I still cannot forgive but I message a reminder. If only middle-aged me could email my younger selves, I would have told them.