THEMXXNLIGHT on their single Naughty or Nice
The Bay Area boys have a new song with Wiz Khalifa and it has already notched up over a couple of million views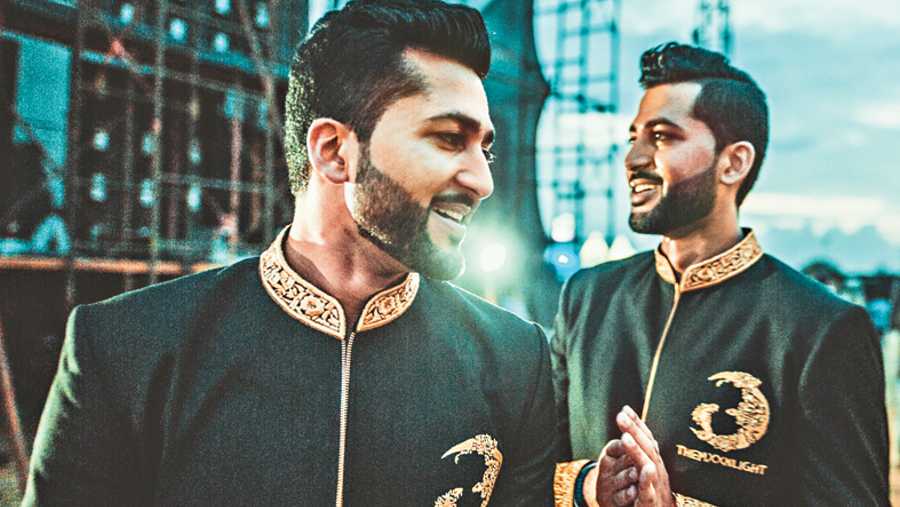 Brothers Krish Chandani and Akash Chandani are together THEMXXNLIGHT
Sourced by the correspondent
---
Published 26.09.21, 11:08 PM
|
---
Brothers Krish Chandani and Akash Chandani began making music in their dorm rooms with some help from Garage Band and today — in the form of the duo THEMXXNLIGHT — they are making milestones in the music industry, recording with top US artistes. The Bay Area boys have a new song titled Naughty or Nice with Wiz Khalifa and it has already notched up over a couple of million views. What's keeping them in top gear? Here are excerpts from our interview.
How did Naughty or Nice come about and at what point did you involve Wiz Khalifa?
Akash (Kush): We already had the song done in 2018 right before we graduated college. When we played the track for major labels, they all said that it was a major hit and that we should get a big feature on it. The opportunity presented itself and we played the song for Wiz. The rest is history!
Krish (Luv): We made the song in our dorm room after coming back from a party. After about a year of playing the song around for top music labels and executives, the feedback was that the song was a hit and we needed to get a major global feature on it. We were in the studio with Wiz one day and he hopped on the song at once.
The video has picked up over two million views. How does it feel to lead a life by number of views and streams? Does it bother when a song gets perhaps fewer streams? How do you cope with it?
Akash (Kush): We don't really lead our life by views and streams, although it does matter! We mainly want to deliver the best music and visuals we can. We always want to do better than our previous release so it pushes us to do better if we receive fewer views/streams on a certain song.
Krish (Luv): We are thankful for any number of views or streams that we receive. We are very careful in the first place about the content we release and the timing of our releases, we plan all the marketing ourselves ,so we have done our analytics and studies on the market... so we rely on our brain to help us out, but if a song gets fewer streams, it will just mean that we may have miscalculated something. Everything we do is calculated. We are engineers (laughs).
Brothers working together will obviously have a good understanding but creative differences can be tough. Does work ever come between the two of you and have there been days when the two of you have gone without speaking to each other?
Akash (Kush): There have never been days when we don't speak! We do have creative differences at times. It is not a hindrance though. Everything works out for the best in the end.
Krish (Luv): This used to happen about four-five years ago when we first started, but we are much more mature now and we understand each other's strengths, so it's very easy for us to work together efficiently.
The two of you have also worked with Megan Thee Stallion, Travis Scott and French Montana, besides many other collaborations that are coming up. Can you share a bit about your favourite moments... working with these big musicians?
Akash (Kush): Being able to work with Travis was a major surprise! Megan as well. She actually messaged us first on Instagram and told us she loved our style and wanted us to sing a hook for her. Can't wait till these tracks come out!
Krish (Luv): Obviously, these moments were all surreal. We can't share too much since these are very important songs to us that we really hope to release. Each of these artists has next-level talent that we have been so inspired by and they are all extremely humble.
Your parents immigrated to the US before you were born. But what kind of connection remains with India and what do you look forward to from India, be it in way of food or clothes?
Akash (Kush): I love going back to India once or twice a year. I get to see the family and enjoy the difference in environment. It's good to change up the lifestyle a bit every now and then. I love wearing sherwanis and going to Indian weddings as well.
Krish (Luv): We have been to India about 30 times and we love our culture; we will always be a huge part of the culture and hopefully we are seen as a leading force behind the acceptance of our culture in the American music industry.