House of the Spirit
The Telegraph walks into the late Shanu Lahiri's studio and residence and presence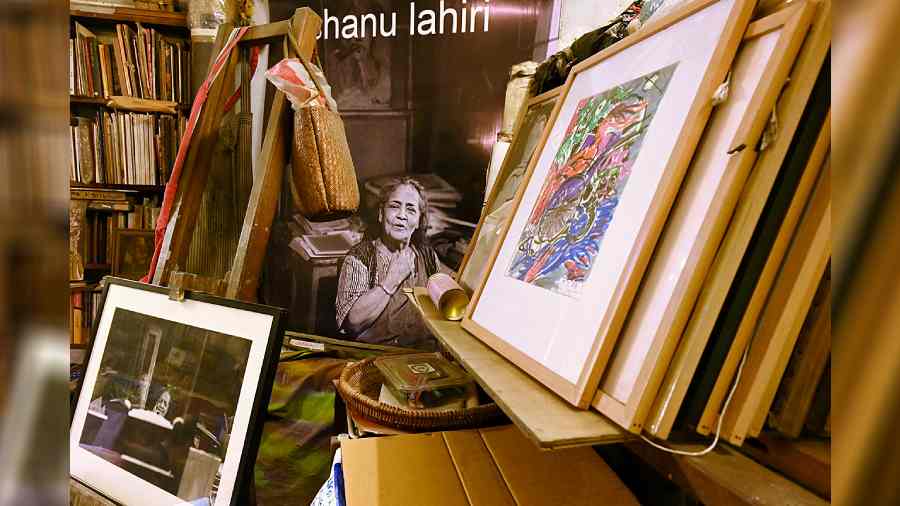 ---
Published 19.03.23, 03:56 AM
|
---
On March 30, 1996, Calcutta saw the opening of an unusual art exhibition. Art Anonymous showed the paintings of 24 artists from the city and abroad, well-known and unknown. But no work was signed. A painting would only be signed by an artist after it was bought. Each painting was priced at Rs 5,000.
The exhibition was conceived by painter, sculptor, teacher and public art practitioner Shanu Lahiri. The idea was to take art out of the market, and the signature, which determined the price of the painting.
"Not a single painting sold," laughs Damayanti Lahiri, Shanu's daughter. "I think my mother was ahead of her time. But if the show was held again today, the results would be the same," she laughs again, as she fishes out the flier for the exhibition from a heap of sketches, canvases, scrolls, prints, books, letters and sculptures that lie on the floor, fill up the walls and seem to pour out from every place in Shanu's large studio at her Lake Town residence. They make for an abundance that is at the heart of Shanu's art. And life.
And for a largeness.
Shanu is remembered most for her public art, which had changed the face of the city a little, for the better, but much of which is gone. She had sculpted the landmark Parama statue at the Science City roundabout. It disappeared suddenly one day in November 2014, to be replaced by a giant Biswa Bangla globe. A large wall with a mural that she had painted with others on Justice Chandra Madhab Road was white-and-blue-washed in 2018.
Ten years after Shanu's death, Damayanti is trying to cope with the volume of the rest of Shanu's work and sort it. Over 250 canvases and more than 1,000 sketches have been listed, all of which will be digitised and hosted soon by the South Asia Open Archives in collaboration with the Centre for Studies in Social Sciences, Calcutta, and the University of Chicago, US.
Shanu was one of the early women students of the Government College of Art & Craft, Calcutta. She had two illustrious elder brothers. The eldest, Kamal Kumar Majumdar, had sculpted a new, spectacular language in Bengali fiction. The other, Nirode Majumdar, was a modernist painter. The two feature prominently in the Chicago University, US, archives.
After graduating, Shanu went to Paris to study art. Paris freed her from academic training and opened her to the excitement of international art movements.
From the late Seventies, Shanu taught at the visual arts department of Rabindra Bharati University; later she became the dean of the faculty of visual arts. In the Eighties, she formed, with four other women artists, Meera Mukherjee, Karuna Saha, Santosh Rohatgi and Shyamasree Basu, The Group. That was also when she broke free in terms of scale.
For her, art happened in a space that was shared with others. At the same time, it was embedded in the familiar and the immediate. Sitting at home, formulating a recipe — spontaneous and legendary in her circle — she was happy to draw on any surface available. Around her buzzed life in many forms, including an endless stream of people. Renowned dancer Chitresh Das was as much a regular at her house as was the youngest art student.
In the studio at her Lake Town home, two artists who had been Shanu's students are poring over a just-discovered sketchbook. She nurtured her students and taught them to think. She never focused on technicalities. "Once, in a painting I was working on, she happened to see my sketches on the margins. 'The painting is there,' she said, and asked me to work on the figures on the margins," says Arindam Dutta, who worked with her since the time he was her student. Nobina Gupta, who had received Shanu's warmth, affection and her sharp lessons, remembers being taught about the importance of the process.
At the dining table, a family friend is going through a batch of sketches and drawings. Some striking sketches come up, including one of Mother Teresa. One notices the number of things Shanu had collected. A striking figure of Gandhari sporting her hundred children all over her body stands not far away from a large imitation of a famous painting by Rabindranath Tagore of a woman's face. Shanu had made her students recreate Tagore's paintings to help them get a better understanding of his art. Now this figure watches over the proceedings of the dining table even as a variety of flora and fauna comes into view.
A stately cat called Bonbibi shares space with two dogs. Every day at an appointed hour a crow nibbles out of Damayanti's hand bits of lunch that always seems to be spread on the table. The spirit of the house has not changed. "My mother was a magpie," she says. Most of all, she collected people.
In the meantime, family treasures have tumbled out — unpublished manuscripts by Kamal Kumar and among Nirode's early sketches, his attempts at "forgery": he was trying to perfect Tagore's signature.
One wonders what role gender played in shaping Shanu's art and if it accounts for the difference of stature between the brothers and the sister. Does the presence of the familiar in it, not to mention the domestic, come in the way of its evaluation?
"By the way, there are canvases stacked in two lofts. And her collection of patachitras number more than 700," laughs Damayanti. "And who knows, the walls may be hollow…"