Books, shelved
Bengal hosts close to 50 book fairs every year, and yet this is the same state where public libraries are dying. The Telegraph tries to make sense of the contradiction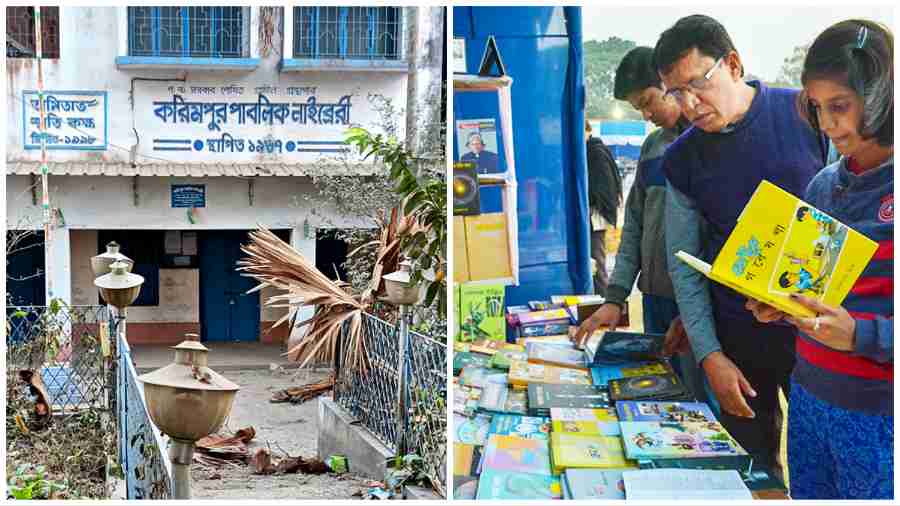 OPEN 'N' SHUT: The Karimpur Public Library closed post-pandemic; a book fair in Bolpur.
Photos by Tanmoy Sarkar and Biswajit Roy Chowdhury
---
Published 05.03.23, 02:58 AM
|
---
Before and after the Kolkata International Book Fair hosted every winter for the last 28 years, there has been a slew of book fairs — nearly 50 — all over Bengal.
Of these, 23 are district fairs and initiatives of the state government such as the Burdwan Book Fair. Others such as the Tarashankar Book Fair in Birbhum, Mejia Book Fair in Bankura and Asansol Book Fair are endeavours of private bodies, individuals, local clubs or cultural organisations.
The district book fairs are organised by the local library authorities created under the directorate of library services.
Among the newest additions to this long list is the Sunderban Book Fair, which began in Chhoto Mollakhali in the Sunderbans in 2021. Sanjit Jotder, who is one of the founder-members of this fair, is a resident of Chhoto Mollakhali and a professor of museology at Calcutta University. He says, "After two years of Covid-19 and lockdown, many teachers have left and the schools are running but less efficiently. Children do not have access to books beyond academics. So we started organising this boi mela."
It is Jotder who tells The Telegraph about the increasing casualty rate of public libraries. In the Gosaba block of the Sunderbans, there are five public libraries but of these, the four libraries have been closed to the public for the last five years. Reason: no librarians. It is the same story at Karimpur Public Library in Nadia district, which is closed for about a year-and-a-half now. "There is no librarian nor any Group D staff," says Shankar Mondal, a member of the gram panchayat of Kachharipara in Karimpur, and adds, "The books are lying scattered outside the almirah. There is no one to clean the room."
In the Karimpur block, there are eight other libraries. Five of these — Kechuadanga Library, Poraghanti Library, Baliadanga Library, Sankhonagar Library and Dhoradaha Library — haven't opened their doors post the pandemic. Dipak Saha, a schoolteacher and a resident of Karimpur, complains, "The government is least bothered about what happens to the libraries — sponsored or otherwise. There is a private library of the renowned poet Jyotindra Mohan Bagchi. He is a contemporary of Nazrul Islam, the bidrohi kobi. His house here is lying uncared for and his library is in an abysmal condition. The state government has not thought of either conserving his house or the library."
Saha, who teaches at Shikarpur High School, says the library of the 125-year-old government school remains closed as there is no librarian. "Our library has rare books. It was set up by the British who ran indigo plantations here," he says.
According to the website of the West Bengal government's department of mass education extension and library services, last updated this January, there are 2,480 public libraries in West Bengal. Of these, 13 are government public libraries that come under the purview of the central government; 2,460 are state-government-sponsored public libraries and seven are state-government-aided public libraries. Of these, 2,209 are listed as rural or primary unit libraries.
But out of every 10 libraries, six are non-functional, which is not the same as being closed on paper.
Mondal, who lives in Kachharipara, talks about the community-library-cum-information centre that was opened in the Chechania gram panchayat in Karimpur. He says, "The librarian used to get an honorarium of Rs 1,500 a month until 2011. But around the time the Trinamul came to power, the honorarium was stopped and also the Rs 6,400 grant per year for buying books."
The Telegraph tried getting in touch with the district library officer of South 24-Parganas to understand the reason behind this state of affairs, but calls and e-mails remained unanswered till the time this article went to press.
The closure of libraries has no apparent link with the reading habits of people. Maruf Hossain, publisher of Abhijan Publishers who has attended 35 book regional book fairs until now this season, says, "People buy books. I have made a profit from these fairs this year. New books, classics, books by regional authors, essays and short stories are in demand. I will not say that every year the number of people buying books increases but it remains steady."
Gourabmoy Biswas, who is the secretary of the Karimpur Book Fair which just got over, says, "We had 30 stalls by publishers such as Deb Sahitya Kutir, Dey's, Abhijan, Katha O Kahini, Gangcheel."
No one wants to share sales figures, but given the footfall and the increase in the number of book stalls every year, it is obvious these fairs are not running on losses. Apu Dey of Dey's Publication says, "Yes, we do earn a profit."
Nabin Krishna Mondal is a schoolteacher who attended the Panihati Book Fair. "I had also gone to the Howrah Book Fair and I can assure you that there were enough buyers. Schools also buy books," he says.
Feluda? Byomkesh? Any theories, anyone?