Beedi jalaile, figure de diyaa, figure maa badi...
Bidi-making is a highly profitable cottage industry spread across 17 states of India. There are 72 million bidi smokers. And according to research, we produce anything between 750 billion to 1.2 trillion sticks annually. Bengal is one of the biggest employers of bidi-workers — 20 lakh people. It is largely an unorganised sector and though it is said to contribute at least Rs 48.2 billion — workers have to put up with low wages and greedy middlemen. Earlier this year, bidi-makers of Bengal came together to protest against abysmal wages. Here, The Telegraph traces the journey of a bidi and tries to make sense of the economics of it all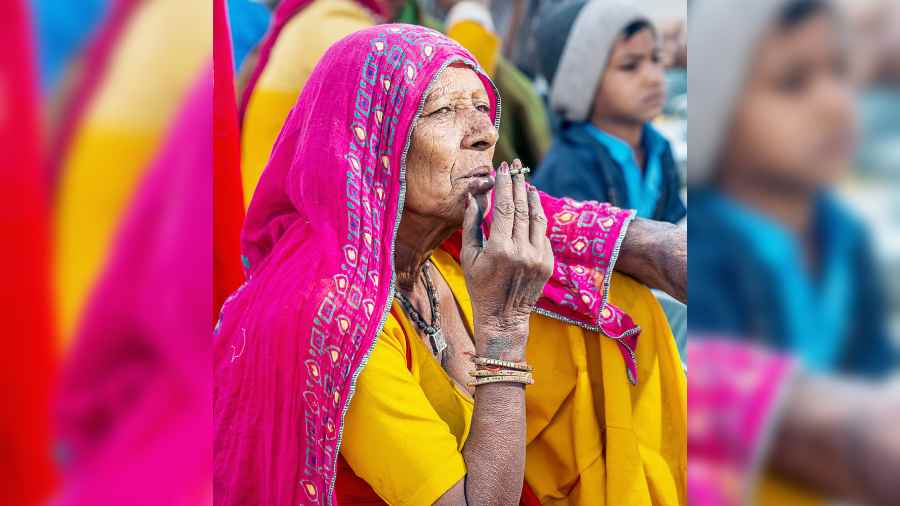 Women and children are oftentimes engaged to make bidis for their nimble fingers and gentle touch
Shutterstock
---
Published 20.11.22, 03:55 AM
|
---
Milestone: Kendu or tendu leaves are found in the deciduous forests of Madhya Pradesh, Odisha, Maharashtra, Andhra Pradesh, Bihar, Rajasthan, Uttar Pradesh, Gujarat, Tamil Nadu and West Bengal. They are considered to be non-wood forest produce. According to the Tribal Cooperative Marketing Development Federation of India, 75 lakh people are employed for about three months between April and June every year to collect tendu leaves. In Bengal, mostly tribal people collect tendu leaves and the tendu-producing districts are Murshidabad, Malda, North Dinajpur, Coochbehar, Purulia, North 24-Parganas, Nadia and East Midnapore.
Milestone: Mahajans or middlemen buy leaves from tendu leaf collectors at Rs 136 a bundle. One bundle weighs 2.5 kilos. Middlemen often reject a bundle or pay less if the leaves are wet or the ribs are too thick or too hard. Recently, the West Bengal government raised the amount for each bundle from Rs 70 to Rs 170, making it higher than the all-India figure of Rs 136.
Milestone: The bundles are now sent to distribution centres, which are typically located close to the site of plucking. If they are too far away and transportation takes time, the leaves will wilt.
Milestone: From the distribution centres, the leaves are supplied door to door to bidi-rollers. The distributors are supposed to provide them tobacco and thread. Bidi-rollers use fresh green leaves and stuff them with tobacco. The green leaves don't tear easily and are soft enough to be rolled. In Odisha, they are referred to as "green gold". Women and children are oftentimes engaged to do this for their nimble fingers and gentle touch. The bidi tip has to be sealed with an intricate manoeuvre of the fingers.
It takes 1-2 days to make 1,000 bidis. For every 1,000, the middleman pays Rs 180. Says Chameli, who works from her house in Jangipur in Murshidabad, "Very often we discover that we have been given only 900 leaves. It is not possible to count the number of leaves when we receive a bundle — after all a middleman supplies the raw material by weight and not count. So when that happens, I have to purchase the remaining 100. And I have to buy additional thread. So for every 1,000 bidis I spend Rs 30-40. Which means, I make Rs 140 only."
Milestone: Next, the bidis move to the sekaiwala or the furnace-man. He bakes them in a furnace to remove the moisture and damp. The middleman pays him Rs 350-400 for every 1,000 bidis. But a single sekaiwala can at a time be tasked with as many as 5,000-6,000 bidis. Milestone: The now-ready bidis move from the sekaiwala and are put through a quality check. There are bidi-checkers who do the job. "They check if there is any wear or tear on the bidi, the amount of tobacco that has been tucked in and if they have been roasted enough to remove the dampness and are crispy," says Mohon Das from Jangipur, who makes Rs 100-115 for every 1,000 bidis.
Milestone: The packers and labellers sort the bidis into plastic packets based on the size, quantity of tobacco and quality of tendu leaves before sending them off to the retailers. For a kilo of bidi packed into bundles of 10, a packer charges around Rs 150-160.
Milestone: At the retailers, a pack of 10 sells for Rs 12. According to research, bidi-makers that produce two million sticks per year are exempt from any duty, and big manufacturers are also charged only minimally.