The Great Metro Robbery: A Telegraph Investigation
Down Under: How East-West Metro impacted residents of Bowbazar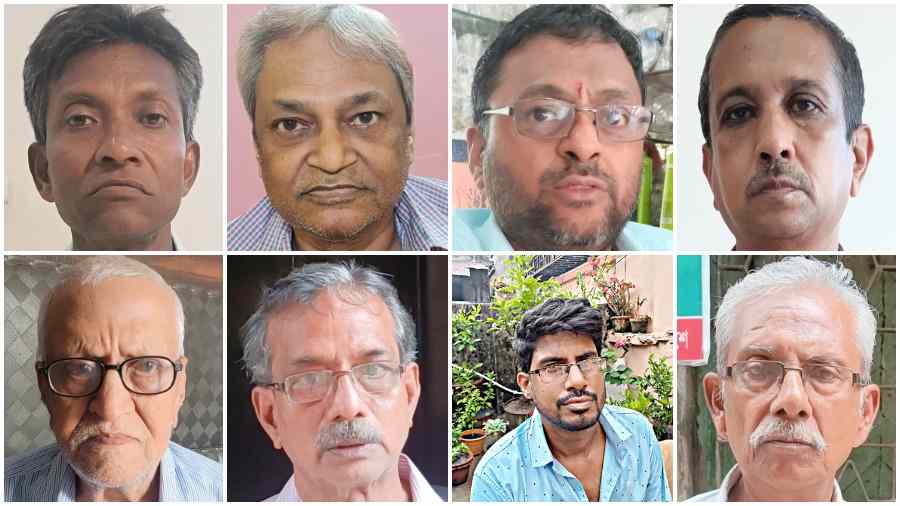 (Clockwise from top left): Dulal Dera, Sudhir Shaw, Santosh Shaw, Asis Kumar Laha, Chandi Dutta, Goutam Laha, Subir Kumar Dutta, Ratan Lal Shaw
Moumita Chaudhuri
---
Published 19.06.22, 03:46 AM
|
---
The construction of Calcutta's East-West Metro began in 2009 and is now near completion. It has impacted residents of Durga Pituri Lane, Shyakrapara Lane, Chaitan Sen Lane, Hidaram Banerjee Lane, Gour Dey Lane, all neighbourhoods of Bowbazar in central Calcutta. About 465 people were displaced after 54 houses developed cracks in 2019. And this May, 13 houses, 141 people. The compensation to those displaced, in terms of cash and living space, has been measly in most cases.
These are some of the oldest neighbourhoods of the city. In the article "The Growth And Development of Calcutta", barefoot historian P.T. Nair notes that Bowbazar — the bazaar and the street name — can be traced back to 1749. Lore has it that Durga Pituri Lane was named after a goldsmith, says Barid Baran Ghosh, president of the Bangiya Sahitya Parishad. Pituri is a Bengali word for a person who uses a hammer to design gold jewellery.
"But not everyone staying in this area is a goldsmith or an owner of a jewellery showroom," says Bikash Shaw. The third-generation resident adds, "My grandfather had come from Begusarai in Bihar. We have a shop in Bastapatty. We supply gunny bags."
Walking through the narrow lanes, The Telegraph met other displaced residents. A contractor had come to meet civil engineers from Jadavpur University surveying the buildings; a sound system contractor was there for the same reason; the owner of an antique furniture shop was there on his weekly visit to check on his shop and house; a chartered accountant, too preoccupied, kept to himself; a medical professional who is in his late sixties, people referred to him as daktarbabu; the 70-plus retired railway employee was hot and bothered, and kept saying, "Will you be able to report that I hold the CM responsible for my homelessness?"
They were all reminding each other of a meeting scheduled for today (June 19) when they were hoping to decide on their future course of action. Most of them have lived in these parts for generations. Now, they are living scattered lives in hotels and other shelters across the city — Phoolbagan, Beliaghata, Kakurgachi, CIT Road, Sarkar Bazar, Rashmoni Bazar, Behala, Garia, Tollygunge... A bystander, who does not want to be named, says, "Metro Railway has made everyone sign papers that say the residents have got back all their possessions, when actually the furniture and electrical appliances have all been kept in their warehouse. The residents have not even been given a seizure list." (The Telegraph has not been able to verify this claim.) Some have not made it past the initial shock and depression — Asis Laha's sister died in 2020, Santosh Shaw's father in 2021.
No. 19 Durga Pituri Lane is a three-storey building. Seven generations of Ratan Lal Shaw's family have been born here and have died here. In 2019, the house was damaged. Metro Railway did some repairs and, thereafter, the family returned. But two-and-a-half years later cracks appeared again.
Says Mrs Shaw, "It was 10pm. We were about to have our dinner when we noticed a four-inch crack in the middle of the room. Metro engineers gave us five minutes to evacuate the house. We are old. I could only carry my Bal Gopal and some documents. I could not even change out of my night clothes."
"The original Metro route was changed to save Robert Clive's grave or memorial," screams an angry resident. "Can you imagine? We are alive and this was our home, but it did not matter to the government," he adds. Experts, however, say there is no memorial, only a building where once Clive lived, the same that now houses the Bengal Chamber of Commerce. And this is indeed close to the Mahakaran stop of EastWest Metro. Other residents say they have heard rumours that this is the tip of a bigger real estate scam.
There is security at the mouth of Durga Pituri Lane; only residents are allowed to enter. On the other end, where it meets Hidaram Banerjee Lane, there is a lone barricade. On Day 3 of this investigation, a policeman in a white uniform appears and says there are express orders barring the Press. A junior Metro official joins him and quotes a government order that he cannot produce when asked to. Through the broken entrance of a half-collapsed building, a freshly issued electricity bill peeps out. There may be no light at the end of this tunnel yet, but there are levies aplenty.