'I am Geeta. My designation is permanent liability'
The Telegraph on the life of yet another set of people successive governments seem not to care about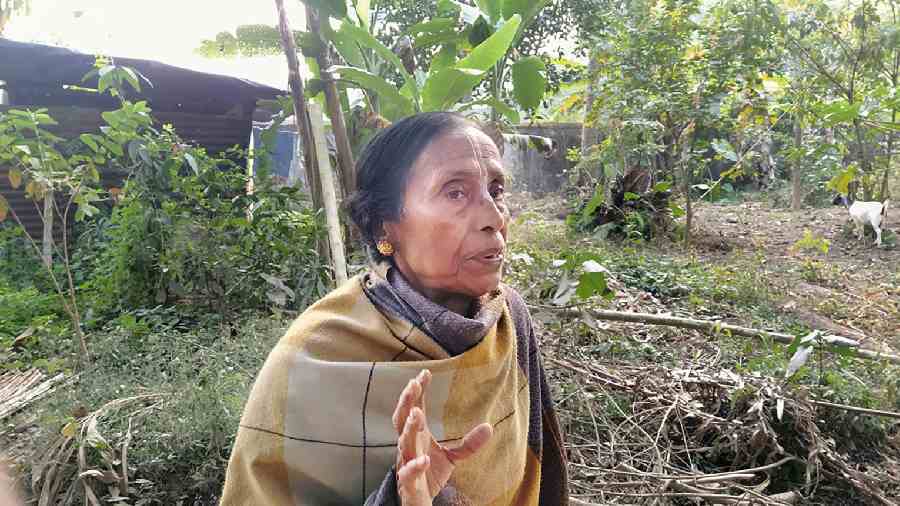 ---
Published 22.01.23, 03:21 AM
|
---
Geeta Das lives in a tin shack on the neck of a bamboo grove near Ranaghat, a small town 80 kilometres north of Calcutta. It is difficult to believe that the shack has been standing since 1950, when it was constructed by government order. In state government documents, Geeta's abode was classified as an "infirmary for permanent liability".
The term "permanent liability" or PL was coined by the Government of India to describe thousands of women and children from East Pakistan who were granted refuge in camps in West Bengal and New Delhi from as early as 1949. Geeta had earned the descriptor of permanent liability when she was barely a year old. That was in 1950, when her mother arrived in India from Barisal after her husband was killed in the post-Partition riots. 
To begin with, PLs were the responsibility of the Centre, though eventually they were brought under the refugee relief and rehabilitation department of the state concerned. When Renuka Roy of the Congress was the rehabilitation minister of Bengal in the late 1960s, she had strongly objected to the coinage. She wrote in her autobiography titled My Reminiscences that it was "a curious name". In 2016, the refugee relief and rehabilitation department of Bengal were merged with the state's land and land reforms department.
Most PL camps in Bengal are located in districts that once shared their borders with erstwhile East Pakistan. According to an editorial that appeared in the Bengali daily Amrita Bazar Patrika on December 24, 1949, the central government was meant to bear all expenses of these "unattended women and children". (The word unattended was elsewhere spelt out as women and children who had no male guardians.) The editorial even stated that such camps should be set up in every province of India.
I go to Coopers Camp, the subcontinent's oldest refugee camp with field historian Joyati Maitra Kanjilal. There are many PLs living there. Kanjilal is working on a book on the Partition and its long shadow on refugee women. Coopers Halt is a nondescript railway station where once hundreds of soldiers disembarked; Coopers Camp used to be the barracks for soldiers of the Allied Forces during World War II.
At the station, we meet Goutam Das, an e-rickshaw driver, who ferries us to our first stop — Mastermoshai's house. We have to go past the camp; Das talks about his childhood explorations of the rows of hutments that constitute it. He says, "Now you see pucca houses, but those days there were only huts of corrugated iron sheets. Then there were huge semi-circular army godowns called Nissen huts into which hundreds of refugees were herded."
We stop in front of a double-storey pucca house. It is the home of Mastermoshai, retired schoolteacher Ashok Chakrabarti. The 82-yearold is an advisor to the United Central Refugee Council and apparently an expert on all things related to refugees in the area. The council is a multi-party body that was set up in 1950 to protect refugee rights. 
Chakrabarti talks to us at length about the misery of the PLs, mostly 60-plus women who survive on government handouts and how now, post the Citizenship Amendment Act, they live in constant fear of deportation. According to him, there are 345 PLs living in eight camps across West Bengal. Most of them are single women, and only a few live with their sisters or widowed mothers. "They are scared to leave the camps; they never got proper rehabilitation, courtesy tangles of bureaucratic red tape," Chakrabarti tells me.
What about the relief and rehabilitation department? Don't they do their bit? Chakrabarti nods, "There are no dedicated relief officers or superintendents." This ties in with my experience. When I called the concerned administrative office in Ranaghat, no one appeared to know the specifics of the PLs. I spoke to others and learnt that the old government hospital meant for camp residents was dismantled and a foundation laid by ministers for a bigger one in 2012, but nothing came of it. Local politicians of every colour and ism seem united in ensuring that nothing ever comes of anything where these PLs are concerned.
Chakrabarti does not want to tell more; instead he says, "You must talk to a PL." It is he who tells us about Geeta who has been fighting for the rights of PLs for years, undeterred by threats from goons and land sharks. The last mentioned are apparently like vultures waiting for the PLs to die so that they can use the camp land, pass it to developers who can build apartment blocks or whatever it is they want to build.
It takes us a good while to locate Geeta. She lives in the Ranaghat Women's Home, which is locally known as Anath Camp.
This one begins where Coopers Camp ends. In the 1970s, when the exodus from the other side peaked, 644 inmates lived in this camp. Geeta turns out to be a frail 72-year-old. She wears a rasakali on her forehead as do all Vaishnavites; she can barely talk, only weeps. "Just waiting for the end. Only Radhamadhab, my Lord, keeps me alive," she says, tears rolling down her sunken cheeks. "They tried to kill me, but He saved me," she says, pointing at a shrine in her dank hut. She doesn't name either the goons or their minder who gagged her and threw her into a goat pen. They snatched her belongings, documents too. She continues, "They hate me because I am the only one who dares to raise a voice on behalf of the PLs. I met two chief ministers of the Left Front to raise the cash dole," she says. For the longest time the dole wasRs 200 a month.
It was Mamata Banerjee who raised the dole to Rs 2,000 some years ago. "But can she not do anything to ensure that food grains and pulses arrive once a month instead of once in six months," she asks. Chakrabarti had said the PLs are supposed to get "dry dole" or foodgrains once every fortnight. 
We offer Geeta some money for medicines to ease her back pain, but she firmly refuses. "We don't need any sympathy, only our rights as citizens of India. It has never occurred to successive governments to offer us employment."
During her ministerial stint, Renuka Roy had convinced the Centre to set up training centres and production units at the PL camps so that the women inmates could earn their bread and lead a life of dignity. The project even took off during her tenure in the late 1960s. And then again— nothing happened. That's the permanent thing about permanent liabilities.