Check in. Check this out
A worldwide movement to collect financial aid for war-strapped Ukrainians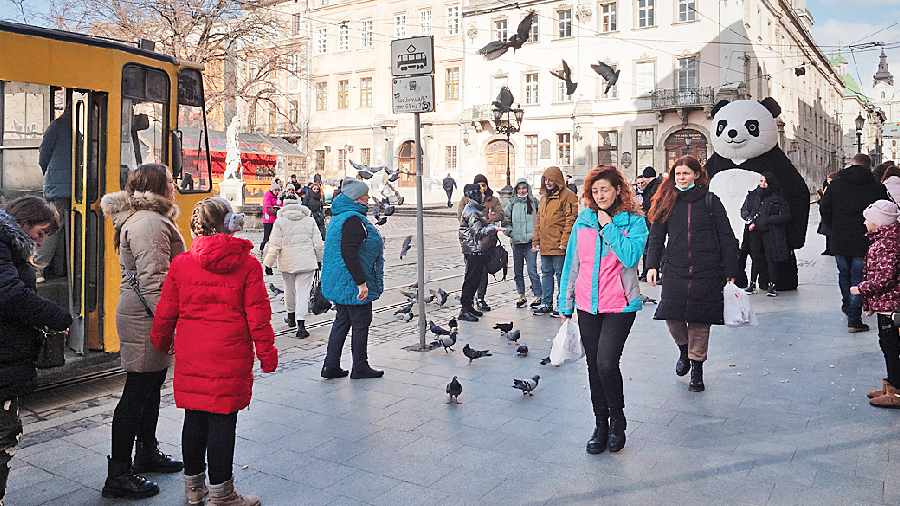 HOUSE CALL: Rynok Square in Lviv, Ukraine
Getty Images
---
Published 08.05.22, 03:38 AM
|
---
Imon Sharma had logged into AirBnB — the aggregator site for vacation rentals, primarily homestays, across the world — to book a villa for her upcoming vacation in Bali, Indonesia. But before she even started looking at places in Kuta, the southernmost beach of the island, she booked an apartment in Kyiv, the capital of Ukraine. She had planned a week-long booking but the rates were so reasonable — Rs 2,800 per day for a two-bedroom apartment in the city centre — that she booked it for 10 days.
Sharma had no plans to travel to the war-ravaged country, she was simply joining the latest trend #PayDontStay. Members of AirBnB, both hosts and guests, have come up with a unique way to support the beleaguered people of Ukraine. They are booking vacation rentals in Kiev, Lviv, Odessa, places they have no plan of visiting, only to ensure that some money reaches the citizens of a warwrecked country. 
If you browse the listings for Ukrainian cities on the AirBnB website, you will come across messages such as this one: "Petro is a very responsive host and I definitely recommend his place. I booked the stay to offer direct support during the war. I didn't actually travel." It is from Valerie of Rose Valley, Pennsylvania, US, whose date of joining AirBnB (March 2022) would indicate that she had joined just for this booking.
And this is not the only unusual review on Petro's listing of a renovated flat in a historic Polish building in the city of Lviv in western Ukraine, just 70 kilometres from the Polish border. There is Ariadne from Cleveland, Ohio, US, with her "God bless Ukraine" and Aaron from Bethel, Alaska, US, with a cryptic "Communication is good". Both are long-time users of the website and Aaron, going by his latest review, was actually vacationing in Poland last month at another AirBnB rental.
Petro, on his part, has meticulously thanked each of his benefactors on their profiles from a simple "Thank you a lot" on Aaron's profile to "Joel supported me financially. Thank you a lot again. Ukraine will win, we're not alone all world with us" to "Ukraine will definitely win with all your support. The God will bless you" for Valerie. Petro was not the only one to thank Valerie. There were also Natalia and Sergei from Odessa, Yuliya from Chernihiv, Vitaliy from Sumy and Anna from Kyiv.
"It was Sarah Brown of Salt Lake City, US, who made this concept popular," says Sharma. "She is herself a host, so she empathised with those in Ukraine. And she posted the idea on a Facebook group for Airbnb hosts." Brown booked a stay in Kyiv and then in two smaller cities. The host of the Kyiv rental, Ekaterina Martiusheva, used the money to pay the six members of her staff who fled to western Ukraine.
On Sergei's listing of a stylish apartment near the train station in Odessa, there are reviews from Helene from Paris, France, Sarah from Bristol, UK, Katie from Honolulu, Hawaii and Stephanie from Saint Albans, UK. All of them have written something to the end that they look forward to visiting the beautiful city of Odessa once peace returns.
In March alone, there were bookings for 62,000 night stays and $2 million was raised within a week. Understanding the mood of its members, AirBnB too is now waiving guest and host charges in Ukraine. But everything is not hunky dory.
Paresh Shah of Calgary, Canada, booked an AirBnB stay in Kharkiv — a name that was unknown to many before Russia decided to attack — in April. The host wrote to thank him but a day later AirBnB refunded his money with the message the account was "no longer able to receive money". The company claims they are cancelling "ghost accounts" people are setting up to garner donations. Shah says that the host he contacted was "identity verified" and had joined the platform in 2018. He has been left a little bewildered by the experience.
Deniz Ozkaynak, a software engineer from New York, US, also booked a stay at an exquisite historic building hosted by Victor in Odessa. Victor's personal message to thank him for his generosity so touched him that he wrote a post in LinkedIn, giving a shout out to the organisations helping manage the Ukrainian refugee crisis. According to a screenshot Ozkaynak posted on Twitter, Victor wrote, "I appreciate your help. I hope very soon you will come to my beautiful city when horrible war will be over."
"Absolutely, I will. I hope dearly this beautiful building will not be touched or will at least be left in a repairable state... will definitely be planning a trip to glorious Ukraine when it is safe to visit," replied Ozkaynak.
That is all we can wish for. That Ukraine and Ukrainians remain standing at the end of their ordeal.