Here's looking at you, Kid
The Telegraph loses itself in the cut and pastiche world of Kiff 28's posters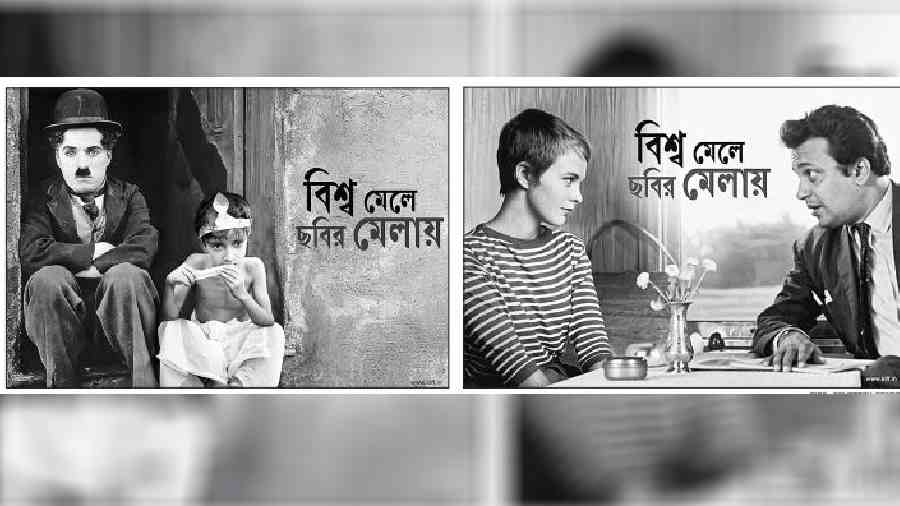 ---
Published 22.01.23, 03:47 AM
|
---
The 28th Kolkata International Film Festival (Kiff) — over in December 2022 — was thrown open to the public by stars most prominently from the Hindi film industry, but its publicity posters are still being talked about in the new year for being quite a cut above.
The Tramp and Apu, Feluda and Forrest Gump, Jean Seberg and Uttam Kumar, Al Pacino's Tony Montana and Amitabh Bachchan's Jai pulling off a bullet duet and Ralph Fiennes from Wes Anderson's The Grand Budapest Hotel with the bawarchi from Tapan Sinha's Galpo Holeo Satti. The appeal of the posters in the series Meet the World at the World of Cinema lies in the delightful jump of the creative imagination that carries the viewer over and beyond that invisible construct between the Here and There, Them and Us.
All five posters came out of the smithy that is Genesis advertising agency. And while there can be no prescribed way of appreciating their soldering, you might want to gaze on what is and be amused or think about what was in its place, perhaps also wonder a little about what may have been.
The darling of the bunch has been "Charlie and Apu" — melting stolid government approval processes first, in record time, according to sources, and only later the masses. There is something of the haatchhani about this poster, inviting one to peer in till you recognise House Number 69 from The Kid. There it is, that diagonal patchwork on the door that opens into the Tramp and Kid's rag-tag home. 
The original poster had little John played by Jackie Coogan sitting next to his father figure played by Chaplin. If the lighthaired boy in his oversized cap, pullover, dungarees and bootson-last-gasp is the miniature of poverty in a certain world of a certain time, so is his replacement, little Apu of tinsel crown and ribs pressing against naked skin played by Subir Banerjee in Satyajit Ray's Pather Panchali. 
Depending on who you are, this digital conjuring might remind you of Ray's sketch of Chaplin or have you hum Pratul Mukhopadhyay's Ami tomai bhalobashi Charles Chaplin or reflect on matters macroeconomic. 
It does not hurt to make up a story about how whoever thought up the Nayak poster incantates Jibananda Das to get through a life of WhatsApp messages and social media trends. Team Genesis, however, is quick to point out that it is no one person's whimsy, though indeed a "film expert" was consulted for a selection from World Cinema. 
But it never hurts to recite Jibananda. The haunting lines that go "Through the darkness I saw her. Said she, 'Where have you been so long?'/And raised her bird's-nest-like eyes — Banalata Sen from Natore." (English translation by Clinton B. Seely.) American actress Jean Seberg is captured in the poster as she was in JeanLuc Godard's 1960 French film À Bout De Souffle or Breathless. The slant of her pixie gaze from under a dark brow appears to hold the matinee idol's exclamatory look and temper it to romantic perfection. You would never think — unless you are a Nandan regular, of course — that the sliced Godard scene played out in a poky room in Hotel de Suede; a far cry from the restaurant car of a Calcutta-Delhi Express train and its immaculate table covers, forks, knives and napkin flowers. You would never think that the "suited booted" Arindam Chatterjee/ Uttam Kumar is standing in, here, for a semi-nude Michel Poiccard/ Jean-Paul Belmondo with his scamp's banter:
Patricia (played by Seberg): …Why did you come here, Michel?
Michel: Me? Because I feel like sleeping with you again.
Patricia: I don't find that a reason.
Michel: Evidently it is. It means I love you.
Patricia: And me, I don't know yet if I love you.
Michel: When will you know?
Patricia: Soon.
Could la Sharmila's Aditi Sengupta slip in as easily into Chambre 12 of Hotel Suede? What if they kept Belmondo and put Tanuja in, say from a still from Deya Neya? Would you have streamed Ashley Park in your head? You know, "Bonsoir, enchantée/Your hands on my face/Embrasse-moi, mon soleil..." A penny for your thoughts. In the meantime know this, Genesis's original creative had Wonderwoman sitting opposite the Mahanayak! 
Genesis had also tried a combination of Sholay and The Motorcycle Diaries before they arrived at Brian de Palma's 1983 film Scarface. The problem, according to Team Genesis, was finding a motorcycle with a side carrier. The shot of Pradosh Mitter on a park bench with Forrest Gump required some modelling and matching before a digital surgery.
There is art and craft and then there is the feeling eye. The composition of Monsieur Gustave and Rabi Ghosh is more seamless. Beyond the apparent physical resemblance to Tony Revolori's bellhop, there is another resonance. Ghosh's Dhananjoy is a human alchemy, drops in out of nowhere to iron out the creases, detox hearts, flex long unused emotions. In the last scene of Sinha's film, Sinha's tripping music playing, Ghosh in his havildaresque attire is seen sprinting away into oblivion or infinity. Revolori's character is called Zero.