Paddy washdown
The Bengal government has procured a poor volume of the rice crop since the November harvest. Self-help groups and farmers' cooperatives are being hustled and rice mills are being blamed. But is the real issue something else?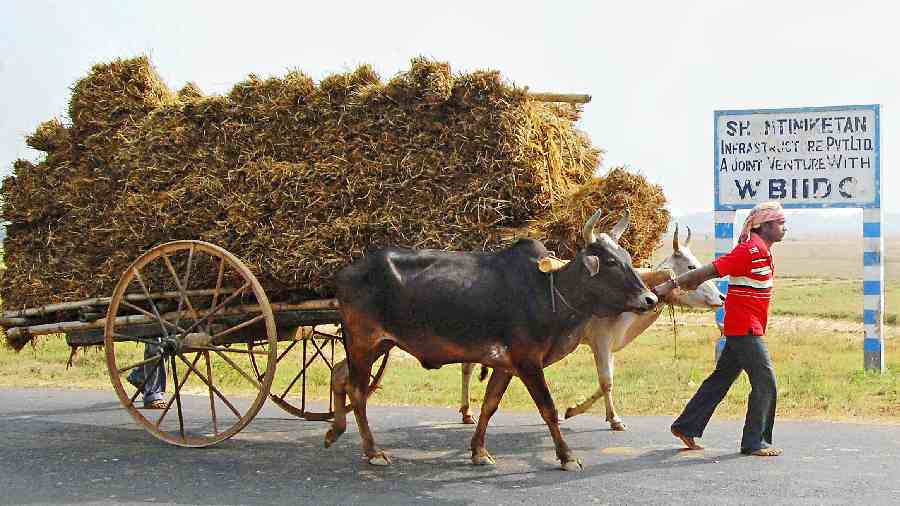 GRAIN DRAIN: Paddy fields are slowly giving way to industrial expansion
Biswajit Roy Chowdhury
---
Published 29.01.23, 03:24 AM
|
---
Bengal is the largest producer of paddy in India — Uttar Pradesh and Punjab are in second and third place, respectively. Bengal's contribution to the total paddy production is nearly 14 per cent. The chunk of this comes from Burdwan, Murshidabad, Malda, Howrah, Hooghly, East and West Midnapore, parts of North and South 24-Parganas, and also parts of north Bengal.
"Paddy production has not decreased in Bengal," says Avirup Sarkar, a development economist. He continues, "This is because land utilisation has improved in recent times. Fields, which were not cultivable in the summers, are now being used. Fields where paddy could be grown only once a year are now producing crop twice or thrice a year. Improved and better variety of seeds and fertilisers are also increasing crop productivity."
There is a "but" lurking in all of this, and finally it comes out. Sarkar confirms what farmers of this region told The Telegraph — the total acreage of paddy fields in Bengal has decreased. Mind you, land records do not reflect this. Sources in the Block Land Records Office tell us that the block offices do not maintain an updated status report on agricultural land but keep claiming agricultural grants from the Centre.
Four generations ago, Naresh Gayen's family had three acres of land in Canning. Over the generations, the land size per person decreased. Says Gayen, "I have three bighas [one bigha equals 0.33 acres]. If I sow paddy, I cannot earn as much as I do by growing seasonal vegetables." His cousin has sold his plot to someone who wants to build a resort on it. "His sons work as construction labourers in Kerala," says Gayen.
Multiply Gayen's story and his cousin's by several thousands and you will get an idea of shrinking agricultural land holdings and disappearing farmers and tillers.
Anupam Paul, who is deputy director in the West Bengal government's department of agriculture, says, "There was a time when 60 per cent of India's population depended on farming — including fisheries and animal husbandry. After signing the WTO treaty, India wants to reduce this dependence by 30 per cent."
What Paul does not say is that this farmland will be taken over for other purposes. "And this is exactly what is happening in Borsul in the Burdwan Sadar area under Burdwan district; 500-600 bighas of land have been released by the state government for trade and commerce projects. People are protesting against this," says Amal Halder, the state committee secretary of the All India Kisan Sabha. "This is happening across the state."
Acres and acres of land lie vacant along the Amta-Andul Highway, which connects Howrah to Midnapore. Farmers claim that once upon a time all that land were paddy-growing fields. This land is meant for real estate projects.
Arijit Chakraborty has observed the same trend in south Bengal. He grew up in Joynagar town. He says, "I have noticed how paddy fields closer to the highways have been sold off by farmers for greater profit." When the Diamond Harbour Road expanded in the part of south Bengal connecting the Sagar Islands in South 24-Parganas to Baruipur and to the Eastern Bypass in Garia, vast stretches of paddy fields were sold off by farmers. All of it has been feeding some insatiable real estate appetite the last 10-15 years. The trend might have intensified in this last decade but records and reports show that the shift had started at the turn of the century. Currently, the Centre is conducting a land census to gather information about the amount of agricultural land that has been converted.
There are no large industries in Bengal, true. But small and medium industries or SMEs are thriving. SMEs do not follow environmental rules and regulations.
Bipulendu Bera, who is a resident of Kharagpur and a farmer, tells the tale of the Kharagpur Industrial Belt. He says, "Sponge iron manufacturing factories have come up. The factories are supposed to use electrostatic plates in their chimneys to stop the spread of black iron dust. But they are not doing that. Instead, they are acquiring land and dumping the toxic remnants there. This is affecting adjoining farmlands and making those plots unfit for cultivation." Bera adds, "This is a ploy of the factory owners. As and when the farmers understand that farming is no longer possible in these fields, they are compelled to sell their lands to factory owners."
Sources in the land development office say, "The government is juggling with figures. They show that the amount of land that is going away is insignificant." To think this is happening in a state where the 34-yearold supremacy of the Left Front fell flat on its face on the back of the Singur movement and hasn't been able to get back on its feet since.
Saifuddin Mondal had five bighas of land — a little over three acres — in Mathurapur in South 24-Parganas. He says, "A real estate company was offering Rs 2 lakh per bigha. Even if we produce rice, procurement is slow. We cannot wait for two months for the government to buy the rice. We have to sell it at lower rates to private companies."
But south Bengal, according to experts, was never well suited for paddy due to its soil and climatic conditions. So, many are shifting to shrimp cultivation. Satyendranath Paik of Midnapore says, "Shrimp farming is four times more profitable." Weather vagaries have affected agriculture in Kalimpong in north Bengal.
Paul is worried about the decreasing farm hands. He says, "Most of them are migrating to other states. I had seen bus services from Patharpratima in south Bengal to Delhi; another from Nebukhali in JogeshganjBlock, North 24-Parganas, to Chennai. People from Jalpaiguri are going to Sikkim for construction work. And the lands are lying vacant."
Those who are willing to work in the fields charge a high daily wage. Post MGNREGA, post learning that it is possible to earn Rs 300 and more as daily wages for 100 days of labour, they know better than to settle for less.
Amidst all of this, what is the future of paddy cultivation in Bengal? "Under these circumstances it is bleak," says Paul squarely, and adds "more so for the kharif crop".He believes a time may come when our sujalam suphalam sasyashyamalam land might have to purchase paddy from elsewhere to feed its own people. Amal Halder warns, "If this is not stopped now, Bengal might experience acute food shortage."
Is there no robust solution insight? Paul says, "You cannot undo what has been happening for many years. The only solution is to change dietary habits." The United Nations has declared 2023 the International Year of the Millet, following a proposal by India, which wants to position itself as a global hub for millets. Bengal is following suit.
As simple as that.