My story in now a script my own
The Telegraph brings you the editor of the only Santhali newspaper printed in Ol Chiki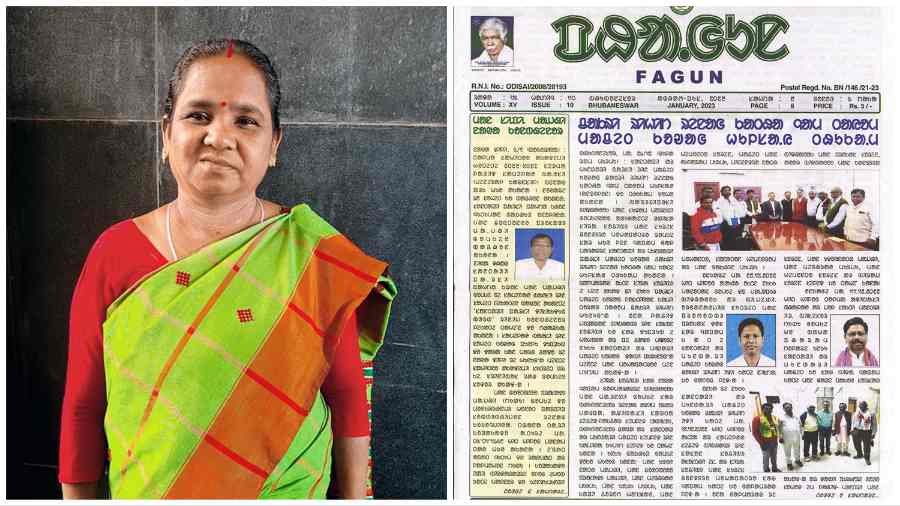 MOTHER'S HAND: Malati Murmu, editor of Fagun
---
Published 19.03.23, 03:38 AM
|
---
Malati Murmu has an umbilical connect to the Ol Chiki script, her mother Surukuni had learnt it from the man who gave birth to it, Guru Gomke Raghunath Murmu, himself. This was just after Independence when Guru Gomke, meaning the great guru, was working in Jamshedpur in Jharkhand and spreading word about the Ol Chiki script.
"The great guru and his companions would roam around all day, singing songs they had written about the script and doing beautiful wall writings wherever they could. They would come back for dinner," recounts Murmu, who has heard these stories from her mother. After dinner, Guru Gomke would teach the children of the house, including Surukuni, the script.
Murmu was in Calcutta to accept the Maanavi Award from the Techno India Group. She is the editor of Fagun, a newspaper focussed on Santhal issues that was launched in 2008 and is circulated from Bhubaneswar. It was sparked by Murmu's wish to read the newspaper in her native tongue and is the only one printed in the Ol Chiki script.
"We wanted a newspaper that focuses on matters of Adivasi interest," says Murmu, who is not very comfortable in Hindi or English. She wishes her younger daughter, who is named after her grandmother, was there to ease the conversation. Surukuni Jr is doing her postgraduation in Santhali from Visva-Bharati in Santiniketan and speaks fluent Bengali.
Murmu is impressed by the attention being paid to Ol Chiki in West Bengal.
Ol Chiki is the alphabet of the Santhali language, which is spoken by 7.6 million people in India, Bangladesh, Bhutan and Nepal and is recognised as an official language by the Constitution of India.
Till the 19th century, Santhali had a strong oral tradition but no script. Europeans studying Indian languages were the first to attempt writing Santhali and they, obviously, used the Roman script.
It was not a perfect fit. Bengali, Devanagari and Odia were the other scripts that were attempted but they too were not good fits because they could not reflect all the phonetics of Santhali. In 1925, when he was supposedly 20 years old, Guru Gomke, a poet from Mayurbhanj, created the Ol Chiki alphabet. It has 30 letters, the forms of which evoke natural shapes, is written left to right and has no distinctions of upper and lower case. The shape of the letter Ol, for example, is derived from a line drawing of a hand holding a pen because Ol is also the Santhali word for writing.
Ol Chiki is widely used in India to write Santhali, which is spoken in Assam, Bihar, Jharkhand, Mizoram, Odisha, Tripura and West Bengal. In Jharkhand and West Bengal, Santhali is considered an additional official language though it is not treated as such in Odisha, the land of Guru Gomke and his linguistic descendant Malati Murmu.
Murmu was born in Gayalkota in Odisha's Mayurbhanj district. She matriculated in 1991; Santhali was added to the Eighth Schedule of the Constitution only in 2003, so her education was in Odia. But she spoke Santhali at home and learnt the script at her mother's knee. When Murmu was in Class VII, she joined Ol Chiki classes held by an arm of the Seca — Social, Educational and Cultural Association — that was set up by Guru Gomke to organise meetings and get inputs on how to spread Ol Chiki.
After completing school, Murmu was married off to Mangat Murmu from the neighbouring village of Bortilo. Mangat was a newly-minted officer who worked in the state secretariat in Bhubaneswar. Fortunately, Murmu was able to carry on her study of the Santhali language as her husband shared her love for it.
It was Mangat and his associates who came up with the idea of Fagun. Started on a budget of Rs 12,000, the eight-page monthly newspaper turned 15 this year. In the beginning, 500 copies were printed on a manual press. Now, Fagun is printed at the Mayur Offset Printing Press. The circulation had risen to 5,000. But when the pandemic struck Fagun, like all other newspapers, was impacted. Circulation is now 2,500 but climbing steadily. "We send copies of the newspaper all over the country via post," says Murmu.
Fagun employs five reporters in Mayurbhanj, three in Ghatshila and one each in Bhubaneswar, Kharagpur and Ranchi. Friends also send reports via WhatsApp or email from Kalyani, Purulia and Bankura. The team translates national news and goes over all copy with a fine-tooth comb.
What is Murmu's vision of the future? "I wish all people of Santhali origin learn their culture and the Ol Chiki script. That is the only way to hold on to our culture in these times." A lot of people are moving away from tribal culture these days for various reasons, says Murmu. She wants to connect them to Santhal music, culture and literature. Says the middle-aged woman, "I want them to understand that staying in touch with their roots will not harm their social status."